Are you interested to check some 3-drawer file cabinets made from various materials?
Then this review contains useful info for you! Here you can find a list of the best 3-drawer vertical file cabinets made from wood, metal and steel. They offer different characteristics, so check reviews and equip your office with a suitable model.
Our Top Picks
6 Best 3-drawer Vertical File Cabinet
BEST OF BEST 3-DRAWER VERTICAL FILE CABINET
Hon Brigade Pedestal File Cabinet
High Price
Hon Brigade file cabinet features durable construction and high-quality performance. There are three neutral colors you can choose from – black, charcoal and putty. This American-built office file cabinet is backed by a lifetime warranty. The price is high.
Deep Drawers
Assembly isn't required, so this 3-drawer vertical file cabinet is ready for use. It weighs 77 pounds and has 28 inches in height, 15 inches in width and 22 inches in depth. Hon Brigade offers deep drawers for all your office documents and accessories.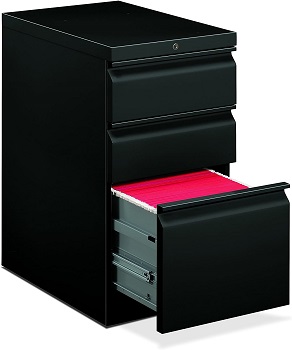 Heavy-duty Product
Sturdy steel construction provides commercial-grade quality, ideal for demanding work environments. Its surface is resistant to scratches and impact. All your stored items are safe within this 3-drawer metal file cabinet. There are two box drawers for personal things or office supplies.
Hidden Casters
The file drawer accommodates standard-size file folders (8.5" L x 11" L). Hon is equipped with a core-removable lock that can be replaced when needed. It is a mobile file cabinet, there are four durable casters, but they are almost hidden to maintain an elegant design.
Highlighted Points:
steel construction delivers commercial-grade quality
the black painted surface is resistant to scratches
two small drawers for office supplies
a file drawer holds letter-size files
core-removable lock for security
hidden casters ensure mobility
BEST WOOD 3-DRAWER VERTICAL FILE CABINET
JJS 3-drawer Rolling File Cabinet
Customer Support
JJS is a mobile vertical file cabinet that is available in two colors. Choose between brown drawers and black drawers. The file cabinet sides come in natural wood color. The manufacturer offers a 30-day risk-free guarantee and lifetime customer support.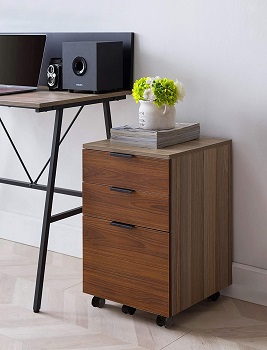 Easy Assembly
It is necessary to assemble this 3-drawer file cabinet. Included components are hardware, detailed instruction and tools. You can finish the entire setup within 30 minutes. The unit size is 23.6 inches in height, 15.7 inches in width and 15.7 inches in depth.
MDF Construction
The construction is made from high-quality medium-density fiberboard and it's prepared with melamine. Its surface is resistant to scratches and everyday wear and tear. To clean it, wipe this 3-drawer vertical file cabinet wood unit with a wet towel.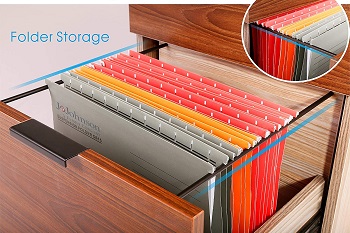 Five Casters
There are three spacious drawers, two of them are box drawers designed for office essentials. The bottom drawer accommodates letter-size hanging file folders. All drawers are fitted with elegant black handles. Five swivel casters ensure easy mobility.
Highlighted Points:
natural-colored sides with brown drawers
MDF construction with melamine finish
resistant to scratches
assemble it within half an hour
two small drawers and a letter file drawer
BEST METAL 3-DRAWER VERTICAL FILE CABINET
Office Dimension File Cabinet
Low Price
Office Dimension is a functional and space-saving file cabinet designed for small offices and home offices. It is pretty affordable and ships fully assembled. Item weighs approximately 24 pounds and features 27.3 inches in height, 14.3 inches in width and 18 inches in depth.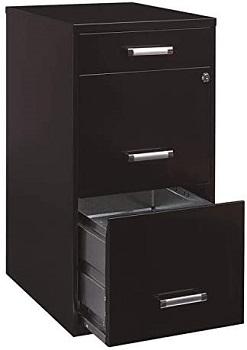 Efficient Design
It features a small footprint but offers ample storage space for your documents and office accessories. Office Dimension delivers an efficient design that works well in space-limited offices. Also, it fits under most office desks and work surfaces.
Low Maintenance
There is steel construction with a non-porous surface requiring low maintenance. Clean the 3-drawer vertical file cabinet with a dry or damp cloth. On the top is a pencil drawer perfect for office supplies, such as a writing tool, staples, markers, paper clips, eraser, scissors, stamps, etc.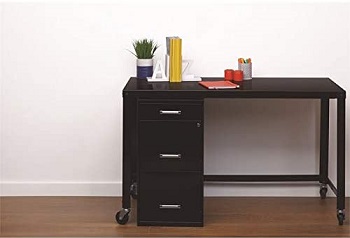 Hanging Files
Two file drawers accommodate both letter-size /A4  hanging file folders. All three drawers run on smooth patented glide suspension with three-quarter drawer extension. This metal office cabinet has a lock that secures two top drawers.
Highlighted Points:
steel file cabinet with non-porous surface
low maintenance needed
affordable price
box drawer for small office supplies
two file drawers with hanging rails
lock secures two drawers
BEST CHEAP 3-DRAWER VERTICAL FILE CABINET
Realspace 3-drawer File Cabinet
Black Model
Realspace is an affordable file cabinet ideal for personal use. It comes in black that matches a variety of office or home office environments. Its overall dimensions are 18 inches in depth, 27 inches in height and 14 inches in width. It may not fit under your office desk.
Box Drawer
Its sturdy construction is made from steel, so it will last for decades. Put an office device or books on the file cabinet top, Below is a box drawer ideal for desk and office supplies like notepads, pens, post-it notes, etc. Also, there are two high-side drawers for files.
Patented Glide Suspension
This 3-drawer vertical file cabinet has two drawers designed for file storing. You can fill it with letter-size files and if you want to store legal files, place them side-to-side. All drawers slide on patented glide suspension. You can pull the drawers about 3/4 of the way.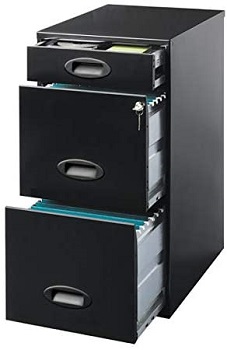 Certified Materials
The black 3-drawer file cabinet has a built-in lock that secures only two top drawers. So put your sensitive documents in the middle drawer and lock them. This product contains 30% total recycled materials. Also, the manufacturer uses Greenguard Gold-certified materials.
Highlighted Points:
sturdy construction made from steel
black finish fits any office decor
small box drawer holds office supplies
two high side drawers store documents
built-in lock secures two top drawers
Greenguard Gold certified materials
BEST LOCKED 3-DRAWER VERTICAL FILE CABINET
Flash Furniture Vertical File Cabinet
Commerical-grade Quality
A personal file cabinet that is available in two styles – modern and ergonomic. This modern Flash Furniture file cabinet comes in few colors, so choose between black, grey, white, white/charcoal, white/red. It delivers commercial-grade quality to your office.
Full-assembled
Flash Furniture is 22.7 inches tall, 21 inches deep and 15.5 inches wide. It fits almost anywhere, so when not in use, tuck it under your office desk. The assembly isn't required. It holds up to 250 pounds, so you can put a printer or scanner on its top.
Low Set Casters
The manufacturer provides 5-year limited warranty. You can roll it easily, the package includes high-quality low-set casters. This 3-drawer vertical file cabinet has two utility drawers that hold small office essentials, such as pens, scissors, tapes, etc.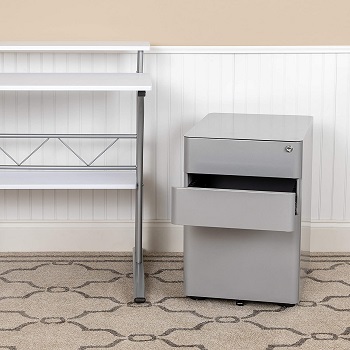 Interlocking Mechanism
This small filing cabinet with a lock has a file drawer that accommodates letter and legal-size file folders. The pencil tray and hanging bars are includes in the package. The interlocking safety mechanism allows you to open one drawer at a time to prevent tipping over.
Highlighted Points:
modern file cabinet with commercial-grade quality
covered with 5 years of warranty
the assembly isn't required
package includes pencil tray, hanging rails and key
the interlocking mechanism prevents tipping
BEST PORTABLE 3-DRAWER VERTICAL FILE CABINET
Devaise Locking File Cabinet
Dark Grey Finish
Devaise is a popular personal file cabinet that fits even the smallest office. There are three attractive colors you can choose from – dark grey, white and black. They match any modern office or home office. The package includes a file cabinet, set of casters and instruction.
High-load Capacity
The product dimensions are 23.6 inches in height, 17.7 inches in depth and 15.4 inches in width. Devaise is completely sealed at the bottom to prevent any kind of damage. Constructed of durable steel, this 3-drawer vertical file cabinet bears up to 300 pounds.
Set Of Casters
It is equipped with five casters. Four swivel casters ensure mobility and the front two casters come with brakes for stable placement. Also, there is a small caster that prevents tipping over. You need to affix casters before using a 3-drawer steel file cabinet.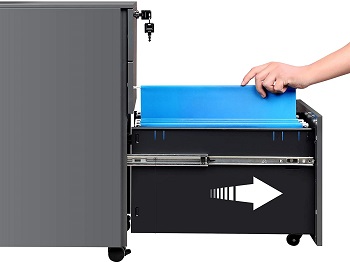 Built-in Lock
There are two stationary drawers designed for small office supplies. The top drawer is equipped with a pencil tray. A file drawer accommodates letter- and legal-size file folders. Keep your files secured with a single key. It locks all three drawers at the same time.
Highlighted Points:
steel construction with dark grey finish
equipped with four swivel casters
auxiliary caster prevents tipping over
two box drawers hold office essentials
file drawer accepts the letter and legal files
a single lock secures all drawers
Things To Know About 3-drawer Vertical File Cabinet
The 3-drawer file cabinets offer different features, so you should consider some factors before you buy any model. Here you can find some guidelines about construction, lockability, storage space and others.
File Cabinet Construction – Many people choose wooden file cabinets for their home offices. So, you can find pine, MDF, walnut or 3 drawer oak filing cabinets. Also, there are models crafted of metal and steel. These materials provide durability and sturdiness.
Upright Design – Vertical file cabinets contain narrow and deep drawers, unlike lateral file cabinets. They are typically 15 to 20 inches wide. This file cabinet type is the perfect solution for small offices since it doesn't take up too much room.
Mobility – There are many vertical file cabinets equipped with a set of casters. You can roll them easily from one office to another. They are compact enough to slide under your office desk or another work surface. Some models have lockable casters to keep stable placement.
Stationary Drawers -Some vertical file cabinets are designed with file drawers only. But it's worth considering a model with a stationary drawer. These drawers are smaller than file drawers and hold office supplies such as pens, paper clips, post-it notes, etc.
Lock Mechanism – If you want to buy secure storage space, you should look for a 3-drawer vertical file cabinet with a quality lock system. You can choose between a central lock that secures all drawers or a separate lock for each drawer.