Are you interested in fire-rated design file cabinets to protect your sensitive files?
If you are, then check out this article about 4-drawer fireproof file cabinet models. You'll find a wide range of file cabinets with high-quality construction and max file protection. Below the list, there is a buying guide with some useful info.
Our Top Picks
5 Best 4-drawer Fireproof File Cabinets
BEST OF BEST 4-DRAWER FIREPROOF FILE CABINET
FireKing Lateral File Cabinet
Lateral File Cabinet
FireKing file cabinet is available in different styles and colors. This is a lateral file cabinet, but in the list below you can find a vertical model, too. The lateral file cabinet comes in champagne color, but there are taupe, tan, sand, platinum, black, white and more colors.
High Price
Its overall dimensions are 52.7 inches in height, 31 inches in width and 22 inches in depth. The price is high, but this is a top-grade commercial file cabinet that delivers maximum protection. Made from steel with environmentally-friendly electrostatic powder coating.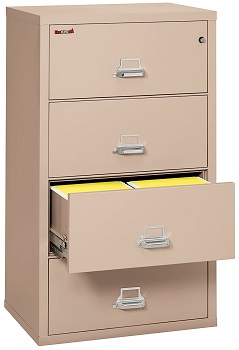 High-security Lock
The surface of this 4-drawer fireproof file cabinet is scratch-resistant and provides a quality appearance. These four drawers are built with high sides for use with hanging folders. FireKing features a UL-listed Medeco lock, it keeps your documents secured from stealing or damage.
Fire & Impact Protection
Fireproof insulation is 100% gypsum, reinforced by a 1" by 2" lattice made of 14 gauge galvanized welded steel wire. There is insulation between all drawers. In event of damage, steel panels can be easily replaced. Also, FireKing is water-resistant and explosion hazard rated.
Highlighted Points:
pre-assembled lateral file cabinet
steel construction with eco-friendly finish
four drawers hold hanging file folders
high-security Medeco lock
each drawer is fireproof insulated
BEST LATERAL 4-DRAWER FIREPROOF FILE CABINET
Phoenix Lateral File Cabinet
Horizontal File Cabinet
There are two Phoenix file cabinets on this list – vertical and lateral model. This lateral file cabinet is available in a few colors and sizes. There are grey and putty color, except for the black. Phoenix is 38 inches wide, 54 inches tall and 23 inches deep.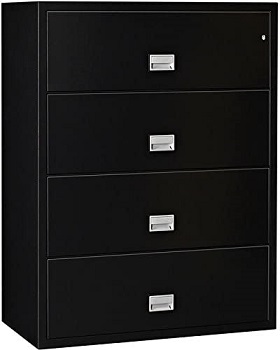 Solid Construction
Certified to protect memory sticks, USB drives, CDs/DVDs and papers, this 4-drawer fireproof file cabinet delivers high protection. Its sturdy construction is covered with oven-baked textured enamel paint finish. It is easy to clean and maintain.
After A Fire Replacement
The package includes 3-year parts and a labor warranty on the file cabinet and lock mechanism. There is a lifetime after a fire replacement. The manufacturer will replace this file cabinet if it was ever in a fire. It is tested for fire at 1700 degrees Fahrenheit.

Water-Resistant Product
It is explosion tested at 2000 degrees Fahrenheit and impact rated. Also, the water can destroy stored items caused by fire hose spray and sprinklers, so there is a Labyrinth sealing system that prevents water damage. This fireproof lateral file cabinet accepts both letter- and legal-size hanging file folders.
Highlighted Points:
black lateral file cabinet with oven-baked enamel finish
easy to clean and maintain
fireproof rated 350 1-hour for documents
four drawers for hanging files
impact and water-resistant
center lock secures all drawers
BEST LOCKED 4-DRAWER FIREPROOF FILE CABINET
FireKing Turtle File Cabinet
Parchment Color
Made in the USA, this FireKing Turtle model is available with 4 or 2 drawers. It is available in parchment color that fits any office decor. The Turtle arrives fully assembled and ready for use. It is perfect for home, personal office or small business. The price is high.
UL-rated Item
The manufacturer provides a lifetime limited warranty. Turtle weighs 405 pounds and it's 52.3 inches tall, 17.7 inches wide and 22.1 inches deep. It has a UL 1-hour class 350 fire rating, it was exposed to temperatures of 17000 degrees for 1 hour and its internal temperature didn't exceed 350 degrees.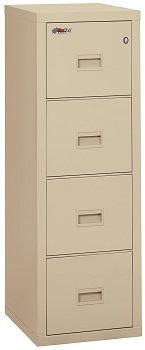 Explosion-tested
Also, this 4-drawer fireproof file cabinet passes the explosion hazard tests conducted by UL. There is more, impact rating means it will survive a fall of 30 feet and keep its fire protection. The turtle is reinforced with steel lattice on all six sides. Every steel panel is replaceable if it's damaged.
Two Keys
This fireproof locking file cabinet is equipped with a key lock, it is placed on the top drawer. The package includes two keys, for a backup. Each drawer has separate insulation for max protection. Moreover, there are hanging files that store letter- and legal files.
Highlighted Points:
steel construction with scratch-resistant surface
available in parchment color only
UL- 1-hour class 350 fire rating
it passes explosion hazard tests
two keys included in the package
each drawer is equipped with metal rails
BEST OFFICE 4-DRAWER FIREPROOF FILE CABINET
AMFFC-400 Fireproof File Cabinet
Heavy File Cabinet
Steelwater produces this AMFFC-400 file cabinet designed for maximum protection. Its exterior dimensions are 58 inches in height, 21.3 inches in width and 26 inches in depth. It weighs approximately 640 pounds. Ideal for commercial, industrial and business use.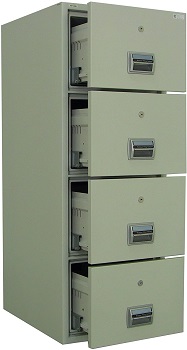 Drawer Size
This 4-drawer fireproof file cabinet is available in green metallic color. Construction is made from durable and sturdy steel. There are four drawers and interior drawer dimensions are 11.2 inches in height, 15.2 inches in width and 20 inches in depth. They accept both letter and legal files.
UL-Fire Rating
AMFFC features 1-hour UL Fireproofing protection. That means the internal temperature will not exceed 350 degrees F for at least one hour. The file cabinet is tested and exposed to high heat and fire. Your private and sensitive files are well-protected.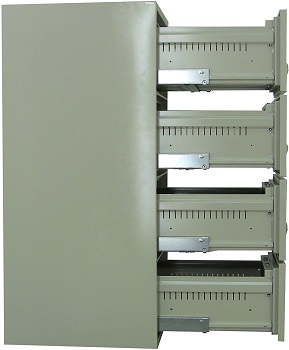 Steel Rollers
This heavy-duty file cabinet features a lock on each drawer. So the package includes 4 keys with their duplicates. Also, there are solid steel locking bolts so each drawer can be locked individually. The drawer rails have steel rollers that provide smooth operation.
Highlighted Points:
heavy vertical file cabinet
durable steel construction for long-term use
deep drawers accept legal-size files
1-hour UL Fireproof protection
each drawer has its own lock
BEST VERTICAL 4-DRAWER FIREPROOF FILE CABINET
Phoenix Vertical File Cabinet
Tall File Cabinet
There is another Phoenix model, but this comes in a vertical shape. Its dimensions are 54 inches in height, 16.8 inches in width and 31 inches in depth. This file cabinet is certified to protect documents, USB drives, CDs/DVDs and memory sticks.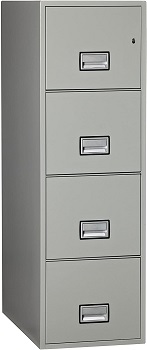 Free Replacement
Choose between three colors – black, putty and grey. If you buy this 4-drawer fireproof file cabinet, you'll get 3-year parts and labor warranty on the entire file cabinet and lock system. Also, there is a lifetime-after-a-fire replacement – if your file cabinet is caught fire, it will be replaced at no charge.
3/4 Suspension Drawers
Its construction is made of durable steel with an oven-baked textured enamel paint finish. There are four drawers and each drawer is a separate insulated container, that keeps the fire away from other drawers which are caught fire. The three-way suspension system ensures easy movement.

Explosion-resistant
Designed especially for letter-size file folders, not for larger files. Follower blocks are included in each drawer. This fire and waterproof file cabinet is tested for fire at 1700 degrees Fahrenheit and explosion tested. The sealing system and sturdy gaskets prevent water damage.
Highlighted Points:
sturdy steel construction with baked enamel finish
available in three colors
four drawers with follower blocks included
tested at fire, explosion, impact
the quality sealing system prevents water damage
Things To Know About 4-drawer Fireproof File Cabinet
These 4-drawer fireproof file cabinets come in a variety of sizes and shapes. We'll explain some factors worth considering before your purchase.
1-Hour Class 350 Fire Rating – UL stands for Underwrites Laboratories, this is an independent organization. The UL rating is an indicator of product quality and safety. The UL Class 350 1-hour fire rating means the internal file cabinet temperature won't exceed 350° F for at least 1 hour when exposed over 1700° F.
UL-Impact Rating – If you buy an impact-rated file cabinet it must be able to withstand a fall from multiple stories. To be labeled as a UL-impact rated file cabinet, the test includes heating to 1,550° F, raised three stories and dropped into a pile of bricks.
Lock System – If you already buying a 4-drawer fireproof file cabinet, you should look for a quality lock system. Some listed models feature high-security Medeco lock. These keys can not be duplicated. You can find them as central or separated locks.
Vertical/Lateral – Your decision should depend on your office space and the number of files. Vertical file cabinets offer deeper drawers and require small floor space. Lateral models offer wider drawers. Some items support only standard size files, if you need a larger model, check for 4 drawer legal file cabinets.
File Cabinet Price – These durable and sturdy file cabinets have a high price, you should be prepared for that. The $1000 is the minimal price for these file cabinets. Once you buy it, it will last for a lifetime. Also, you'll get a lifetime warranty.