Do you want to equip your workbench with a space-saving and attached lamp?
Then the desk-mounted lamps are the perfect solution for your needs! Here is the list of the best-rated models, so check them and pick the model with the shape, size and performance you like. The guide below will highlight the key parameters of a quality lamp.
Our Top Picks
Best 6 Desk Mounted Lamps
BEST OF BEST DESK MOUNTED LAMP
Bostitch Office LED Swing Arm Desk Lamp
Metal Construction
Bostitch Office lamp is available in black, silver and white color. Choose the model that fits your home office or office decor. Its durable construction is made of quality metal. Bostitch is designed for long-term use. It comes with a clamp for desktop mounting.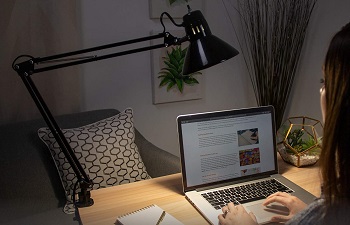 Clamp Base
The fully functional and versatile clip on the base allows you to mount the lamp easily on your desk, table or workbench. Bostitch features a minimalist, vintage-inspired design, it is easy to incorporate it into any office or home environment.
Multi-joint Arm
There is a long, multi-joint arm with an extensive 36" reach. Direct the light close to your paper or on the entire desk area. This desk-mounted lamp comes with included LED light bulb. These bulbs are replaceable. LED technology reduces eye strain and delivers mood-boosting daylight.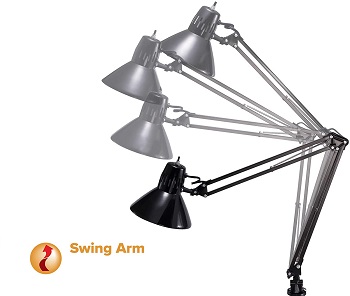 Flicker-free Light
This adjustable arm desk lamp delivers flicker-free and non-glare light, which is safe for your eyes. The on/off switch is located at the head of the light for your convenience. Bostitch provides a color temperature of 4600K. It is covered with a 1-year warranty.
Highlighted Points:
all metal durable construction
versatile clamp base for easy mount
available in three colors
minimalist, vintage-inspired design
uses replaceable LED bulbs
BEST LED DESK MOUNTED LAMP
AmazLit Eye-care Lamp
Clamp With Pads
AmazLit lamp comes with an extra-wide metal clamp equipped with silicone pads. It won't damage or scratch your desk, table or workbench. This metal clamp supports up to a 2.1-inch desktop and holds the lamp stable and secured in one place.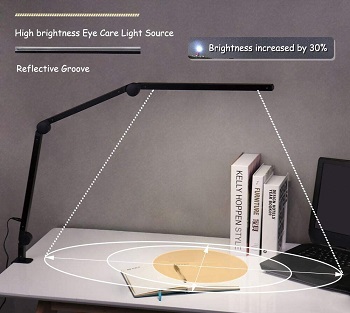 3 Flexible Joints
The power adapter is included in the package, and the cord length is 71 inches. This sturdy versatile desk-mounted lamp maximizes your workbench. The three flexible joints allow you to adjust the lamp in multiple positions. Adjust the light direction according to your requirements.
Large Illumination Zone
AmazLit adjustable LED desk lamp is made of aviation-grade aluminum alloy and features a brushed matte black finish. The light head is 15.8 inches long, so it provides a large illumination zone. There are 98 high-efficient LED lights with a lifetime of 50,000 hours.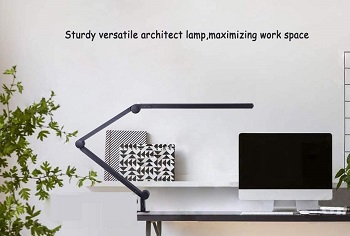 Automatic Delay-off Function
This lamp delivers flicker-free and non-glare light, it reduces eye fatigue. Adjust the color temperature from 3000K to 5500K for different tasks. A built-in automatic delay-off function can be set to 10 or 40 minutes. AmazLit is compatible with a wall switch and smart plug.
Highlighted Points:
extra wide metal clamp with silicone pads
power adapter included in the package
three flexible joints for multiple lamp positions
aluminum ally + brushed matte black finish
LED lights with a lifetime of 50,000 hours
flicker-free and non-glare light
BEST MAGNIFIER DESK MOUNTED LAMP
Lancosc Adjustable Light
Built-in Magnifier Glass
Lancosc is a bit different lamp than others on this list. It comes with a built-in magnifier glass. The sturdy metal clamp can be clipped on any flat surface, such as desk, table, workbench, shelf, etc. It is perfect for work and hobbies that require good and bright sight.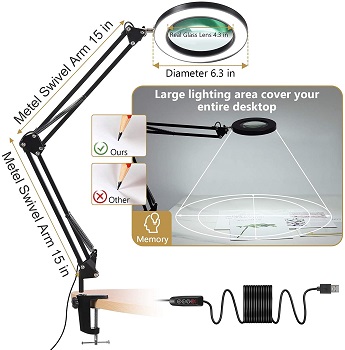 Max Clamping Distance
This desk-mounted lamp is covered with a 3-year warranty. The clamp supports up to 2.1 inches of clamping distance. With three knobs you can adjust the tightness and four springs allow you to adjust the metal arm. It is a stable and durable lamp.
No Optical Distortion
The magnifying glass is made of a real 4.4" real glass lens, with a magnification of up to 2.25x. It provides a clear view without optical distortion. Set the lamp according to your current task, choose between three color modes and few brightness levels.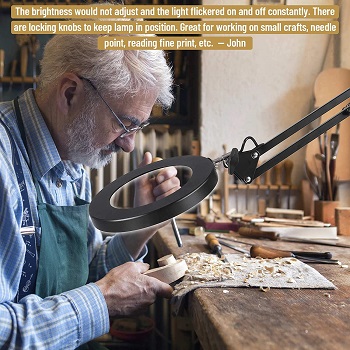 Cleaning Cloth
The package includes a LED lamp magnifier, metal clamp, 12V adapter and cleaning cloth for the glass lens. There are four buttons on the control panel – on/off switch, two brightness buttons and a button for color modes setting. The LED lights provide a long lifespan.
Highlighted Points:
covered with a 3-year warranty
sturdy metal clamp for flat surfaces
max clamping distance – 2.1 inches
real glass lens with 2.25x magnification
no optical distortion
BEST MODERN DESK MOUNTED LAMP
Phive LED Architect Lamp
Ultra-wide LED Panel
Phive is a very popular lamp thanks to its performance and design. Its dimensions are 37 inches in height and the light head is 31.5 inches wide. There is an ultra-wide LED panel that provides larger lighting coverage. You can choose between two colors – black and white.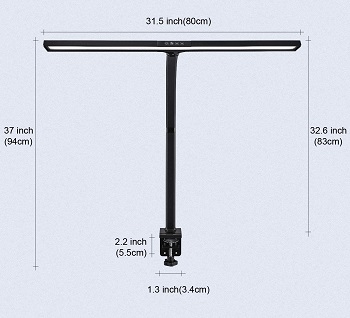 Touch Control
There is a space-saving clamp design with a durable metal clamp, you can mount it anywhere. The clamp supports up to 2.5". This desk-mounted lamp is suitable for a workbench, studio, office, craft and so on. The sensitive touch control buttons are set in front of you.
Silicone Gooseneck
The flexible gooseneck allows you to adjust the lamp in any position. This gooseneck is made of silicone, it is very sturdy. Because this modern LED desk lamp delivers wider lighting coverage, it is ideal for a large workbench, place it above two monitors.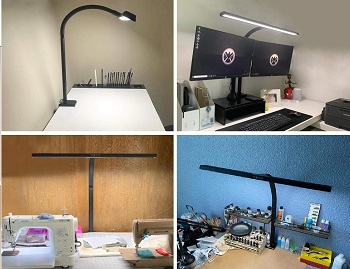 Memory Function
Phive comes with four color modes and five brightness levels that will meet your different needs. An integrated memory function will remember the last-used mode and brightness when turning off and on again. The 20W LEDs last for a long time.
Highlighted Points:
ultra-wide LED panel for a large workbench
space-saving lamp with metal clamp
sensitive touch buttons
flexible silicone gooseneck
memory function remembers last settings
20W LEDs ensure flicker-free light
BEST SWING ARM DESK MOUNTED LAMP
Niulight LED Desk Lamp
Elegant Design
Niulight is an elegant LED desk lamp with a clamp design. This clamp supports up to a 2-inch desktop. You can mount it on your desk, table, workbench, shelf and other flat surfaces. A power adapter is included in the package and the cord length measures 71 inches.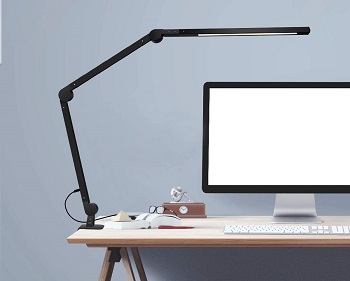 Aluminum Alloy Material
Perfect lamp for architects, designers, editors, students, kids,… Use it for a hobby, crafts, sewing, homework, reading, drawing and other activities. This desk-mounted lamp is made of premium-aircraft-grade aluminum alloy and metal. There is a UL-listed adapter and a 12-month warranty.
Diffusion Panel
The high-efficiency LED provides natural daylight, ideal for precise tasks. It consumes less energy than traditional bulbs. The swing arm clamp desk lamp had a diffusion panel that delivers soft light gentle to your eyes. There is no eye strain or eye fatigue.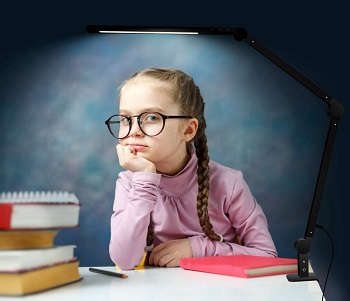 Auto-off Timer
There are 3 joints and a rotating base that helps you to point the light where needed. Set the timer for 10 or 40 minutes and it will turn off automatically. Also, the memory function will remember your last setting. Niulight offers six color temperature modes.
Highlighted Points:
ideal for architects, designers, students
high-efficiency LED lights
made of premium aluminum alloy and metal
UK-listed power adapter
adjustable arm and rotatable base
auto-off timer (10/40 minutes)
BEST FOR READING DESK MOUNTED LAMP
ShineTech Desk Lamp With Clamp
All Included
Shinetech desk lamp comes with a metal clamp, a power adapter, remote control and user manual. The manufacturer uses ABS, PC and metal materials. ShineTech requires 110v – 240v outlets. The clamp is made of sturdy metal and it's easy to affix it to any flat surface.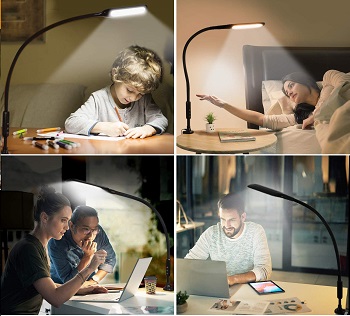 Flexible Gooseneck
There is a 360-degree multi-angle adjustable arm and head, you can focus the light in any direction you need. The flexible gooseneck will stay in any position and provides great illumination. This desk-mounted lamp offers five color modes and five brightness levels.
5 Color Modes
You can choose between warm white to cold white (3000K to 6000K). Select the warm white for relaxation, it's nice and comfortable light. Use the cold white for reading, studying and working. The adjustable reading lamp will meet all your needs.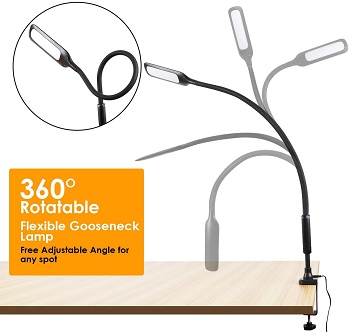 Timing Function
Built-in 60 LEDs deliver a perfect amount of light and diffuse it evenly. It is eye-caring, flicker-free and non-glare light. A lifetime expectancy is 30,000 hours. You can set the timing function for 60 seconds or 10 minutes. Then the light will turn off automatically.
Highlighted Points:
power adapter included in the package
multi-angle adjustable arm
five color modes and five brightness levels
60 LEDs for long-term use
made of durable metal
timing function
Things To Know About Desk Mounted Lamp
Buying a desk-mounted lamp might not seem like a complicated task, but there are some factors you want to look for when selecting the best model. Check out those guidelines below and find your suitable lamp with ease.
Lamp Size – The lamp design and size depends on your desk and the purpose it is required for. Large desk lamps cover a greater work area and provide strong and clear light. Use the small lamp if you have a small desk and require low ambient light.
Energy Efficiency – If you are going to use a lamp all day, every day then you should look for some energy-efficient solution. Most of today's lamps use LED bulbs. They consume less energy and last much longer than traditional ones. Some of them last for 25 years and more.
Brightness & Color Temperature  – Almost all models offer you to choose between numerous color temperatures and brightness levels. Having an appropriate color temperature will reduce eye strain and fatigue. In the middle of the day, use natural white LED light. In the evening, choose warm light.
Range Of Motion – Many experts agree that adjustable lamps are the best for use. The larger the range of motion they have, the better. A wide range of motion allows you to adjust the light exactly where needed, for example, move it close to your electronic when repair.
Material And Build – The desk-mounted lamps can be made of different materials. That includes aluminum, steel, plastic, metal, etc. The plastic ones are affordable, but they don't last long. Instead of them, buy steel, metal or aluminum lamps.