Are you interested in a standing desk lamp suitable for everyday use?
Here you can find six top-rated models suitable for any office, home office, living room or guest room. Read more about them and learn some basic info in our buying guide. It will help you to find the perfect model for your needs.
Our Top Picks
Best 6 Standing Desk Lamps
BEST OF BEST STANDING DESK LAMP
Phive Floor Lamp
Easy Assembly
Phive floor lamp is available in black and white color, so pick the color you like the most. Its overall height is 62 inches and the light head is 16 inches long. When the lamp arrives at your address, you need to assemble it, which requires 5-10 minutes.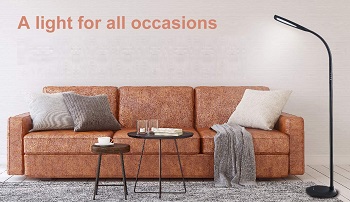 Non-flickering Lighting
This standing desk lamp comes with an 18-month warranty. If Phive is damaged during the transportation, contact the customer service. Constructed of durable and quality plastic and metal, it will last for a long time. The LED bulb doesn't produce flickering and glaring light.
Durable Gooseneck
It's safe for your eyes, so you can read, work or craft for hours without eye fatigue. This floor reading light is rated for up to 50,000 hours. You don't have to change the bulb for the next 25 years. The durable gooseneck is made of robust material, you can place the lamp in any position.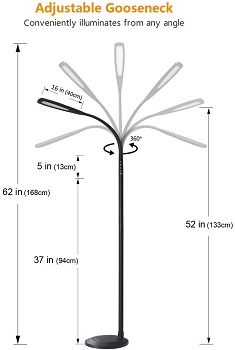 Touch Control
You can choose between four color modes and five brightness levels. These settings will satisfy your different illumination needs. Switch the color mode and brightness on the touch panel. There are four buttons to customize your settings.
Highlighted Points:
available in black and white color
covered with an 18-month warranty
assembly needed
non-flickering and non-glaring light
4 color modes and 5 brightness levels
flexible gooseneck
BEST BED STANDING DESK LAMP
Brightech Sky Dome Plus Lamp
3-year Warranty
Brightech is a super bright torchiere floor lamp. It is available in black, gold brass and platinum silver color. The overall lamp height is 72 inches, while lamp base measures 1.5 inches x 10 inches. There are large and small lampshades. It is covered with a three-year warranty.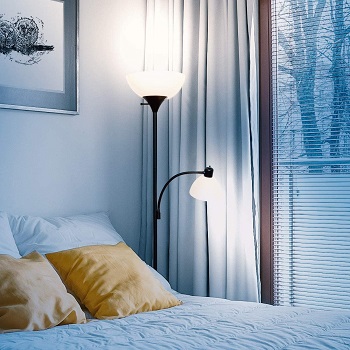 Weighted Base
It's one of the bed stand lamps that feature a weighted base and sturdy design, so it isn't easy to tip it over. You can use it in your children's room, it is safe and stable. The assembly is required, you need to screw the parts together, which requires few minutes. The instruction is included in the package.
Two Bulbs
There are two lampshades made of durable plastic. These plastic shades diffuse the lights so it doesn't blind you. This standing desk lamp comes with two LED bulbs included. One 16W bulb for 1600 lumens and one 9.5W for 800 lumens.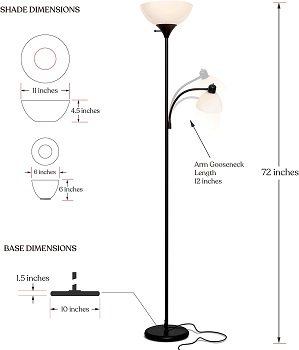 Color Temperature Of 3000K
This floor lamp for reading chair is rated for up to 20,000 hours. Both lampshades deliver a color temperature of 3000K, and their warm white light is ideal for relaxation. Also, it provides 2,400 total lumens output. Brightech won't overheat.
Highlighted Points:
includes two powerful LED bulbs
ensure a color temperature of 3000K
weighted base prevents tipping
available in three colors
covered with a three-year warranty
BEST BRIGHT STANDING OFFICE LAMP
Joofo Modern Floor Lamp
Variety Of Colors
Joofo is a modern standing lamp that is 68.9 inches tall, it's taller than the majority of floor lamps. There are multiple colors available, that includes avocado green, brushed nickel, pearl white, rocky black and silver grey. Match it with your office decor.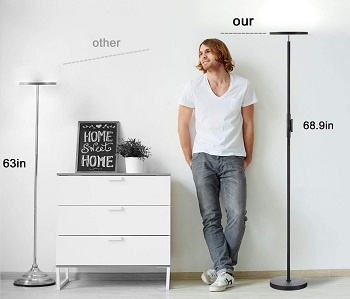 Heavy Base
Its base is very heavy, so it isn't easy to tip it over. This standing office lamp is safe for your children and pets. Moreover, it's space-saving, you can put it under your reading chair, sofa or narrow corners. With 350-degree rotation, you can adjust any angle you need it.
Low Heat Technology
This bright office lamp uses advanced low heat technology. This light is rated for up to 100,000 hours. It requires low maintenance and replacement cost. You can adjust teh color temperature and brightness, choose between 3000K to 5000K.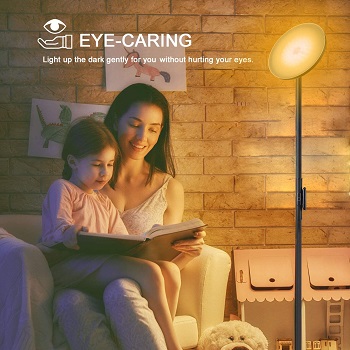 Remote Control
Set the cool white light when you working, studying or reading. The integrated memory function will remember your last used setting, so you don't have to set it every time. Joofo comes with remote control, you can easily control the lamp, its range is 32.8 ft or 10m.
Highlighted Points:
modern standing lamp
very heavy base prevents tipping and falling
safe for your children and pets
features 350-degree rotation
uses advanced low heat technology
comes with remote control
BEST MAGNIFYING STANDING DESK LAMP
Tomsoo Adjustable Floor Lamp
Adjsutable Arms
Tomsoo is available in two colors – black and white. Also, you can choose between two lamp sizes. Tomsoo has two 15" adjustable swing arms, so it can be adjusted up to 32 inches in vertical and horizontal positions. It comes with a clamp.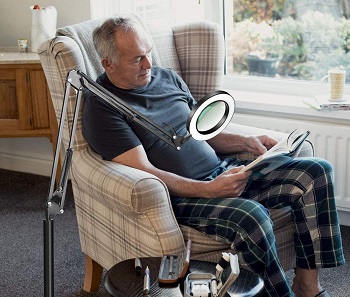 2-in-1 Lamp
The maximum clamping distance is 2.1", it is easy to mount to on your desktop. So you can use it as a floor or desk lamp. Tomsoo comes with a 3-year after-sales service. If you aren't satisfied with this standing desk lamp, contact customer service.
Real Glass Lens
This is a bit different lamp than others on this list. It features 4.4" real glass that provides a clear view and magnifies up to 2.25x. There is no distortion or fog which comes with cheap acrylic and plastic lens. Around the lens, there are 60 pcs SMD LEDs.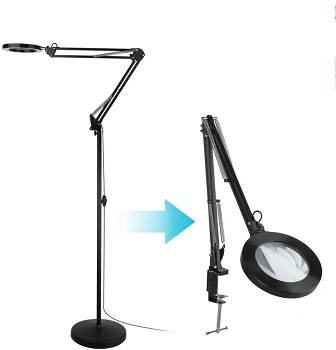 Color Temperature Range
The color temperature range from 3000K to 6000K, so you can choose warm light for relaxation or cold white light designed for precise work, reading or crafting. This LED lamp magnifier is safe for your eyes, it reduces eye strain and eye fatigue.
Highlighted Points:
two colors available
adjustable swing arms
comes with a sturdy base and clamp
4.4" real glass lens with 2.25 magnification
60 pcs SMD LEDs
wide color temperature range
BEST LED STANDING OFFICE LAMP
Lepower Metal Floor Lamp
Metal Lamp
Lepower is a tall standing lamp available in multiple colors – there are black, bronze, gold, green, silver, white and other colors. Made of high-quality metal material, Lepower will last for many years. The bulb isn't included in the package.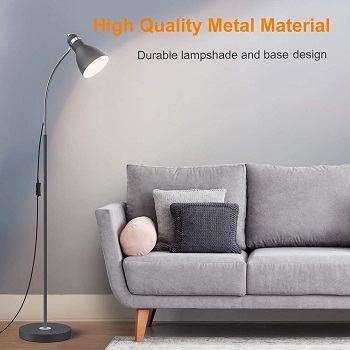 Compatible With LED
It requires a universal E26 base bulb and the lamp is compatible with an LED bulbs, energy-saving bulbs and incandescent bulbs. You need to install the lamp when it arrives. That task requires few minutes. The on/off switch is located on the power cord for easy use.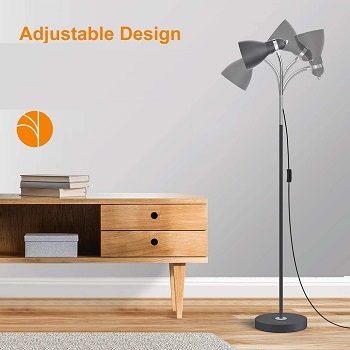 Flexible Gooseneck
This standing office lamp has a flexible gooseneck which allows you to find a perfect lighting angle. It is an ideal adjustable LED desk lamp for the office, bedroom, living room, guest room, children's room. On the light head, there is a heat dissipation design, it helps extract the heat away.
Highlighted Points:
functional metal floor lamp
high-quality metal lampshade and base
requires universal E26 light bulb
compatible with LED, energy-saving and incandescent bulb
heat dissipation base
BEST FOR READING STANDING DESK LAMP
Kenley Natural Daylight Lamp
Lightweight Lamp
Kenley is a popular floor lamp on the market. You can choose between three colors – black, dark wood and grey. Match the lamp style and color with your office or living room, it will fit with almost any decor. It is a lightweight and portable floor lamp.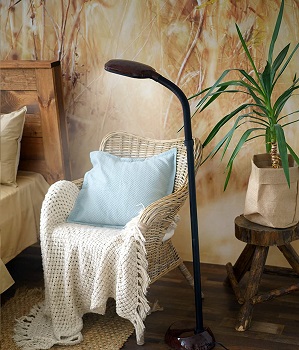 Sturdy Base
It is 63 inches tall and stands on a sturdy and stable base, which prevents tipping. The power cord is 69 inches long, so you can place the lamp wherever needed. This standing desk lamp is suitable for reading, knitting, painting sewing and other tasks.
Natural Daylight
This adjustable floor lamp for reading has an adjustable swivel neck, you can turn it in all directions and direct the light wherever you want. Kenley uses a replaceable 27W energy-saving bulb that is rated for up to 8,000 hours. This light ensures the feel of full daylight whether the night or dull day.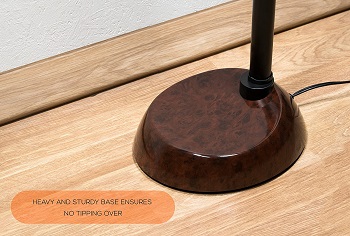 Color Temperature Of 6400K
Kenley has a color temperature of 6400K, which is perfect for reading. It will show you the true clear colors of whatever you working or looking at. Also, this lighting is gentle to your eyes, it reduces tiredness and eye strain, but provides a boost of energy.
Highlighted Points:
tall floor lamp with a sturdy base
three colors available
lightweight and portable lamp
delivers a color temperature of 6400K
uses replaceable LED bulbs
natural daylight at any time
Things To Know About Standing Desk Lamp
The standing lamps come with different features, so it isn't easy to find the best one. Here you can find some relevant info about these lamps which will help you to find a suitable lamp.
Floor Lamps – These lamps can easily replace or complement most overhead lighting. The floor lamps are more practical, you can move them from one room to another and direct the light if they come with a flexible gooseneck or adjustable arm.
Shade Types – The lampshade type is also important. The right decision depends on whether you'd like warm diffused light or a brighter glow light. Choose the glass or plastic lampshade if you looking for a practical shade. Drum shade provides a level of ambiance but doesn't provide bright light.
Bulb Types – Mostly, all floor desk lamps are compatible with LED bulbs, but there are many models compatible with halogen, CFL and incandescent bulbs. LED lamps use less energy than traditional bulbs, plus they last much longer and don't produce heat.
Color Temperature – We recommend buying a lamp with lighting modes. Then you can change the color temperature according to your activities. If you want to watch a TV or relax, set the 3000K (kelvin). That's the warm light. If you choose the 5500K, it will provide cold white light for precise work.
Lamp Base – Don't forget to check the base of a standing office lamp. It should be stable and sturdy. The lamps with a weighted base prevent tipping over and falling. They are safe for you, children and pets. Read the product description and check the lamp base weight and which material it's made from.