Are you looking for a desk lamp with a refined look that complements your room's interior?
Then read this article about rose gold desk lamps!
Here you can find lamps that combine modern and elegant appearance and add a touch of beautiful color to your room. Check out the list of the top-rated models, read reviews and learn how to pick the best lamp for your needs.
Our Top Picks
Best 6 Rose Gold Desk Lamps
BEST OF BEST ROSE GOLD DESK LAMP
Haitral Rose Gold Table Lamp
Lamp Size
Haitral is an elegant desk lamp available in rose gold, gold, grey, black and white color. This lamp is 13.8 inches high, the base diameter is 4.7 inches and the lampshade measures 6.3 x 7.1 inches. Its power cord is 67 inches long. The bulb isn't included in the box.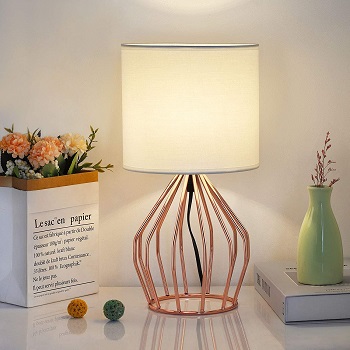 UL-listed Components
This rose gold desk lamp comes with a warranty, if there is any problem contact 24/7 customer service. The plug and cord are UL listed, they are nationally recognized for their standard of safety. Haitral requires an E26 universal standard base bulb of max 60W.
Metal Base
It is compatible with LED and Compact Fluorescent Light (CFL) bulbs. This stylish desk lamp fits any size table, workbench, end table, coffee table, nightstand etc. Haitral is designed with a geometric metal frame and white lamp shade.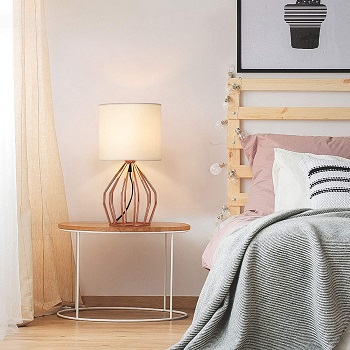 White Shade
Haitral emits warm and comfortable light that creates a cozy atmosphere. The white fabric shade softens the light, so it's ideal for casual reading. This rose gold lamp is elegant and attractive, it will be a nice home decoration or gift for your friends or colleagues.
Highlighted Points:
made by metal and fabric
rose gold diamond-shaped base
white fabric lampshade
compatible with LED and CFL bulbs
requires simple assembly
UL-listed cord and plug
creates a romantic and cozy atmosphere
BEST STUDY ROSE GOLD DESK LAMP
HDTime Modern Desk Lamp
Sturdy Lamp
HDTime desk lamp is an affordable product which pole is 16 inches high, the lamp base measures 9.5 x 4.5 inches and the light bar is 15 inches long. It is available in rose gold and silver colors. Constructed from metal and aluminum, it is sturdy and durable.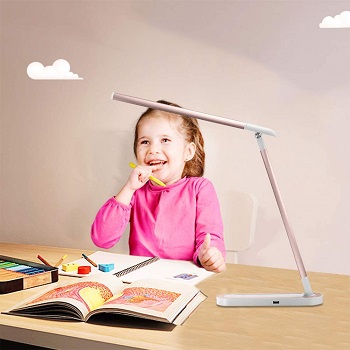 32 Pcs LEDs
This rose gold desk lamp comes with 32 pcs LEDs which expected lifespan is up to 40,000 hours. These LEDs are energy efficient and don't produce heat. Non-flickering and non-glaring light protect your eyes. The aluminum alloy dissipates the heat and prolongs lamp life.
Foldable Design
HDTime lamp is perfect for reading, studying, working, drawing, crafting and other precise works. This modern task lamp has a foldable design, you can move the lamp head up and down and the lamp body can be folded at 75 degrees. It doesn't take up much space.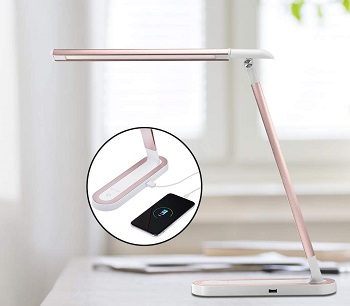 Touch Control
It comes with sensitive touch control, so you can adjust color mode and brightness level easily. Choose between three levels of brightness and three color modes. Set the warm light when relaxing and normal light for working, reading and studying.
Highlighted Points:
available in two colors
made of aluminum and metal
32 pcs LEDs with a long lifespan
flicker-free and glare-free light
highly flexible design
three color modes and three brightness levels
BEST MODERN ROSE GOLD DESK LAMP
Sottae Modern Hollowed Lamp
Small Lamp
Sottae table lamp combines modern and traditional design elements. Except for the rose gold, it is available in gold and black colors. This is a small lamp, its dimensions are 15.7 inches in height and the lampshade measures 9.1 x 7.1 inches.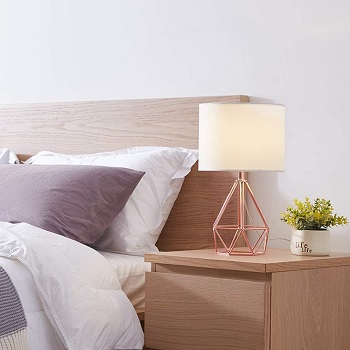 ETL-certified Lamp
This rose gold desk lamp has passed many safety tests and authentification of the ETL safety system. You can rely on its quality. Sottae modern reading lamp requires 11V-120V outlets. It can be used with LED, CFL, incandescent medium base bulbs. The bulb isn't included in the package.
Knob Switch
A lamp body is constructed of quality metal while the white shade is made from TC fabric. The on/off knob switch is located on the power cord. The modern base has a geometric shape and simple lines, it adds a chic vibe to your place. A high-quality shade emits a soft and warm light.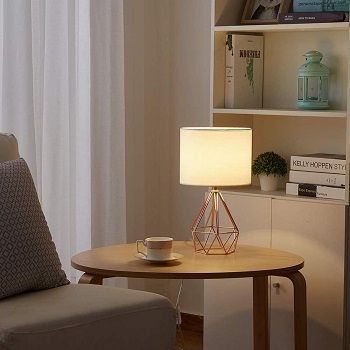 Warm Light
Sottae table lamp creates a relaxing and comfortable atmosphere, perfect for playing, watching movies, casual reading and other activities. This light is soft and safe for your eyes, it doesn't cause eye strain or eye fatigue. It comes well packaged and it's easy to assemble.
Highlighted Points:
very small table lamp
modern and traditional elements
meets many safety standards
compatible with LED, CFL and incandescent bulb
soft light creates a comfortable atmosphere
geometrically shaped lamp base
BEST READING ROSE GOLD DESK LAMP
Kwmobile Folding Desk Lamp
Aluminum Alloy
Kwmobile desk lamp is available in rose gold, gold and anthracite colors. It features an attractive desk and it is constructed of high-quality aluminum alloy. Kwmobile has a small footprint, so fits on any table, workbench, office desk, nightstand.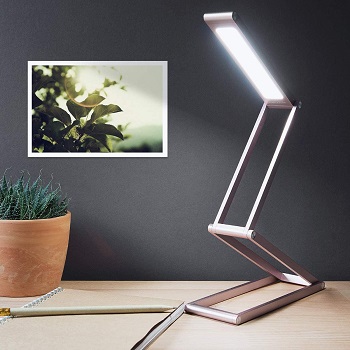 Battery-powered Lamp
The package includes a lamp, wall bracket, storage bag and micro USB cable. Kwmobile is a battery-powered lamp, meaning, you can place it wherever you need it at the moment. There is a built-in rechargeable battery that needs 2-3 hours for fully charging.
Energy-efficient Lamp
You can charge it via a wall socket, portable power bank, computer, laptop, etc. Kwmobile portable reading lamp has a max runtime of 3 hours. It is an A+ energy-rated rose gold desk lamp. Choose between three levels of brightness – low, medium and high light.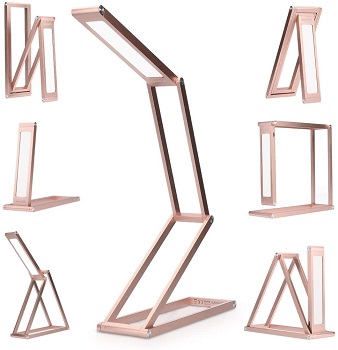 Three Levels Of Brightness
Adjust the lighting mode depending on your current activity – reading, studying, working, homework, crafting, sewing, playing, relaxing. The dimmer switch is located on the lamp head. Kwmobile desk lamp is highly flexible, you can extend it and fold it completely.
Highlighted Points:
available in three colors
made of aluminum alloy
three levels of brightness
suitable for reading, studying, crafting
highly-flexible design
built-in rechargeable battery
BEST LED ROSE GOLD DESK LAMP
Cotulin Desk Lamp
Quality Materials
Cotulin is an eye-cathing table lamp that will upgrade any room interior. The lamp height is 17 inches and the lampshade measures 6.7 x 6.7 inches. The manufacturer uses high-quality materials which are proven by the UL certificate.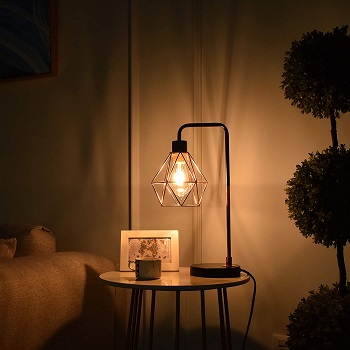 Choose The Bulb
This rose gold desk lamp requires an E26 base bulb, the bulb isn't included in the package. You can choose between CFL, incandescent and LED bulbs, Cotulin is compatible with all bulb types. But be careful with wattage, it requires a maximum wattage is 40W.
Diamond-shaped Shade
The on/off rocker switch is located on the power cord. The whole lamp construction is made from sturdy metal. This modern LED table lamp features hollowed-out a diamond-shaped cage shade finished in rose gold. It is a very attractive lampshade.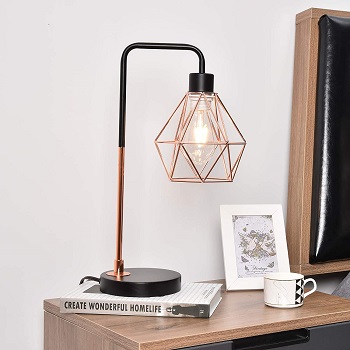 Affordable Price
Its price is affordable. Use the lamp for ambient lighting, not for reading or studying. Cotulin table lamp complements modern, industrial, minimalist, farmhouse and contemporary styled room interiors. It creates a romantic and cozy atmosphere.
Highlighted Points:
modern and industrial styled lamp
made from durable and quality metal
compatible with LED, CFL and incandescent bulbs
maximum wattage of 40W
UL-listed lamp
hollowed-out lampshade
BEST SMALL ROSE GOLD DESK LAMP
Nova Juns Industrial Desk Lamp
Industrial Style
Nova Juns is a modern desk lamp inspired by industrial design. It is available in rose gold, black and gold colors. This lamp is 16.1 inches tall and the base measures 5.5 x 4.9 inches. Its power cord is 61 inches long. If there is any problem, contact customer service.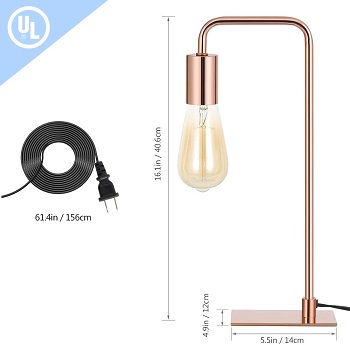 Edison Bulb
This rose gold desk lamp is lightweight and compact, it's easily portable. The power cord is UL-listed. Non-slip mat on the lamp bottom prevents scratches and keeps the lamp stable. Nova Juns lamp requires a standard E26 bulb and the manufacturer suggests an Edison bulb to keep an industrial look.
Ambient Light
Nova Juns is a small modern desk lamp with a tubular metal body and rectangle metal base. There is no shade, so the light bulb is exposed. It emits ambient light toward every corner of the room. You can place it on your nightstand, end table, coffee table, etc.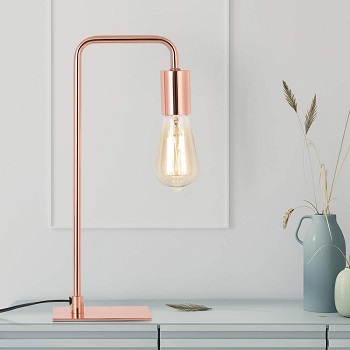 Fits Anywhere
It is compact and easy to install and disassemble anytime you want. Nova Juns is compatible with LED bulbs (4W-6w), incandescent (15W-25W), energy-saving (8W-11W) bulbs. The package includes a lamp, Allen wrench, screw and user manual.
Highlighted Points:
small and compact desk lamp
lightweight and portable
tubular metal body
compatible with LED, energy-saving and incandescent bulb
light bulb is exposed
emits ambient lighting
Things To Know About Rose Gold Desk Lamps
The rose gold desk lamp comes in a variety of sizes, shapes, styles and features, so it isn't easy to find the perfect model. There is some important info about lamp size, design, light bulbs which you need to consider before buying.
Lamp Size – There isn't some specific rule when it comes to lamp size. But you can follow this general rule, the bigger the desk, the larger the lamp should be. The taller lamp can illuminate your entire desk and even room. Also, read the product dimensions carefully.
Flexible Design – If you don't need a lamp for ambient lighting only, but for reading, studying, working or hobbies, you should check lamps with flexible design. These lamps allow you to adjust the light direction and for whatever task you're working on.
Lighting Modes – Whether you looking for a task lamp or an aesthetic desk lamp, more options are always a good idea. LED desk lamps offer a whole range of lighting modes. You'll be able to choose among warm, warm white, white and natural illumination.
Safety – Although there are many cheap rose gold desk lamps available in the market, don't buy them, they aren't safe. You don't want to risk burning and other damages. many of the lamps in the list above come with a UL certificate, which proves the lamp quality.
LED Bulb – Traditional desk lamps use incandescent or CFL bulbs, while modern lamps work with LEDs. But some modern lamps are compatible will all light bulbs type. For example, the Edison bulb gives a modern industrial look. LEDs are more energy-efficient and last much longer.