Do you want to refresh your workroom with an attractive red desk lamp?
If you do, then keep reading!
Here is the list of the best-rated lamps so check it and pick the model with size, functions and price you like. Various table lamps are offered and classified to be easier for you to find the model that will suit your home office or office.
Our Top Picks
Best 6 Red Desk Lamps
BEST OF BEST RED DESK LAMP
Torchstar Metal Desk Lamp
2-in-1 Design
Torchstar is a high-quality desk lamp suitable for task lighting. Choose between red, black and white color. The lamp base measures 6.1", the lampshade has 5.5" x 5.1" and the adjustable arm has 18.2". The power cord is 51 inches long. This lamp comes with a solid stand and adjustable c-clamp.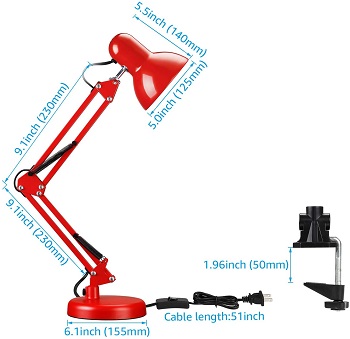 C-clamp
If you decide to use a clamp design, you can clamp it onto any surface up to 2" wide. You can install it in a vertical or horizontal position. The clamp comes with an anti-scratch solid plastic pad that protects your furniture from scratches and desk.
Spring-balanced Arm
This swing arm desk lamp with clamp has a flexible spring-balanced adjusted arm that extends up to 18". The taller the lamp is, the larger area it will illuminate. Torchstar has a rotatable base and lampshade, so it's very easy to focus the light exactly where you need it.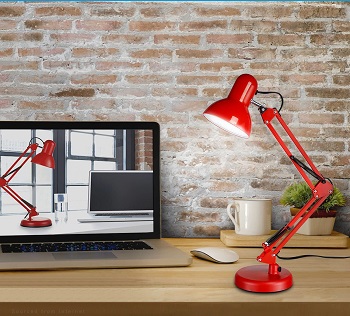 Metal Build
The lamp construction is made from durable and quality metal with a red finish. The power plug is UL-listed, meaning it is safe for use. You can use both E26 and E27 base bulbs, Torchstar red desk light is compatible with LED light bulbs. They provide many hours of service.
Highlighted Points:
high-quality desk lamp
red, black and white color
comes with a solid stand and adjustable c-clamp
install it in a vertical or horizontal position
anti-scratch solid plastic pad
compatible with LED
the power plug is UL-listed
BEST SWING ARM RED DESK LAMP
Hongyife Metal Desk Lamp
Durable Construction
Hongyife is a tall and adjustable desk lamp available in red, black, white and yellow colors. Its price is high and the construction is made from ABS material, metal and iron. High-quality metal base and shade are durable and last for many years. It is easy to clean and maintain.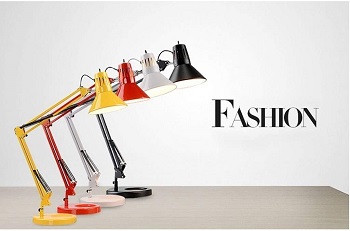 Push Button Switch
Its lampshade is painted and won't fade easily. Also, it's resistant to scratches. The lamp base measures 7.4" in width, the lampshade has 9.1" and the swing arm has 14.1" x 14.1". This space-saving desk lamp has a push-button switch for convenient operation.
Bulb Types
The package doesn't include a bulb, you need to buy it separately. This adjustable reading lamp has E27 sized screw base and the manufacturer suggests using a 4W-6W LED bulb, 8W-16W energy-saving bulb or 20W-40W incandescent bulb. LED bulbs are very popular thanks to their long-lasting lifespan.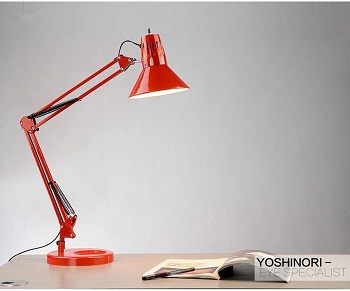 Swing Arm
This red desk light has an adjustable lamp arm, so you can move it up and down, back and forth. Also, the lamp head is flexible, meaning, you can direct the light wherever you need it. That is very useful if you have to do some detailed work, including repairing, sewing, drawing, etc.
Highlighted Points:
tall and adjustable desk lamp
made from ABS material, metal and iron
high-quality and solid metal base
push-button switch
compatible with LED, energy-saving and incandescent bulbs
adjustable lamp arm
BEST TASK RED DESK LAMP
Ominilight Gooseneck Desk Lamp
Solid Base
Ominilight is an affordable desk lamp available in several colors – red, black, grey wood grain and others. This red lamp has a circular and solid base, so it won't easily fall down or turn over. With its small footprint, Ominilight won't take up too much space.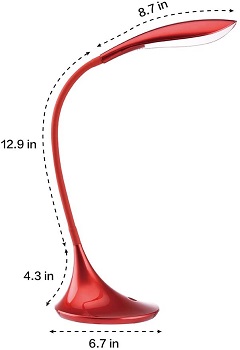 Gooseneck Design
This lamp has high-quality pressure-resistant silica material that allows you to adjust the lamp angle and height. It is easy to direct the light wherever you need it at the moment. That is practical when you read, study and need direct light on a specific area.
No Visual Fatigue
The modern task lamp uses an LED light bulb that produces a flicker-free light beam without causing visual fatigue. Ominilight has a touch control panel, just tap it and the lamp is on. Touching the on/off button on the lamp base you can choose a suitable brightness level.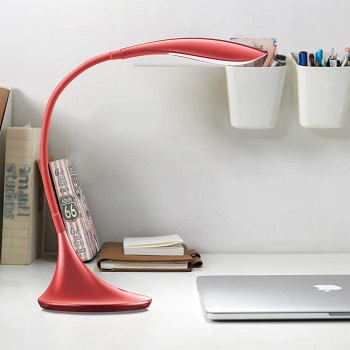 Three Brightness Levels
There are three brightness levels you can choose from. There are low, middle and high levels. The low level is useful for relaxation, the middle level is great for reading and the high level is suitable for working and other precise tasks. The lamp size is 6.7" x 12.9" x 8.7".
Highlighted Points:
affordable desk lamp
available in several colors
circular and solid base
pressure-resistant silica material
LED light bulb
touch control panel
three brightness levels
BEST LED RED DESK LAMP
Bostitch Office Desk Lamp
Sleek Design
Bostitch is a compact desk lamp that fits on any desk, shelf, table, end table, and so on. The product dimensions are 13.4" x 6.5" x 14.4". Its modern and sleek design is the perfect accent to any desktop. Bostitch is backed by a 1-year warranty from the manufacturer.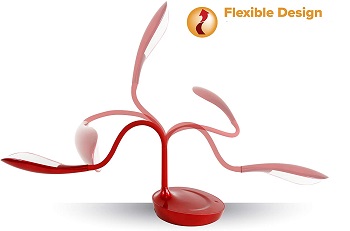 Flexible Neck
This red LED desk lamp features a flexible neck made from soft silicone, you can easily adjust and position its gooseneck in any direction. Bostitch uses LED bulbs, that provide glare and flicker-free illumination that last up to 25,000 hours. It uses 85% less energy than traditional bulbs.
Dimmer Settings
Bostitch is a LED reading lamp that has a touch-sensitive base, so turn on/off the lamp with a finger touch. The dimmer function allows you to choose between three light levels – low, medium and high. It is easy to customize your perfect lighting. Set high light when reading or working.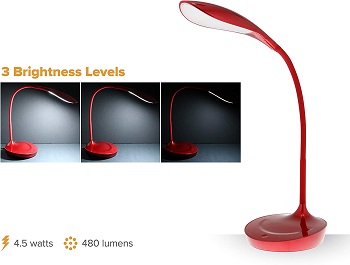 Built-in USB Port
The max color temperature is 6500K and this lamp has high Color rendering index, meaning you'll see clear and vivid colors. This lamp also features a built-in USB power port for quick and accessible device charging. Charge your mobile phone while working and keep it in your arm's reach.
Highlighted Points:
compact and sleek desk lamp
multiple brightness levels
adjustable lamp neck
energy-efficient bulb
touch-sensitive base
built-in USB port
BEST WIRELESS RED DESK LAMP
Zeyu Office Lamp With Charger
Attractive Lamp
Zeyu is an attractive desk lamp which design is inspired by rustic and vintage elements. The rounded base measures 6.3" x 1.4", the lampshade is 11.2" wide and its overall height is 17.4". Except the red color, it is available in green and black. The seller provides 30-day money-back guarantee.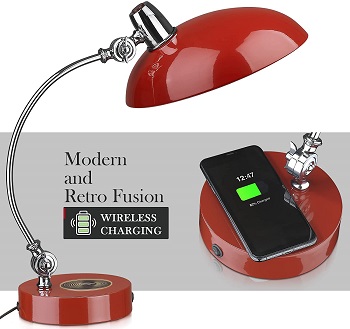 ETL-listed Lamp
With its attractive design, it is compatible with mid-century, modern, minimalist, art deco decors. This vintage reading lamp has a long power cord of 67 inches and a convenient on/off switch. Zeyu is ETL-listed with a one-year warranty. It is ideal for office, living room, kids room, dorm, home office, etc.
Flexible Design
Zeyu features a flexible lamp so you can adjust the lamp positions and direct the light where needed at the moment. It is easy to find a perfect lighting angle. Zeyu requires one E26 base 60W bulb. It is compatible with incandescent, LED and CFL light bulb types.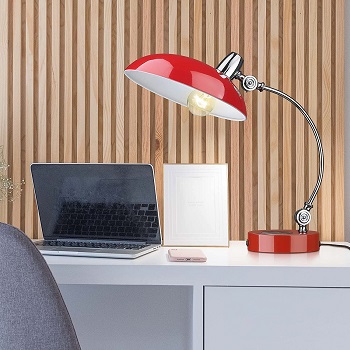 Wireless Charger
The bulb isn't included in the package. This red table lamp has an E26 base 60W bulb that is compatible with all enabled wireless charging devices. No matter the lamp is on or off you can always put your smartphone on the charger, it works at any time.
Highlighted Points:
attractive vintage design
compatible with many decors
30-day money-back guarantee
flexible lamp design
E26 base 60W bulb
built-in wireless charger
BEST FOR READING RED DESK LAMP
Kyam Office Desk Lamp
Affordable Price
Kyam is a tall office desk lamp available in three colors – red, black and white. This model has an affordable price. Kyam is a modern designed desk lamp that fits any type of home office or office decor. Place it on your office desk, dorm, workshop desk.
Metal Construction
Its swing arm measures 18.8", the lampshade is 5.1" wide and the base has 6.3" in width. Taller lamps like this one can illuminate larger desk surfaces. This adjustable reading lamp has a heavy-duty construction made from durable metal. It provides durability and aesthetics.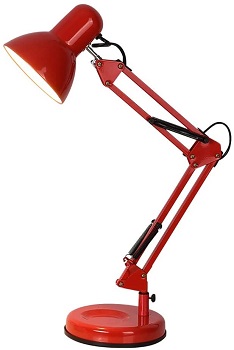 Flexible Design
This red lamp has a flexible design and the lamp head is adjustable. The lamp head can be focused on any area you want to. Move the lamp arm up and down depending on your needs. This lamp is perfect for reading, studying, repairing, sewing and other precise tasks.
LED Bulb
Kyam features a space-saving design, there is a rounded base that doesn't take up much space on your desk. This task lamp uses an LED bulb, which lasts longer than traditional ones, provides great illumination and uses less energy. It is good for your eyes, too.
Highlighted Points:
available in three colors
affordable price
heavy-duty metal construction
flexible design
adjustable lamp head
great for reading, studying and working
uses LED bulb
Things To Know About Red Desk Lamp
These red desk lamps are very attractive and will refresh your home office or office. But, before buying, there are some factors you need to consider. That includes lamp size, amount of light, construction and more, so keep reading.
Red Color – Red is energizing color that will grab your attention and stand out from its surroundings. The red color makes you feel passionate and energizing. It is the warmest and most dynamic of the colors. If you want to draw attention to a design element, use a colorful desk lamp.
Lamp Size – Many people forget to check the lamp dimensions before buying, so please do it. Read the product description carefully. The right lamp size makes all the difference for your individual needs. For example, taller lamps can light up the larger desktop area.
Swing Arm – Desk lamps with adjustable and flexible arms are versatile and practical. The swing arm allows you to adjust and direct the light closer or farther away, depending on your current tasks and needs. Usually, these lamps have rotatable bases and lampshades.
Brightness Levels – If it's possible for you, buy a lamp with adjustable brightness levels. Check the lamp color temperature, it is measured in kelvins. The higher the color temperature, the colder the light is. Mostly, lamps come with three levels of brightness – low, medium and high.
Light Bulb – Before buying, check if your desired red desk lamp is compatible with the light bulb you want to use. Some models are compatible with all light bulb types, such as LED, incandescent, CFL, halogen, etc. Also, check if the bulb is included in the package, so you don't have to buy it separately.
Final Verdict
You can't go wrong with any of these models, but we would like to recommend the Torchstar red desk lamp. It has an affordable price, flexible design and comes with a sturdy stand and adjustable c-clamp. If you like the colorful things and furniture, then check out the articles on yellow desk lamps and green shade desk lamps.