Do you want to buy a portable reading light, so you'll be able to read your books wherever you go?
If you do, then check out this article! There are a lot of models worth buying on the market and you can see our selection of the best portable lamps in this post. Find the adequate model reading those reviews and learn more in the buying guide at the end.
Our Top Picks
Best 6 Portable Reading Lights
BEST OF BEST PORTABLE READING LAMP
Deeplite LED Desk Lamp
Versatile Lamp
Deeplite lamp features a small and convenient design, you can use it as a desk lamp, table lamp, bedside or study lamp. The package includes a user manual, lamp and USB cable for charging. The power adapter isn't included in the package. Deeplite has a built-in battery.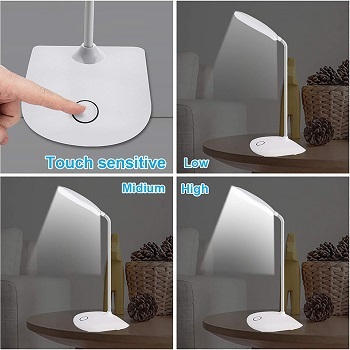 Cordless Lamp
You can charge it with a USB cable, power bank, PC, laptop, car charger, and so on. The lamp base measures 4.7" x 3.5", a lamp is 10 inches tall and the head diameter is 4.3 inches. Use it for reading, drawing and other activities, it is a cordless lamp, so you can take it with you.
Touch Panel
This portable reading lamp has a 5W LED light with 400 lumens at full brightness. There is no flickering, glare or other harmful effects on your eyes. Deeplite is a LED reading lamp that is gentle for your eyes. Select the brightness level on the touch panel.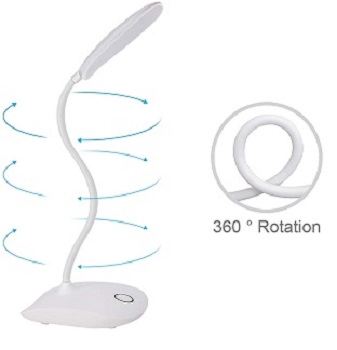 Light Indicator
There are three brightness levels – low, medium and high. Its flexible gooseneck provides 360-degree rotation, adjust the angle you need according to your task. The light indicator on the lamp base has a red color while charging, blue light means it's fully charged.
Highlighted Points:
charge it with a USB cable, power bank, PC, laptop
the power adapter isn't included
cordless lamp, ideal for traveling
5W LED lights with 400 lumens
eye-caring light
BEST BOOK PORTABLE READING LIGHT
Lepower Clip-on Book Light
USB Cable
Lepower is a compact clip-on book light that weighs only 0.22 ounces. It is lightweight and handy to carry away. Its base is 3.1 inches long, the gooseneck has 6.7 inches and the light head diameter is 2.45 inches. The USB cable of 39 inches is included in the package.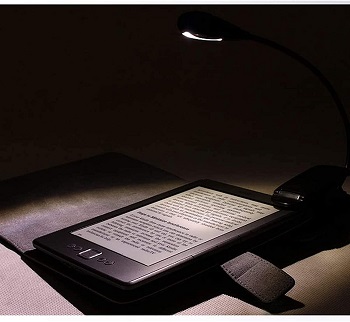 Sturdy Clip-On
The clip has an anti-slippery protection pad that keeps the clip firm. Also, it won't damage your book pages. The clip has a maximum jaw of 1.18 inches. It is powered by 3 AAA batteries, they aren't included. You can use a 5V AC adapter or USB cable. It isn't rechargeable light.
Flexible Gooseneck
This portable reading lamp has a flexible and soft gooseneck. Adjust it to any angle you want. Point the light at the page you currently read. Take it with you when traveling, it fits in a very small handbag or purse. Lepower is the best reading lamp equipped with LED lights.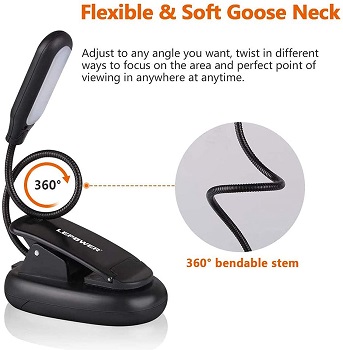 5 LED Beads
There are built-in 5 LED beads, two warm light beads and three white light beads. It offers sufficient and soft light for book reading which isn't harmful to your eyes. Choose between three color temperatures – white light, warm light and natural light. White light is the most suitable for reading.
Highlighted Points:
compact clip-on lamp
USB cable is included in the package
the clip comes with anti-slip protection
powered by 3 AAA batteries
flexible gooseneck
equipped with 5 LED beads
BEST BED PORTABLE READING LIGHT
Lohas Bed Reading Light
Wide Application
This versatile lamp has a wide application, it's easy to clip onto the desk, headboards, books, laptop, tablets or kindles. You can also take it for travel. Lohas weighs only 3.53 ounces, so it's a convenient item to put in your bag, purse or backpack.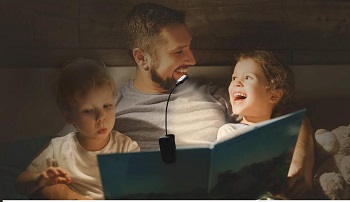 Rechargeable Battery
It features a flexible gooseneck which allows you to focus on where you need light exactly. You don't have to buy batteries for this portable reading light. Built-in 1000 mAh rechargeable lithium battery allows you to read up 60 hours when fully charged.
Eye-caring Light
This cordless reading lamp supports four power modes – USB port, laptop, power banks, 5V phone charger. Lohas uses TUV-certified LED beads, this is an eye-caring LED light that doesn't cause eye strain and eye fatigue. There is no harmful blue light.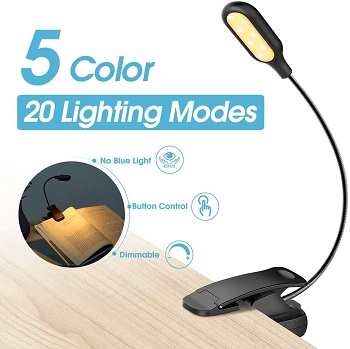 Five Color Temperatures
Select between five color temperatures, they range from 3000K to 6500K. Also, you can set one of four brightness levels. Choose the 3000K for relaxation, while the 5500K is more suitable for reading. There are three control buttons on the light head.
Highlighted Points:
convenient lamp for traveling
supports four power modes
uses certified LED beads
no eye strain or fatigue
five color temperatures and four brightness levels
built-in rechargeable battery
BEST LED PORTABLE READING LIGHT
Hongyu Rechargeable Reading Light
Mini LED Lamp
Hongyu is a quality LED lamp that provides many options. The package includes a mini LED lamp and USB charging cable. It comes with a built-in rechargeable lithium battery. At a low brightness setting, you can use it for up to 12 hours without charging.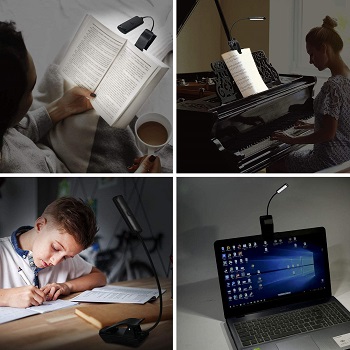 Universal USB Cable
Included USB cable is universal, so it can be charged by computer, power bank, laptop, phone charger, etc. All light indicators will light up when this portable lamp is fully charged. Hongyu base measures 3 inches, the neck has 6.9 inches and the light head has 2.6 inches.
Double Padded Clip
It comes with an extra sturdy double padded clip, it can be opened up to 1.38 inches, ideal for books, magazines and e-readers. Hongyu neck is flexible, you can bend it up to 360-degree to any position you want. Its lightweight and compact design allow you to carry it with you.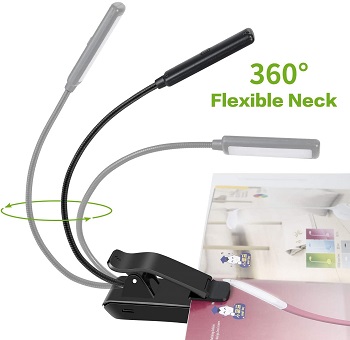 9 Lighting Modes
This portable reading lamp offers 9 adjustable lighting modes to meet your different needs. There are three color modes and nine brightness levels. The small reading lamp has a single button for control. Non-flickering light is gentle to your eyes.
Highlighted Points:
built-in rechargeable battery
multiple ways of charging
max working time – up to 12 hours
extra sturdy double padded clip
adjust the flexible gooseneck
9 different lighting modes
BEST STUDY PORTABLE READING LAMP
Maythank Cordless LED Lamp
Unit Size
Maythank lamp is available in elegant white color. Also, you can choose between two models – with larger or smaller light heads. The lamp base measures 4.7" x 3.5", the gooseneck is 13 inches tall and the light head is 9.8 inches long. It weighs 9.6 ounces.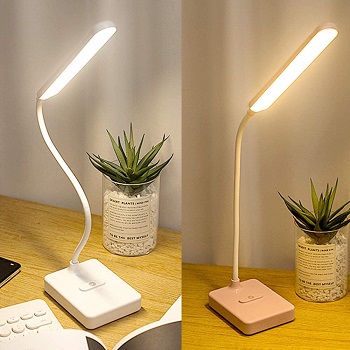 Lithium Battery
It includes a rechargeable lithium battery with a large capacity of 2000 mAh. There is a USB charging port and the USB cable is included in the package. This is a portable reading lamp that works without a power socket. Put it on the desk, table, workbench, shelf, etc.
Cool White Light
There are 30 pcs LED lights that deliver eye-caring and comfortable light. Set on of three color modes for different tasks. There are warm white, natural daylight and cool white. The cool white light is suitable for studying and reading.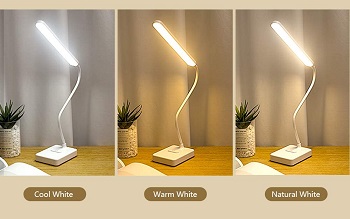 Phone Holder
Thanks to its flexible neck, you can adjust this portable desk lamp in many positions and point the light where needed. On the lamp base is a phone holder, keep it on your eye. Maythank ensures non-flickering, anti-glare and no dizzy light.
Highlighted Points:
two models available
rechargeable lithium battery
USB charging port
built-in 30 pcs LED beads
three color modes
BEST FLAT PORTABLE READING LAMP
Adamt Flat LED Book Lamp
Transparent Part
Adamt is a flat LED book light with a new interesting structure design. There is a plastic part and transparent part where you should put a reading page. Its dimensions are 6.7 inches in length, 5.7 inches in width and o.7 inches in height. The price is affordable.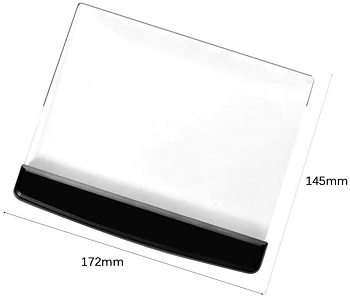 Battery-powered Item
This portable reading light uses 3 AAA batteries and they aren't included in the package. Because it is battery operated reading lamp, you can carry it with you wherever you go. It doesn't take up too much space, so put it in your purse, bag or backpack.
Lightweight Light
Adamt is made of quality materials, it will last for a long time. Also, it is lightweight and fits anywhere. You can read books or magazines on an airplane, train, the backseat of the car, anywhere. This flat LED book light is ideal for nighttime reading in bed.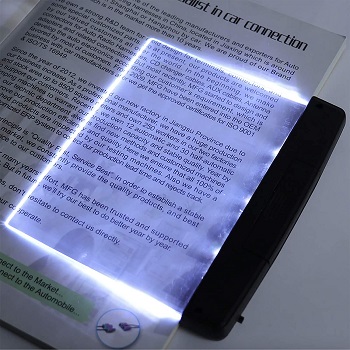 Switch Button
There is a switch button on the black part of this product. You can turn it on or off by pressing the button. When you turn it on, the transparent panel will light up the reading page. But it won't disturb other people around you. It is convenient and practical to use.
Highlighted Points:
black plastic part and transparent part
requires 3 AAA batteries
lightweight for carrying around
switch on/off button
ideal for nighttime reading
Things To Know About Portable Reading Lights
Portable reading lamps are ideal if you travel a lot. There are many different models available in the market, but there are some factors necessary to consider before you buy a lamp.
Portability – Not all reading lamps are portable, so you need to check come features before buying. These lamps feature smaller sizes and they're lightweight. Also, you can fold these bendy lamps, store in your backpack, purse or case and carry them with you.
Power Source – There are many battery-operated lamps on this list. Some models come with a USB charging cable, so you can charge them with your PC, laptop, power bank and so on. You need to check the lamp's working time when it's fully charged.
Clip-on Lamps – On this list, there are lamps with sturdy bases and clips. Clip-on lamps are an excellent choice if you don't have a permanent reading spot. They are compact, portable and easy to install. Attach them to a book, magazines, newspaper or notebook.
Lighting Adjustments – You can buy a lamp with an on/off switch without any other features. But if you looking for a reading lamp, it's better to look for some additional adjustments. For example, the lamps with multi-color modes ensure warm light for relaxation and natural daylight for reading.
Eye-caring Light – If you want to use portable reading light for hours, read the product description carefully and look for eye-caring light. This kind of light doesn't cause eye strain or eye fatigue or other harmful effects. Buy a lamp with a range between 5 -10 watts.