Do you want to buy an attractive pink file cabinet to store your items?
There are 5 top-rated filing cabinets suitable for both children and adults. Select the perfect file cabinet by reading those reviews. Also, there are some important factors worth considering before purchase. Find them in our buying guide at the end of the article.
Our Top Picks
Best 5 Pink File Cabinets
BEST OF BEST 10 PINK FILE CABINET
Intergreat 3-drawer File Cabinet
Reinforced Construction
Intergreat is an attractive pink filing cabinet designed for personal use. Its construction is made of metal and reinforced with high strength cold-rolled steel frame which provides impact endurance. It is coated with eco-friendly powder, so it's resistant to corrosion and rust. Rounded corners and inset handles make it modern.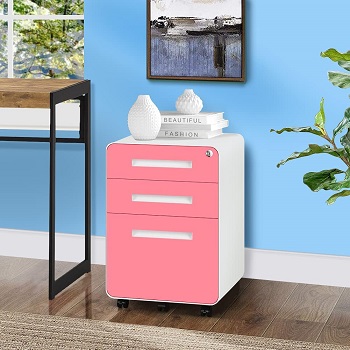 Mobile File Cabinet
This personal file cabinet has three drawers – two utility drawers equipped with one pencil tray for small office supplies and a file drawer. The bottom drawer is equipped with a hanging bar for legal and letter-size file folder storing. Five universal wheels allow quick movement.
Highlighted Points:
designed for personal use
metal construction with an eco-friendly finish
resistant to rust and corrosion
two box drawers
file drawer with hanging bar for file folders
equipped with five swivel casters
BEST BLUSH PINK FILE CABINET
FireKing Vertical File Cabinet
Limited Lifetime Warranty
This is a very popular filing cabinet when it comes to durability and sturdiness. Its overall dimensions are 18" in width, 32" in depth and 52" in height. The manufacturer provides a limited lifetime warranty on all mechanical and operating parts. Constructed from steel with electrostatic powder coating finish.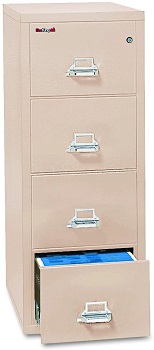 Four Drawers
FireKing pink office cabinet features fireproof insulation, which is made from 100% gypsum and reinforced with 1" x 2" lattice made of galvanized welded steel. There are four drawers equipped with a follower block for hanging files. This 4-drawer vertical file cabinet uses a UL-listed Medeco lock that keeps your files secure.
Highlighted Points:
vertical file cabinet with four drawers
reinforced steel construction
limited lifetime warranty
UL-listed Medeco lock
accommodates hanging files
fireproof insulation
BEST 4-DRAWER PINK FILE CABINET
FireKing Fireproof File Cabinet
High-side Drawers
FireKing is a lateral file cabinet that measures 52 inches in height, 31 inches in width and 22 inches in depth. Its construction is made from durable steel with eco-friendly electrostatic powder coating. There are four high sides drawers suitable for hanging letter-size file folders.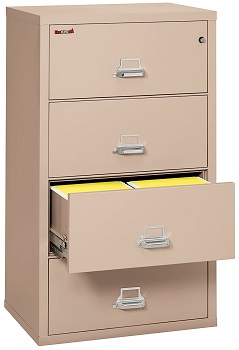 Explosion-resistant
This 4-drawer fireproof file cabinet uses a UL-listed high-security Medeco lock, it will keep your stored items secured. These keys cannot be duplicated except through the manufacturer. Fireproof insulation is 100% gypsum reinforced by a 1" x 2" lattice made of welded steel. The light pink office cabinet is fire, impact and explosion resistant.
Highlighted Points:
lateral file cabinet
steel construction with eco-friendly finish
UL-listed Medeco lock
accommodates hanging file folders
fire, impact and explosion resistant
four high-side drawers
BEST 2-DRAWER PINK FILE CABINET
Pemberly Row File Cabinet
Lightweight File Cabinet
Pemberly Row is a lightweight colored file cabinet that weighs 19 pounds, it's easy to transport. The product dimensions are 14.2" in width and 24.5" in height and 21.7" in depth. Place this colorful file cabinet under your office desk or in the corner of the room.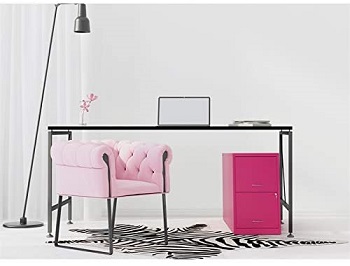 Steel Construction
Its construction is made of durable and sturdy steel, it's easy to clean and maintain. There are two high side drawers accommodating standard-size documents (8.5" x 11"). Also, you can store office supplies and your personal belongings. The lower drawer is equipped with a lock mechanism that secures both drawers at once.
Highlighted Points:
lightweight filing cabinet
fits under standard office desk
made of durable steel
two high side drawers
built-in lock secures both drawers
accepts letter-size file folders
BEST SMALL PINK FILE CABINET
CubeSpace 2-drawer File Cabinet
Light Pink File Cabinet
CubeSpace is a perfect file cabinet for limited space offices or home offices. The overall unit dimension is 14.7" in width, 19.7" in depth and 21.4" in height. It bears up to 220 pounds in total. Except for light pink color, there are two more colors available – light green and white. The pink small file cabinet arrives fully assembled.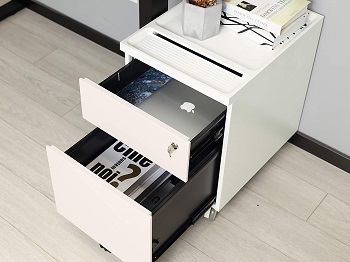 Two Drawers
This space-saving file cabinet is constructed from solid metal with an anti-rust electrostatic spraying finish. There are two drawers for your office essentials. The top drawer is smaller and ideal for office accessories. The bottom drawer accommodates legal and letter-size file folders. Built-in lock secures both drawers at the same time.
Highlighted Points:
compact personal file cabinet
available in three colors
ideal for small offices
two lockable drawers
file drawer accepts letter/legal files
solid metal construction
Things To Know About Pink File Cabinet
There are various pink file cabinets on the list above, so learn more about some important factors such as built quality, storage space, mobility and more. Then you'll be able to buy the best product for your needs.
File Cabinet Types – There are two file cabinet types – vertical and lateral. Vertical pink file cabinets feature deep but narrower drawers designed for letter-size and legal-size files, they require less space than lateral file cabinets. Lateral file cabinets offer wider drawers but shallower drawers.
Storage Capacity – The next important consideration is the size of documents you want to store. If you work with standard-size documents, the basic letter-size file cabinet will be good for you. If you need more space for your files, consider the file cabinet that accommodates legal-size file folders.
Materials And Colors – Depending on your requirements, you may need to match the color scheme. There are many colorful file cabinets on the market. Common colors include beige, grey, black and white file cabinets. File cabinets can be made from wood, metal, steel, plastic. Steel file cabinets are the most durable ones.
Mobile File Cabinet – Many vertical pink file cabinets come equipped with wheels for easy movement. They are usually small and compact in design, so it's easy to move them from one room to another. Many items come with added small caster in the center of the file cabinet that prevents tipping.
Locking System – Whether you work from your home office or office, it is necessary to lock the drawers when not in use. Many file cabinets are designed with secure locking systems, making them an ideal place to store sensitive and confidential documentation.