Are you looking for an attractive file cabinet to equip your fashionable office decor?
Here you can colorful file cabinets – you can choose between blue, grey, white, red and other colors. Also, we wrote useful reviews, so you can decide easily. In our buying guide, we covered some factors you should consider before purchase.
Our Top Picks
Best 6 Colorful File Cabinets
BEST OF BEST COLORFUL FILE CABINET
Bisley 3-drawer File Cabinet
Attractive Appearance
Bisley is a popular brand thanks to its high-quality products. This file cabinet is available with two or three drawers. Except for the beautiful and attractive red color, you can check orange, white, light grey, green, blue and black models. The price is acceptable.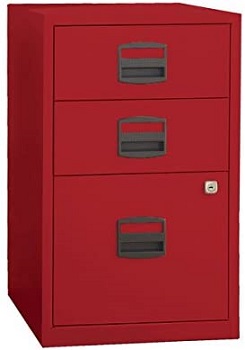 Fully Welded Construction
This colored file cabinet is designed for demanding work environments. It is able to withstand rigorous use. There is a fully welded all-steel construction that provides years of use. Bisley's surface is immune to scratches and corrosion. Clean it with a damp cloth.
Powder Coated Surface
Powder-coated paint provides a smooth and elegant appearance. The file cabinet dimensions are 27 inches in height, 17 inches in depth and 16 inches in width. It weighs 35 pounds. All drawers are equipped with modern black handles, you can open and close the drawers with ease.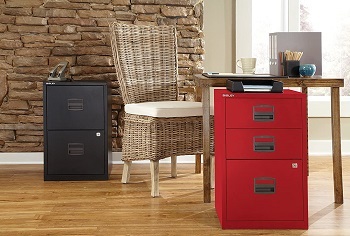 Standard Files
This red filing cabinet glide on smooth ball-bearing slides, so you can open them fully and easily reach your items. The lower drawer is built to hold standard-sized or letter-size file folders. This drawer is designed for use with hanging folders, also, it is lockable.
fully-welded steel construction
powder-coated surface immune to scratches
easy to clean and maintain
two small drawers and a file drawer
full-extension drawers
built-in lock secures bottom drawer
BEST BLUE COLOURED FILING CABINET
Intergreat Metal Filing Cabinet
High-quality Item
This blue file cabinet is a small and convenient item that doesn't require too much floor space. It is a cool filing cabinet with commercial-grade quality, ideal for demanding work environments. The reviewed model comes in blue color, but there are black and grey colors, too.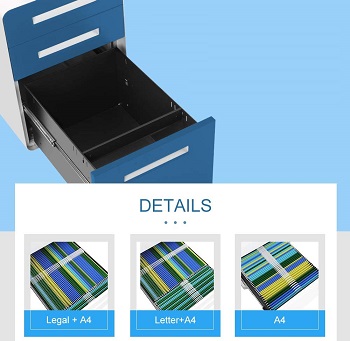 Cold-rolled Steel
The whole structure is reinforced with a sturdy cold-rolled steel frame for flexibility and impact endurance. The surface is coated with eco-friendly powder, so it is very strong and immune to corrosion and rust. Ideal file cabinet for long-term use.
Smooth Rounded Corners
Smooth rounded corners and inset handles make this colorful file cabinet modern and safe for use. Two top drawers are suitable for office accessories, like pens, pencils, post-it notes, notebooks, etc. There is a removable pencil tray in the upper drawer.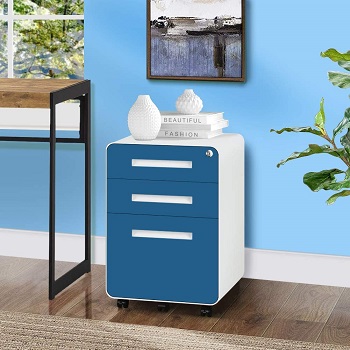 Adjustable Hanger
The bottom drawer is deeper and comes equipped with an adjustable hanger, which can perfectly store letter- or legal-size file folders. There are five universal casters that allow quick and easy movement, while the fifth caster ensures stability and prevents tipping over.
white sides with blue faceplate
reinforced structure with sturdy cold-rolled steel frame
eco-friendly powder-coated surface
designed for long-term use
the top drawer is fitted with a lock and pencil tray
five universal wheels ensure smooth movement
BEST GREY COLORFUL FILE CABINET
Songmics Pre-assembled File Cabinet
Suitable For Any Office
Songmics is a modern file cabinet with an upright design. It comes pre-assembled, so when the package arrives at your address, it is ready to use. Except for the grey color, there are black and white models. These colors are suitable for any office or home office decor.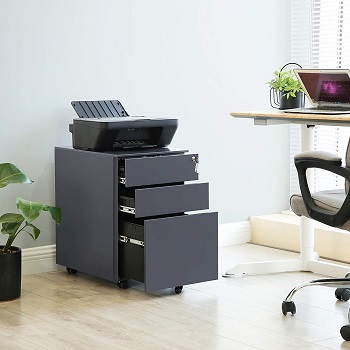 Customer Service
If you aren't satisfied with this grey file cabinet, or it comes damaged, you can replace it for a new one. The Songmics weighs 50 pounds and its dimensions are 23.6 inches in height, 20 inches in depth and 15.4 inches in width. Tuck this colored filing cabinet under your office desk easily.
Built-in Lock
Its wide top provides ample storage space for a printer stand. Construction is made of durable steel, it is easy to maintain this grey filing cabinet. The built-in lock will keep your important documents safe in the shared office and out of reach of children at the home office.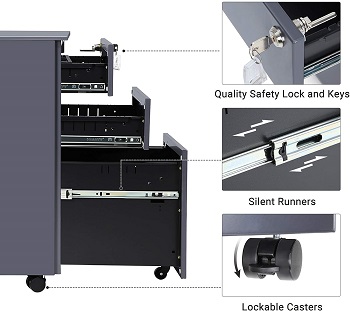 Legal & Letter Documents
A lower drawer is able to hold a large number of files, use it for letter-size file folders. If you want to store larger documents, like legal-sized, use hanging rails. Swivel casters ensure mobility, also, two front casters come with brakes and a small anti-tilt caster.
pre-assembled durable file cabinet
sturdy steel construction, easy to maintain
the wide top holds printer stand
two small drawers for office supplies
file drawer is fitted with hanging rails
four swivel casters plus anti-tip caster
BEST PINK COLOURED FILING CABINET
Pemberly Row File Cabinet
Lightweight Item
Pemberly Row is a lightweight colored filing cabinet, it weighs 19 pounds. The product dimensions are 24.5 inches in height, 14.25 inches in width and 21.75 inches in depth. You can place it under your office desk or in the corner of the room, it fits anywhere.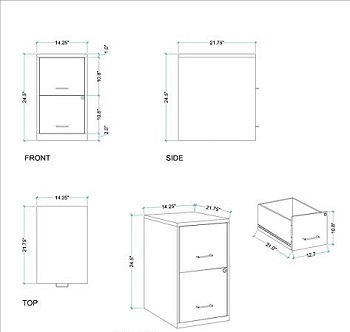 Highly-functional
Its construction is made of durable steel material. You can clean it easily with a damp cloth and household glass cleaner. The Pemberly Row is designed for personal use, it is highly functional for all of your home office needs. There are two full high-side drawers.
Letter-size Files
This spray paint file cabinet features two drawers that hold standard-sized files, 8.5" W x 11" L. Both drawers have a three-quarter extension, this type prevents tipping over. Except for the files, you can store your office accessories or private belongings.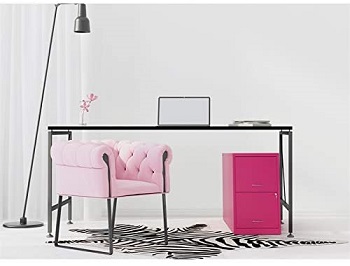 Simple Installation
On the lower drawer is a built-in lock, it secures both drawers at the same time. A small assembly is required, you only have to assembly the handles on the drawers with a screwdriver. It is pretty simple. This product doesn't include a hanging bracket for files.
lightweight pink file cabinet
manufactured with durable and sturdy metal
easy to clean and maintain
two roomy drawers for letter-size files
the three-quarter extension prevents tipping over
BEST WHITE COLORFUL FILE CABINET
Yitahome 3-drawer Filing Cabinet
Affordable Price
Yitahome is a modern white file cabinet that fits in stylish office environments. There are two more colors – black and grey and white. This colorful file cabinet weighs 38 pounds and measures 24 inches in height, 17.7 inches in depth and 11.8 inches in width. Its price is acceptable.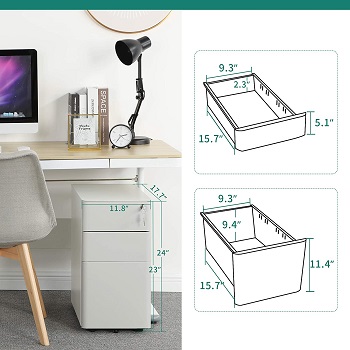 Eco-friendly Finish
The entire filing cabinet is built using robust, heavy-duty steel with an environmentally friendly finish for long-lasting durability. Its top is sturdy enough to hold a printer, scanner or other items. You can move it easily because of four swivel casters.
Anti-tip Caster
There is one more caster in the center, that small caster prevents tipping over and keeps the file cabinet stable. For storage, there are three drawers. Two top drawers are smaller and the upper drawer contains a removable pencil tray for small office supplies.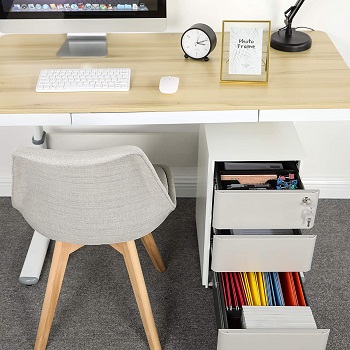 Sliding Rails
This small white filing cabinet has a file drawer that holds both letter- and legal-size file folders. With a single key, you can lock all three drawers and protect your documents. The built-in sliding rail allows you to open and close the drawer smoothly and quietly.
robust, durable steel construction
environmentally friendly finish
mounted on five mobile casters
fifth small caster prevents tipping over
built-in rails hold letter and legal files
BEST TEAL COLOURED FILING CABINET
Hirsh Space Solution File Cabinet
Space-limited Office Use
The Hirsh is a teal filing cabinet that is designed for small office or home office use. It is a lightweight product, there are 19 pounds only. Its dimensions are 24.5 inches in height, 14.25 inches in width and 18 inches in depth. The assembly isn't required.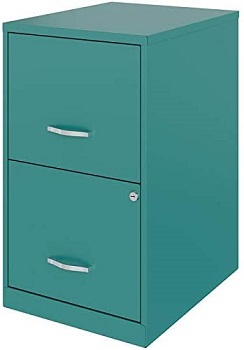 Efficient Design
Except for the teal, there are more colors, like blue, navy, silver and white. Its price is low, so this product is acceptable for anyone. Because of its efficient design, it fits under standard office desk or work surfaces. The Hirsh is the best for personal use.
Non-porous Surface
It is constructed of durable and sturdy metal. The painted steel surface is non-porous, so it is easy to clean and disinfect. There are two drawers that accommodate letter-size hanging file folders. They are equipped with elegant silver handles.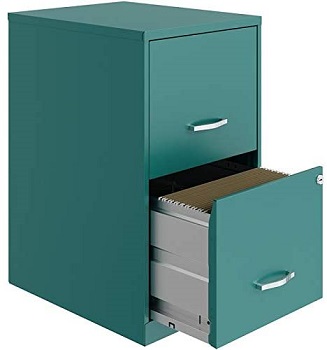 Full-high Side Drawers
These full-high drawers feature smooth patented glide suspension, so you can reach your stored files and office supplies easily. You can extend the drawer 3/4 of the way. There is a lock on the bottom drawer, it locks both drawers at the same time.
durable metal construction
painted non-porous surface
ideal for small offices
two drawers that hold letter-size files
smooth patented drawer glide suspension
Things To Know About Colorful File Cabinet
Except for color, there are many other important factors necessary to consider before buying a new file cabinet. It is clever to learn more about file cabinet construction, durability, storage space, lockability, etc.
File Cabinet Construction – All those file cabinets on the list above are made of steel materials. The steel file cabinet is the most durable option currently available in the market. Some models are made of cold-rolled steel, which is stronger than typical steel.
Three-quarter Extension – There are three main drawer extension types – over travel, three-quarter extension and full-extension type. The main disadvantage of a 3/4 extension – you can't open the drawers fully. But they are more affordable and support the high weight.
Cleaning And Maintenance – These colorful file cabinets are usually spray painted. They aren't so delicate such as wooden file cabinets. Their maintenance is simple. Also, you need to clean them with damp/wet towel or household glass cleaner.
Small Drawers – What kind of materials or office accessories do you need to store? Many file cabinets come with small and large drawers. Use those small drawers for office supplies, like pens, pencils, tapes, scissors, notebooks, etc. Some drawers are equipped with a pencil tray.
Lockability – Even if you work in a shared office or home office, it's a good idea to lock your file cabinet. That prevents the file cabinet from tipping over. Also, you can protect your sensitive and confidential documents from unwanted access or damage.