Are you looking for a modern and well-equipped desk lamp with a charger for your iPhone?
Then you should check this post, it contains a list and buying guide with all relevant information necessary to know before purchase. We've compiled a list of the 5 best iPhone charging lamps with charging function in 2021. Pick a suitable lamp for your workbench.
Our Top Picks
Best 5 iPhone Charging Lamps
BEST OF BEST IPHONE CHARGING LAMP
Genetic Qi Wireless Charger Lamp
Space-saving Design
Genetic lamp features a modern space-saving design. It is available in black and silver color. This is a tested and safe lamp, there are QI/CE/FCC /ROHS/REACH certificates. Because of its compact design, it fits anywhere, on your desk, workbench, table, end table. etc.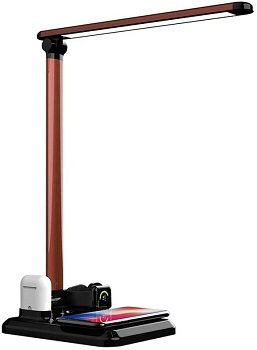 Flexible Arm
This iPhone charging lamp has a foldable design, there is a 180-degree flexible arm and a 90-degree base axis. It is a portable lamp, you can fold it and store it in your bag, suitcase and so on. There is a USB charging port for your mobile phone, laptop, tablet.
Charging Area
Also, there is a wireless charger, just place your smartphone or Apple Watch on the wireless charging area. The adjustable arm desk lamp might overheat after a long time of charging, but this is normal. When it cools down, it'll continue to charge.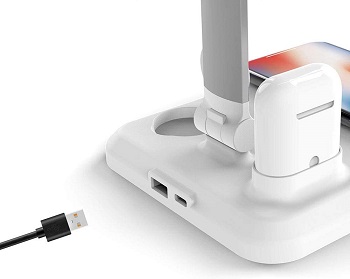 Flicker-free Light
The eye-caring LED lights deliver flicker-free lighting for reading, studying, crafting, working. You can choose between three brightness levels, set the level suitable for your current task. This light is gentle for your eyes, there is no eye fatigue or strain.
Highlighted Points:
modern and foldable desk lamp
eye-caring LED light
USB charging port
wireless charger for smartphones
three brightness levels
adjustable lamp arm
BEST WIRELESS IPHONE CHARGING LAMP
Hoxiya Desk Lamp With Charger
Aluminum Alloy Material
Hoxiya is a modern lamp available in black and white color. Its base measures 7.48" x 4.33", it's 14 inches tall and there is a 13-inch long light head. Hoxiya is made of quality aluminum alloy, it features a multi-axis rotation and can be adjusted from left to right, up and down to meet different lighting needs.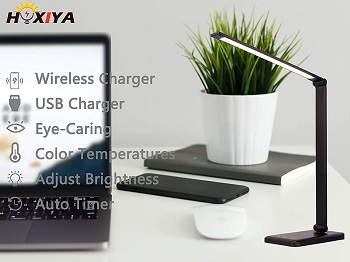 26 LED Beads
There are 26 double color LED beads that provide soft and comfortable lighting, safe for your eyes. This LED light consumes 75% less energy than traditional bulbs. It supports 5 color modes and 5 brightness levels. Set low light before sleeping and high light when reading.
Wired & Wireless Charging
This iPhone charging lamp supports both wired and wireless charging. For wired charging, use standard 5V 1A USB. Hoxiya is compatible with iPhones and Samsung mobile phones. The LED lamp with a wireless charger has a lifespan of up o 40,000 hours.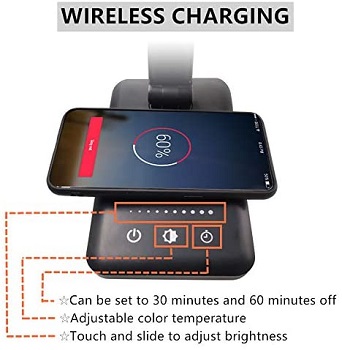 Auto-timer
The timing function can be set to 30 minutes and 60 minutes off. The green indicator is half an hour and the blue indicator is 1 hour. You can set it before sleeping, so there is no need to worry about wasting electricity all night. it is a multifunctional lamp.
Highlighted Points:
made of quality aluminum alloy
5 color modes and 5 brightness levels
supports wired and wireless charging
eye-caring LED lights
automatic shut-down for half an hour and one hour
multi-angle adjustment
BEST BEDSIDE IPHONE CHARGING LAMP
Blonbar Desk Lamp
Square-shaped Lamp
The package includes a lamp, user manual, power adapter and 12-month warranty. This square-shaped lamp is 8.7 inches tall and 8.9 inches wide, its base is 3.7 inches deep. It fits in offices, dorm room, living room, bedroom, on the nightstand, end table, etc.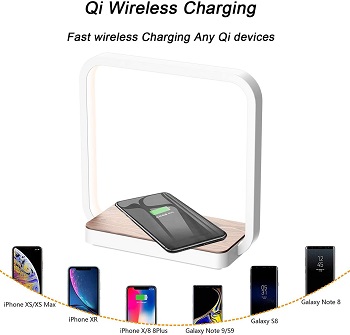 Three Light Modes
The E26 LED bulb is included, it delivers comfortable, eye-caring light with a color temperature of 4000K. This iPhone charging lamp offers three lighting modes – night light, reading light and ambient light. Choose the perfect brightness level for your current task.
Light Indicator
If you want to charge your mobile phone, put it in the middle of a slide-proof pad. There are light indicators, when charging, the red light will turn on and the light will turn green when the device is fully charged. This wireless charging bedside lamp is compatible with Qi devices.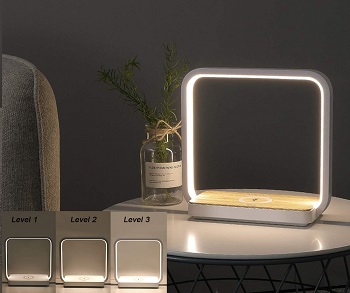 Overheat Protection
It is compatible with iPhone XS/XS Max/XR/X/8/8 plus. If the red light flashing, it's malfunction signal, check if there is any metal object on the wireless charging pad. Blonbar has overheating protection and overcharging protection, it's pretty safe for use.
Highlighted Points:
unique square-shaped lamp
covered with a 12-month warranty
E26 LED light bulb is included
three lighting modes
light indicators when charging
overheating and overcharging protection
BEST LED IPHONE CHARGING LAMP
Jodno Wireless Charger Stand Lamp
Round-shaped Design
Jodno lamp features a modern design that fits the stylish and elegant living room, offices, bedrooms, workbench. The package includes a lamp, power line, user manual, 1-year warranty and after-sell service. It features a round-shaped design and a light base.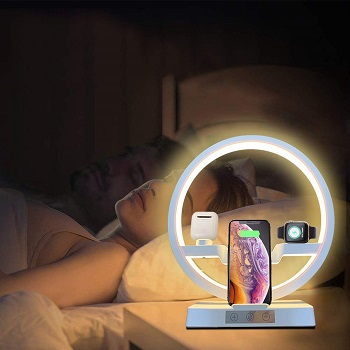 Silicone Lampshade
It comes with cable slots, so you can tidy up and fix your charging cable on the back of the lamp. Jodno is available in white color only. The lampshade is made of quality silicone. There are two USB ports for fast charging, use them for mobile phones, tablets, e-reader, etc.
7.5W For iPhone
This iPhone charging lamp has a 7.5W for iPhone, 10W for Samsung and 5W for Qi devices. It is compatible with iPhone 8/8 plus/11 and 11 Pro. Also, you can place your Airpods case, Apple watches on both sides of the lamp and charge them with USB ports.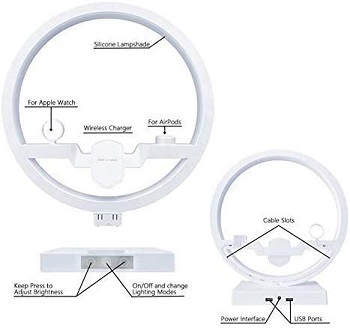 Eye-caring Lamp
The cool office lamp has three light modes and adjustable brightness, press the on/off button to change the mode. If you want to adjust the brightness, keep pressing +/- on the lamp. This is an eye-caring lamp, it is safe and gentle for your eyes.
Highlighted Points:
attractive desk lamp
comes with cable slots
quality silicone lampshade
two USB ports for fast charging
adjustable color modes and brightness
BEST MODERN IPHONE CHARGING LAMP
Lecone Table Lamp
Elegant Lamp
Lecone is an elegant and practical lamp that is 16.9 inches tall, its base measures 7" x 7" x 1.5". The lampshade measures 6.5" x 6.5". It fits in any home or office decor, there is a beautiful beige-colored square lampshade and wooden lamp base.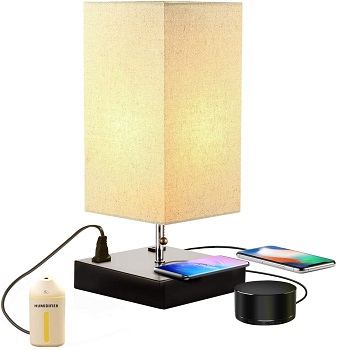 Standard E26 Bulb
This iPhone charging lamp is the perfect size for your bedroom, living room, office, desk, and so on. Lecone requires a standard E26 bulb base. It is important to note that the bulb isn't included in the package. The manufacturer uses quality wood and linen.
Two USB Ports
The base of the lamp contains two USB ports so you can easily charge multiple devices, like smartphones, tablets, laptops, e-readers, etc. Also, there are dual AC outlets, you can use a speaker, desk fan, etc. On the lamp base surface, there is a wireless charger.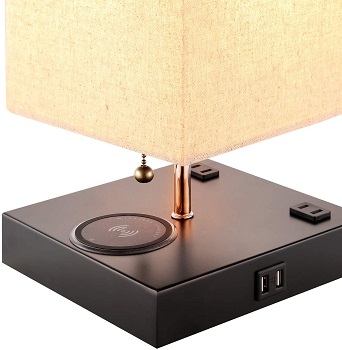 Wireless Charger
The wireless charger is compatible with iPhone SE 2020/11/XS MAX/XR/XS//8/8 Plus, Samsung smartphones and all Qi wireless charging enabled devices. This modern LED desk lamp comes unassembled, you need to assemble it, the detailed instructions are included in the package.
Highlighted Points:
made of quality linen and wood
comes with dual AC outlets
two USB charging ports
wireless charger for iPhone and Samsung
compatible with standard E26 base bulb
Things To Know About iPhone Charging Lamp
Getting yourself the right iPhone charging lamp requires some research, so before the decision on which one to buy, check out some factors. This guide will help you to find the best model for your needs.
Wireless Charging – There are two ways of charging – a USB LED desk lamp for wired charging and wireless charging lamps. The lamps with wireless stations become more and more popular. You don't have to use cables, just place your mobile phone in the charging area. Remove all metal parts away from a charger.
Qi Wireless Devices – You might notice the term Qi wireless charging in our list. Wireless charging finishes the charging without plugging or unplugging cords. It is much more convenient, you can avoid the hassle of cords. But not all mobile phones are available for wireless charging.
Eye-caring Light – Except for the charger, you need to pick suitable light for your needs. Whether you looking for a bedside lamp or workbench lamp, it is important to buy a lamp that provides eye-caring light. It prevents eye fatigue and eye strain.
LED Light – There are various bulb types in the market. You can choose between CFL, incandescent, halogen or LED lights. The LED light is very popular thanks to its low energy-consuming, long-lasting lifespan and flicker-free light.
Lighting Options – Most of the iPhone charging lamps feature some options when it comes to lights themselves. Some models offer multiple brightness levels, color modes, etc. Select the cold white color mode when you reading, crafting or working.