Are you interested in a compact filing cabinet that fits perfectly in your small office?
Then this review is made from you! There are a lot of filing cabinet boxes worth buying on the market and you can see our selection of the best units in this post. Before buying any of them, we have prepared some guidelines for a successful purchase.
Our Top Picks
Best 6 Filing Cabinet Boxes
BEST OF BEST FILING CABINET BOX
BirdRock Storage Organzier Box
Natural Finish
There are two BirdRock models on this list. This convenient filing box is available in two finishes – natural and cafe noir. Both models fit any office or home office decor, especially traditional ones. The exterior dimensions are 13 inches in height, 16.7 inches in width and 13 inches in depth.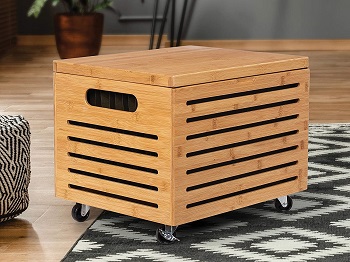 Durable Bamboo
BirdRock weighs 10 pounds. The manufacturer uses wood, metal and bamboo to produce this filing cabinet box. The storage bin is constructed of durable and sturdy bamboo. It is an attractive bamboo file cabinet that doesn't require too much space.
Four Wheels
This storage organizer holds office supplies, books, registers, letter and legal size file folders. The package includes four durable wheels, so you can move it with ease. On two front wheels, there are brakes, you can lock the wheels for stable placement.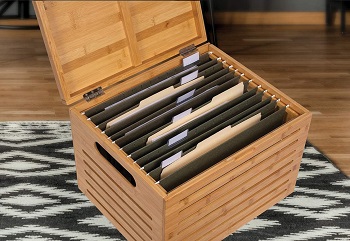 Carrying Handles
BirdRock is equipped with carrying handles, you can lift it up and transport it wherever you needed. Also, there is a lid which protects your stored content from damage and accidents. High-quality lid hinges are made from durable and sturdy steel.
Highlighted Points:
available in natural and cafe noir finish
constructed of sturdy bamboo
accommodate letter and legal-size files
four wheels come with brakes
lid protects stored items
carrying handles on both sides
BEST WOOD FILING CABINET BOX
Primo Supply Wood Box
High Price
Primo Supply is a pricey filing cabinet ideal for home office or office desk. It fits on any office desk, on the shelf, where you need to have some storage product. Primo provides a mix of rustic and industrial style, so it fits in many office decors.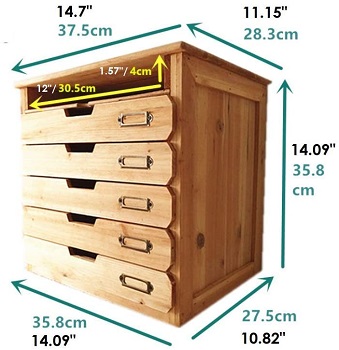 Solid Wood Construction
Its dimensions are 14 inches in height, 14.1 inches in width and 11.15 inches in depth. Construction is made from thick, premium quality solid wood. It is finished with a smooth and glossy surface. Primo is equipped with a top open storage slot and five drawers.
Five Drawers
This solid wood file cabinet arrives fully assembled at your address. In the top paper slot, you can place your important or daily used paperwork. Below it there are five shallow drawers. Each drawer is fitted with a label holder for file identification.
Standard Paper Size
Drawers are suitable for standard paper size, 8.5" x 11". Primo is a thick and durable filing cabinet box that doesn't require much space, but it will keep your documents, mail, bills and photos well organized. Once you buy it, it will last for years.
Highlighted Points:
made from solid wood
the smooth and glossy finished surface
top paper slot for daily used paperwork
five shallow drawers with label holders
arrives fully assembled
BEST 2-DRAWER FILING CABINET BOX
BirdRock 2-drawer File Box
Assembly Required
BirdRock is a compact filing cabinet available with a single drawer or 2 drawers. This 2-drawer model weighs 30 pounds and measures 14.25 inches in width, 27 inches in height and 16.4 inches in depth. The assembly is required, it is a simple task but the instruction is included.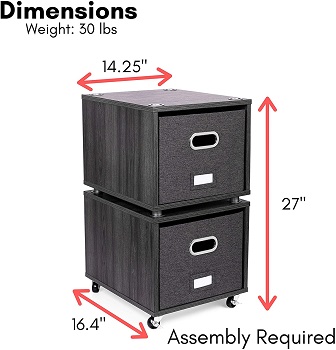 Feet & Wheels
Each cabinet includes the option to assemble it with wheels or feet. If you need to move your filing cabinet box often, attach the wheels and move it with ease. These wheels are equipped with brakes. Also, the drawers/storage bins are removable, so you can use them as shelves.
Label Holders
Organize your files, office supplies, letter and legal size file folders, books with this small rolling file cabinet. Both boxes feature handles on both sides, you can carry the BirdRock with ease. On the front panels, there are label holders for content identification.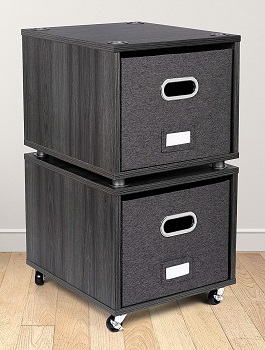 Versatile Item
The versatile file cabinet can be used in many ways, you can separate these two boxes and use one box for files and another box for office supplies. If you buy a few of these filing cabinets you can create organized space in your room for your office needs.
Highlighted Points:
made from MDF and linen
the package included instruction
mobile or stable item
suitable for both letter and legal files
storage bins are removable
BEST DRAWER FILING CABINET BOX
Bankers Box File Drawer
Stackable Drawers
Bankers Box is constructed of high-quality plastic, it weighs 28 pounds and measures 28 inches in height, 39 inches in depth and 8 inches in width. You can stack another drawer on it and have 2 drawers for your office documents and supplies.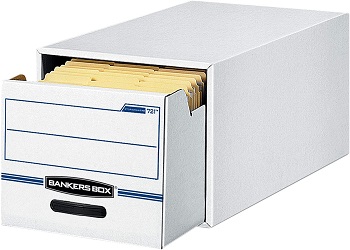 Reinforced Panels
This model comes in white and blue color. The manufacturer uses recycled materials, so this filing cabinet box is an eco-friendly product. There is a reinforced plastic handle for easy open and close. The front and back panels are reinforced for lasting strength.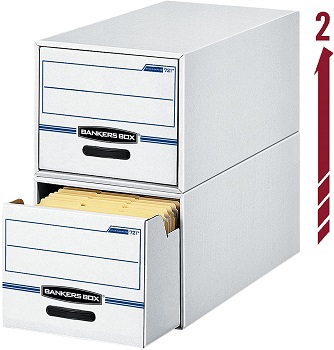 Thick Box
There are multi-wall thicknesses on drawer sides for durability. You can fill this small white filing cabinet with your office supplies, like writing tools, paper clips, tapes, pens, scissors, etc. Also, you can store your legal and letter size file folders.
Highlighted Points:
plastic file box for office supplies and files
available in white and blue color
65% recycled materials
reinforced plastic handles
thick panels ensure durability
BEST PLASTIC FILING CABINET BOX
Storex Plastic File Drawer
Affordable Product
Storex is a popular storage solution if you looking for a budget-friendly and portable item. This model is available in black, grey/black and grey color. It is TAA compliant product, meaning not made in China. Storex item arrives fully assembled.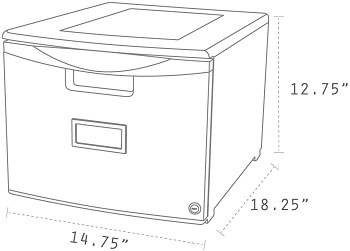 Lightweight Filing Box
The overall dimensions are 12.7 inches in height, 18.3 inches in depth and 14.7 inches in width. It weighs approximately 9 pounds. You can easily lift it up and place it somewhere else. It fits under your desk, on the shelf, lateral file cabinet, on your desk.
Letter/Legal Files
You can combine units and stack up to six drawers high for more storage space. Construction is made of durable and sturdy plastic. The stackable file drawer store your papers, office supplies like writing tools, notepads, documents, letter and legal size file folders.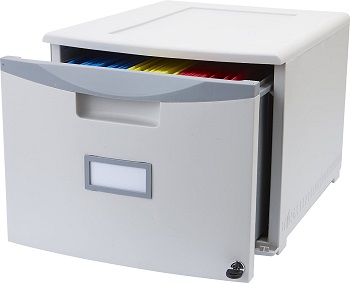 Built-in Lock
On the front panel, there is a label holder, so you can identify your stored documents with ease. Also, you can lock this drawer, there is a built-in lock on the bottom right corner of the filing cabinet box. Keep your important files protected and safe from damage.
Highlighted Points:
affordable plastic filing box
one drawer arrives fully assembled
made in the USA or TAA designed country
store letter and legal size file folders
built-in lock secures your document
BEST PORTABLE FILING CABINET BOX
Premium Office Good File Box
Vertical Filing Box
This vertical file cabinet is specially designed to fit on any desktop. It provides easy access to all your most important files. Premium Office Good is a portable filing box that weighs 6 pounds and measures 14 inches in depth, 11 inches in height and 6.7 inches in width.
Bamboo Construction
This filing cabinet box is covered with a 1-year warranty and features an affordable price. This filing box is constructed from solid natural bamboo which is durable and sturdy. Bamboo is an eco-friendly material. Premium Office Good box has a beautiful bamboo wood-grain finish.
Hanging File Folders
The package includes a storage box and a 5-pack of hanging file folders. This compact filing cabinet is designed for standard letter-sized file folders. Fits approximately 30 file folders. These file folders hang on smooth glide rails, you can easily find and reach your files.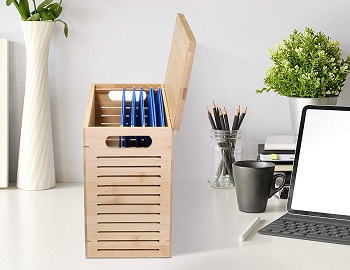 Protective Lid
On both sides, there are two handles for carrying, so you can replace the storage box with ease. Premium Office Good features a lid, so close it when the filing box isn't in use. It will protect your stored files from dust and other kinds of damage.
Highlighted Points:
solid natural bamboo construction
the attractive bamboo wood grain finish
the package includes five hanging file folders
file folders are suitable for letter-size files
equipped with a protective lid
Things To Know About Filing Cabinet Box
The filing cabinet boxes are made from different materials, they come in different sizes and with a variety of characteristics. So, there are some guidelines to help you to choose the best model for your needs.
Filing Box Material – If you're already read those reviews above, you notice these models are made from different materials. Some of them are made from linen and MDF, bamboo, plastic, etc. Bamboo and plastic items are very durable, while linen ones aren't so resistant.
Rolling Item – For people who look for convenient models that fit anywhere, it's a good idea to consider a rolling filing cabinet. Some of the models from the list come with removable wheels, but always pick the model which wheels are equipped with brakes.
Additional Security – Whether you want to use your low filing cabinet in your office or home office, if you need to store important documents or just want to prevent damage, you should buy an item with a lock. That will keep your files secured from all kinds of accidents.
Label Holders – If you want to create an organized filing system, drawer labels are an essential feature. If each drawer, shelf or tray has its own label holder, you'll be able to find what is inside each drawer at a quick glance. That will spare your time.
Stored Items – What kind of things do you want to store? Office supplies, paperwork, file folders, books or something else? If you need a filing cabinet box for letter and legal size file folders, check the product dimensions carefully, maybe it doesn't support their sizes.