Are you looking for a space saver desk with storage?
Then this post about corner desk with file cabinet is made for you. Choosing the best corner desk for your office or home office can be a challenge. Especially with so many offices in the market. To save you the hassle, we created a list and useful buying guide.
Our Top Picks
Best 6 Corner Desks With File Cabinets
BEST OF BEST CORNER DESK WITH FILE CABINET
Monarch Specialties Computer Desk
Contemporary Design
Monarch Specialties is a beautiful computer desk inspired by contemporary industrial design. The reviewed model features dark taupe color, but there are three more colors available – black, cappuccino and grey. The overall dimensions are 78.7 inches in width, 30 inches in height and 23.7 inches in depth.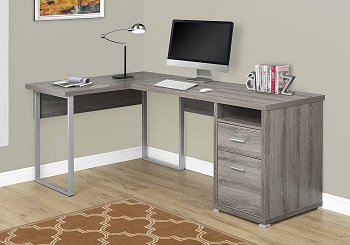 Configurable Design
This modern desk with filing cabinet is perfect for medium-sized offices. A configurable design allows you to install the desk on the left or right side. The assembly is required and its warranty lasts 1-year. Construction is made of wooden materials.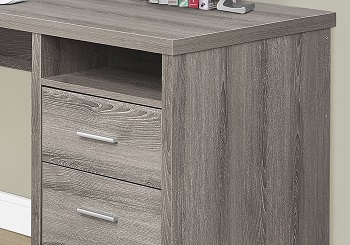 Plenty Of Storage Space
The frame is made of sturdy metal, it supports the desk and ensures stability. Monarch Specialties corner desk with file cabinet features a thick top with ample space for two monitors, laptops, office devices, like printer, scanner, etc. Also, there is a pen shelf and two drawers. There are elegant silver handles on the drawers.
Highlighted Points:
wooden and metal construction
four colors available
contemporary industrial style
ideal for medium-sized offices
adjustable design for flexibility
open shelf and two drawers
BEST SMALL CORNER DESK WITH FILE CABINET
Doublelift Computer Industrial Desk
Black Finish
Doublelift computer desk is designed for small and medium-sized offices. Its price is affordable. The manufacturer offers this product in two colors – black and white. These colors are universal and fit in any office or home office environment.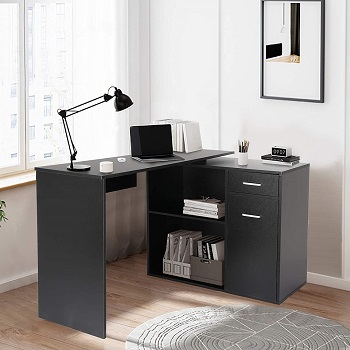 Easy To Assemble
This small corner desk with a file cabinet requires assembly. You need to follow the instruction and you'll finish it quickly. Doublelift is made of durable medium density fiberboard. You can clean and maintain this desk with a damp cloth or towel.
Rotating Desk
Its rotation angle is 180 degrees. Doublelift weighs approximately 80 pounds and measures 63.2 inches in width, 15.7 inches in depth and 29.2 inches in height when it is straightened. In L-shape it features 46.2 inches in the width of the desk.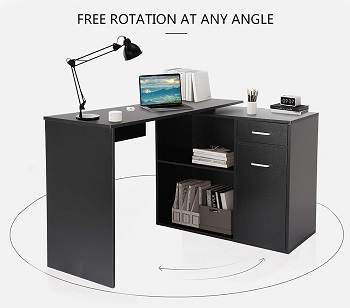 Lateral File Cabinet
This corner desk with file cabinet is equipped with a small drawer for office supplies (notebooks, notepads, pens, scissors, etc), file cabinet for CPU or books. Also, there are two roomy shelves for your decorations, binders, books, and other items.
Highlighted Points:
suitable for various spaces
the free rotation at any angle
arrange it as you like with 180° rotation
lateral file cabinet with two shelves and drawer
tall file cabinet designed for large items
BEST L-SHAPED CORNER DESK WITH FILE CABINET
Tribesigns Reversible Computer Desk
Detailed Instruction
Tribesings is a great corner desk with a file cabinet, designed for small offices or home offices. When it arrives at your address, it is necessary to assemble it. All of the hardware and the detailed instruction are included in the package. Its price is acceptable.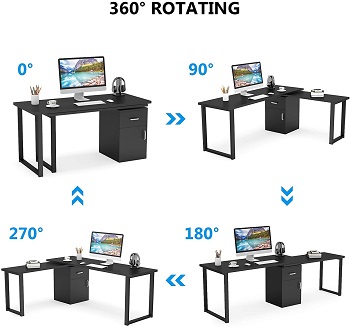 Eco-friendly Particleboard
Its desktop is made of 1.18" thick eco-friendly particleboard with a coating surface. So the surface is waterproof and scratch-resistant. If you spill your coffee, just wipe up the desk with a damp cloth. Tribesings legs are manufactured with heavy-duty powder-coated steel.
Rotating Design
This desk is adjustable, it features a rotating design. So it can be installed on the left or right-hand side, there is 360° rotation. If you decide to install two desktops side by side, it's an 87" double computer desk. When you overlap it, it requires small floor space.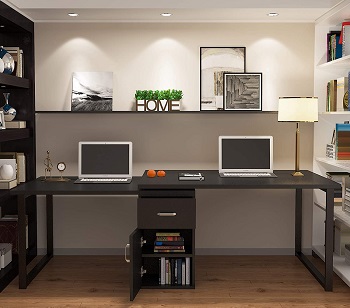 High Weight Capacity
This l shaped desk with file cabinet has a high weight capacity, it is able to bear up to 650 pounds. Its file cabinet contains a small top drawer and a storage cabinet When you open the file cabinet door, there are two shelves. Top drawer glide on smooth metal runners.
Highlighted Points:
constructed with particleboard and sturdy metal
maximum weight capacity – up to 650 pounds
the thick board supports high capacity filing
360

°

rotating desk, for all kind of spaces
file cabinet with drawer and shelves
BEST CHEAP CORNER DESK WITH FILE DRAWER
Homcom Computer Workstation Desk
Affordable Price
Homcom is a popular budget-friendly brand. There are many positive reviews on the market, so you won't make a mistake if you order this desk. Except for this pure white color, there is elegant black color. The tabletop weight capacity is 154 pounds.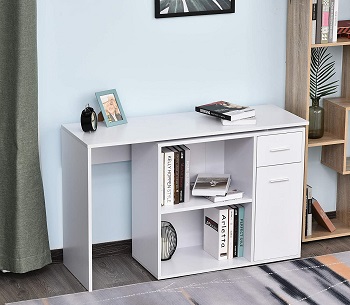 Two Ways Of Use
This multifunctional desk features an adjustable design. So this computer desk can rotate into an L-shaped design or you can straighten it up. It is able to meet different needs. Its overall dimensions are 46 inches in width15.75 inches in depth and 29.25 inches in height.
Quality Particleboard
Its L-shape is suitable for corner using. Moreover, you can place this bookcase under the desk. This corner desk with a file drawer really fits anywhere. Construction is made of P2 grade particleboard, this material ensures high stability and long-lasting durability.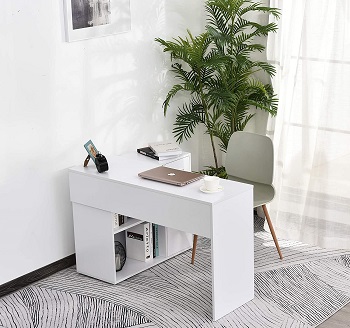 Non-slip Footpad
This white desk with file drawer has a plastic footpad, they are non-slip. Moreover, they protect your desk from scratches and damage. 2-tier shelf design provides ample space for your books and registers. There is a small drawer for office supplies and a large file cabinet.
Highlighted Points:
affordable and durable corner desk
it features an adjustable design
plastic non-slip footpad protect your floor
two open shelves hold books
a small drawer for office essentials
large file cabinet, useful for CPU
BEST 2-DRAWER CORNER DESK WITH FILE CABINET
Safco Soho Desk
Space-saving Design
Safo modern desk is ideal for start-ups, small offices and home offices or wherever space is limited. It takes up less floor space but provides plenty of work and storage space. This corner desk with file cabinet weighs 50 pounds only, it is pretty lightweight.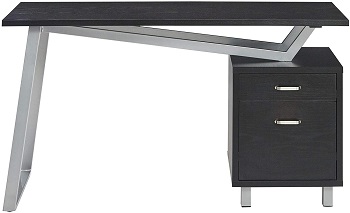 V-shaped Desk
Its dimensions are 55 inches in width, 23.5 inches in depth and 30 inches in height. Safco maximum weight capacity is 121 pounds. This V-desk will fit perfectly in modern and contemporary designed offices. Its metal frame supports desk weight and provides stability.
Textured Laminate Surface
The top surface is wide enough for your laptop, monitor, notebooks and other desk supplies. Its desktop and file cabinet are made of durable textured laminate. The pedestal file cabinet contains two drawers for your office essentials and belongings.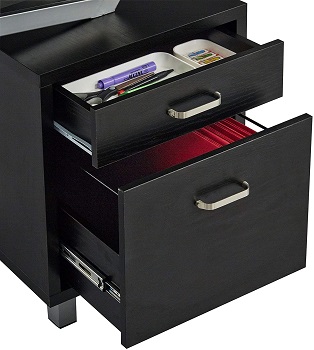 Standard-size Files
This writing desk with a file cabinet features two drawers – small and large ones. Use the small drawer for your vital office tools, like pens, scissors, notepads, etc. Below is a larger file drawer, here you can organize your standard size documents.
Highlighted Points:
made with metal frame and laminate
modern V-design fits in any stylish office
wide desktop for your laptop or monitor
easy to clean and maintain
file cabinet with two drawers
BEST WOOD CORNER DESK WITH FILE CABINET
Bush Furniture Cabot L-shaped Desk
Timeless Appearance
Bush Furniture is a very popular brand because of its quality. This Cabot collection provides a timeless appearance and functional features. You can buy this model in espresso and other attractive colors like cherry, white, natural maple, storm grey and ash grey.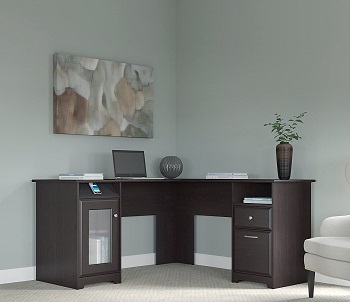 Sustainable Wood
It is manufactured using quality and sustainable engineered wood, designed for long-term durability. It is stable and resistant to cracking and warping. Bush quality construction meets safety and quality standards – ANSI/BIFMA. The product is covered with a 1-year warranty.
4-port USB Hub
This corner desk with a file cabinet features a scratch-resistant surface with a 200-pound weight capacity. The desk is equipped with a 4-port USB hub that keeps devices connected. The assembly is required, so the package contains detailed instructions.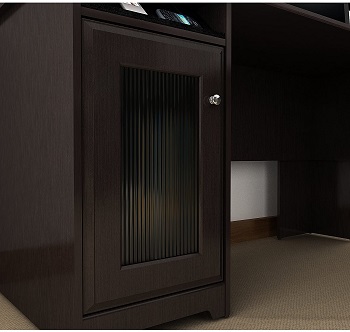 Concealed Storage Cabinet
The overall product dimensions are 60 inches in width, 30 inches in height with a depth of 24 inches. This wood desk with a file cabinet features a concealed storage cabinet with a stylish glass door. On the right side, there is a file cabinet with two drawers and an open shelf.
Highlighted Points:
constructed with sustainable engineered wood
available in multiple colors
concealed storage cabinet with glass door
file cabinet with two drawers and an open shelf
the assemble is required
desktop bears up to 200 pounds
Things To Know About Corner Desk With File Cabinet
Whether you have a small home office or only a free corner in your office, the desk with built-in file cabinet or drawers will provide adequate space and offers storage options. Check this basic info about it to be able to choose the best for you.
L-shape Design – The L-shaped office desk with file drawers is suitable for various spaces. This is a novel piece of office or home office furniture that looks unusual at first glance. But it will improve your workspace with its large desktop, shelves and drawers.
Reversible Design – There are many options, so you can find desks with reversible or rotating designs. They are multifunctional. Some models offer a side table that rotates up to 180 or even 360 degrees. You can straighten it up and have a double computer desk.
Ease Of Assembly – All of these desks requires assembly. So the package usually includes detailed instruction, some manufacturers offer an installation video, which is pretty useful. If there are missing parts in your package, contact your seller immediately.
Desk Space – Very important features. If you want to use your office desk for multiple monitors and computer equipment, you should look for a corner desk with ample space on both sides. An ideal corner desk is equipped with shelves, drawers and a keyboard tray.
Desk Material – Many corner desks with file drawers are made from particleboard or engineered wood. Some models have a durable and sturdy steel frame that provides higher support. Therefore, those desks have a higher weight capacity. Their surfaces should prevent scratches and absorb moisture.