Are you interested in eco-friendly and modern file cabinets?
Then the bamboo file cabinet is the perfect solution for your requirements! It is a very popular material, so we have created a list of the best models currently available in the market. Also, we have prepared some basic info, useful to know.  before purchase.
Our Top Picks
Best 5 Bamboo File Cabinets
BEST OF BEST BAMBOO FILE CABINET
BirdRock Home Rolling File Organizer
Practical Item
BirdRock is a quality filing cabinet that is available in natural and cafe noir finishes. It weighs 9.9 pounds and has 13 inches in height, 16.7 inches in width and 13.7 inches in depth. Its price is affordable, so it's a great storage space for any home office or office.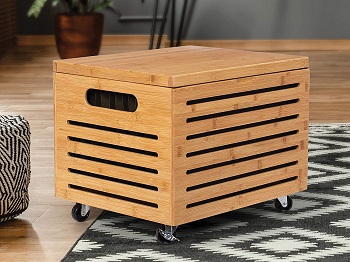 Robust Bamboo
This bamboo file cabinet features a decorative accent and an attractive design. BirdRock is constructed of durable and robust bamboo, so you can use it for many years. It comes with four durable wheels, attach them and you can move this item wherever you want.
High-quality Lid
BirdRock is equipped with carrying handles, therefore you can transport it easily. High-quality lid hinges allow you to smoothly open and close the file cabinet. The lid will protect your stored item from damage. This space-saving file cabinet can be used for documents, magazines, books, etc.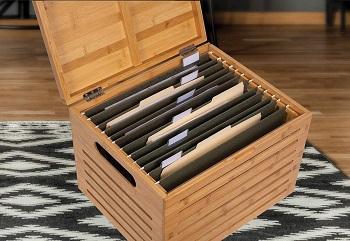 Hanging Files
It is suitable for letter-size/A4 and legal-size file folders. BirdRock is able to store 20+ hanging files. Unfortunately, it doesn't come with a lock, but you can install a small lock if you want to have extra security for your stored documents.
Highlighted Points:
robust bamboo construction
available in cafe noir and natural finish
four durable wheels with brakes
equipped with two carrying handles
suitable for letter and legal files
BEST ON WHEELS BAMBOO FILE CABINET
Tqvai Natural File Cabinet
Natural Finish
Tqvai is a convenient file cabinet that will keep your documents and things neatly organized. Its overall dimensions are 16.7 inches in width, 13.4 inches in height and 13.7 inches in depth. This model is available in natural and coffee brown finish. The price is affordable.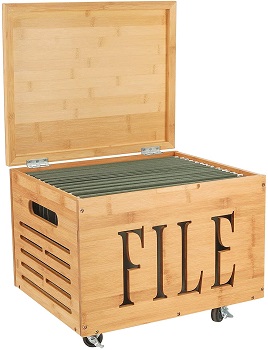 Lightweight Product
Construction is made from bamboo, there are no synthetic materials. It is a handmade product that is recyclable. There are two handles on each side, so it's easy to carry this bamboo file cabinet even when it is filled with files. The manufacturer provides 12 months warranty.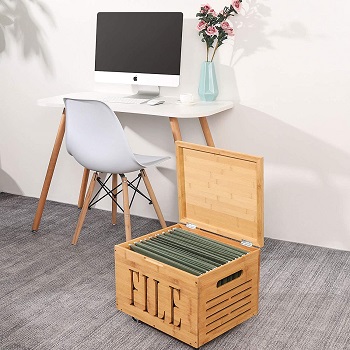 Removable Wheels
You can easily move this small rolling file cabinet wherever you need. There are premium mobile casters with brakes for stable placement. But wheels can be removed if you want to place this file cabinet on your desktop. These wheels aren't made of cheap plastic, they bear high capacity.
EVA Gaskets
Tqvai is suitable for documents, fill it with both, letter and legal size file folders. The hinged lid will protect your stored items from damage. Two transparent Eva gaskets will reduce noise when you close the lid. Just attach them to the file box.
Highlighted Points:
two finishes available
100% bamboo construction
arrives with a 1-year warranty
four removable wheels with brakes
suitable for letter and legal files
hinged lid protects stored items from damage
BEST CHEAP BAMBOO FILE CABINET
Giantex Rolling Storage Organizer
Practical & Decorative
Giantex is a compact storage box that fits anywhere. The package includes detailed instructions, a file cabinet and casters. Clean it with a soft damp cloth and it will look like new for many years. Except for its practical use, it is a decorative storage box that fits any decor.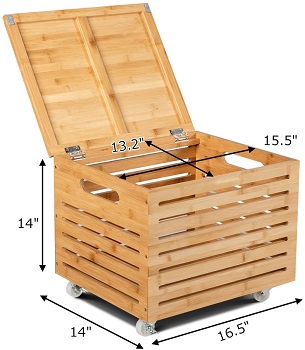 MDF Frame
This item is crafted of solid bamboo and a medium-density fiberboard frame. Therefore, Giantex is strong enough to endure daily use. It weighs 8.5 pounds and measures 17 inches in width, 14 inches in depth and 14 inches in height, so doesn't require too much space.
Four Wheels
You can easily move this filing cabinet box, there are four rolling wheels for forwarding and backward movement. Also, there are two brakes on two wheels that keep the file cabinet in place. On both sides, there are convenient handles for easy carrying.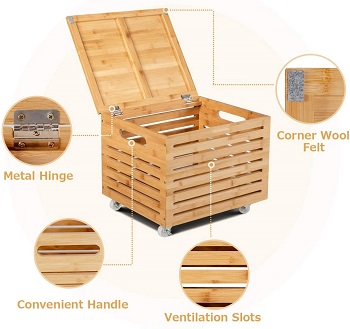 Ventilation Slots
There are ventilation slots on the file cabinet, they prevent smell. Two corners of the lid feature a felt pad to reduce noise when you close the lid. The hinged lid provides a convenient open/close. Giantex is a nice-looking bamboo file cabinet that holds letter-size files.
Highlighted Points:
solid bamboo construction with MDF frame
four universal wheels with two brakes
the hinged lid ensures a smooth opening
two side handles for easy carrying
a practical item for assorting letter-size documents
BEST SMALL BAMBOO FILE CABINET
Songmics Bamboo File Organizer
Easy To Assemble
The package includes a Songmics file cabinet, detailed instruction and Allen key. You need to assemble this item, but it features a simple structure that is easy to set up. This product weighs 5.1 pounds and has 9.8 inches in height, 9.6 inches in depth and 12.8 inches in width.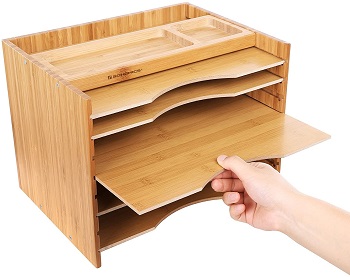 Rounded Corners
Construction is made from natural and sustainable bamboo, it is sturdy and waterproof. You can wipe it with a damp cloth if it gets dirty. There are rounded corners and counterbores, so there aren't sharp edges. It is a practical and durable bamboo file cabinet for any home office or office.
Versatile Product
Put it on your desk and keep your files and office supplies neatly organized. There is a 3-way layout – vertical for books, horizontal for documents and upright as a tub file bin. Songmics is a short filing cabinet that features five adjustable shelves.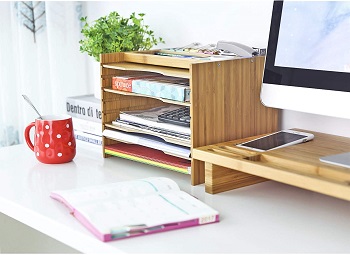 Movable Shelves
Each shelf is removable, so you can adjust the height of each shelf. Fill them with standard papers, notes, letters, etc. The anti-skip slots prevent these shelves from sliding. There are multiple options for how to use this item. Also, it features an acceptable price.
Highlighted Points:
natural bamboo construction
simple assembly is required
sturdy and waterproof surface
3-way layout options
five shelves, each is removable
BEST HOME OFFICE BAMBOO FILE CABINET
Jack Cube Bamboo File Cabinet
Long-lasting Item
Jack Cube is a high-quality file cabinet that weighs 6.6 pounds and measures 10.9 inches in height, 10.6 inches in depth and 13.8 inches in width. This compact file cabinet is built to last and it is an ideal solution for your home office. Its price is affordable.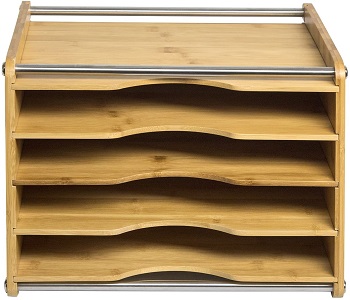 Stainless Steel Bars
This bamboo file cabinet requires simple assembly, instructions are included in the package. Construction is made from high-quality bamboo and stainless steel for protection. It is sturdy and durable. Cleaning is simple, wipe it up with a dry or damp cloth. The stainless steel bars protect your files from falling.
Five Shelves
There are five shelves for your documents, paper, letter and important notes. This personal file cabinet features additional space on its top for daily used paperwork or small office supplies. Put it on your desk, on some shelf, dresser, lateral file cabinet as additional storage space.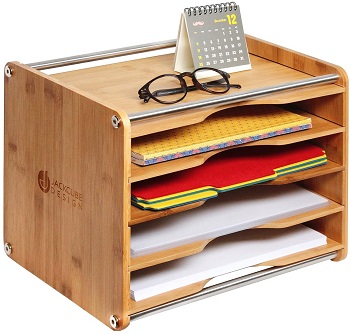 Practical Product
All these five shelves are movable. You and adjust this bamboo file cabinet in the way you want. It is practical and lightweight, easy to carry around. Also, with its natural finish, you can match the Jack Cube with any home office environment.
Highlighted Points:
high-quality bamboo construction with steel bars
simple assembly required
easy to clean and maintain
five movable shelves
ideal for files and small office supplies
heavy-duty bamboo slides ensure smooth performance
Things To Know About Bamboo File Cabinet
All these five bamboo file cabinets feature sturdy construction and a natural design. But to learn more about them, check our few tips and tricks before you order any of those models.
Bamboo Material – The bamboo plant is technically a type of grass. It is able to grow in pretty much any type of climate. It is a very popular material thanks to its fast-growing rate. This material is very strong, durable and resistant to scratches and swelling.
Built-in Lid – Some file cabinets don't have a lid. It isn't necessary, but if you have one, the lid will protect your stored documents and items from future accidents. That includes spilled coffee, water, etc. The hinged lid ensures convenient open/close.
Mobility – If you work in a space-limited home office or office, the file cabinet with casters will make your life easier. When not in use, you can tuck it under your office desk. Some items have removable wheels, so you can decide if you want to install them or not.
Storage Space – There are various models on the list above, you can choose a file cabinet with shelves or a box with rails for hanging files. If you want to store letter and legal-size files, check out product dimensions carefully, some aren't suitable for large documents.
Cleaning & Maintenance – If you want to keep your sturdy file cabinet nice, it is important to clean it properly. The cleaning and maintenance of the bamboo file cabinet are simple, you should apply oil every one or two months to prevent cracks.