Do you want to buy a functional light that you can install underneath your cabinet or shelf?
here is the list of the best-rated under desk lighting models, so check those reviews below and read more about their characteristics. They are classified to be easier for you to find what you need. Follow our guidelines for the best shopping.
Our Top Picks
Best 5 Under Desk Lightings
BEST OF BEST UNDER DESK LIGHTING
Luluan Under Cabinet Lighting
Easy Installation Methods
Luluan is quality and affordable under dek lighting. There are three installation methods. You can use stick tape, screw-on brackets or use adhesive sticks. If you want to install it on wood or a wall, stick adhesive to an iron sheet and then stick the under lighting to an iron sheet.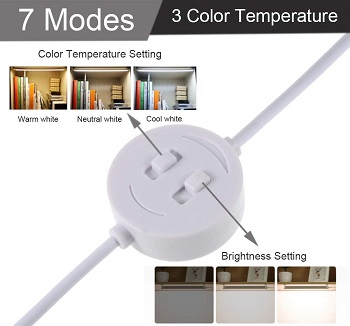 Powered By USB
You can use it as a cabinet light, wardrobe light, mirror lamp, desk lamp, stairs lamp or outdoor light. Luluan is made of aviation aluminum and a PC. It features a lightweight and compact design. It can be powered by any USB device, which includes a power bank, laptop, computer, etc.
SMD LEDs
The 1.8m USB cable is included in the package. Luluan light bar has 48 pcs SMD LEDs or 650 lumens. The energy-saving LEDs deliver sufficient brightness and have a longer lifespan than traditional bulbs. This LED reading lamp lasts for years.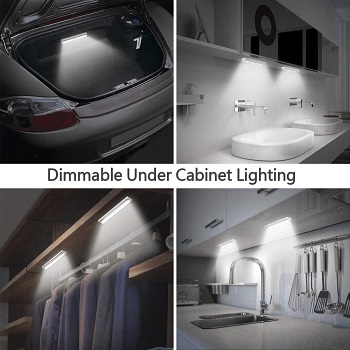 Seven Modes
Luluan under desk lighting features a two-push button that controls seven lighting modes, warm white (3000K), neutral white (4000K), cool white (6500K), high light/soft light/eye protection light/off. You can adjust the lighting brightness depends on your current needs.
Highlighted Points:
three easy installation methods
powered by any USB devices
aviation aluminum + PC
seven dimmable lights and three color temperatures
LEDs ensure a long lifespan
BEST LED UNDER DESK LIGHTING
Phonar Under Cabinet Lighting
Ultra-thin Profile
Phonar lighting bar comes in a variety of sizes, they range from 12 to 4 inches. Measure your desk space before you order any model. The bestselling item comes in 36 inches. It features an ultra-thin and low profile, there are 0.4 inches only. The price is acceptable.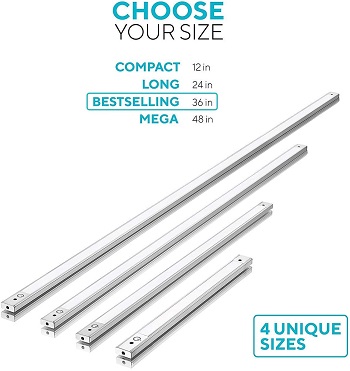 Touch Sensor
Phonar led lights under desk suit perfectly any furniture, hutch or cabinets. It is pretty easy to use this under desk lighting, just tap the frame to switch on/off. The package includes a 12V adapter. Phonar is made of aluminum alloy and acryl diffusor. It is super easy to mount it, you can screw it in or tape it up.
Two Color Temperature
It delivers two color temperatures, there are warm white 3000K and neutral white 4000K. Use the neutral white color temperature when you need to clearly see under your desk or cabinet.  The batteries aren't required, it uses bright LEDs.
Safe For Use
This modern LED desk lamp is so much better than traditional lights, it features a longer lifespan. The LEDs last for many years. Also, the LED strip doesn't heat, meaning it is safe for you and other family members. It is easy to dismount the Phonar if needed.
Highlighted Points:
available in four sizes and two colors
extra lightweight and thin item
easy and quick installation
two color temperatures
bright LEDs ensure a long lifespan
BEST RGB UNDER DESK LIGHTING
Luxsway RGB Lighting
RGB Strip Light
Luxsway is a LED RGB strip light perfect for offices, kitchen, workspaces, bedrooms, etc. There are 2 ways of installation, with magnetic mounting and metal mounting plates. There are 4pcs 3M sticker and 2pcs magnetic., 4 screws, 4 metal plates and mounting clips are included.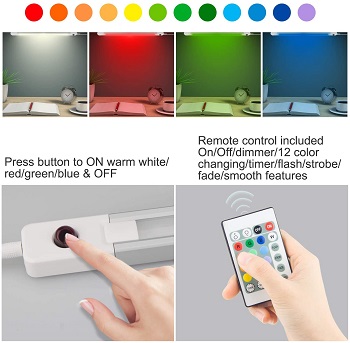 40 LEDs
It is powered by an AC adapter, there is a 65-inch power cable included. Luxsway requires 100-240V. It uses 40 LEDs that provide 700 lumens. So the under desk lighting lifespan is approximately 30000 hours. The delivered color temperature is 4000K.
Wireless Lamp
Luxsway is a versatile RGB desk lamp, use it directly with the pedestal as a desk lamp. It is portable, so you can use it as a flashlight in your basement or for walking. Because this is a wireless lamp, you can use it wherever you want, in your bathroom, office, outdoor,…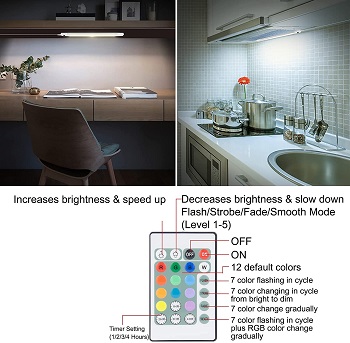 Multiple Options
There is a dimmed button, press it and adjust your desired brightness. If you want to set color-changing mode, press the Flash, Strobe, Fade or Smooth button. There are many options. Press the color button and change the color. Luxsway offers 12 color choices.
Highlighted Points:
two ways of installation
AC adapter is included in the package
there are 40 LEDs
last about 30000 hours
dimmed button change the brightness
choose between 12 color options
BEST UNDER HUTCH DESK LIGHTING
Generies Under Hutch Lighting
3 Installation Ways
Generies model measures 11.8 inches in length and 0.59 inches in width. Except for the light, the package includes 4 double-sided tapes, 4 metal sheets and instruction. there are three ways to install this item  – with built-in magnets, round sheets or L-shape sheets.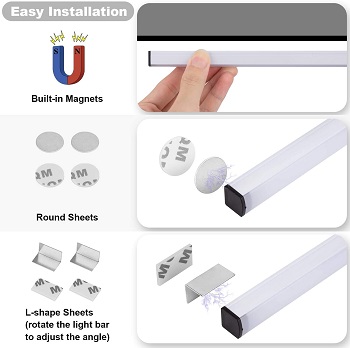 Efficient LEDs
You can install it under your shelf, hutch, cabinet, etc. But you can take the under desk lighting on camping or other outdoor activities. Generies uses high-brightness LEDs which are more power-saving than fluorescent tubes. It will meet your daily needs of lighting.
USB-powered Item
Generies is a long-term investigation, you can use it for years. These LED beads are capable to reach over 100,000 hours. It is USB powered lamp. Also, the rechargeable desk lamp has a power cord with a USB interface, which requires a 5W power supply.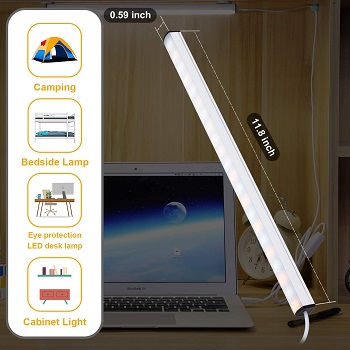 Eye-care Light
It is gentle for your eyes, non-flickering light will protect your eyes from fatigue. You can read or work under this light for hours. Generies is lightweight (about 3.8 ounces) and portable under hutch light. It is covered with a free lifetime warranty.
Highlighted Points:
three ways of installation
quick and simple installation
high-brightness LEDs lasts for many years
power cord with USB interface
non-flickering light
covered with a free lifetime warranty
BEST UNDER SHELF DESK LIGHTING
Myplus Under Cabinet Lighting
Available Models
Myplus is a quality under-shelf lighting suitable for kitchen, cupboard, shelf, closet, office, etc. Three versions of this model are available – black – 3000K, black – 6000K and white – 6000K. It is 11.8 inches long and 0.9 inches wide. Its price is affordable.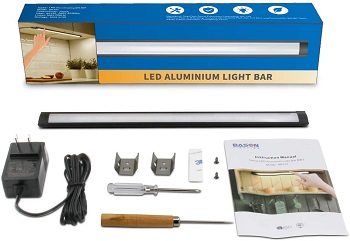 Aluminum Bar
The frame of this under desk lighting model is made from aluminum oxide and there is an anti-glare diffuse PC shade. Its design is simple and minimalist, Myplus features a small but bright bar. The package includes under-shelf lighting and installation instruction.
LED Bulb
Its installation is simple, you'll finish in few seconds. Myplus delivers 4W or 210 lumens. It uses an LED bulb, which is more energy-efficient than a traditional bulb. If you want to turn on/off this aluminum desk lamp just touch the surface of the aluminum frame.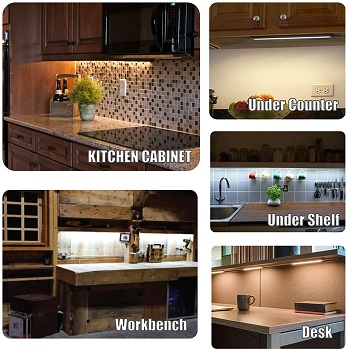 Two Color Temperatures
Myplus features two-color temperatures – 3000K and 6000K. The 3000k or warm white light is soft for your eyes, ideal for use at night. The 6000K or cold white delivers a more bright and clean light, perfect when you working. There is no annoying glare light.
Highlighted Points:
choose between the versions
aluminum bar with anti-glare feature
simple and quick installation
energy-efficient LED bulb
offers two color temperatures
Things To Know About Under Desk Lighting
The under desk lighting has become popular for both functional and aesthetic features. We have prepared some tips and tricks, so you can find your perfect model.
Place To Install – It can be used in the kitchen, cabinet, shelf to provide tasks lighting. That means the light source is near the desk. It is installed to be hidden and space-saving, so all you can see is the light. They are often used as a night light.
Main Criteria – There are two main criteria for buying under desk lighting. First is illuminance level – the amount of light on your work surface. The second criteria are uniformity – that means the evenness of lighting. Check those two things first.
RGB Light – The RGB stands for RED GREEN BLUE and refers to three hues of light. They create and wide selection of different colors because they can be mixed. Meaning it is possible to achieve a color palette of over 10 million shades.
Lighting Color – There is a term – correlated color temperature, that depends on your office or home decor and your personal preferences. For warm tones, pick the range from 2700 to 3500K. For more cool tones, you should look for the 3500K to 5000K range.
Dimming Capability – The main benefit is saving energy. When you don't need bright light, dim it and save some energy. The brightness level from 10% to 100% gives you more flexibility to perform various tasks under that light. Some models have smartphone control for dimming.