Are you looking for an elegant gray desk lamp with a light or dark design?
Then you should check these reviews!
Here you can find top-rated desk lamp models divided into six categories, making it easy for you to find the best lamp for your needs. Check all these quality models, read about their features and check our useful buying guide at the end.
Our Top Picks
Best 6 Grey Desk Lamps
BEST OF BEST GRAY DESK LAMP
Momax LED Desk Lamp
Elegant Desk Lamp
Momax is a very quality, durable and powerful desk lamp. Available in gray, black and white colors. The manufacturer offers a lifetime warranty and friendly customer service. If there is any trouble with this lamp, contact the service.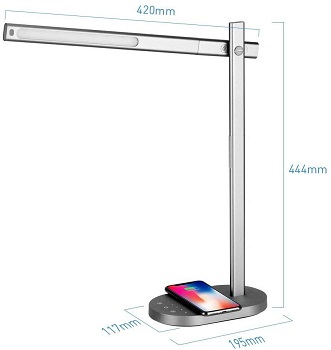 Aluminum Lamp
This gray desk lamp is made from premium metal and aluminum materials. It provides high abrasion resistance, anti-erosion and wear and tear resistance. Momax desk lamp uses high quality LED bulb which is rated for up to 50,000 hours.
Flicker-free Light
Momax adjustable LED desk lamp provides flicker-free and glare-free light, which doesn't have harmful effects on your eyes. You can use it for reading, working, studying and crafting. Choose between five color modes and six levels of brightness for your different tasks.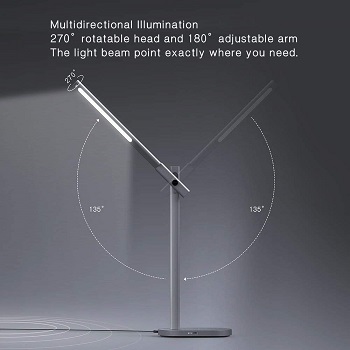 Auto-off Timer Function
There is a 1-hour auto-off timer function and memory function that makes this lamp more user-friendly. Also, it is equipped with a wireless charging station that is compatible with iPhone, Samsung and other Qi-enabled devices. Place it on the lamp pad and it starts charging automatically.
Highlighted Points:
made from durable metal and aluminum
lifetime warranty and friendly customer service
available in gray, white and black color
equipped with an LED that lasts for 50,000 hours
multiple lighting modes
wireless charging station
BEST CLAMP GREY DESK LAMP
Neatfi Dimmable Desk Lamp
Wide Lamp Head
Neatfi desk lamp is available in multiple colors. Except for the grey color, there are black, lavender, green, pink, rose gold, silver and white colors. The lamp arms measure 16.1 x 16.1 inches and the lamp head is 19.7 inches wide. It can cover large desks.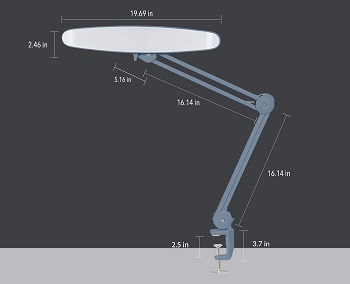 3-year Warranty
A full three-year warranty is included, if you notice any defect within that time, contact customer service. Also, the package includes instructions, just follow them and you'll assemble this grey desk lamp easily. The maximum clamping distance is 2.5 inches.
Clamp Design
Clip the lamp on your workbench, office desk, children's desk, etc. It fits anywhere and doesn't take up too much desk space. This adjustable desk lamp has a cool stylish design that holds its position very well and it is easy to maneuver.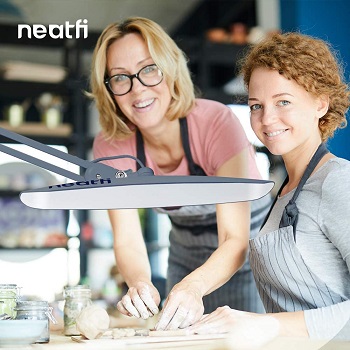 Long-lasting LED
There is an integrated long-lasting LED bulb that doesn't require replacement. You can use it in the next 20 years. Neatfi has a high Color Rendering Index of 80, provides clear and accurate colors. The lamp has an adjustable design allowing you to direct the light where needed.
Highlighted Points:
available in multiple colors
integrated long-lasting LED
adjustable clamp design
high color rendering index
backed by a three-year warranty
light beam without glare
BEST DARK GRAY DESK LAMP
Bosceos Nightstand Desk Lamps
Light Gray Shade
The set includes two Bosceos desk lamps perfectly suitable for nightstands. Of course, you can place them in your dining room, living room, children's room, home office, etc. Choose between lamps with grey lampshades and white lampshades.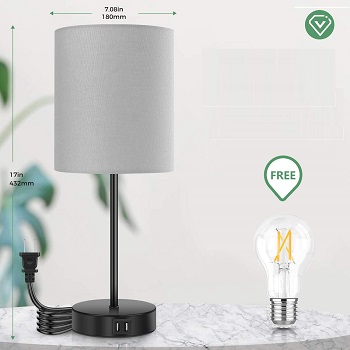 Well-made Lamp
The lamp base and stem come in black color. This dark grey desk lamp is well made, the lampshade is made from premium gray fabric, the non-slip black base is constructed from metal. It features a safety E26 standard lamp holder and an American power plug.
Two Edison Bulbs
This nightstand lamp with USB  suits any room decor such as modern, mid-century, contemporary and so on. It adds elegance and stylish touch to your room. The package includes two Edison LED bulbs, they provide flicker-free and soft light to your room.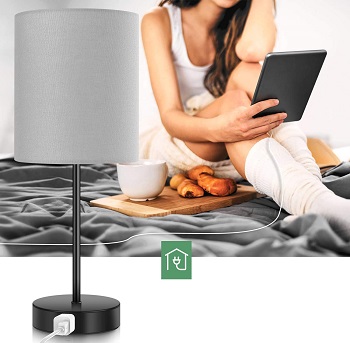 Two USB Ports
With two built-in 5V/2.A USB ports, you can charge two mobile phones at the same time. Also, these lamps come with a practical AC outlet. Charge three different devices simultaneously. Charge the devices whether the lamp is on or off.
Highlighted Points:
black lamp base with grey shades
set includes two lamps
ideal for nightstands
box includes two Edison LED bulbs
built-in two USB ports and AC outlets
made from premium fabric and metal
BEST LED GREY DESK LAMP
Lepower Flexible Desk Lamp
Simple Design
Lepower is a simple but effective desk lamp suitable for any home or office decors. It is available in multiple colors, which include black, bronze, gold, green, sand black, grey and white. Choose the color that suits your room's interior. Its price is affordable.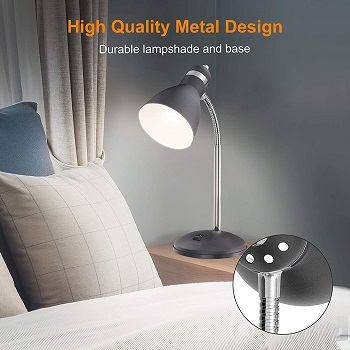 E26 Base Bulb
The package includes a user manual, 1.5m AC power cord and a desk lamp. It is important to mention that bulb isn't included in the package. The Lepower lamp measures 8.5 x 5.5 x 13.2 inches. With an E26 sized screw base, you can install LED, energy-saving or incandescent bulbs.
Energy-efficient LED
This grey desk lamp is compatible with a LED (4W-6W) bulb, it is more energy-efficient than traditional light bulbs, produces low heat and lasts longer. The Lepower LED reading lamp features a high-quality lamp base and shade made from durable metal.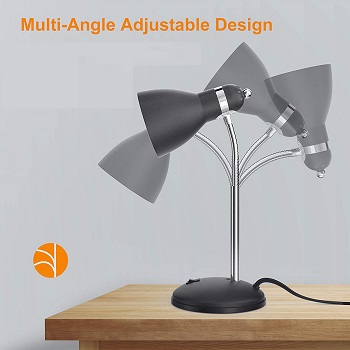 Multi-angle Design
This functional desk lamp will meet your basic lighting needs. It is perfect for reading, working, crafting, homework and other activities. Lepower features a flexible gooseneck, so it's easy to find a perfect lighting angle. The dissipation design keeps you safe from accidents.
Highlighted Points:
available in multiple colors
affordable price
comes with a user manual and AC power cord
compatible with LED bulb
great for reading and studying
made of quality metal
BEST VINTAGE GREY DESK LAMP
Co-Z Vintage Desk Lamp
Vintage-inspired Design
Co-Z is a beautiful desk lamp that suits vintage, industrial and rustic-inspired home offices or other rooms. Place it on your workbench, coffee table, end table or nightstand. The lampshade measures 5 x 8 inches, while the round base is 1.5 inches high.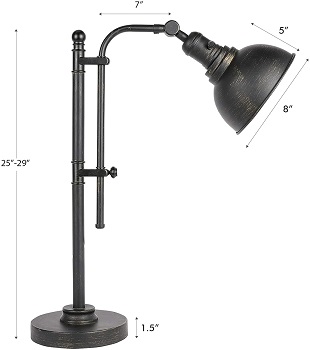 Gold Highlights
The manufacturer combines modern minimalism and vintage appeal to create this unique grey desk lamp. The lamp post and lampshade are completely made from iron, then distressed and finished in aged grey with gold highlights for elegance.
Swivel Head
This vintage reading lamp is backed by a 1-year warranty. Its height is adjustable, extend it from 25" to 29" to accommodate various spaces. Also, you can swivel the lamp head 180° for uplight and downlight and create custom lighting.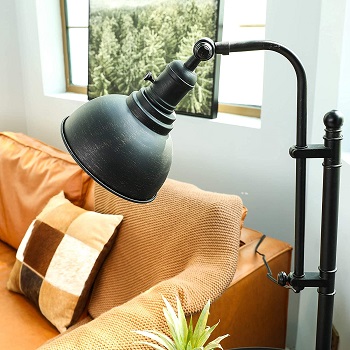 Edison Bulb
The bulb isn't included in the package and the manufacturer recommends the Edison CFL or LED bulb to complete the industrial look. Co-Z desk lamp is compatible with E26 socket type A bulbs with a maximum wattage of 40W.  Its power cord is 5 feet long.
Highlighted Points:
inspired by rustic design
complements vintage and industrial decors
covered with a 1-year warranty
use Edison bulb of 40W
adjustable height and swivel lamp head
made of durable metal
BEST WIRELESS GRAY DESK LAMP
WorkPro Wireless Desk Lamp
Modern Design
WorkPro is a modern desk lamp that fits on any table, workbench, end table or coffee table. It is a great choice for your home and office. WorkPro is 17.5 inches high and has a small base which doesn't require much space for your desk. Its price is high.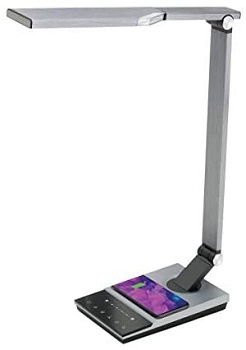 Brushed Metal
This gray desk lamp is made from high-quality metal, making it durable and resistant to wear and tear. The surface is brushed which provides a more elegant look. There are built-in 10-watt LEDs that aren't replaceable. Their expected lifespan is approximately 50,000 hours.
Qi Certified Devices
WorkPro is a LED lamp with a wireless charger, so if you have Qi-certified mobile phone, place it on the lamp base and it will start charging automatically. A convenient 2.4amp USB port is also located on the back of the base, allowing you to charge two devices at the same time.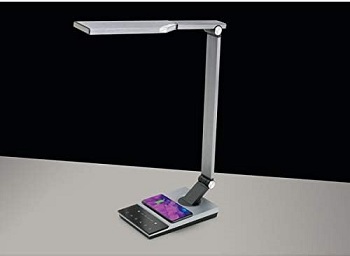 5 Color Temperatures
This lamp has an adjustable design and rotatable base. You can adjust the light exactly where needed. WorkPro offers 6 brightness levels and 5 color temperatures for different occasions. There is a timer function and built-in night light.
Highlighted Points:
elegant and modern design
made from quality metal
wireless charger for Qi-certified devices
additional USB port
five color temperatures
six levels of brightness
Things To Know About Grey Desk Lamp
In this section, you can learn some facts about grey desk lamps. Then you can find out more about lamp design, size, LED bulbs and other features so you can easily find your perfect lamp.
Gray Desk Lamps – Each color has a different impact on our emotions. Grey feels serious and professional, it is a more mature, responsible color. The positive connotations of this stylish desk lamp include formality and dependability. So, this color is perfect for offices and home offices.
Adjustable Design – If you looking for a task desk lamp, you should buy a lamp with an adjustable design. If the lamp has adjustable height then it accommodates various spaces. With a swivel lamp head, you can create custom lighting needed for different tasks.
Lighting Modes – There are quality desk lamps that offer multiple lighting modes. meaning you can adjust the lamp's color temperature and level of brightness. Set low brightness and warm light for ambient illumination. The high light is perfect for reading and working.
LED Light Bulb – Many modern lamps are compatible with various types of light bulbs. Meaning you can choose between LED, energy-saving, incandescent and halogen bulbs. LEDs are more energy-efficient, last longer and produce low heat.
Wireless Charger – Some modern desk lamps come with additional features like USB ports or wireless charging stations. So, if you own a Qi-certified smartphone, you can easily charge it simply by putting it on the lamp base. It will start charging automatically.
Final Verdict
We highly recommend the Momax gray desk lamp. This is a space-saving desk lamp equipped with many useful features, such as a wireless charging station and multiple lighting modes. if you want to check other colorful desk lamps, check out these reviews on modern black desk lamps and blue desk lamps.