Are you a fan of modernity and high-tech lamps that combine aesthetic and practicality?
If so, keep reading, this article on desk lamps with the clock is perfect for you!
In the market, you'll find a huge variety of desk lamps and many of them provide amazing features. These lamps with digital clock incorporated have become very popular, so here you can read about their features and check the list of the best 6 models.
Our Top Picks
Best 6 Desk Lamps With Clock
BEST OF BEST DESK LAMP WITH CLOCK
Gerintech Dimmable Table Lamp
LED Light Bulb
Gerintech desk lamp comes with a white base and black lamp body. The lamp is 15.8 inches high, the lamp base diameter is 7.5 inches and the lamp head is 14.2 inches long. It works on an LED light bulb, which lifespan is over 50,000 hours, it saves your money and the environment.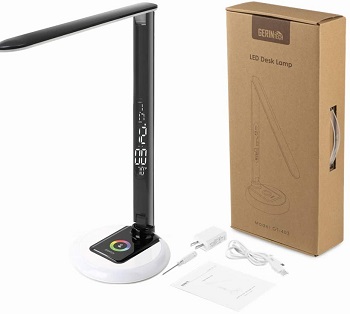 Charge Your Devices
This desk lamp with the clock is suitable for office and home use. The box includes a UL-listed power adapter, power cable, screwdriver and user manual. It is equipped with a USB port that is compatible with both – iOS and Android systems.
Alarm Clock
The LCD screen displays an alarm clock, calendar and thermometer. When you want to turn the screen off, hold the setting button for 3 seconds. This modern black desk lamp offers a few different lighting colors and three brightness levels. Set the cool white light while reading.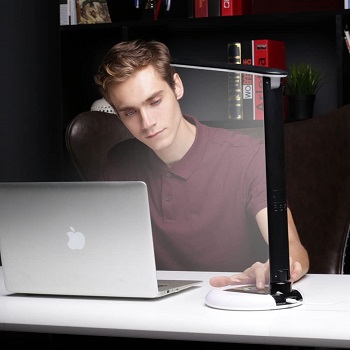 Colorful Lights
Gerintech desk lamp offers a dim night light, the color-changing base has 256 RGB colorful lights. These lights won't affect your sleeping. Change the hue by sliding your finger along the full-color spectrum ring. Gerintech emits soft and flicker-free light.
Highlighted Points:
adjustable black desk lamp
LCD screen shows the clock, calendar and thermometer
touch-sensitive panel
color changing base
variety of lighting modes
use high-efficiently LED beads
BEST LED DESK LAMP WITH CLOCK
Ottlite LED Desk Lamp With Clock
White Lamp
Ottlite Thrive desk lamp features an elegant, space-saving design. It comes in modern, white color. Adjust the height from 10 to 18.7 inches, the base measures 2.5 x 3.5 inches and it features a flexible neck. Suitable for office, dorm, study room.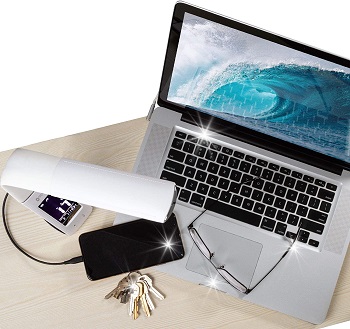 SpectraClean Technology
This desk lamp with a clock uses advanced technology, SpectraClean and ClearSun technology. The SpectraClean technology provides a cleaner space for working and reading. It reduces harmful bacteria, such as strep, staph/MRSA, E.coli, etc.
Digital Display
The ClearSun lighting offers three modes – ClearSun Only, ClearSun +  SpectraClean and SpectraClean Only. It reduces eye strain and fatigue by 51%. Also, it is equipped with a digital LCD display with a 12/24 hour clock with alarm, month, date and day of the week.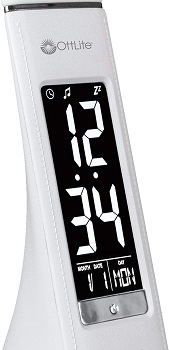 Corded Electric Lamp
This LED reading lamp features a powerful USB charging port, charge your mobile phone, tablet or other small electronic devices quickly. Activated the lamp by touch, it is ideal for office use. Also, it comes with a long power cord. The price is acceptable.
Highlighted Points:
white space-saving desk lamp
uses advanced SpectraClean technology
ClearScan technology reduces eye strain
flexible gooseneck
LCD display with clock, alarm, date
powerful USB charging port
BEST CHARGER DESK LAMP WITH CLOCK
Ledgle LED Desk Lamp
Warranty Guaranteed
Ledgle is a modern desk lamp available in black and white color. Its lamp base measures 5.9 x 5.9 inches, the lamp head is 10.2 inches long and the overall height is 11 inches. When the lamp arrives, check if there is any damage, the manufacturer provides a refund or resend in case of any defect.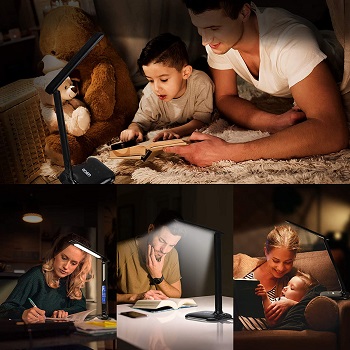 Digital Clock
This lamp uses energy-efficient LED light, it emits soft, flicker-free and glare-free light which isn't harmful to your eyes. Press down for three seconds to turn on and off the LCD screen. There is a digital clock with time, temperature and date.
No Button Needed
Ledgle desk lamp with clock has a touch-sensitive button, manage power, lightness and color temperature easily. Set the perfect lighting according to your tasks, there are five color modes and three brightness levels. Ther are warm white, natural white and cold white modes.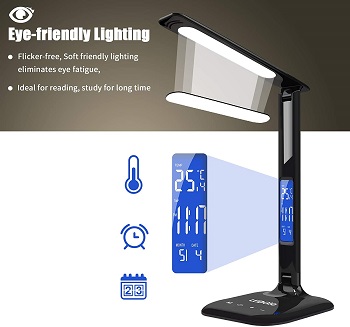 Task Lighting
The bright cool hue of the reading mode will stimulate your productivity while the warm light creates a cozy atmosphere. This LED desk lamp with a USB port is able to charge your mobile phone. There is a convenient USB charging port.
Highlighted Points:
available in two colors
energy-efficient LED
adjustable brightness and color modes
sensitive touch control
USB charging port
quality LCD screen
BEST ALARM DESK LAMP WITH CLOCK
Laopao LED Desk Lamp
Affordable Lamp
Laopao is an affordable desk lamp that fits on any workbench, study desk, table, dorm etc. Choose between white or black color. The lamp base measures 6.5 x 4.5 inches, it is 13.2 inches tall and the lamp head is 11.2 inches long. In case of an issue, contact customer service.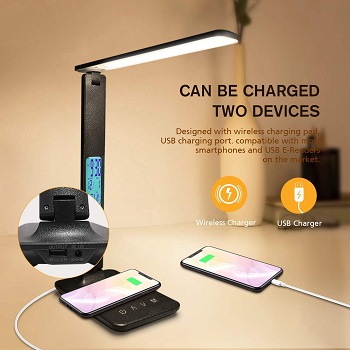 Flexible Item
This desk lamp with a clock can be adjusted to any angle you like, there are three movable parts – arm, head and base. It provides uniform illuminance, soft and flicker-free light. Also, you can choose between lighting modes – warm, neutral and blue.
Wireless Charger & USB
Adjust the brightness levels and color temperature with the touch-sensitive button. This adjustable LED desk lamp is designed with a wireless charger and USB port. That means you can charge two devices and use the lamp for reading or working at the same time.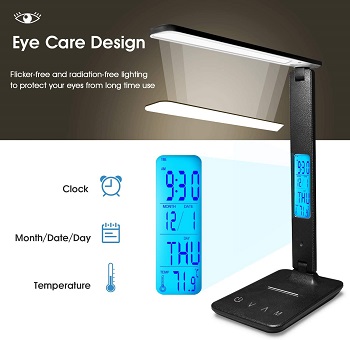 Calendar, Time, Alarm,…
Make sure the devices support wireless charging and before using it, remove the protective cover of your mobile phone. Laopao features a quality LCD screen. You can set an alarm, read the time and temperature and manage the calendar.
Highlighted Points:
sleek, modern and portable lamp
adjust brightness and color temperature
LCD screen displays temperature, alarm, clock, calendar
fast USB charging port
built-in wireless charger
flicker-free LED light
BEST STUDY DESK LAMP WITH CLOCK
OMaggie Study Desk Lamp
White Lamp
OMaggie is a small white desk lamp featuring a modern design. This table lamp is great for children and students for a birthday or school gifts. The package includes a lamp, power adapter, power cord, manual and screwdriver. It is made of ABC and silicone.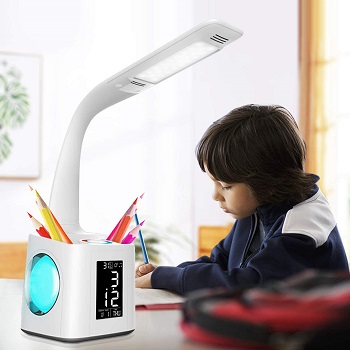 Flicker-free Light
Use this desk lamp with the clock as an office lamp, task lamp, bedside lamp, book light, reading lamp, study lamp and night light. OMaggie uses flicker-free LED light that provides uniform and eye-friendly light. There is no harmful effect on your eyes.
Three Levels Of Brightness
This desk lamp with organizer features an adjustable design, you can move its flexible gooseneck and adjust the light angle you need. Control the light intensity with a touch, there are high, medium and low brightness modes. Set the night light before sleeping.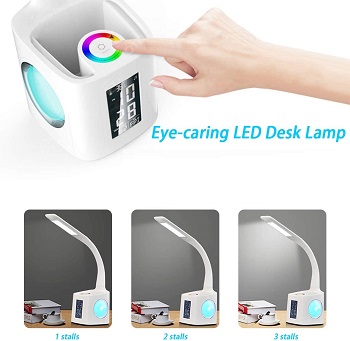 Color-changing Base
OMaggie is a multifunctional lamp, allows you to charge your mobile phone, it's compatible with iPhone and Android phones. The LCD screen displays temperature, clock/alarm and month/date, day. The color-changing base allows 256 color combinations.
Highlighted Points:
small white table lamp
flexible gooseneck
pen holder for writing tools
three brightness modes
LCD screen shows date, clock, temperature
color-changing base
BEST WIRELESS DESK LAMP WITH CLOCK
Poukaran Wireless Charger Desk Lamp
Flexible Lamp
Poukaran is a compact desk lamp available in two colors – black and white. Its price is affordable. Use this lamp for study, reading, working, crafting, etc. Poukaran comes with an adjustable design, there is a 180-degree flexible arm and 90-degree base axis.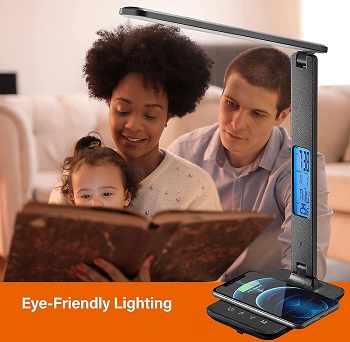 Eye-caring Light
That foldable design saves your valuable desk space, also, you can carry it easily from one room to another. Poukaran uses high-quality LED light which emits eye-friendly light, there is no flicker, less blue light and no glaring. This soft light won't harm your eyes.
USB Port
This LED lamp with a wireless charger features a USB charging port, ideal for charging mobile phones, tablets, e-reader quickly and conveniently. Also, there is a wireless charger, place your mobile phone on the lamp base and it will start charging automatically.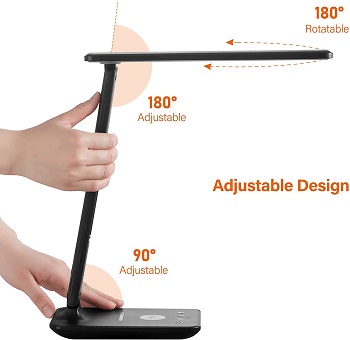 Digital Clock
That wireless charger is compatible with Qi-enabled devices. Moreover, there is a touch control panel on the lamp base. Poukaran desk lamp with clock allows you to choose between three color modes and five levels of brightness. The smart time display shows time, temperature and date. You can set the alarm, too.
Highlighted Points:
space-saving desk lamp
wireless charger for Qi-enabled devices
USB port charges mobile phones and tablets
3 color modes and 5 levels of brightness
foldable design
eye-friendly light
Things To Know About Desk Lamps With Clock
To help you choose the best desk lamp with a clock, just follow the guidelines below and you'll be able to find a perfect model for your needs. We've explained features such as wireless charger, color modes, adjustable design, etc.
Lamp With Clock – As the market grows every day, more models of desk lamps come with incredible designs and new technologies incorporated. These lamps on the list have an LCD screen with a digital clock that displays time, date, temperature, etc. They are multifunctional items.
Lighting Modes – If you want to use a single lamp for reading, working, studying and relax, consider a LED desk lamp with a whole range of lighting modes. You'll be able to choose between cold, natural or warm mode according to your current needs.
Flexible Design – There are many benefits that lamps with flexible design have. They come with a flexible gooseneck or swing arm. Meaning, you can move the lamp neck or head in many different angles and direct the light where needed.
USB Port – Some desk lamps are able to charge your small electronic devices, such as mobile phones, tablets, e-readers. Choose between lamps with wireless chargers and those with USB ports. Pick the lamp with 2A output because it will charge your phone faster.
Wireless Charger – Some lamps come with a wireless charger, so you can conveniently charge your mobile phone and other Qi-enabled devices. You need to place your device on the lamp base and it will start charging automatically. Check if your mobile phone is compatible with a wireless phone charging lamp.