Do you want to equip your office with a modern file cabinet?
What do you think of designer filing cabinets? Well, if you didn't check these models already, now it's time for that. Here is the list of the best-rated file cabinet, check the reviews and images and pick the suitable item for your needs.
Our Top Picks
Best 6 Designer Filing Cabinets
BEST OF BEST DESIGNER FILING CABINET
Bush Furniture Refinery File Cabinet
Tested Item
Bush Furniture made this Refinery collection. This model features both industrial and rustic styles. It fits in unique and modern offices, so as traditionally designed offices. Refinery designer file cabinet is tested and it meets ANSI/Soho standards for quality and safety.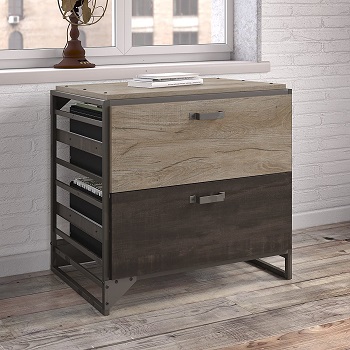 High-bearing Capacity
You can see the whole collection and equipped your office. The Refinery file cabinet is covered with a 1-year warranty. It weighs 93 pounds and measures 30 inches in height, 31 inches in width and 22 inches in depth. Use it for high-capacity filing.
Steel Frame
This designer filing cabinet has finished back for flexible placement. The top is thick and wide with a 200-pound weight capacity. Its frame is made of sturdy steel so as drawer handles. There are two drawers for your office needs and they come in different colors.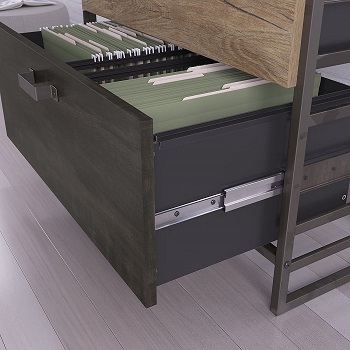 Different Drawers
The top drawer is finished in a rustic grey and the bottom drawer is finished in charred wood. Both drawers glide on smooth full extension slides. You can load them with a letter- or legal-size file folder. This modern lateral file cabinet has quality ball-bearing slides.
Highlighted Points:
tested item meets safety and quality standards
able to hold a high amount of documents
two different colored drawers
both drawers accept the letter and legal files
industrial steel frame with steel handles
BEST 3-DRAWER DESIGNER FILING CABINET
Monarch Specialties File Cabinet
Few Versions
The Monarch Specialties designer filing cabinet comes in few versions, there are white, silver, dark taupe and natural color. It isn't expensive, but the Monarch will last for many years. Clean and maintain it with a damp cloth and it will look new. It featrues simple Scandinavian design.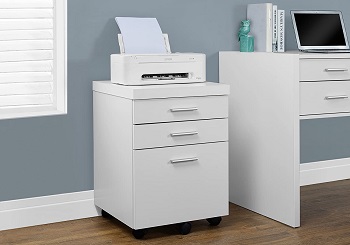 Chrome Metal Accents
You can combine this designer filing cabinet with a white hollow-core desk. The stylish chrome metal accents make the file cabinet even more elegant. It blends well into any office or home office decor. You can tuck it under your desk or use it to display a lamp, printer or other decorative items.
Requires Assembly
Monarch Specialties weighs 44 pounds and its dimensions are 26 inches in height, 19 inches in width and 18 inches in depth. The product doesn't come assembled, so you need to follow the detailed instruction, they are included in the package.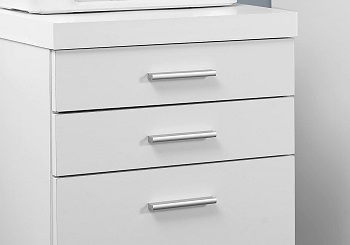 Thick Surface
This nice-looking file cabinet has a thick surface, ideal for a printer or scanner. Below it, there are two small drawers. You can fill them with your desk supplies. Also, there is a bigger file drawer that holds either letter or legal files. Included casters provide easy movement.
Highlighted Points:
white file cabinet with long-lasting durability
stylish chrome metal accents
easy to clean and maintain
assembly is needed
two small drawers and a file drawer
included casters for mobility
BEST ON WHEELS DESIGNER FILING CABINET
Vicllax 3-drawer File Cabinet
No Assembly
Vicllax file cabinet is a modern and elegant file cabinet that fits in stylish offices. If you don't like this white color, this model is available in black, brown and dark walnut color. No assembly is required, so when the Vicllax designed filing cabinet arrives, it is ready to use.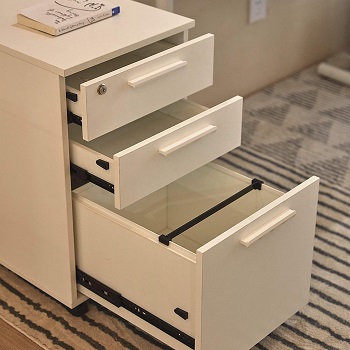 Fits Anywhere
There is some info about product dimension – it is 26 inches tall, 15.6 inches wide and 18 inches deep. It provides ample space for your files and office accessories. You can place it in the corner of your office or under your desk, it will fit anywhere.
Steel Rails
This modern white file cabinet has elegant white handles on the drawers. Two small drawers are able to hold office or desk supplies, like pens, pencils, tapes, scissors, notebooks, etc. The lower drawer is designed for hanging file folders. It is equipped with steel rails.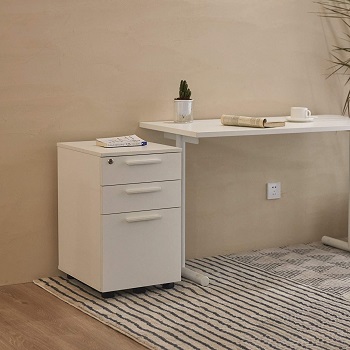 Durable Wheels
You can move this designer filing cabinet quickly and quietly, the Vicllax file cabinet is fitted with durable and sturdy wheels. There are five universal casters. Two of them come with brakes for stable placement. There is a small center drawer designed to prevents tipping over.
Highlighted Points:
pure white file cabinet with elegant handles
one lock secures all three drawers
5 universal wheels with brakes
file drawer holds hanging file folders
no assembly needed
BEST 2-DRAWER DESIGNER FILING CABINET
Techni Mobili Rolling File Cabinet
Contemporary Design
Techni Mobili file cabinet features a contemporary look – its construction is made of high-quality engineered wood with a moisture laminate veneer. The powder-coated surface is resistant to scratches. This designer filing cabinet is available in grey or graphite color.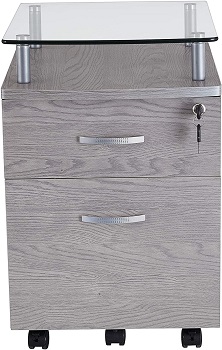 Tempered Glass
The top shelf is made of safety heavy-duty 8m tempered glass. It ensures an elegant and professional look. On that glass, you can place some books, notebooks, post-it notes, etc. The file cabinet and the top each hold up to 20 pounds, don't exceed that limit.
Overall Dimensions
The product weighs 45 pounds and its overall dimensions are 24 inches in height, 16 inches in width and 16.5 inches in depth. This glass file cabinet features two drawers for your office accessories and documents. The top drawer is designed for small items.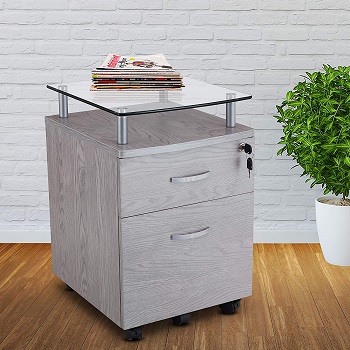 Chrome Wheels
The lower drawer is able to hold hanging file folders. There is a built-in lock mechanism on the upper drawer, so with a single key, you can lock both drawers at the same time. Because of swivel casters, you can move your designer filing cabinet with ease.
Highlighted Points:
personal file cabinet with modern design
wooden construction with safety top glass
two colors available
the built-in lock mechanism on the upper drawer
bottom drawer accepts hanging files
BEST LOCKING DESIGNER FILING CABINET
Devaise 3-drawer Mobile File Cabinet
Reliable Product
The Devaise is a reliable and popular brand. This white pedestal model is also available in black color. Pick the color that you prefer. Devaise comes pre-assembled at your address, you need to attach the casters only. If you notice any damage call the customer service.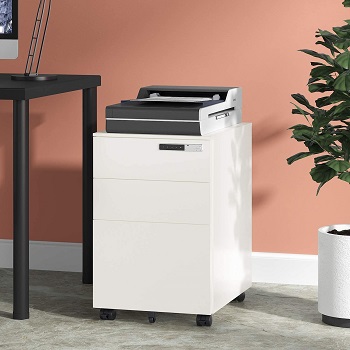 Weight Capacity
This model weighs 39 pounds and has 23.6 inches in height, 18.9 inches in depth and 15.4 inches in width. All-metal construction is able to support a maximum weight of 330 pounds. Because of the designer filing cabinet size, you can place it under your office desk.
Easy To Move
You need to assemble this file cabinet, which means you should attach the wheels. It comes with five sturdy wheels, two front wheels come with brakes. That provides stable placement. There is a small auxiliary caster that prevents tipping over and keeps the file cabinet stable.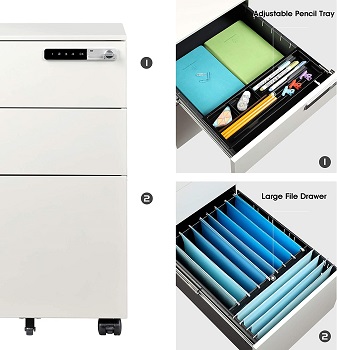 Smart Lock
This small filing cabinet with a lock comes with three drawers, they are equipped with a pencil tray and metal rails for letter and legal size file folders. Your stored files will be protected with a touch screen smart lock. There is a numeric keypad, so you need to enter a four-digit code.
Highlighted Points:
all-metal construction comes pre-assembled
two small drawers and a file drawer
file drawer accommodates both letter and legal files
removable pencil tray is included
five sturdy casters for easy mobility
smart touchscreen numeric keypad
BEST MODERN DESIGNER FILING CABINET
Flash Furniture File Cabinet
Neutral Grey Finish
The Flash Furniture is an elegant and attractive file cabinet that will uplift your office decor. There are few colors you can choose from  – black, white, white and charcoal, white and red. The reviewed model comes in neutral grey color. Its price is affordable.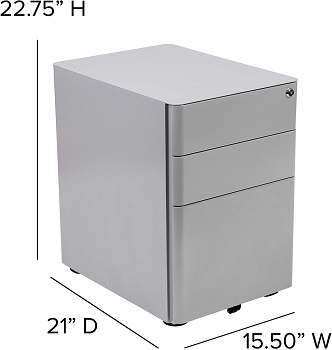 Commercial-grade Quality
Also, you can pick between two styles – modern and ergonomic. This designer filing cabinet measures 22.75 inches in height, 21 inches in depth and 15.5 inches in width. It weighs 54 pounds. Flash Furniture delivers commercial-grade quality, so it is suitable for a demanding work environment.
Mobile Item
This elegant file cabinet is mobile, there are low-set caters to keeping up with your needs. There is a small front caster, it prevents tipping over and keeps the file cabinet stable. The two front casters are lockable for stable placement.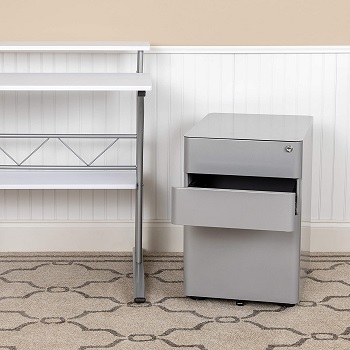 Pencil Tray
Its construction is made of durable steel material. There are three drawers for storing items. Two top drawers are designed for office supplies. The top drawer comes with a pencil tray and lock system. Below it, there is a file drawer for letter- and legal-size files.
Highlighted Points:
available in four attractive colors
choose between ergonomic and modern style
two small drawers hold office essentials
lock system secures all three drawers
file drawer accepts letter or legal files
Things To Know About Designer Filing Cabinet
The designer filing cabinets are designed for modern and stylish offices. Independent and confident people choose this kind of item. If you are overwhelmed with info, check out this short buying guide.
Modern Design – File cabinets are essential furniture pieces in our offices, so they come in various sizes, colors and styles. Many modern file cabinet models are made of combo materials, like wood and metal file cabinets, glass and wood, steel and wood, etc.
Vertical VS Lateral – That depends on your office requirements and free floor space. Lateral file cabinets require more floor space while the vertical ones have a typical upright desing. The lateral file cabinet offers wider drawers and vertical items have deeper drawers.
Mobility – If you need to move your file cabinet frequently, consider the product with casters. They are convenient and provide easy movement. There is an extra tip – choose the model with brakes on two front casters. Also, items with auxiliary anti-tip caster are useful, too.
Smart Lock System – Even if there are many file cabinets with a physical key, you can find a file cabinet with a smarter option. On the list above, there is one model with a smart touchscreen keypad, so you need to enter a four-digit passcode to open the drawers.
Anti-tip Feature – This feature is necessary if you want to protect your designer filing cabinet and stored documents from damage and accidents. This safety mechanism allows you to open one drawer at a time. So the risk of tipping over is reduced to a minimum.