Do you want to invest in an attractive cool filing cabinet for your modern office?
There are tons of different designs and variations to take into consideration. So, we hope you find this article useful. There is a list of the best models with different designs and features. Maybe you'll find the much-needed inspiration in the following examples.
Our Top Picks
Best 6 Cool Filing Cabinets
BEST OF BEST COOL FILING CABINET
Techni Mobili File Cabinet
Affordable Item
Tecni Mobili file cabinet is an affordable cool filing cabinet. It weighs 45 pounds and measures 24 inches in height, 15.5 inches in width and 17.5 inches in depth. The weight capacity for its top is 30 pounds and both drawers bear up to 22 pounds.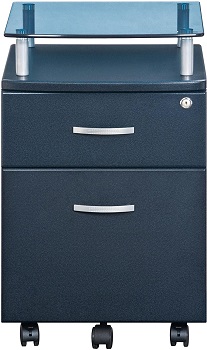 5-year Warranty
It comes shipped in 1 box and the product is covered with a 5-year warranty. You can rely on its quality and durability. Its construction is made of quality medium density fiberboard with a moisture laminate veneer. The surface is resistant to scratches.
Thick Glass Top
The top shelf is made of heavy-duty 8 mm tempered glass. That provides an elegant and contemporary look.  Put there some decorations, books, plants, etc. The powder-coated steel tubes support this glass top. Mounted on swivel casters, there are five casters.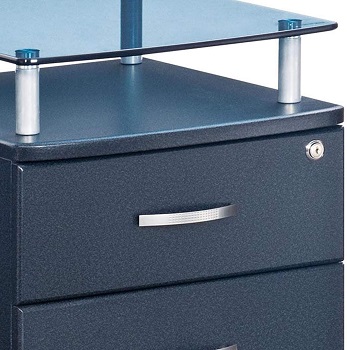 Locking Mechanism
This glass file cabinet features two drawers, top drawer is equipped with a locking mechanism that secures both drawers. The lower drawer is designed for hanging file folders storing. There are two similar colors you can choose from – grey and graphite.
Highlighted Points:
medium density fiberboard construction
moisture laminate veneer surface
five casters offer additional support and easy mobility
heavy-duty tempered glass top
small and file drawers for your office needs
locking mechanism secures both drawers
BEST 3-DRAWER COOL FILING CABINET
Yoleo Vertical File Cabinet
Orange Faceplate
The Yoleo is a practical personal file cabinet that features white sides and an orange faceplate. Moreover, there are more vivid colors like blue, green and yellow. This cool filing cabinet weighs 55 pounds and its dimensions are 23.6 inches in height, 15.7 inches in width and 19.7 inches in depth.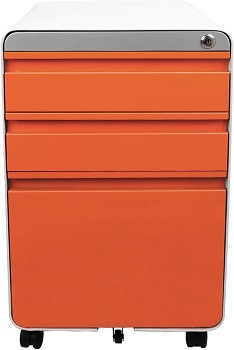 Lockable Design
Heavy-duty powder-coated steel construction with a steel interior will keep your files and office supplies safe. Also, a lockable design keeps the file cabinet content secure from unwanted access or damage.  This product ships assembled, except the wheels, you need to attach them.
Mobile Item
Sturdy construction bears up to 330 pounds, use its top surface as a printer stand. Move Yoleo easily, there is a set of four grey casters with brakes. There is an additional caster for extra stability. This trendy filing cabinet is equipped with three utility drawers.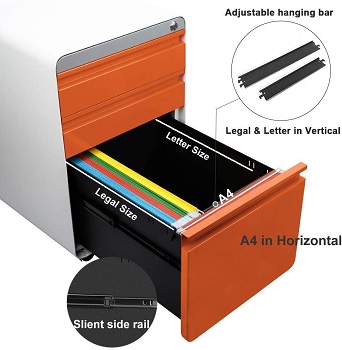 Anti-tilt Design
Within the bottom file drawer, there are adjustable drawer dividers to keep your file folders in order. The full extension drawer hold hanging letter and legal size file folders. Yoleo is designed with a safety anti-tilt mechanism, it allows you to open one drawer at a time.
Highlighted Points:
nice-looking file cabinet with orange faceplate
powder-coated steel construction
the anti-tilt mechanism keeps your file cabinet stable
three utility drawers for your office supplies and files
rolling wheels with brakes
maximum weight capacity – 330 pounds
BEST LOCKED COOL FILING CABINET
Aurora Modern File Cabinet
Two Versions
Aurora is a very popular and quality modern locking file cabinet that is able to withstand everyday wear and tear. You can choose between two versions – a model with two file drawers and two small drawers and a file drawer. Choose depends on your storage needs. The price is acceptable.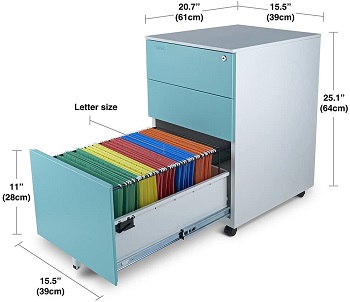 Aqua Blue Finish
Also, except for the light blue color, there are black, white and metallic charcoal colors. Aurora weighs 50 pounds and measures 25.1 inches in height, including wheels, 15.5 inches in width and 20.7 inches in depth. You can place it under or next to your office desk.
Solid Construction
This cool filing cabinet features solid metal construction with an electrostatic spraying finish. Its surface is rust-resistant and easy to maintain. The assembly isn't required, the product is ready to use. You can move it easily, because of four rolling casters.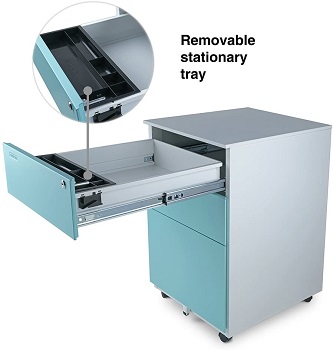 Interlocking System
Two front casters come with brakes. There is a small front caster that prevents tipping over. The top drawer is equipped with a removable pencil tray and lock that secures all three drawers. The bottom drawer holds hanging letter-size file folders. Interlocking safety system prevents tipping over.
Highlighted Points:
solid metal construction with electrostatic spraying finish
the surface is resistant to rust
assembly isn't required
four rolling casters with brakes
all three drawers are lockable
interlocking safety mechanism prevents tipping
BEST HOME OFFICE COOL FILING CABINET
Newport Series Tall File Cabinet
Elegant File Cabinet
The Newport file cabinet is a beautiful and elegant file cabinet that perfectly fits into traditionally designed offices or home offices. Its price is acceptable and there are two finishes you can choose from – golden oak and smoke oak. It is tested and safe for use.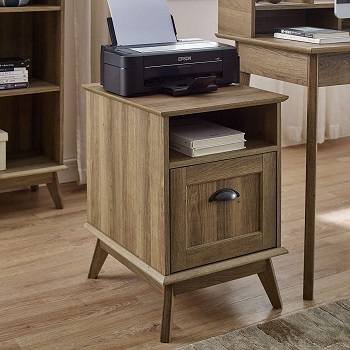 Easy To Clean
Assembly is required with easy-to-follow instruction. Also, the manufacturer provides assembly video. Clean it with water and towels. Newport file cabinet is 24.4 inches tall, 16.6 inches wide and 20 inches deep. It is made of quality wood material.
High-pressure Laminate
The durable, thick and high-pressure laminate will withstand daily use. Even better than pure wood or veneer. This cool filing cabinet provides a unique and relaxing work environment. Place some office device, decorations or books on its surface.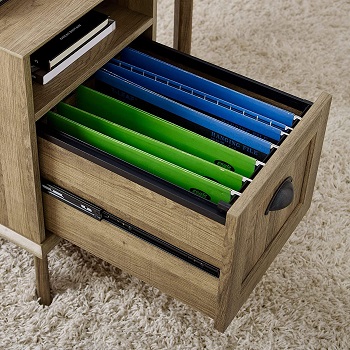 Open Shelf
This small wood file cabinet comes with an open shelf for your books, notebooks or paperwork. Here you can put your daily used items. Below the shelf is a drawer that accommodates letter- and legal-size hanging file folders. The ball-bearing drawer slide allows you to fully extend the drawer.
Highlighted Points:
elegant file cabinet with sturdy legs
made of quality wood material
durable and high-pressure laminate surface
open shelf holds books and notebooks
file drawer glide on ball-bearing slides
drawer accepts letter- and legal files
BEST 2-DRAWER COOL FILING CABINET
Bisley 2-drawer Steel File Cabinet
Red-colored Product
Attractive and durable file cabinet ideal for small and medium-size offices. It fits in modern and traditionally designed offices. Except for the red color, there are orange, white, black, light grey, green and blue. This item weighs 31 pounds and has a higher price.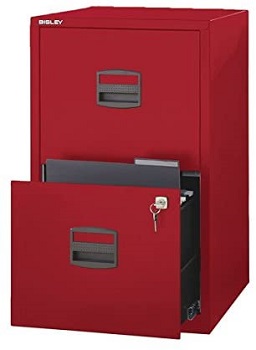 Fully-welded Construction
Also, this cool filing cabinet model comes with two or three drawers, to meet different storage needs. Fully-welded steel construction provides long-term durability and sturdiness. Overall product dimensions are 27 inches in height, 17 inches in width and 16 inches in depth.
Hanging Files
Its powder-coated paint provides a stylish appearance. Bisley is compact and fits under any office desk. There are two drawers that open fully for easy access. You can easily pull out both drawers, they glide smoothly and easily. This steel 2 drawer file cabinet holds hanging files.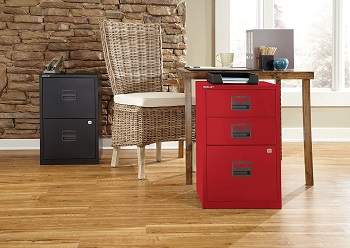 Drawer Capacity
You can load these drawers with both letter- and legal-size file folders. Internal filing drawer dimensions are 9.8" H x 13" W x 14.8" H. Weight capacity for drawers is 33 pounds. The bottom drawer is equipped with a locking mechanism, so store your private files there.
Highlighted Points:
fits under most office desks
fully welded steel construction
durable powder-coated surface
two drawers hold letter- and legal files
the bottom drawer is lockable
BEST SMALL COOL FILING CABINET
CuHome 2-drawer Mobile File Cabinet
Three Colors
CuHome is a small and compact cool filing cabinet. There are three versions you can choose from – pure white, light green and light pink. It weighs 34 pounds and measures 21.45 inches in height, 19.68 inches in depth and 14.76 inches in width.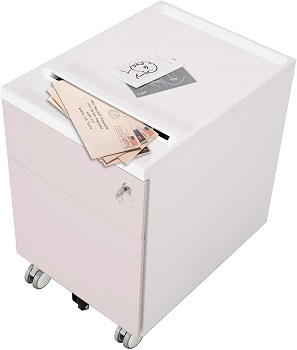 Sturdy & Durable
It arrives fully assembled, so you just need to unpack it and it's ready to use. Constructed of sturdy steel, CuHome will last for many years. That durable construction ensures high load capacity, it is able to bear up to 220 pounds of storage material.
Nylon Casters
You'll notice a small slot on the top of the file cabinet, it is designed for delivering files without opening drawers. This small rolling file cabinet comes with included casters. These Vientiane nylon casters come with brakes.  Individual caster bears 99 pounds.
Smoot-glide Drawers
Two different size drawers are fully extendable and they glide on smooth metal runners. The top drawer is designed for office supplies, while the bottom drawer holds letter and legal-size file folders. Lock secures both drawers. The CuHome file cabinet is fireproof.
Highlighted Points:
three colors to meet different needs
fireproof vertical file cabinet
smooth-glide drawers for files and office supplies
four rolling casters + auxiliary small caster
sturdy steel construction
Things To Know About Cool Filing Cabinet
The cool filing cabinets come in a variety of designs and characteristics, it isn't easy to decide. So, this buying guide provides some basic factors you should consider before purchase.
Modern Design – Whether you choose a wooden or steel file cabinet, you can choose between various colors and sizes. On the list above, there are vertical file cabinets, but you can consider modern lateral file cabinets, too. Modern items feature glass parts, combo materials, etc.
Mobile File Cabinets – The mobile filing cabinets are the ideal solution for works on the move. They can be rolled wherever you need them to go. These items usually fit underneath standard office desks for more convenience. Choose the model with brakes.
Anti-tilt Design – There is one safety feature – an anti-tilt mechanism. If your file cabinet is overloaded, there is a risk or tipping over and possible injuries and accidents. This feature allows you to open one drawer only at a time, while other drawers are locked.
Open Shelf – Except for the drawers, open shelves are pretty useful. They usually have open fronts that are designed to be filled with daily used items, like some post-it notes, paperwork, etc. But, they aren't ideal for confidential documents.
Hanging Files – Some cool filing cabinets come equipped with follower blocks and hanging bars. Follower blocks are metal dividers that keep your documents neatly organized. Similar to them, the hanging bars will help you to store and find your files easily.