Are you looking for a quality lamp that will help you to draw better and keep your eyes from getting fatigued?
This article will help you to learn more about drafting table lamps and their features. We bring forward a list of the six best lights currently available in the market. This list has been categorized, so you'll find the best-suited lamp for your work.
Our Top Picks
Best 6 Drafting Table Lamps
BEST OF BEST DRAFTING TABLE LAMP
Amzrozky Drafting Table Lamp
Clamp Design
Amzrozky is a multifunctional LED desk lamp suitable for offices, home offices, and other work surfaces. The clamp supports up to 2.4" table. This product is made of aluminum alloy and zinc alloy. The package includes an adapter with a power cord.
Lightweight Lamp
It is a lightweight lamp for drawing table, there are 2.4 pounds only. Amzrozky head can be adjusted 210-degree up and down and 270-degree swivel. Also, you can position the lamp arm and base. Try different angles and focus the light exactly where needed.
Two Touch Buttons
There are touch control buttons that allow you to change the settings with ease. On the lamp head, you can find two buttons, touch the power button to turn on the light, touch it again for brightness level and long touch will turn off the light.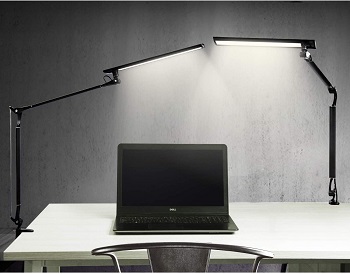 Eye-protection Light
This adjustable LED desk lamp offers five color modes and five brightness levels. The color modes range from 3000K to 5000K. These five levels of brightness include 20%, 40%, 60%, 80%, and 100% to meet your different needs. This light is gentle to your eyes.
Highlighted Points:
multifunctional desk lamp
clamp supports up to 2.4" table
lightweight lamp made of aluminum
adjustable lamp arm and base
five color modes and five brightness levels
two touch buttons for easy operation
BEST CLAMP DRAFTING TABLE LIGHT
Mxmoo Architect Lamp
Space-saving Lamp
Mxmoo is a space-saving clamp lamp that fits on any work surface. Available in black and white color. Use it for reading, working, drawing, drafting, sewing, etc. Thanks to aluminum alloy construction, it is lightweight, portable, and sturdy.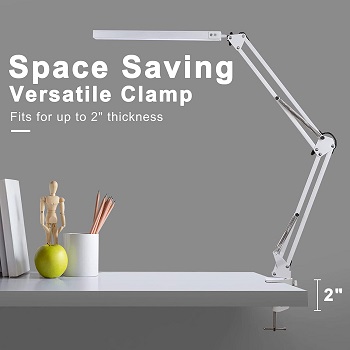 12-month Warranty
Its swing long arm features three adjustable points, meaning you can quickly position it where needed. The manufacturer ensures a 12-month warranty. Mxmoo uses eco-friendly LED bulbs, that consume 80% less energy than traditional ones.
Long Lifespan
This drafting table light meets quality standards. It includes 80 LEDs that last approximately 50,00 hours. The clamp desk lamp is ideal for drafting or a work table, it enables you to alter the angle of the light, which is useful when you draw some details.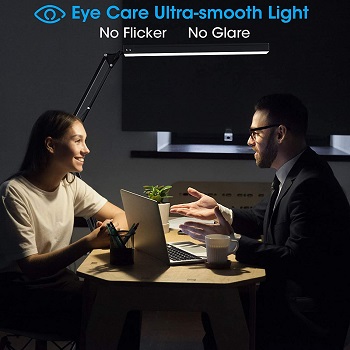 Cold White Mode
Mxmoo adjustable desk lamp offers three different color modes and ten brightness levels. That includes cold white, warm white, and warm light. For drawing or drafting set the cold white light provides the clearest vision for that precision crafts.
Highlighted Points:
covered with a 12-month warranty
three adjustable points for a different position
lightweight aluminum alloy construction
eco-friendly LEDs last 50,000 hours
there color modes and ten brightness levels
BEST MAGNIFIER LAMP FOR DRAWING TABLE
Phive Magnifying Desk Lamp
Protective Cover
Phive is a popular desk lamp thanks to its quality features and design. This model comes in two versions – with a single color temperature and this reviewed model with three color temperatures. The package includes a protective cover that keeps the dust away from the lens.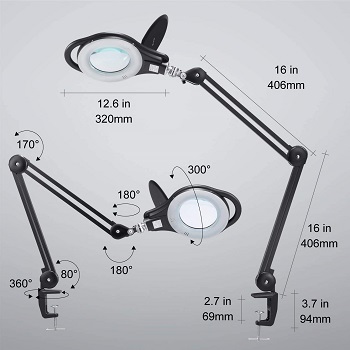 Highly Flexible Lamp
Also, there is a metal clamp included in the package, it supports up to 2.5 inches. Phive lamp for drawing table is incredibly adjustable, swivel, rotate and bend its light head, the metal arm and lamp body are also adjustable. It is easy to adapt the light where and how you need it.
2.25x Magnification
The 5" diameter glass lens enlarges objects to 225% and provides ultimate clarity. There is a LED light around the lens, it stays cool to touch, there is no risk of burning yourself while you using the magnifier. LED bulbs will last for up to 50,000 hours.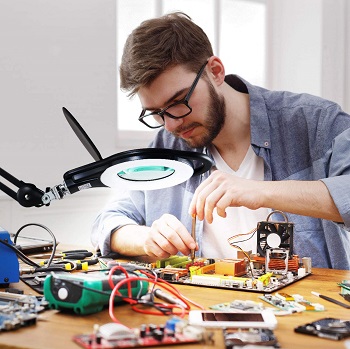 Variety Of Color Temperatures
This LED magnifier desk lamp features a memory function, it will remember and return your last-used light setting. Choose between three light modes and stepless dimming. Phive will satisfy your different lighting needs. Color modes range from 2700K to 6000K.
Highlighted Points:
quality magnifying desk lamp
5" diameter glass lens with 2.25% magnification
three color modes and stepless dimming
included flip-up cover protects the lens from dust
swivel, rotate, and blend light head and lamp body
strong clamp supports up to the 2-inch table
BEST SWING ARM DRAFTING TABLE LIGHT
AmazLit Adjustable Lamp
UL Power Adapter
AmazLit is an Amazon brand, so if you need any support, contact the seller via Amazon. The package includes a lamp, UL power adapter, and user manual. This lamp is made from aviation-grade aluminum alloy and a finished with brushed matte black.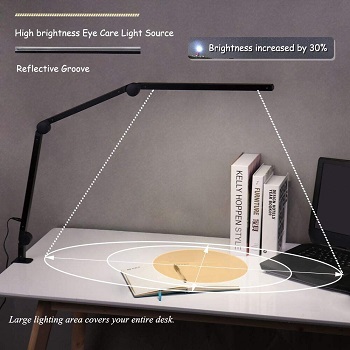 Clamp With Silicone Pads
The length of the cord is 71 inches, it's long enough for convenient plugging. The lamp head is 15.8 inches long, it delivers a large illumination area. Strong clamp comes with two silicone pads that protect your desk or table from scratches and damage.
Automatic Switch-off
Three flexible sturdy joints allow you to direct the light where needed. This drafting table lamp features an automatic switch-off function, set it to 10 or 40 minutes. Then it will turn off automatically. AmazLit won't hurt your eyes, it delivers flicker-free and glare-free light.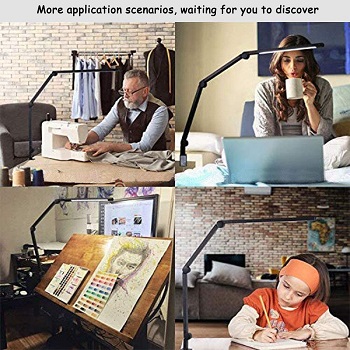 Working Mode
Adjust the color temperature from 3000K to 5500K and brightness level according to your personal needs. For working mode using at least 5000K while the color temperature of 3000K is the best for relaxation. This adjustable arm desk lamp is compatible with a wall switch and smart plug.
Highlighted Points:
comes with UL power adapter and user guide
aviation-grade aluminum with brushed matte black
sturdy flexible joints for a different position
adjustable color temperature and brightness
compatible with a wall switch and smart plug
BEST MODERN DRAFTING TABLE LAMP
Otus Architect Desk Lamp
Optional Clamp
Otus is an architect desk lamp that is suitable for any occasion. You can use it for work, reading, drafting, drawing, etc. You can replace the lamp base with a clamp design and clip it on your work desk, shelf, table. Clamp design requires less space on your desk.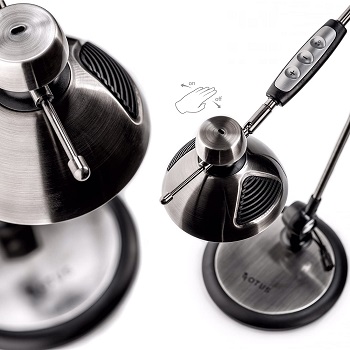 Metal Lamp
This modern LED desk lamp is made of metal and acrylic. Durable metal joints allow flexibility. It includes 56 LED lights that are energy efficient. They use 20% less energy than incandescent bulbs. The average lamp life span is about 50,000 hours. Light reaches 1200 lux.
Infrared Sensor
Otus uses an infrared sensor, you can turn on/off the lamp without even touching it. Just wave your hand over the lamp. That is practical in the dark, you don't have to look for a switch. This drafting table light offers 12 brightness levels and 3 color settings.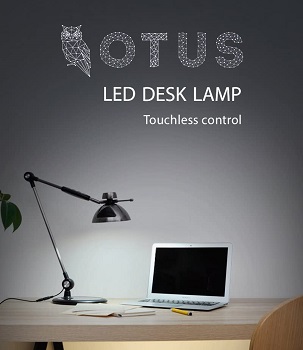 Three Light Modes
There are three lighting modes – work, reading, and relaxation. Change it whenever you want. If you need to work, choose 100% brightness for more precise vision. There is a memory function that will remember your previous setting, it isn't necessary to adjust it again.
Highlighted Points:
suitable for any occasion
made from metal and acrylic
optional clamp
infrared sensor detects your hand
12 brightness levels and 3 color modes
integrated memory function
BEST LED DRAFTING TABLE LAMP
BenQ LED Desk Lamp
Modern Silver Lamp
BenQ is a modern silver desk lamp that fits any office or home office environment. Except for the silver, there are blue and gold models. It will easily adapt to your space, you can use optional desk clamps or floor stands depends on your room space.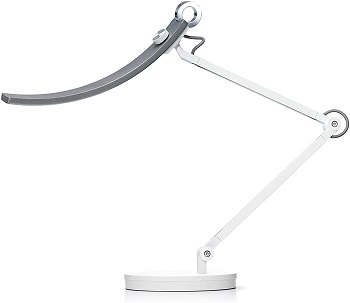 Flexible Lamp
The drafting table lamp is eye-friendly, BenQ delivers smooth and soothing light without flickering and glaring. That protects your eyes from strain and fatigue. It is a highly flexible lamp with a ball joint that optimizes the flexibility of the lamp cap. Adjust the light to the angles that you need.
Aluminum Alloy
This bright office lamp is made of aluminum alloy and the torque springs are made from zinc alloy, which enhances stability and durability. BenQ lamp meets the restrictions in the EU directive, it has passed international safety standards.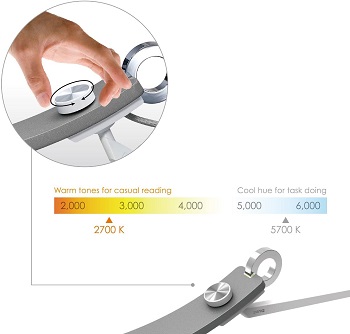 Wide Lighting Range
It features wide lighting up to a 35" range, which is 150% wider than other lamps. Benq uses smart technology which recognizes ambient light and adjusts by optimizing balance and reduce glare. You can customize color temperature and brightness according to your needs.
Highlighted Points:
modern silver lamp
comes with an optional clamp
eye-care technology reduces eye fatigue
meets safety standards
flexible lamp with ball joint
the smart technology adjusts the brightness
Things To Know About Drafting Table Lamp
These are some of the trendy and handy drafting table lights which are used for precise work. Read the following tips and find your perfect lamp with ease.
Amount Of Light – If you want to draw or draft, you'll need a clear and bright light to see all details with ease. So if you work under poor lighting conditions, it is going to have short-term issues, like headaches, eye strain, etc. Adjust the right level of illumination, for drafting, choose at least 4000K.
Desk Lamp Placement – This also affects your work. Some researchers said you need to place the lamp around 15 inches from your work area. If you are a right-handed person, place your lamp on the left-hand side. The left-handed people should do the opposite.
LED Lamps – A LED lap is the best solution currently available in the market. There are several reasons why you should buy this kind of lamp. The LED lamp doesn't produce so much heat as traditional bulbs. They are energy efficient and last much longer.
Adjustable Design – Some lamps come with a rotating head, arm, and base. These adjustments will help you to position the light where needed. You can place the light head close to your drawing, so you can have a clear vision of details.
Magnifying Glass – There are drafting table lamps with magnifying glass lenses. Designed for very precise and detailed work. You can find a 10x magnifier lamp in the market. Protect the glass lens when the lamp isn't in use, which prevents scratches and dust.