Are you interested in portable table lamps that give you total control of the light?
Then keep reading!
Here you can find the best-rated carrie LED lamps with great characteristics. These cordless and rechargeable lamps can be placed wherever you need them most – both outdoor and indoor. Check out these reviews, lamp images and pick the model that meets your needs.
Our Top Picks
Best 6 Carrie LED Lamps
BEST OF BEST CARRIE LED LAMP
Menu Carrie Portable Lamp
Pricey Item
Menu produces this attractive Carrie table lamp. You can choose between a few colors – bronzed brass, brushed brass, matte black, matte white and olive. All of these models look stunning and elegant. The lamp dimensions are 5.3" x 5.3" x 9.6". The price is high.
Sleek Handle
This portable desk lamp embodies minimalism, innovation, simplicity and elegance in a single product. You can use it both outdoor and indoor. Menu is equipped with a sleek and functional handle, so you can carry it and place it wherever you want.
Opal Glass Shade
It is made from opal glass shade and bronze aluminum with leather. Use this lamp in three ways, carry it, use it without a handle, hang it upside down or flatten it to hang on the wall. Menu Carrie is a cordless lamp that comes with a USB charger.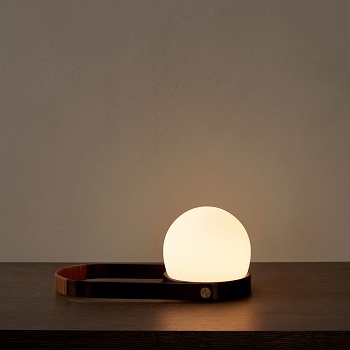 Rechargeable Battery
Menu Carrie is equipped with a powerful rechargeable lithium 5000 mAh battery with a 10-hour capacity. The LED is rated for 25,000 hours and provides nice and comfortable illumination. Choose between four dimmable settings and set the light depending on your wishes.
Highlighted Points:
beautiful minimalist table lamp
made from glass, aluminum and leather
equipped with a sleek handle
use it in three ways
powerful rechargeable battery
10-hour capacity
BEST DIMMABLE CARRIE LED LAMP
Luxmann Cordless Lamp
Quality Glass
Luxmann is an attractive cordless table lamp that has an overall height of 9.1", the base diameter is 4.5" and the lamp without handle measures 4.6". It is suitable for indoor and outdoor use. The lampshade is made from quality glass, while the handle is made from wood.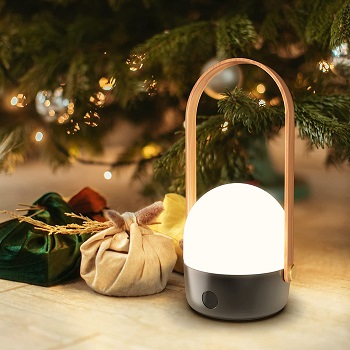 USB Type-C Cable
The lamp base is crafted from an aluminum body. This cordless carrie table lamp is equipped with a built-in 5200 mAh battery. It is a rechargeable lithium battery with a large capacity. Charge the lamp with a USB cable, it also can be used while charging.
LED Indicator
At low light mode, you can use it for 60 hours. There is a LED indicator on the lamp base, if flashes green, the lamp needs to be charged, flashes red – it reminds that's charging. Luxmann is equipped with a USB charging port, meaning you can charge your smartphone, tablet or e-reader.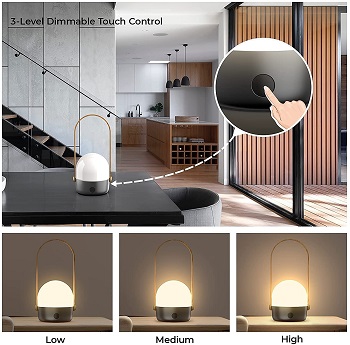 Dimmable Function
This dimmable desk lamp has a dimmer switch on the lamp base. Touch the button and adjust the light mode you prefer. There are three options – low, medium and high. Luxmann delivers a color temperature of 2200K and emits a soft and uniform warm light.
Highlighted Points:
aluminum lamp body
quality glass globe
suitable for indoor and outdoor use
built-in 5200 mAh battery
LED indicator on the lamp base
USB charging port
BEST BEDSIDE CARRIE LED LAMP
Bask Florence Table Lamp
Responsible Materials
Bask Florence is a stylish table lamp available in many colors. Choose from moss green, midnight black, scarlet red and slate blue. The lamp dimensions are 8" x 8" x 11". Its shade is made from translucent ribbed glass that creates diffused light when you turn the lamp on.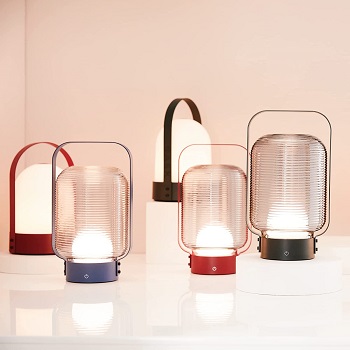 Metal Construction
The lamp handle and base are constructed from durable and quality metal. The included LED light bulb is more energy-efficient than traditional light bulbs, it is rated at 10,000 hours and doesn't require replacement. LED provides warm and cozy ambient light.
Battery-powered
Bask Florence carrie led lamp features an integrated 2600 mAh battery, so you can take the lamp with you wherever you go. This is a rechargeable battery, meaning you need to recharge it. There is no need to buy a new battery every now and then. USB power cable is included.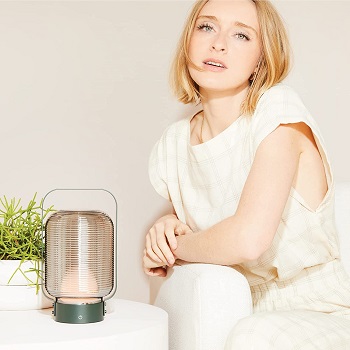 Adjustable Dimmer
Use this lamp as a night light or as a small reading light in your bedroom. Florence has an adjustable dimmer and there is a responsive button the adjust the light. Its design strikes a nice balance between modern and classic. This well-made lamp has an appealing look.
Highlighted Points:
many colors available
beautiful sculptural design
translucent ribbed glass
metal handle and base
integrated 2600 mAh battery
adjustable dimmer
BEST RECHARGEABLE CARRIE LED LAMP
Gteetoo Rechargeable Table Lamp
Sleek Design
Gteetoo is a sleek and elegant table lamp that measures 4.3"x 4.3" x 10.7". This is a cordless table lamp that you can place wherever you want. It has a small footprint, so place it on your end table, patio table, coffee table, console table, and so on.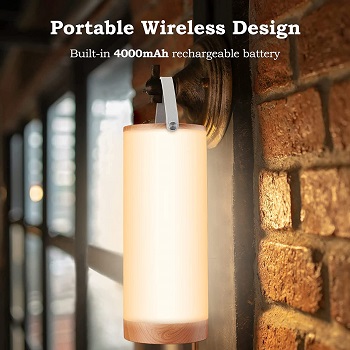 Large-capacity Battery
You can decor and light up your bedroom, living room, terrace, or carry it with you when camping. Gteetoo carrie led table lamp has a built-in 4000mAh rechargeable battery. This powerful lamp has a large capacity, it will last for up to 110 hours at minimum brightness.
Color Temperature
With a practical built-in handle, you can carry it anywhere. This rechargeable LED table lamp provides a delicate light beam that is gentle to your eyes. LED is included and it provides a color temperature of 3000 to 3500K.  Use it for reading or night light.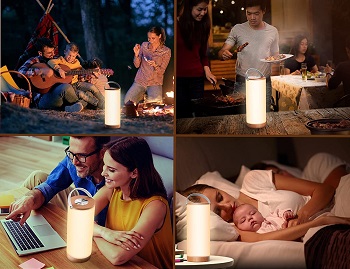 Touch-sensor Panel
Gteetoo has a touch sensor panel on the lamp top, it's easy to use. If you tap the button, you'll turn the lamp on/off. With a long press, adjust the brightness level. There are four brightness levels you can choose from. The memory function will restore the previous lighting mode.
Highlighted Points:
sleek and elegant table lamp
built-in 4000mAh rechargeable battery
practical built-in handle
the color temperature of 3000 – 3500K
touch sensor panel
memory function
BEST RGB CARRIE LED LAMP
Hiwoo Portable Table Lamp
White Lamp
Hiwoo is a small white lamp with a silver base, top and handle. Also, it is available in other colors, check them on the manufacturer's official website. The package includes a lamp, USB cable, user manual. The overall lamp height is 7.3" and the lamp base diameter is 4.3".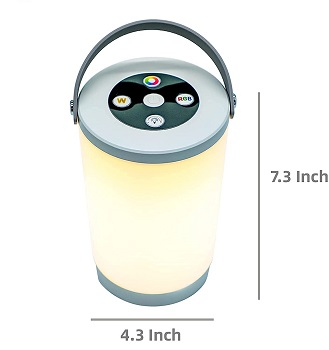 Battery-powered Lamp
The lamp construction is made from ABS, PC and silicone. There aren't sharp parts, so you can place the lamp in the children's room without worrying. Two CR2 batteries are required and included in the package. These batteries are rechargeable, so you don't have to buy them.
LED Light
Hiwoo carrie LED lamp has a convenient handle so you can carry it with you wherever you want. The handle is made from quality and ergonomic silicone. This RGB desk lamp uses an energy-efficient LED light source, it has a long lifespan and delivers warm and cozy illumination.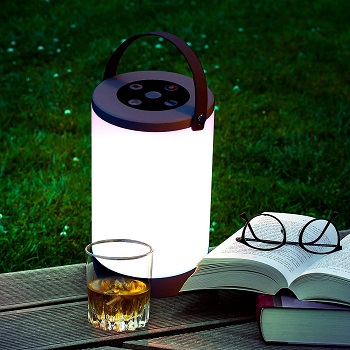 RGB Mode
On the lamp top, there are buttons for RGB mode, warm light mode, brightness switch, symphony mode and power button. Adjust brightness from 25% to 100%. If you press the RGB button, you'll enjoy eight different colors. This mode is perfect for parties, birthdays, the new year, etc.
Highlighted Points:
small white lamp
made from ABS, PC and silicone
two CR2 batteries are included
convenient silver handle
energy-efficient LED light source
features RGB mode
BEST MODERN CARRIE LED LAMP
Funchday Cordless Table Lamp
Lamp Dimensions
Funchday is a modern and stunning desk lamp with the following dimensions – 10.2" of height, the base diameter is 5.5" and the globe shade diameter is 4.7". The lampshade is made from durable glass while the handle and base are crafted from quality metal.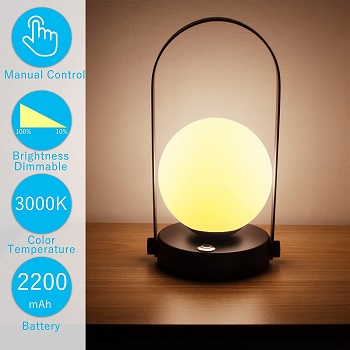 Fits Anywhere
You can place this carrie LED modern lamp on your end table, coffee table, console table, on the shelf, etc. Also, you can use it outdoor, place it on the terrace table, or carry it with you when camping. Funchday has a built-in 2200mAh rechargeable battery that runs for 6-8 hours.
USB-powered Lamp
The micro USB cable is included in the package. You can charge it with a computer, power bank, USB outlets, car charging. When charging the switch indicators flashes blue. The full charge time is two hours. This small modern desk lamp is practical and easy to use.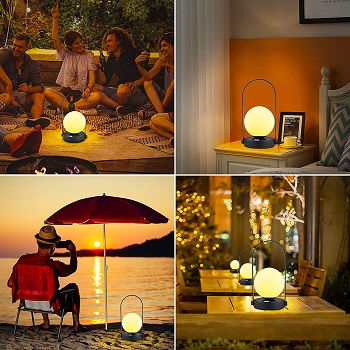 Dimmable Switch
On the lamp base, there is located touch switch. Use it to turn the lamp on, off and to change the brightness level. It ranges from 10% to 100% of brightness. Funchday delivers a color temperature of 3000K, this is warm and comfortable light.
Highlighted Points:
modern table lamp
the durable globe glass shade
metal handle and lamp base
built-in 2200mAh battery
micro USB cable is included
dimmable touch switch
Things To Know About Carrie LED Lamps
Designed to be carried from room to room, or even outdoor, these carrier LED lamps are practical and versatile. To learn more about them, read our guidelines and pick the best model for your terrace, patio or coffee table.
Indoor/Outdoor Use – These small lamps can be placed wherever you need them most. That includes bedroom, living room, kitchen, home office, office but also outdoor. You can take this lamp on our terrace, patio, when camping, having a picnic and more.
Battery-powered Lamps – The battery-operated LED table lamps are powered by batteries, so you can take them wherever you go. Some models don't come with batteries, so you need to buy them separately. We recommend buying a lamp with a rechargeable battery, you can recharge it easily when it's empty.
Functional Handle – All these reviewed carrie LED lamps come with handles to make portability easier. Some handles are made from metal, leather, wood or even plastic. More practical lamps come with detachable handles, meaning, you can remove them and use the lamp without a handle.
Dimmable Settings – If you like to change the level of brightness and customize various lighting settings, consider a lamp with a dimmable switch. Usually, the portable lamp officers three levels of brightness – low, medium and high. Use a low light as a nightlight while the high brightness level is great for casual reading.
LED Light – You might notice, all these lamps use LED light sources. LED has many advantages – it consumes less power, lasts much longer than traditional light bulbs, produces low heat and has an affordable price. You don't have to replace them for many years.