Are you interested in the natural file cabinet?
Then you should consider unfinished file cabinets. We pick some of the best models that are currently available in the market and described them. In the second section, we guide you to choose the best item for your office.
Our Top Picks
Best 5 Unfinished File Cabinets
Best Of Best Unfinished File Cabinet
International Concept File Cabinet
Parawood
The International Concept file cabinet is a ready-to-finish item. The manufacturer used parawood, also known as rubberwood, it is durable, strong and resilient. You need to maintain it properly and this file cabinet will last for many years. Once a year, wash it with soap and water.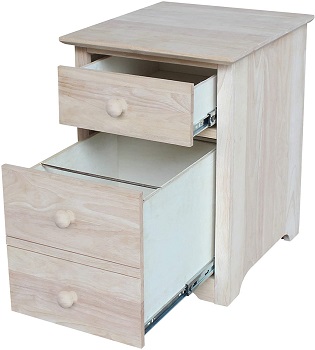 Environmentally-friendly Brand
Moreover, you can decide if you want an unfinished or finished file cabinet. This brand promotes ecological balance, for every tree cut, a new tree is planted. This unfinished wood file cabinet measures 25.4 inches in height, 20.9 inches in depth and 18.1 inches in width.
Residential Use
This item weighs 58 pounds. This solid wood file cabinet features a Butcher block surface. The file cabinet fits under any office desk or in the corner of the room. It is designed for residential use only, not for commercial use. Use it in your home office. There are two drawers, a small and a large one.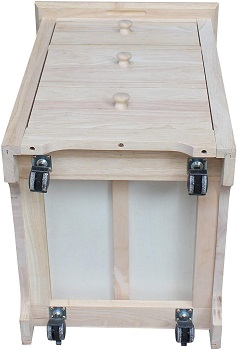 Four Casters
Load the top drawer with desk supplies. The bottom drawer is equipped with two rods for hanging letter-size file folders. Both drawers glide on silent metal runners. This file cabinet features hidden four casters and two of them are lockable. You can easily move it wherever you need.
Highlighted Points:
ready-to-finish file cabinet
eco-friendly company
made of strong parawood
designed for residential use
two drawers glide on metal runners
four hidden casters are included
Best Oak Unfinished Wood File Cabinet
Eagle Oak File Cabinet
American Brand
Eagle Furniture is a popular American manufacturer. They made file cabinets, TV stands, bookcases and other furniture. The unfinished filing cabinet dimensions are 30.25 inches in height, 22 inches in depth and 18.25 inches in width. It weighs approximately 70 pounds.
Pricey Item
This solid oak filing cabinet features decorative molding and fluted detailing. The item is made of high-quality oak wood. It is a durable and sturdy file cabinet. The Eagle features an unfinished surface. You need to clean it with a damp cloth. This is a pricey item.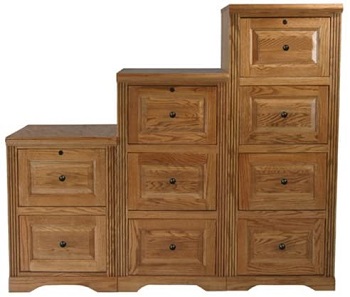 Knob Handles
There are black brushed metal knob handles on each drawer. The warranty for this product lasts 1 year. The product is guaranteed against material defects, like warping, wood splits, etc. The top is thick and wide for some books or registers. This file cabinet stands on sturdy legs.
Lockable Drawer
There are two drawers, and they are deep and wide enough to hold both letter/A4 and legal size file folders. The top drawer features a lock system, so store your private and confidential documents in the upper drawer. This model comes with two, three or four drawers.
Highlighted Points:
remarkable American manufacturer
made of high-quality oak with an unfinished surface
the thick surface is able to hold books, registers, etc.
two drawers for files, the upper drawer is lockable
the price is high and the warranty lasts 1 year
Best Lateral Unfinished Wood Filing Cabinet
Forest Designs File Cabinet
Multiple Finishes
The Forest Design is a lateral file cabinet that is available in multiple finishes. You can choose between antique alder, black alder, black oak, cherry alder, cherry oak, chestnut oak, coffee alder, honey oak, unfinished alder and many others. The manufacturer provides a lifetime warranty.
Made In The USA
This solid wood lateral file cabinet is made in the USA. The manufacturer uses premium solid wood and veneers, there is no particleboard. Each product is tested and safe for use. They use Sherwin Williams stains, sealants and lacquers to complete the process.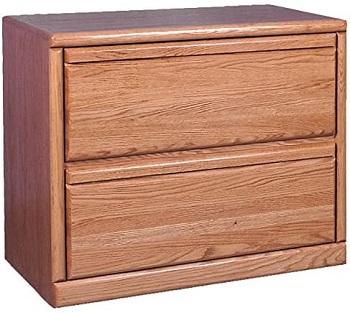 Oak Wood
The Forest Design file cabinet is made of quality oak. The unit dimensions are 35 inches in width, 30 inches in height and 24 inches in depth. This file cabinet is ideal for home offices. It features a thick surface, so you can place some office device, books or registers on it.
Full-extension Drawers
The Forest Design unfinished file cabinet features two roomy drawers. The drawer boxes are constructed from Baltic Birch. Both drawers glide on full-extension slides. You can easily reach any files. These drawers accommodate both letter and legal size file folders.
Highlighted Points:
lateral file cabinet that fits in any home office
multiple finishes available
all products are made in the USA
constructed with quality oak wood
two full-extension drawers for file folders
Best Small Unfinished Filing Cabinet
Lcxliga File Cabinet
Four Colors
The Lcxliga is a mini desktop file cabinet. It fit in any home office or office desk. It is available in four colors – beige, yellow, black and white. The product dimensions are 9.1 inches in width, 12.2 inches in height and 7.1 inches in depth. It is lightweight, there are 4 pounds.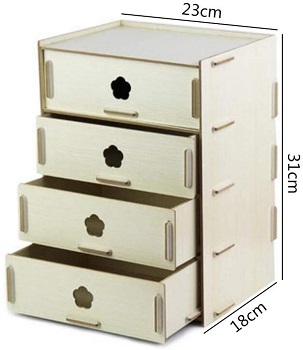 Small Footprint
This narrow filing cabinet is made of quality unfinished wood, it is durable and features scratch resistant surface. Clean it with a dry or damp towel. Don't use an aggressive cleanser, you'll damage the finish. It features a small footprint, so the file cabinet won't take up too much space.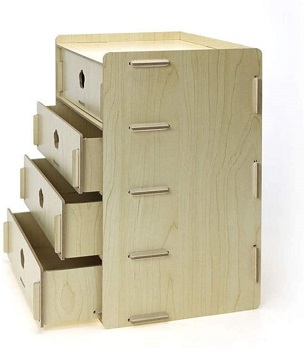 Office Essentials
The Lcxliga file cabinet features four drawers. They are narrow and equipped with flower details. This unfinished wood filing cabinet is perfect for small office supplies, like post-it notes, pens, pencils, tapes, scissors, etc. It isn't intended for file folders. Its price is high.
Highlighted Points:
small desktop storage cabinet
it fits on any office desk
made of quality wood and durable surface
there are four drawers for small office accessories
clean it with a damp towel
Best Modern Unfinished File Cabinet
Mayline Mira File Cabinet
Unfinished Top
The Mayline produces high-quality contemporary office furniture. The Mira is a lateral unfinished filing cabinet. Its dimensions are 27.75 inches in height, 34.6 inches in width and 23 inches in depth. It weighs 113 pounds. The Mayline Mira features an unfinished top, it is necessary to install it under the credenza.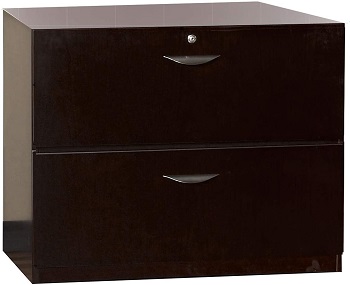 Elegant Design
The assembly is required, but the package contains detailed instructions. The Mira provides an elegant design that fits in any modern office. The surface is covered with a medium cherry finish on cherry veneer. You can check the collection and match this item with other furniture.
Two Drawers
This unfinished wood file cabinet features two drawers for storage. Both drawers run smoothly using full-extension ball-bearing slides. These two drawers accommodate both letter and legal-size hanging file folders. There is plenty of space for your documents.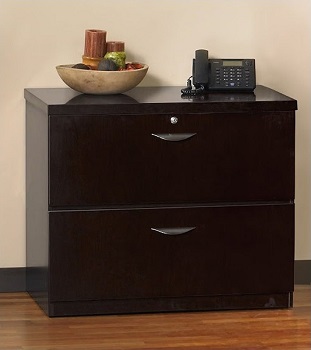 Tip-protection
This modern wood file cabinet has a gang lock that features a removable core. Keep your documents safe from unwanted access or loss. The Mayline includes a counterweight that provides stability and prevents tipping over. There are adjustable glides for leveling on uneven floor.
Highlighted Points:
high-quality contemporary file cabinet
the assembly is required
the surface is covered with a cherry finish
two drawers hold letter and legal-size files
both drawers are lockable
counterweight prevent tipping over
Things To Know About Unfinished File Cabinet
Here, you can find out more information about unfinished models. The more you know, the easier it will be to choose an ideal model for your needs. Read more about file cabinet durability, storage space, casters, etc.
Parawood – The file cabinets are made of different woods, so maybe you'll notice the term "parawood". This is a type of wood that grows from rubber trees. It is a tropical hardwood grown in rubber plantations. It features incredible durability and fine texture.
Oak Wood – Mostly, the model from the list above are made of oak. The oak is a very durable and long-lasting wood type. This wood is very dense and has a high quality. You can find it in a variety of finishes, from light brown to pink-red. It is scratch and stain-resistant wood.
Wood Veneer – There are models that feature a wood veneer. This is a thin layer of real wood, it is bonded over a thicker layer of a pressboard. It looks better than laminate and features a lower price than a solid wood file cabinet. It is easy to clean and maintain.
Lateral & Vertical – The file cabinets come in a variety of shapes, these are most common. The vertical or tall wood file cabinet offers deeper drawers and doesn't take up too much space. The lateral file cabinets are designed for larger paperwork and documents, they provide wider drawers.
Solid Wood – The unfinished filing cabinets made of solid wood feature the highest quality. Of course, they come at a higher price than laminate and wood veneer file cabinets. Once you buy it, it will last for many years. It is a bit tricky to clean it and maintain it but follow the instruction.