Do you want to buy a balance ball for a desk?
Then you should read this article! I'll describe the best models available on the market so you can compare them and decide which one suits you the most. In the buying guide are more info that can help you with the decision.
Our Top Picks
6 Best Balance Ball Desk Chairs Review
BEST OF BEST BALANCE BALL DESK CHAIR
Gaiam Classic Yoga Ball Chair
Designed By Health Experts
The exterior of this balance ball for the desk is made from rubber, and it's available in different colors such as blue, green, grey, black, red, purple, etc. The structure is designed and created by health and fitness experts and it enables active setting and promotes upright sitting pose.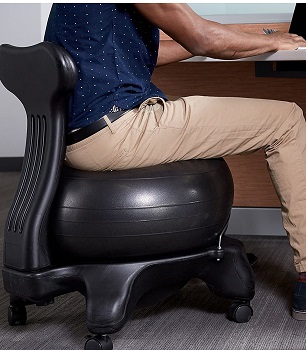 Micro-Movements For Long Sitting
The round ball shape allows micro-movements. As a result, you can engage your body while sitting which will help you to stay focused while working for long hours. Therefore this is an ideal 8-hour office chair because the structure relieves back and neck pain.
Dimensions And Structure
It's suitable for people that are up to 5′ 0" to 5′ 11" tall, and it will fit most standard-height working desks because the base and the ball are 2.5′ tall and 20" wide. In case you want the model to be taller, you can buy the Gaiam leg extenders that are sold separately from this product. The chair base consists of the back support, ball holder, and lockable caster wheels.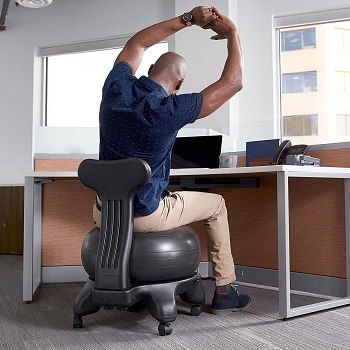 Inflation Instructions
In order to have the right effect, you need to inflate the ball in the right way. So first you inflate the ball with the pump, and let it stand for one day. Then deflate it for 50%, and refill it with an included air pump. The ball needs a day or two for the rubber to stretch so it can expand to its full size.
Highlighted Points:
rubber exterior in different colors
encourages micro-movements
2.5′ high and 20" wide
air pump included
features ball holder and caster wheels
BEST CHEAP BALANCE BALL FOR DESK
PharMeDoc PMD-BBC-01 Office Ball
Base With Removable Backrest
This balance ball desk chair is one of the best models you can get for a low budget. You don't have to invest a lot of money in order to get a long-lasting and multifunctional chair. Similar to the previous model, this one comes with the base that holds the ball and back support that's removable.
Air Pump Included
Therefore, you can adjust the structure to your own body shape and size. Like the previous model, it comes with the air pump for inflation that must be done two times. The first time inflates the ball with air to the maximum. During the day, the rubber will stretch.
Ball Height And Caster Wheels
Afterward, deflate it for 50% and refill it again with the air. As a result of the more flexible rubber, the chair will expand to its maximum height which is 20". The ball with the base is 31" high and 26.5" wide. The base of this affordable home office chair has caster wheels so you can easily transport it between the rooms.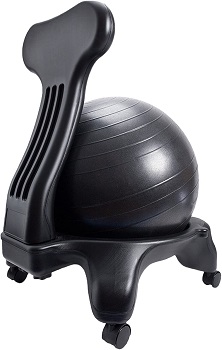 Warranty And Weight Capacity
Moreover, you can move while being on the chair, and do some active sitting or exercise that will keep you focused when working. All parts of this model have a lifetime warranty, which approves the quality of the structure. In addition, the stable base allows a maximum weight capacity of 300 pounds.
Highlighted Points:
removable backrest
inflation instructions available
31" high and 26.5" wide
base with lockable wheels
maximum weight capacity is 300 pounds
BEST STOOL BALANCE BALL OFFICE CHAIR
Gaiam Adjustable Balance Stool
Seat Is Balanced Half-Ball
Unlike other models from the list, this one is unique because it has the structure of the stool, while the seat is designed as a balanced ball. Therefore, this balance ball chair stool allows you to have an active sitting with micro-movements that are strengthening your core, improving posture, and boost circulation.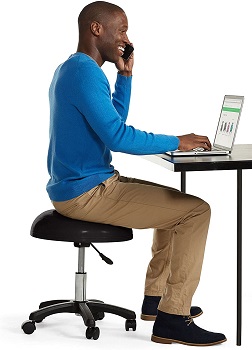 Rubber And Polypropylene Structure
The half-dome cushion has a rubber structure that's very strong so it won't burst or get damaged. The exterior of this balance ball office chair is made from rubber, while the frame, base, and caster wheels have polypropylene nylon structures. Moreover, the base features a pneumatic cylinder that's connected to a pneumatic lever.
Swivel Design With Height Range
Therefore, you can adjust the seat height while sitting on the balance chair for the office. The height ranges between 18" and 24" so it will be a great fit for most standing or standard-sized desks. In addition, the base has a swivel design so it can rotate for 360-degrees. The maximum weight capacity is 300 pounds.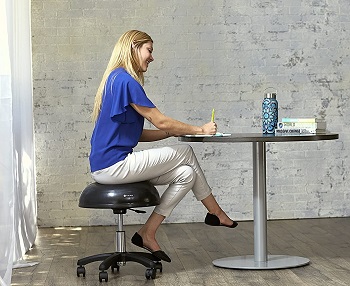 Lockable Caster Wheels
This adjustable work stool has five caster wheels that are smooth and suitable for all floor types. They're also lockable, so you don't have to worry about accidentally sliding away. At the same time, you can easily move the chair around the rooms and between different offices. An air pump for the seat is included.
Highlighted Points:
rubbered balance ball as a seat
polypropylene and nylon base
five lockable caster wheels
pneumatic lifting between 18" and 24"
swivels for 360-degrees
BEST WITH ARMRESTS BALANCE BALL CHAIR FOR OFFICE
Cando Metal Ball Chair
Back Support And Ball Holder
In comparison to other balance ball office chairs from the list, this one has a unique user-friendly feature which is armrests. The base consists of back support, a ball holder, and caster wheels. In addition, it features arms with armrests that allow you to rest your elbows and hands while working.
Armrests For More Stability
Moreover, it's a great choice for people who want more stability. In case you want to give yourself more of a balance challenge, you can choose the model without arms. Before using it, read the inflation instructions. So the first time, inflate the ball to 70% of its capacity.
Inflation Process
After that, leave it untouched for a day or two because that's the time period necessary for the rubber to become more flexible. Then you should deflate it entirely and refill it. As a result, the rubber will extend to the ball's full size that will properly fit in the base.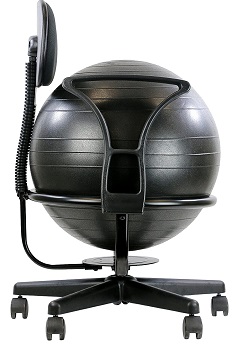 Maximum Height And Mobility
The right maximum height of this model is 22". The base features caster wheels so you can move between rooms, as well as exercise while sitting. The micro-movements allow you to stay focus when working for a long time. This ball chair with arms features ergonomic back support that's can be removed if you want to.
Highlighted Points:
base with backrest and ball holder
armrests for stability
caster wheels
the ball is 22" high
inflate it two times
BEST ARMLESS BALANCE BALL DESK CHAIR
J/Fit Balance Fitness Ball
Suitable Dimensions And Extenders
This model is suitable for both exercise and office work. The size of this balance ball for the desk is ideal for people who are between 5′ 0" and 6′ 1" tall. Moreover, you can buy leg extenders separately for an additional height of 1" to 2" per extender. It's 33" high and has a strong rubber exterior.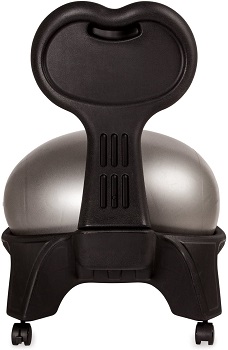 Ergonomic Seating Area
In addition, the ball has more surface seating area which is an innovation in design that makes it more ergonomic. This combination gives the same benefits as exercise while offering the stability of the office chair. Therefore, it's similar to an adjustable office chair with wheels.
Keeps Your Spine Aligned
However, the ball structure allows you more movements and active sitting. In comparison to regular chairs, you can strengthen your core, stretch, and maintain focus for a longer time. It's designed by health experts to improve your sitting posture and align your spine.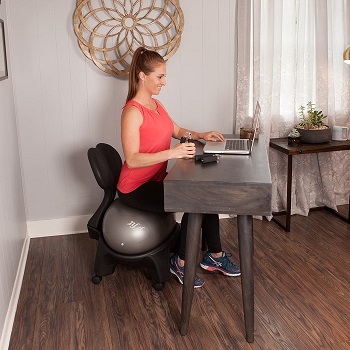 Backrest And Ball Are Removable
Because of that, you maintain the spine's natural shape which relaxes muscles and reduces back pain. The polypropylene nylon base is durable and features caster wheels for even more mobility. In addition, the backrest is removable. Similarly, you can remove the ball from the base in case you want to use it for exercising.
Highlighted Points:
suitable for 5′ 0" to 6′ 1" tall people
leg extenders for height adjustments
base with a ball is 33" high
wide surface for sitting
removable back support
BEST WITH BACK SUPPORT BALANCE BALL FOR DESK
Trimax Sports Ball Chair
Adjustable Legs And Lumbar Support
This balance ball desk chair features a base with three legs that are height-adjustable. Moreover, it comes with a backrest that you can easily install and remove. In addition, the backrest has lumbar support that supports your lower back and prevents back pain.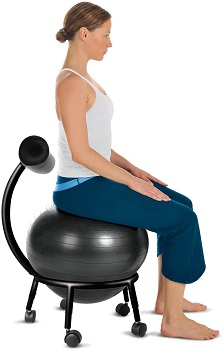 The Height Range
The design is suitable for people who are between 5′ and 6′ 3" tall. The air pump comes with the package, and when you fully inflate it, the ball is up to 18" high. Since this best chair for backs stands on an adjustable base, you can easily change the height between 21" and 24".
Rubber Cover And Chrome Base
The package includes all parts that you need for installation. Therefore, you can assemble this balance ball chair with back support within 5 minutes.  The model has a rubber exterior that's durable and long-lasting, while the base has a chrome and powder-coated metal structure.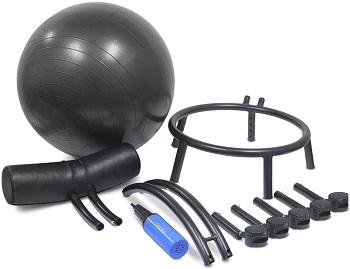 Caster Wheels And Air Pump
Moreover, it comes with caster wheels. So, you can easily transport the model from one room to another. In addition, the wheels help with active sitting that allows you to be highly productive and focuses, even when working for a long time. The package includes the air pump, and for the best efficiency, read the inflation instructions.
Highlighted Points:
3 adjustable legs
removable backrest with lumbar support
height range between 21" and 24"
the ball is 18" high
chrome powder-coated metal base
Things To Know About Ballance Ball For Desk
Before choosing the model you want to buy, read this guide with additional info on important features such as chair base, height adjustment, ergonomic structure. additional structure stability etc. It will help you to decide which model suits you the best.
Chair Base – The ball comes with the base that is keeping it stable. Therefore, it should have a ball holder, a flat base, and caster wheels for mobility. The base can be made from strong metals which results in high weight capacity. On the other hand, polypropylene bases have a lower weight capacity.
Adjustable Height – This is a very user-friendly feature because it allows you to adjust the height according to your own shape and body height. So adjustable desk stool with inflated seats or chairs with balls can also have a base that's adjustable so you can set it according to your own body.
Ergonomic Structure – The best chair for back and neck pain will have back support because it allows the muscles around the spine to relax, which releases tension from the body and prevents back and neck pain. Moreover, it's desirable that the backrest has lumbar support, and that it can be removed if wanted.
Mobility – Caster wheels are a great addition to the balance chair for the office because you can move around the room, and easily transport the chair. Also, it helps you with doing certain exercises and maintains active sitting. In addition, it's a great user-friendly feature when the wheels are lockable.
With Armrests – In case you want to have a more stable balance ball office chair, I recommend you to buy the model with armrests. That's because arms allow you to keep balance more easily, and it's ideal if the exercise ball is challenging your balance while sitting.