Are you searching for the best back posture chair?
Then you should read this article! I'll describe the 6 best models on the market so you can compare them between categories such as cheap, ergonomic, for study, etc. In case you want to know more info, read the buying guide.
Our Top Picks
6 Best Back Posture Chairs Review
BEST OF BEST BACK POSTURE CHAIR
Bilkoh Adjustable Office Chair
Backrest Tilting Options
This is the best chair for backs because few reasons. Firstly, the seat has a tilting knob and lever that you can use to adjust the backrest reclining angle. You can recline between 90-degrees and 120-degrees, therefore it's suitable for both working and resting.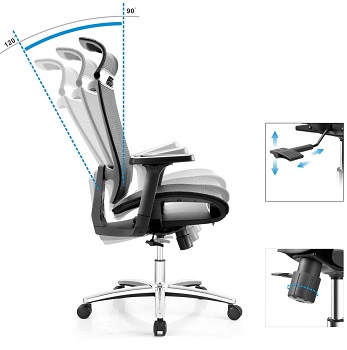 Adjustable Arms And Headrest
Secondly, the arms with armrests are fully-adjustable. In other words, you can move them up and down for 2.9", backward and forward for 1.9", and rotate them for 36-degrees in all directions. Thirdly, the backrest has a 17.3" wide headrest that's can swivel for 45-degrees to reduce pressure on the neck.
Floating Design With Lumbar Support
Above all, this office chair support model features high-quality lumbar support that can be moved up and down for 4.3", and you can also remove it for cleaning. The backrest and seat have an ergonomic floating design that's made entirely from a mesh material.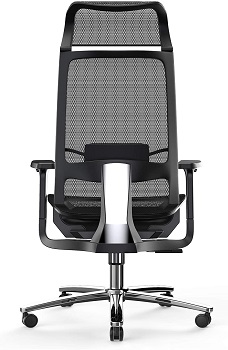 Pneumatic Cylinder And Aluminum Base
As a result, this all-mesh task chair is highly-breathable and you can sit on it for a long time without starting to sweat. The pneumatic cylinder has SGS-certificate so it's safe to use and it allows you to adjust the seat height. The durable aluminum base with PU caster wheels can hold up to 300 pounds. All parts have a 1-year limited warranty.
Highlighted Points:
fully-adjustable armrests and backrest
aluminum base with wheels
headrest swivels for 45-degrees
mesh floating structure
maximum weight capacity is 300 pounds
BEST ERGO CHAIR FOR BACKS
Sidiz T50 Ergonomic Textile Chair
S-Shaped Structure
This back posture office chair has a unique mechanism to support your back while sitting for long hours. It's the best for long-hour sitting because it features an S-shaped backrest and seat that prevents back pain while distributing the weight evenly throughout the lumbar disk.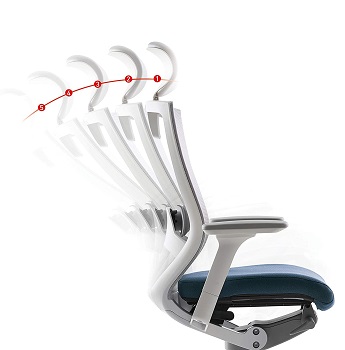 Adjustable Lumbar Support And Armrests
Another user-friendly feature is the fully-adjustable lumbar support that you can move up and down, and back and forth. Therefore you can adjust it to your body. Likewise, the armrests can be adjusted in three ways so you can move them up and down, back and forth, and left to right.
Padding And Cover Materials
The ergo posture high back office chair has a seat with a textile cover that's soft and breathable. In addition, it has thick sponge foam padding that's comfortable and firm. As a result, it supports your body and relaxes muscles around the lower spine so your back won't hurt.  The backrest is made from breathable mesh.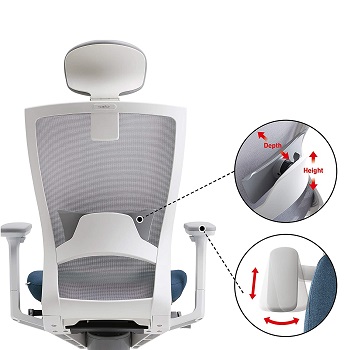 Weight Capacity And Tilting Options
The base of this best adjustable ergonomic office chair is made from aluminum, which adds to the lightweight design. Although it weighs only 39 pounds, the maximum weight capacity is 250 pounds. The tilting knob beneath the seat allows you to adjust the backrest at 5 different angles. The base swivels for 360-degrees and has PU smooth caster wheels.
Highlighted Points:
ergonomic S-shaped backrest and seat
mesh breathable backrest
textile padded seat
adjustable lumbar support
tilting at 5 different angles
BEST CHEAP BACK POSTURE CHAIR
FelixKing FK938 Nylon Wheels Chair
Ergonomic Mesh Backrest
The features that make this office chair high-quality are an S-shaped backrest with a mesh cover that's breathable, elastic, and durable. The S-shape backrest is in line with the natural curve of the human body so it relaxes the muscles and allows you to sit for a long time.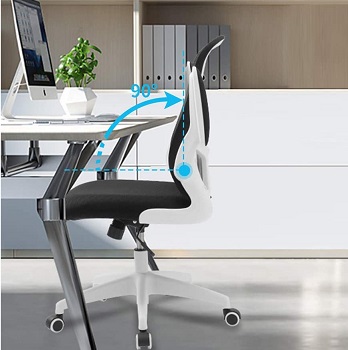 Seat Material And Padding
It's the best 8-hour office chair with a seat that has a high-density natural sponge that contours around the lower body and prevents back pain. The seat cover is a net cloth that's highly breathable and easy to maintain. Likewise, the arms have armrests with the same cover.
Adjustable Armrests And Lumbar Support
The armrests can be flipped up and down for 90-degrees. This is a practical space-saving feature because the model with arms flipped up is easier to store beneath the desk. Moreover, it's one of the best chairs for back posture because it has lumbar support that you can move up and down for 1.6".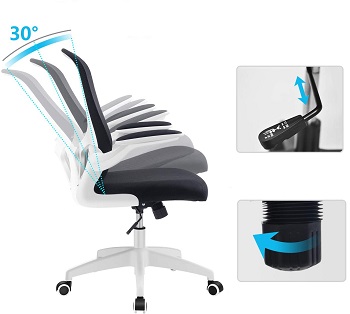 Nylon Caster Wheels
The gas cylinder is thick and safe to use. The pneumatic lifting allows you to adjust the seat height for 4". In addition, you can tilt the backrest for 30-degrees by using the tilting knob and lever. The metal base has five nylon caster wheels that are smooth and suitable for any floor type. The base swivels for 360-degrees.
Highlighted Points:
S-shaped mesh backrest
sponge seat with neo cloth cover
adjustable armrests for 90-degrees
backrest tilts for 30-degrees
height-adjustable lumbar support
BEST ERGONOMIC CHAIR FOR BACKS
Sunnow Mesh Adjustable Chair
Fully-Adjustable Lumbar Support
This adjustable desk stool has ergonomic lumbar support that you can move up and down, and front and back. As a result, you'll get the best support for the back since you can adjust it to your own shape. The headrest is added to the backrest for additional neck and shoulder support.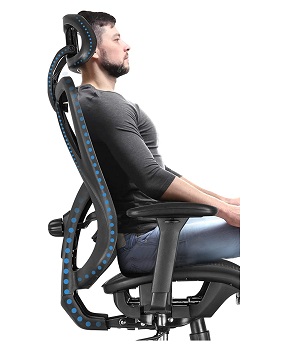 Adjustable Headrest And Armrests
Firstly, the headrest is adjustable so you can move it for 1.6" up and down, and it swivels for 40-degrees. Secondly, the arms have padded armrests that you can move up and down for 2.75". Moreover, beneath the seat is a pneumatic lever. Therefore, you can change the seat height to 3.6".
Mesh Structure And Backrest Positions
The back posture chair has a mesh backrest, headrest, and seat. As a result, the air circulates throughout the structure so the heat won't build-up and you won't sweat when sitting for a long time. The tilting lever allows you to recline the backrest between 90-degrees and 135-degrees. In addition, it has caster wheels and swivels for 360-degrees.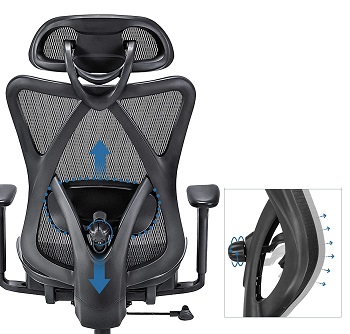 Dimensions And Weight Capacity
The seat is 20.3" wide, and 18.3" long, while the backrest is 20.8" wide. The headrest is 16" wide and its height range is between 6.3" and 7.8". The overall height range is between 46.4" and 51.6". This is one of the best office chairs for posture and back pain because of the high weight capacity that's around 280 pounds.
Highlighted Points:
adjustable lumbar support
adjustable headrest and armrests
mesh structure with pneumatic lifting
90 to 135-degrees tilting positions
maximum weight capacity is 280 pounds.
BEST WITH ARMRESTS BACK POSTURE CHAIR
Alpha Home IF042 Ergonomic Chair
Anti-Bacterial Mesh
The unique feature of this back posture chair is the encrypted mesh on the seat that has anti-bacterial properties and it's easy to clean. The seat is also made of mesh. Therefore the structure is breathable so you can be in the chair for a long time without sweating. The backrest has lumbar support.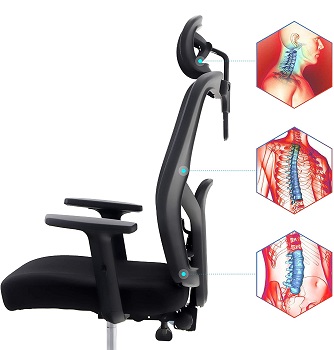 Height-Adjustments And Tilting Positions
There are three different levers you can use to adjust different settings. The first lever is to adjust the chair height between 35.8" and 39.37". The second is to adjust the backrest tilting between three positions: 90-degree for working, 102-degree for reading, and 120-degree for relaxing.
Active Rocking Motion
The third adjusting lever activates the rocking motion. In other words, you can adjust the structure to move clockwise at an angle of 10-degrees, or counterclockwise at the angle of 30-degrees. Because of that this si the best office chair for posture and back support that promotes active sitting and helps you stay focused on your work.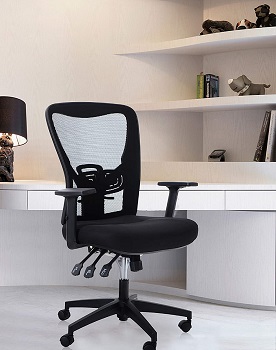 SGS And BIFMA Certificates
The metal base is firm and sturdy, therefore it can hold a maximum weight capacity of 350 pounds. Similar to the 400 lb capacity office chair, it has a heavy-duty ergonomic structure and SGS-certified gas cylinder for pneumatic lifting that's safe to use indoor. In addition, the structure has a BIFMA certificate.
Highlighted Points:
the chair is between 35.8" and 39.7" high
rocking motion in two directions
tilts in three positions
maximum weight capacity is 350 pounds
anti-bacterial mesh
BEST FOR STUDY CHAIR FOR BACKS
Tribesigns Aluminum Base Chair
Tilting And Height Adjustments
This is the best chair for the back with 3 level tilt-lock mechanism that allows you to sit at 90-degrees, 110-degrees, or 135-degrees. You can use a tilting knob to adjust the reclining intensity or to lock the chair in a certain position. It has a pneumatic cylinder, so you can adjust the seat height between 17.7" and 21.6", and overall height between 47.2" and 51.2".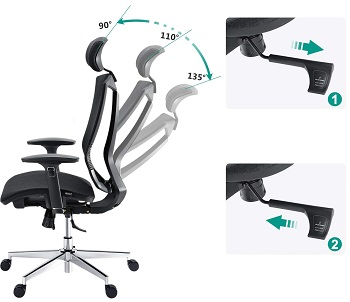 Aluminum Base And Mesh Structure
In addition, the backrest and seat are made from breathable mesh that allows air circulation so your back won't sweat. The heavy-duty aluminum alloy base is strong and durable. As a result, this best office chair for posture has a maximum weight capacity of 300 pounds.
Adjustable Arms With Armrests
Moreover, arms are fully adjustable which means you can move them up and down, back and forth, and move them at different angles. They have a polyurethane cover that makes them soft. The base ends with five polyurethane caster wheels that allow you to move the chair between rooms.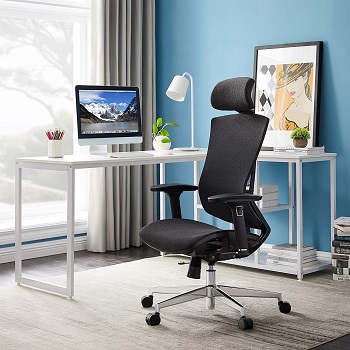 Swivel Design And Lumbar Support
Also, you can slide from one side of the desk to another, and the base has a swivel design. Therefore, this back pain relief chair can rotate for 360-degrees so you don't have to twist your back when working from many different directions. The backrest has a height-adjustable headrest and lumbar support that move up and down.
Highlighted Points:
the seat is between 17.7" and 21.6" high
weight capacity is 300 pounds
fully adjustable arms with armrests
headrest and lumbar support are adjustable
three tilting positions
Things To Know About Best Chair For Backs
If you want to buy the best model for your home or office that will protect your back, you must consider different features such as lumbar support, adjustable features, swivel design, material, etc. Here you can read more about them learn how to choose the most suitable model.
Lumbar Support – This is the most important feature when looking for the best chair for the back because the lumbar support gives additional comfort to the back and releases tension from the muscles, therefore prevents back pain. If you want to find out more, read the article on the best armless office chairs with lumbar support.
Armrests And Headrest – Padded armrests are user-friendly because they relax your upper body and shoulders. Moreover, the headrest helps reduce pressure on the neck. It's great when both are fully-adjustable because you can change their position to fit your body the best.
Adjustable Structure – Firstly, the backrest must recline for few degrees so it can give your back the best support during working, reading, and resting. Secondly, the rocking motion allows you to stay active when working. And, most importantly, the seat height must be adjustable.
Swivel Design – The adjustable swivel chair can rotate for 360-degrees. That's a very user-friendly feature because it protects your back. When having a swivel chair, you don't have to twist your back every time you want to reach something behind your back or talk to co-workers that are around you.
Materials – The back posture chairs include different materials, such as faux leather, upholstered vinyl, mesh, and plush velvet. The mesh is the most breathable and firm, while the leather and vinyl are elegant, soft, and easier to clean. The chair with plush velvet is also soft and has an elegant design.