Are you looking for a wide file cabinet for your home or office?
Then keep reading.
In our top six list, you can find different file cabinets with two, three or four drawers. Read about their characteristics, design and advantages. Below the list, you can find a brief buying guide that explains important features.
Our Top Picks
Best 6 Wide File Cabinets
Best of Best Wide File Cabinet
Bush Furniture File Cabinet
4 Colors
The Bush Cabot file cabinet is available in multiple colors. You can choose between heather grey, espresso oak, harvest cherry and white color. The dimensions of this wide cabinet are 30 inches in height, 31.26 inches in width and 19.56 inches in depth.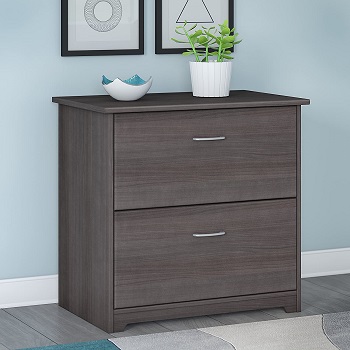 Home Office Use
This wide file cabinet is great for organizing your important documents in your home office. It features two spacious drawers and each drawer has chrome finished handles. Also, there are full-extension ball-bearing slides, so you can easily reach the back of the drawer.
Durable Item
You can open the drawers smoothly and easily. This extra-wide filing cabinet is able to accommodate letter-sized or legal sized documents. This product is made of quality engineered wood, it features long-term durability. The construction meets ANSI/SOHO safety standards.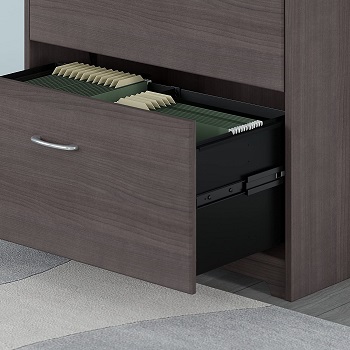 Cabinet's Capacity
The surface of this white wood 2-drawer file cabinet is scratch resistant and has the ability to withstand 200 pounds capacity. Each drawer has 60 pounds capacity. This is a heavy cabinet, there are 80 pounds. This cabinet height matches with Cabot desks if you need to expand your workspace.
Highlighted Points:
simple and elegant appearance
made of quality engineered wood
scratch-resistant surface
it accommodates letter-sized and legal sized papers
the construction is stable and durable
there are two spacious drawers
Best Lateral Wide File Cabinet
Sauder Lateral File Cabinet
Black Finish
The Sauder Edge Water file cabinet features an estate black finish. If black isn't your favorite color, you can opt for cherry and chalked chestnut finish. This lateral cabinet is made of engineered wood from recycled materials. That eco-friendly product has an average price.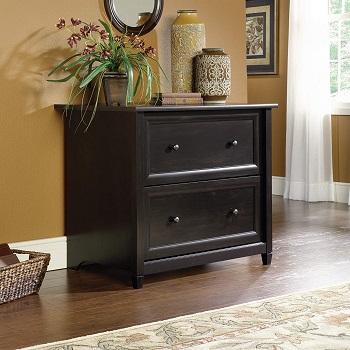 30 Wide Lateral File Cabinet
This wide file cabinet measures 29 inches in height, 33.7 inches in width and 23.5 inches in depth. This cabinet weighs 108 pounds. There are two large drawers and each drawer features 26.7 inches of width. They have full extension slides and you can seamlessly pull them out.
Safety Mechanism
The Sauder file cabinet features a patented interlocking safety mechanism, which means you can open one drawer at a time. You can load it with letter-sized and legal sized files. This 2-drawer file cabinet has a solid construction that will last for many years.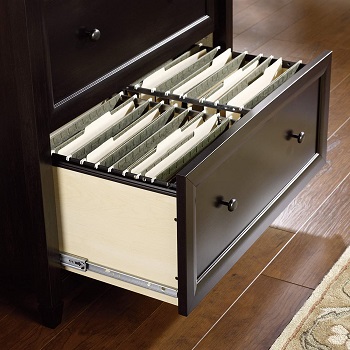 Instruction Included
It comes in a flat box of 35 x 25 x 10 inches. The Sauder file cabinet doesn't come assembled. You need to assemble it, but there is instruction, so that doesn't take much of your time. It has the hardware to hang letter and legal files, you don't have to buy them separately.
Highlighted Points:
quality file cabinet with four legs
it features a patented safety mechanism
two drawers with hanging file hardware
the assemble is needed
intended for letter and legal-sized documents
Best 2-drawer Wide File Cabinet
Alera 2-drawer Wide Cabinet
Six Models
The Alera file drawer is available in three colors: black, light grey and putty. This cabinet comes in six different sizes. The smallest size is 30 x 19 x 28 and the largest model has 42 x 19.2 x 53 inches. In this short review, we talk about the cabinet of 36 inches in width, 19.2 inches in depth and 28.4 inches in height.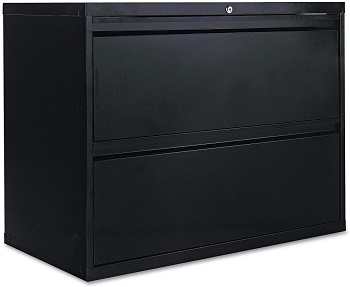 Heavy Item
This 2-drawer wide file cabinet weighs 140 pounds and it doesn't have legs or casters. That is its main disadvantage, you can't move it so easily. The drawers have side-to-side hang rails for letter and legal sized documents. Therefore, this cabinet is great for office use.
Anti-tipping System
The drawers have full extension ball bearing slides for easy pull out. The Alera file cabinet uses an anti-tipping interlock system, which means you can open only one drawer at a time, not both of them at the same time. It is for safety reasons.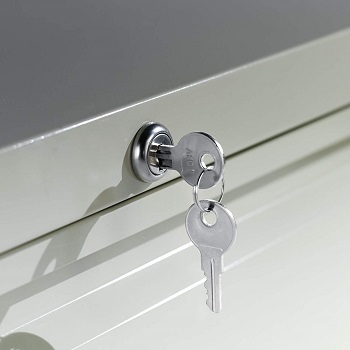 Steel Material
The Alera 2-drawer cabinet features a single key core with a removable lock with two keys. It features elegant full-width radius edge recessed pulls. The cabinet is made of steel and durable engineered wood. The surface is scratch-resistant and smooth.
Highlighted Points:
the durable file cabinet with two drawers
removable lock with two keys
made of solid and durable wood material
the drawers have full extension ball bearing slides
anti-tipping interlock system
Best 3-drawer Wide File Cabinet
Devaise White File Cabinet
Two Colors
The Devaise file cabinet comes in two colors, so choose the color depends on your office or home decor. It looks like a traditional cabinet. This cabinet isn't expensive, it is quality and solid. It measures 15.4 inches in width, 18.9 inches in depth and 23.6 inches in height.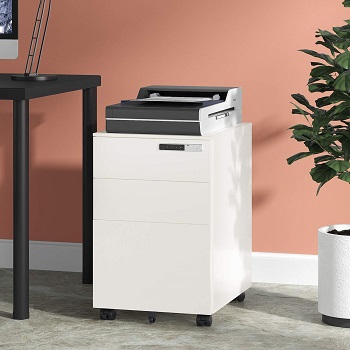 Drawers Dimensions
It is an all-metal construction cabinet and the maximum weight that it supports is 330 pounds. There are three drawers but they have different dimensions. The lower drawer features 11 inches in height and 9 inches in depth. The upper two drawers have 5.1 inches in height and 2.7 inches in depth.
Touch Screen Smart Lock
The drawers accommodate letter, legal and A4 file folders. The capacity of each drawer is 55 lbs. It is a key-free cabinet with an integrated smart lock. The smart lock has a numeric keypad, you can unlock your cabinet with a four-digit code. Your files will be safe.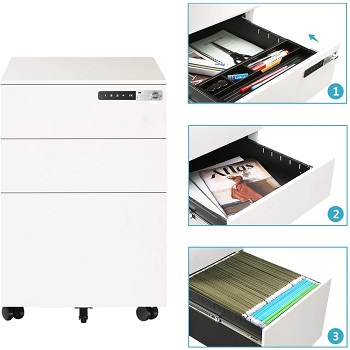 Mobile Cabinet
The drawers feature full extension and an adjustable pencil tray. You can even remove it if you don't want to use it. The Devaise wide file cabinet features five casters, the four casters are lockable, you can easily move the cabinet. There is one auxiliary castor that prevents tipping.
Highlighted Points:
available in black or white color
three drawers – 2 small and 1 large
the maximal capacity is 330 pounds
four casters and one auxiliary caster
key-free cabinet with integrated smart keypad
Best 4-drawer Wide File Cabinet
HomCom Vertical File Cabinet
Vertical Cabinet
The Homcom is a vertical file cabinet that is suitable for homes and offices. The overall dimensions of this cabinet are 19 inches in length, 19 inches in depth and 54 inches in height. This vertical cabinet is space-saving so it fits anywhere. The product has a stable base.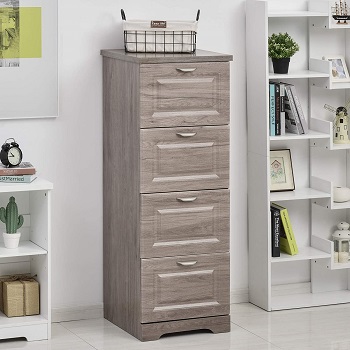 Smooth Wood Surface
This 4-drawer wide file cabinet features a smooth wood grain surface. Each drawer has long embedded handles that look elegant. The drawer's capacity is 11 pounds. The two lower drawers are equipped with file hangers so you can easily organize your important files.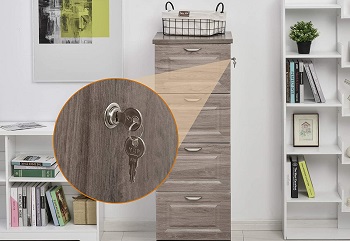 Natural Design
On the side of the cabinet, there is a lock. You can lock all four drawers at the same time. This file cabinet comes in one color only and it's grey oak color. This is a wood file cabinet, so it will probably fit in any decor. The construction is made of particleboard and MDF.
Highlighted Points:
vertical file cabinet with four drawers
it's made of particleboard and MDF
two lower drawers feature file hangers
side lock for all four drawers
the construction is stable with a smooth surface
Best Locked Wide File Cabinet
Sleerway File Cabinet
Metal Construction
The Sleerway file cabinet is available in two colors, there are black and white colors. But you can choose the model with easy installation. Moreover, you can choose between 2 drawers or 3 drawers. This cabinet is made of anti-rusting metal, so the construction is pretty strong.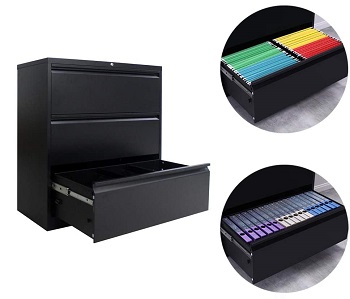 File Size
Here we talk about the model with three drawers. The dimensions of the item are 35.43 inches in length, 17.72 inches in width and 40.28 inches in height. The drawers accommodate letter, legal, A4 and F4 file sizes. Each drawer has a goose-neck handle, so it's easy to open it.
Lockable Drawers
All drawers feature two bars, so you can organize your workspace better. If you don't want to use these bars, you can remove them. The two keys are included in the package and they secure the whole cabinet. The other drawers stay locked if one drawer is open. That prevents the cabinet from tipping.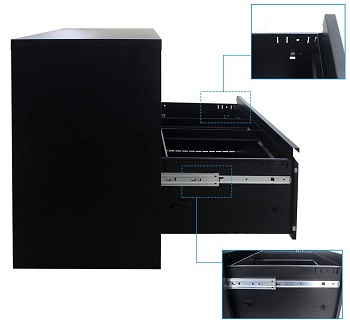 Smooth Rails
The drawers feature smooth rails, so they don't produce a loud noise. The construction is anti-rusting, waterproof and able to bear high capacity. The top and bottom of the cabinet are equipped with an extra steel plate which provides stability.
Highlighted Points:
sturdy metal construction reinforced with steel plate
it is able to handle a large capacity
waterproof and antifouling surface
movable hanging bars in each drawer
three spacious and deep drawers
the locking system with one key
Things To Know About Wide File Cabinet
You can find a lot of file cabinets on the market, but here we talk about wide file cabinet. Read about its design, locking mechanism, drawer numbers, mobility and other features.
Vertical VS Horizontal – The most common position is horizontal, but there is a vertical file cabinet too. If your home office is small or you work in an office with limited space, consider a vertical file cabinet. It is tall and features a small footprint.
Number Of Drawers – Choose the number of drawers depends on the amount of your file folders. if you work with a huge amount of paper, pick the model with more drawers, for example, four drawers. Before buying, check out the drawer and overall capacity.
Mobile File Cabinet – If you for some reason need to move your file cabinet frequently, the file cabinet with castors is a very good idea. But be careful, there are models with non-lockable casters. Always look for lockable casters, then the cabinet keeps the stable position.
Locking System – The locking mechanism on the file cabinet is always a good option. For those who have children, this system protects file from damage. Furthermore, if you work in a shared office, lock your cabinet and your files are safe. Choose between a numeric keypad or physical keys.
File Cabinet Materials – The wide file cabinet can be made of different materials. There are wood, metal, wood and metal file cabinet and others. The metal cabinet is affordable and they are great for storage. The wood cabinet provides an elegant look, it is great for executive offices.