Are you interested in the durable and secure file cabinet?
Then the metal file cabinets with a lock are perfect for your office. In this article, you'll find relevant information about these items. Check out the reviews and pick the model that suits you the best. We described six models that are very popular on the market.
Our Top Picks
Best 6 Metal File Cabinets With Lock
Best Of Best Metal File Cabinet With Lock
Aurora Modern File Cabinet
Quality Item
The Aurora file cabinet features modern design and quality features. This model comes in a variety of colors – black, white, white/aqua and metallic charcoal. This file cabinet weighs 53 pounds. The Aurora measures 25.1 inches in height, 15.5 inches in width and 20.7 inches in depth.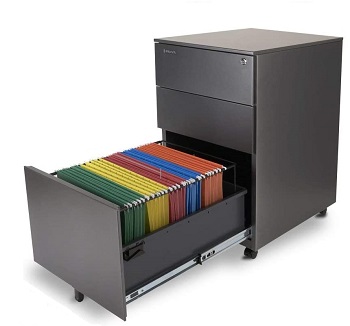 Ready To Use
No assembly is required, this metal file cabinet with a lock is ready to use. The Aurora is perfect for small offices or personal use. Solid metal construction and electrostatic spraying finish provide durability. The surface is smooth and resistant to rust.
Easy-roll Casters
Move it easily, this file cabinet is equipped with easy-roll casters. Two front casters come with brakes. On the top drawer is a lock that simultaneously locks all three drawers. You can keep your files and personal things private. The package includes two keys.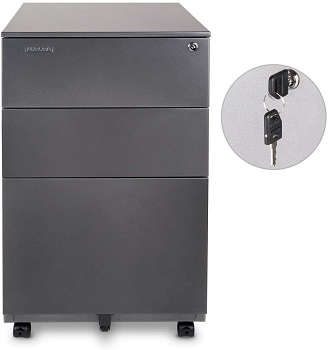 Interlocking System
This small metal filing cabinet features two small drawers, they are designed for office supplies. The removable stationary tray is integrated into the top drawer. The bottom drawer is larger and it accommodates letter-size file folders. The interlocking system prevents tipping over.
Highlighted Points:
solid metal construction with anti-rust surface
metallic charcoal finish for modern offices
no assembly is needed
four easy-roll casters with brakes
one key locks all three drawers
file drawer holds standard sizr files
Best 2-drawer Metal File Cabinet With Lock
Devaise File Cabinet
Pedestal File Cabinet
This is a modern pedestal file cabinet that is available in two basic colors, black and white. This item weighs 38 pounds and measures 24.8 inches in height, 15.4 inches in width and 18.9 inches in depth. This metal file cabinet with a lock arrives fully assembled.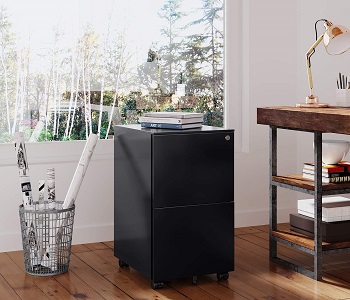 Enclosed Base
The price is acceptable and the warranty lasts 1 year. The construction is made of solid metal, it is durable and long-lasting. The structure is reinforced and the Devaise has an enclosed base that adds more security. The max load capacity is up to 330 pounds.
Fully Extendable Drawers
There are two drawers, each drawer has 55-pound of load capacity. They are designed for letter-size/A4 and legal-size hanging file folders. Both drawers glide on full-extension ball-bearing slides. That ensures easy access to all your file folders.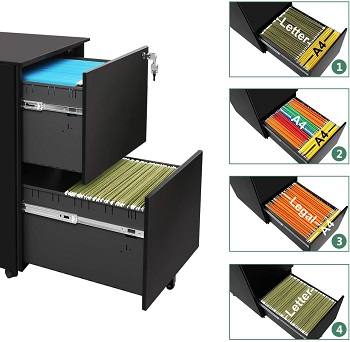 Mobile Item
This steel 2 drawer file cabinet features a lock system. It secures both drawers, so you can keep your files safe from damage or loss. The package includes two keys. The four swivel casters ensure mobility. There is added the fifth caster that prevents tipping over.
Highlighted Points:
reinforced strong steel construction
the base is enclosed for extra security
max load capacity – 330 pounds
two drawers with a 55-pound capacity
full extension drawers hold letter/legal files
four swivel caster for mobility
Best 3-drawer Metal File Cabinet With Lock
Yitahome Filing Cabinet
Modern File Cabinet
The Yitahome is a vertical file cabinet with a stylish appearance. There are two colors – black and white, they fit in any office decor. The unit is 23.4 inches tall, 18.1 inches deep and 11.8 inches wide. Because of its compact design, the Yitahome fits anywhere.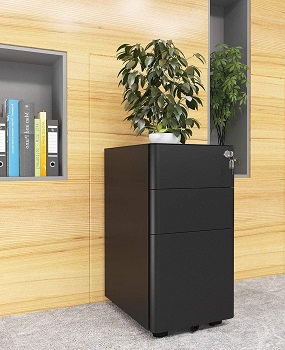 Robust Construction
It is fully assembled, except the casters. This metal file cabinet with a lock is designed for long-term use. The entire construction is built with robust heavy-duty steel and an eco-friendly finish. Place some office device on its top, it is sturdy enough.
Swivel Casters
The Yitahome is equipped with four swivel casters, it moves smoothly in any direction. Also, there is a small center caster that provides extra support and prevents tipping over. This steel file cabinet has a lock on the top drawer that secures all three drawers at the same time.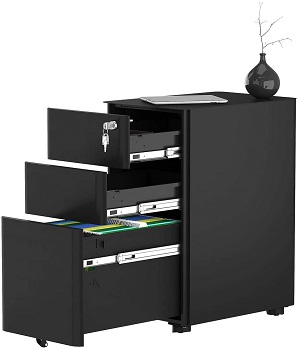 Hanging File Folders
The file cabinet offers three drawers, two small drawers for office essentials. The top drawer has a removable pencil tray for neat organization. The file drawer features a removable hanging file bar for letter/A4 and legal size file folders. Built-in sliding rails help you to open the drawers smoothly.
Highlighted Points:
stylish file cabinet that fits in any modern office
heavy duty metal construction with eco-friendly finish
four swivel casters for mobility + anti-tip caster
built-in lock secures all drawers
three drawers for small office essentials and files
Best 4-drawer Metal File Cabinet With Lock
Pemberly Row File Cabinet
Recycled Material
The Pemberly Row metal file cabinet with lock is a tall file cabinet, perfect for small offices. You can choose between black, grey and putty. It is constructed with 30% total recycled material. There is heavy-duty 22-gauge metal construction that is rust-resistant.
Aluminum Handles
The handles and label holders are made of durable aluminum. The product dimensions are 52 inches in height, 15 inches in width and 25 inches in depth. It weighs 75 pounds. The Pemberley Row file cabinet comes fully assembled at your address.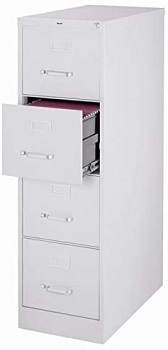 High-side Drawers
There are four high side drawers with ample storage space for letter-size hanging file folders. You don't have to buy any additional hardware. Precision steel ball bearings provide smooth and quiet drawer performance. Within the drawer, there are adjustable metal follower blocks.
Core-removable Lock
This 4-drawer metal filing cabinet with lock features a core-removable lock. You can store your private and confidential documents in these drawers. There are label holders on each drawer, so you can easily identify your files. This sturdy file cabinet features an acceptable price.
Highlighted Points:
vertical heavy-duty file cabinet
22-gauge steel construction with aluminum handles
four high-side drawers hold letter-size file folders
drawers glide on smooth ball-bearing slides
core-removable lock protect our files
three colors available
Best Small Metal File Cabinet With Lock
Bonnlo File Cabinet
2-year Warranty
The Bonnlo is a personal file cabinet that is available in multiple colors – white, black, white/orange, white/grey, black/white and white/blue. The price is affordable and the warranty lasts two years. This metal file cabinet with lock comes fully assembled.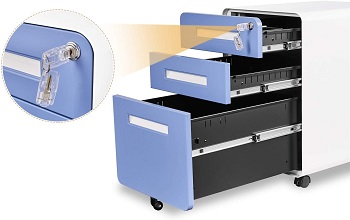 Smooth Corners
This file cabinet features a modern design, it has rounded corners, there aren't sharp edges. The Bonnlo has thick and solid construction made of sturdy metal. It is a durable and scratch-resistant item. The maximum load capacity is 154 pounds.
Foldable Keys
The surface is wear-resistant and waterproof. This 3-drawer metal filing cabinet with lock measures 23.6 inches in height (including casters), 15.7 inches in width, 19.6 inches in depth. This height fits under any standard office desk. The built-in lock comes with two foldable keys, it locks all three drawers.
Three Drawers
This small rolling file cabinet features three drawers, they glide on full-extension ball-bearing slides. The top drawer is equipped with a removable pencil tray. Two top drawers are small and the bottom drawer accommodates letter and legal size hanging file folders.
Highlighted Points:
fully assembled pedestal file cabinet
variety of colors available
modern rounded corner design
thick and solid metal construction
built-in lock with two foldable keys
three drawers for files and office supplies
Best Lateral Metal File Cabinet With Lock
Intergreat File Cabinet
Assembly Video
The Intergreat is a large horizontal file cabinet. The package includes a file cabinet, four hanging rails, hardware and installation. The assembly is required, so the Intergreat team made an assembly video. This model is available in black and white color.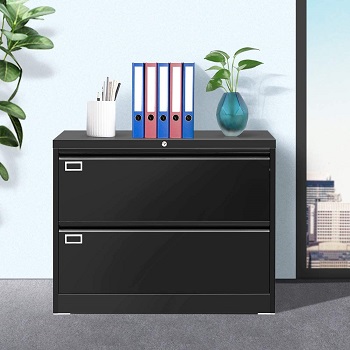 Large Capacity
Its overall weight capacity is 220 pounds. The unit dimensions are 28.4 inches in height, 35.4 inches in width and 17.7 inches in depth. The whole construction is reinforced with a sturdy cold-rolled steel frame, so each drawer has a capacity of 110 pounds.
Two Drawers
The surface is coated with an electrostatic phosphorus-free epoxy spray layer. That makes the file cabinet immune to rust and corrosion. This metal file cabinet with lock is equipped with two wide drawers. They come with four adjustable hanging rails for files.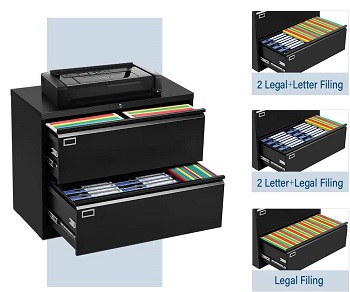 Smooth Drawer Performance
This metal lateral file cabinet is able to store letter and legal size file folders. The ball bearing full suspension drawers glide smoothly and quietly. There is one lock that secures both drawers. When one drawer is opened, you can't open another drawer, because the interlocking system prevents opening and tipping.
Highlighted Points:
large lateral file cabinet
reinforced structure with cold-rolled steel
the max weight capacity is 220 pounds
the surface is resistant to rust and corrosion
there are two wide drawers for file folders
built-in lock secures both drawers
Things To Know About Metal File Cabinets With Lock
These file cabinets are very durable and safe products for any office. Read more about their design, drawers, lock mechanism and other characteristics.
File Cabinet Types – Two most common file cabinet types are vertical and lateral file cabinets. The lateral file cabinets are horizontal and they provide wide drawers, great for large files and items. The vertical ones offer deeper drawers and they don't take up too much floor space.
Right-size Drawers – It is important to choose the file cabinet with right-sized drawers. That depends on the files you want to store. It is a good idea to choose the file cabinet with file drawers and standard size drawers. The smaller drawers hold necessary office supplies.
Lock System – If you need to store confidential or private files and documents, the lock system is needed. The style of lock varies between file cabinet designs. A modern locking file cabinet comes with a touchscreen keypad, you need to enter a passcode. Mostly, there are models with keys.
Rust-resistant Surface – Nowadays, many models feature durable and resistant surfaces. They are resistant to scratches, waterproof, corrosion and rust. The file cabinets with electrostatic spraying finish are very durable and intended for long-term use.
Label Holders – If you want to create an organized filing system, the metal file cabinets with lock and drawer label holders are necessary. If each drawer has its own label holder, you can mark the content and easily identify your files and documents. You'll know what is inside the drawers at a quick glance.