Do you want to save your files in a vintage file cabinet?
Then you definitely should check this review.
Here you can find six beautiful wood credenza file cabinets. Each model is described, so you can see if it fits in your home or office. Moreover, we prepare some tips and tricks about this item, so you can find the perfect one for your needs.
Our Top Picks
Best 6 Wood Credenza File Cabinets
Best Of Best Wood Credenza File Cabinet
Sauder Heritage File Cabinet
Affordable Price
The Sauder Heritage Hill file cabinet features a classic look that you can see in your grandparents' house, libraries or even museums. The dimensions of this file cabinet are 30.7 inches in height, 30.7 inches in width and 20.5 inches in depth. The price is affordable.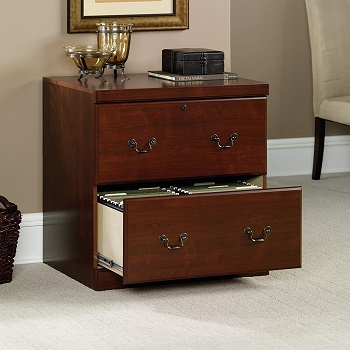 2 Drawers
This wood credenza file cabinet features engineered wood construction, it is solid and stable. The material is durable, so you can use it for many years. There are two large drawers where you can put a lot of your files. The inside drawer's dimensions are 26.7 inches in width, 16.3 inches in depth and 8.1 inches in height.
Safety Catch
The Sauder file cabinet has a beautiful cherry finish. The drawers accommodate letter and legal sized hanging files. Each drawer has full extension slides, so you can have access to every file.  You can't open both drawers at the same time because of the safety catch.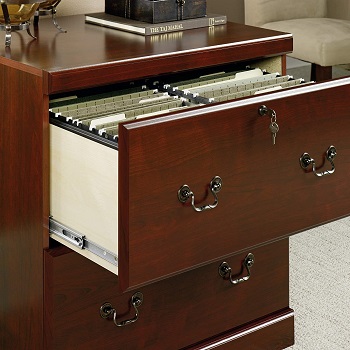 Added Security
The top drawer is equipped with locks, so there you can place your files with private or sensitive information. The Sauder wood file cabinet features a spacious top surface. It is scratch-resistant and you can use it for your home decor, like lamps or decorative plants.
Highlighted Points:
file cabinet with classic cherry design
the top drawer is equipped with a lock
two large drawers for file accommodate
spacious top surface provides more space
safety catch allows you to open just one drawer at a time
Best Lateral Wood Credenza File Cabinet
Bush Lateral Credenza Cabinet
Four Elegant Colors
The Bush is a very popular company that produces various file cabinets. So you can find this wood credenza file cabinet for an affordable price. Choose between for colors, espresso oak, harvest cherry, heather grey and white wood lateral file cabinet.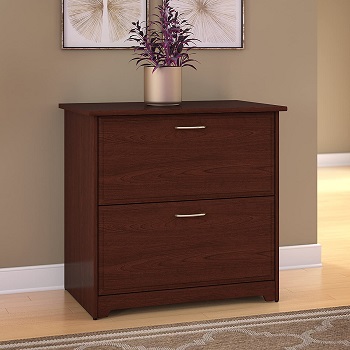 Quality Wood
The dimensions of this wood lateral file credenza are 31.37 x 19.68 x 30.15 inches and it weighs 85 pounds. The manufacturer uses quality engineered wood designed for durability. It is resistant to warping and cracking. This is a lateral file cabinet that is equipped with two spacious drawers.
Drawer's Capacity
The file drawers are able to hold letter, legal and A4 documents. Each drawer has a capacity of 60 pounds. You can easily open the drawers because they feature smooth full-extension ball-bearing slides. The surface of the cabinet is scratch resistant and can hold up to 200 pounds.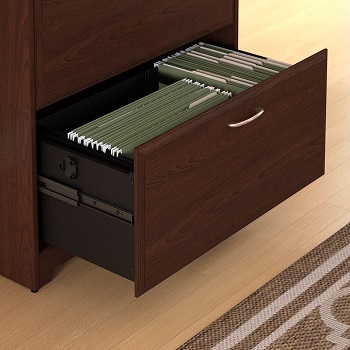 Safety Standards
If you need more space in your home and office, you can buy a Cabot desk and expand your workspace. The file cabinet and desk come at the same height. All Bush products meet ANSI and SOHO standards, which prove safety and performance.
Highlighted Points:
the lateral wood file cabinet
the max weight capacity is above 200 pounds
two roomy drawers for letter and legal-size files
each drawer features full extension slides
meets many safety standards
Best Office Wood Credenza File Cabinet
Attwell Credenza File Cabinet
Espresso Color
The Attwell Credenza file cabinet looks a little bit different than other file cabinets on this list. This model comes in one color – the so-called espresso color. It is great for offices as well as homes. It measures 51.25 inches in width, 15.5 inches in depth and 24.75 inches in height.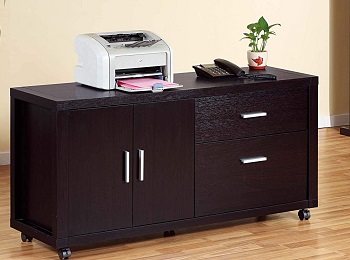 Medium-density Fiberboard
This wood credenza file cabinet comes in a flat package and assembly is required. But don't worry, there is an instruction that will help you with this task. This item is made of MDF, which stands for medium-density fiberboard, engineered wood.
Simple Maintenance
It is finished in a wood-veneer. You can assemble it easily and maintain it easily. Use the wet or dry cleaning cloth and wipe the dust and grime. This wood file cabinet weighs 90 pounds, but there are few wheels, so you can move it easily. Lock the wheels and provide a stable position.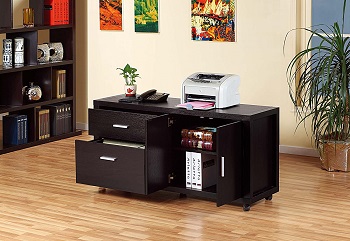 Spacious Cabinet
The Attwell file cabinet has ample space for all you need to store and organize. There are two drawers intended for legal and letter-size documents. They feature metal gliding rails. Next to drawers, there are two large cabinet doors, they have a removable and adjustable shelf.
Highlighted Points:
espresso-colored office file cabinet
the package includes instruction for assemble
two drawers for legal/letter-sized files
cabinet with adjustable shelf provides more space
portable file cabinet on wheels
Best 2-drawer Wood Credenza File Cabinet
Devaise Credenza File Cabinet
Contemporary Cabinet
The Devaise is a wood credenza file cabinet for the home office. It is available in black color, walnut and grey oak. The product size is 29.37 inches in height, 35.43 inches in width and 15.75 inches in depth. This item weighs 76 pounds, it is heavy.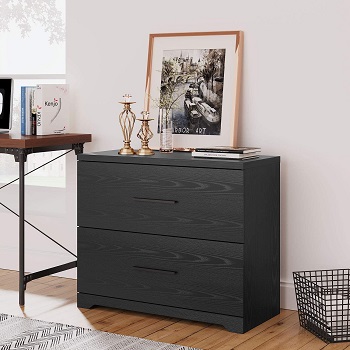 Stable Construction
It features stable construction and its structure is reinforced. The Devaise file cabinet is made of engineered wood, the item is water-resistant, scratch-proof and easy to maintenance. The instruction is included in the package because the assembling is necessary.
200-pound Capacity
This file cabinet can handle over 200 pounds. There are two drawers with large handles they have a full-extension, so you can have good access to all your files. Use the drawers as a lateral file cabinet or storage cabinet, that depends on your needs.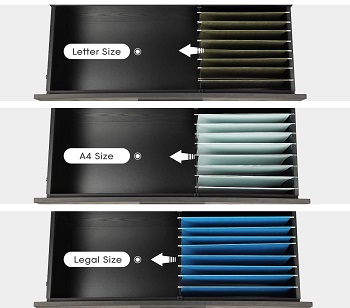 Anti-tilt System
The Devaise features an anti-tilt interlock system. That means, only one drawer at a time can be opened, if you overload the drawers, the file cabinet won't tip over. The drawers have metal handles. Unfortunately, the drawers can't be locked up.
Highlighted Points:
choose between walnut, grey oak and black color
reinforced construction made of engineered wood
two drawers with full extension ball bearing slides
it accommodates letter and legal sized documents
anti-tilt interlock system prevents tipping
Best Large Wood Credenza File Cabinet
Sauder File Cabinet
Eco-friendly Company
The Sauder Palladia file cabinet really looks like an old credenza. Find this model in two finishes, vintage oak or cherry finish. It looks massive and heavy. There are 118 pounds. The Sauder is an American company that supports sustainability and responsible processes.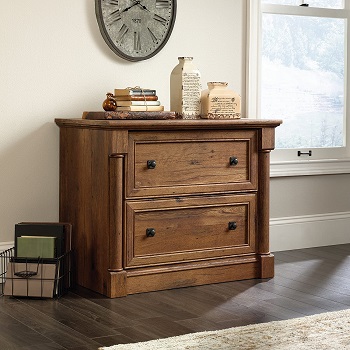 Four Handles
This wood credenza file cabinet has 29.3 inches in height, 36.7 inches in width and 22 inches in depth. This item is safe for your children and pets, it doesn't contain fabrics. There are two capacious drawers and each drawer has two round-shaped handles.
Patented Safety System
The drawers feature full extension slides, so you can easily pull them and check your files. You can load them with a letter, legal or European hanging files. The Sauder file cabinet uses a patented interlocking safety mechanism, which means, you can open only one drawer at a time.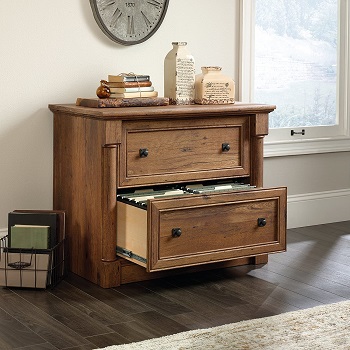 T-slot System
You need to assemble this file cabinet, but don't worry, there are instructions and a patented T-slot drawer system. On the tabletop surface, you can place your favorite things, like books, lamps, decorative plants or other home decors. There are many positive reviews about this product.
Highlighted Points:
traditional file cabinet made of recycled materials
solid wood construction with two capacious drawers
patented interlocking mechanism
this item doesn't use fabrics
two finishes – cherry and oak
Best Home Wood Credenza File Cabinet
Bowery Credenza File Cabinet
Antique Style
The Bowery wood credenza file cabinet features 32 inches in width, 20.7 inches in depth and 30.7 inches in height. This filing cabinet comes in antique black with a cherry finish and antique-style hardware. There are more beautiful details, as you can see in the image below.
Different Drawers
There are two drawers, but they don't have the same dimensions. The upper drawer measures 11.2 inches in height, 26.2 inches in width and 15.8 inches in depth. The lower drawer has 10.5 inches in height, 26.2 inches in width and 15.8 inches in depth.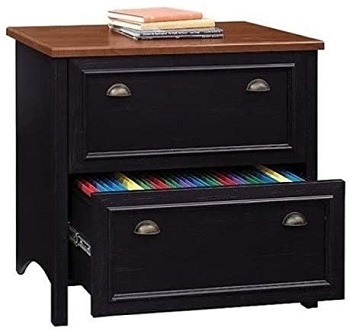 Easy-to-Maintain
The drawers are equipped with full extension slides for smooth access. They accommodate legal and letter-size files.  If you want to extend your work surface, you can buy a desk and position these two items side by side. Clean it easily with a soft cloth or paper towel.
No Tipping
The Bowery has an integrated interlocking drawer mechanism that prevents tipping. This file cabinet has a laminated finish that is resistant to scratches and stains. This wood file cabinet weighs 103 pounds, it is a heavy product.
Highlighted Points:
lateral wood file cabinet
two different sized drawers with small handles
the drawers have full extension
scratch resistant surface, easy to clean
interlocking drawer mechanism
Things To Know About Wood Credenza File Cabinet
The wood credenza file cabinets have an interesting vintage design. Besides the design, you need to consider other factors like weight capacity, home or office use, number of drawers, portability and more.
Design – These items have a specific design. They have vintage look and detailed parts, like handles in different shapes. They could be massive and heavy, but modern credenza doesn't have to be so heavy. They fit great in your home, libraries or schools. Usually, you can find them in a natural, black or white lacquer file cabinet.
Weight Capacity – Do you have a lot of files to store? Then check out the credenza file cabinet capacity. Some of the models on the market can handle really high capacity. For example, you can find a credenza file cabinet with 300 pounds capacity.
Number Of Drawers – The credenza file cabinets usually have two drawers. They could be very deep, so you can place all your stuff there. Some of these products have shelves, that are adjustable or even removable, depends on your requirements.
Maintenance – It is easy to maintain this furniture. You don't have to wash them with soap or detergent. In fact, if you use some detergent, you can damage the finish or color of the credenza. Use the wet, damp or dry cloth and wipe the surface and inner space. That is enough.
Safety Mechanism – For those who store their personal or sensitive file folders into the credenza, should consider some safety mechanism. This kind of product often has a lock and key. So you can lock the drawers and keep your files safe.