Are you looking for a nice and modern task lamp that makes your reading, working or studying more enjoyable?
Then you need to read this article! We've reviewed six white task lamps suitable for office, home office, small and large desks. Check the lamps images and lamps' specifications to find the best model that suits your needs.
Our Top Picks
Best 6 White Task Lamps
BEST OF BEST WHITE TASK LAMP
OttLite Rechargeable LED Lamp
Multifunctional Lamp
Ottlite is a powerful and multifunctional lamp with many quality features. Except for the white color, it is available in black. It features a space-saving design, so you can place this lamp wherever you need – on the workbench, table, end table, office desk, etc.
Rechargeable Battery
This white task lamp has a built-in rechargeable lithium-ion battery that will last for hours between charges. Charge it with an included USB cord. Its gooseneck is flexible, you can rotate it up and down, left and right according to your current needs.
Brightness Levels
Ottlite features three brightness levels, adjust low brightness when relaxing, medium brightness when reading and the highest brightness while studying. This white desk lamp with a USB port is designed with patented ClearSun LED technology.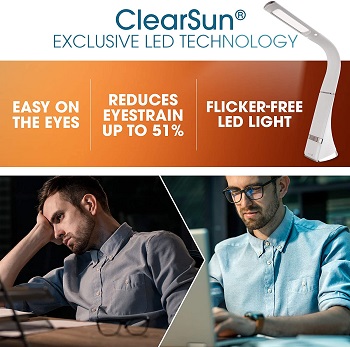 Accurate Colors
It reduces eye strain and boosts your productivity. Ottlite emits soft and natural light that is gentle on the eyes. Its color rendering index is 97. This index measures how well a light shows color accuracy. The higher the score the more accurate the color rendering.
Highlighted Points:
compact and space-saving desk lamp
built-in rechargeable battery
comes with a USB cable
patented ClearSun technology
soft and natural lighting
high color rendering index
BEST FLOOR WHITE TASK LAMP
Brightech Floor Task Lamp
Floor Lamp
This is the only floor lamp on this list. Brightech Litespan floor lamp is available in a few colors – brown, black, white, silver and wood color. This product comes with a full 3-year warranty. Contact customer service if there is any defect within those years.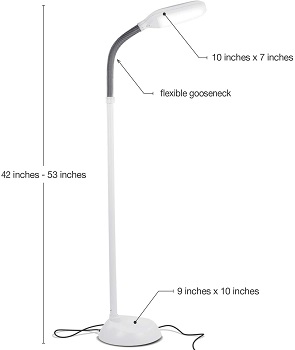 Sturdy Base
Brightech white task lamp requires assembly, you'll get instruction, but it's pretty simple. This floor reading light is 42 inches tall, the lamp base measures 9 x 10 inches and the lamp head is 10 inches long. The weighted, sturdy base will prevent it from falling.
Smart Technology
It weighs just over 10 pounds. Just tap the power button when you want to turn on/off the lamp, it is located just above the gooseneck. If you want to dim the lamp, hold down on the power button. The smart technology will remember your previously used setting.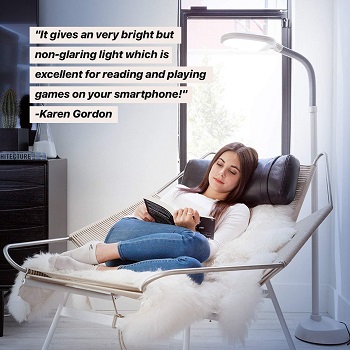 Plugin-operated Lamp
Brightech is plugin-operated and requires 110V – 220V outlets. Use this lamp for precise tasks, it will allow you to see the small details if you set the highest color temperature of 6000K. But also, you can set the cozy ambient lighting and create a comfortable atmosphere.
Highlighted Points:
requires simple assembly
sturdy and stable lamp base
covered with a 3-year warranty
available in multiple colors
smart technology
BEST FOR READING WHITE TASK LAMP
Litom LED Desk Lamp
Flexible Lamp
Litom lamp is an affordable item, suitable for working, crafts, reading, homework and relaxing. It features a foldable design, so when not in use, you can fold it and store it. There is a 180-degree flexible arm and a 90-degree base axis for different lamp positions.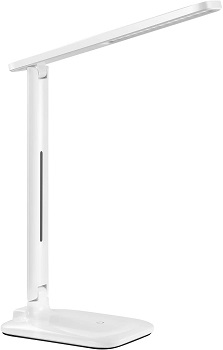 Flicker-free Light
This LED reading lamp features 42 LEDs including 14 cold white LEDs and 28 warm white LEDs. it delivers uniform, soft and flicker-free light, gentle for your eyes. It protects your eyes while reading, crafting, studying, working.
Touch Switch
Litom white task lamp is designed to last for more than 50,000 hours. There is a touch switch on the lamp base. Long press to switch between three color modes and click to switch between three brightness levels. There are warm white, white and natural modes.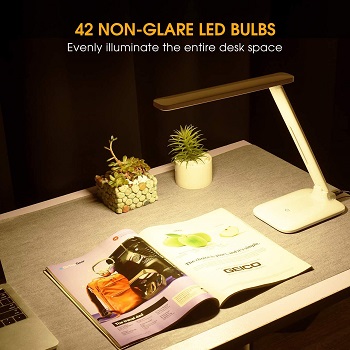 Color Rendering Index
The memory function will remember your last used color mode, so you don't have to set it again. Litom has a high color rendering index, this index presents the degree to which the true color of the object is restored. Its color rendering index is 95.
Highlighted Points:
affordable lamp for reading and working
features 42 LEDs
soft and flicker-free light
high color rendering index
three color modes and three brightness levels
BEST WIRELESS WHITE TASK LAMP
HDTime Adjustable Desk Lamp
Modern Design
HDTime lamp fits modern and contemporary designed offices, living rooms and dorms. This lamp is 16.2 inches high, the lamp base diameter is 7 inches and the lamp head is 9.8 inches long. Place it on your workbench, table, end table, nightstand.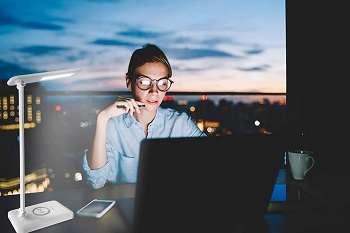 28 LED Beads
This white task lamp uses eye-caring LED light that provides non-flicker and non-glare soft lighting. You can read, work or craft for hours without eye fatigue. HDTime is rated for up to 20,000 hours. There are 28 high-quality LED  lamp beads.
Foldable Lamp
The LED lamp with a wireless charger has a foldable head and foldable arm, so you can adjust the lamp and direct the light exactly where needed. On the lamp base is a wireless charging station, just place your smartphone there and charge it.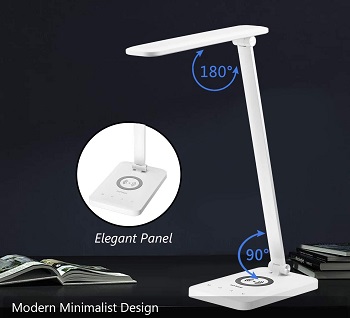 Wireless Charging Station
Moreover, there is a USB charging port for devices that aren't compatible with wireless charging. It is important to note that you can't use both inputs, for example, when wireless charging, USB won't work. Choose between 3 color modes and five brightness levels.
Highlighted Points:
modern desk lamp
eye-caring 28 LED beads
foldable lamp head and arm
wireless charging station
convenient USB port
multiple color modes
BEST CLAMP WHITE TASK LAMP
Hokone LED Desk Lamp With Clamp
Strong Clip
Hokone is a practical space-saving lamp with a clamp. This lamp is suitable for larger desks and workbenches, it's able to cover your entire desk area. Choose between white and black color. Its strong clip comes with silicone pads that protect the desk from scratches.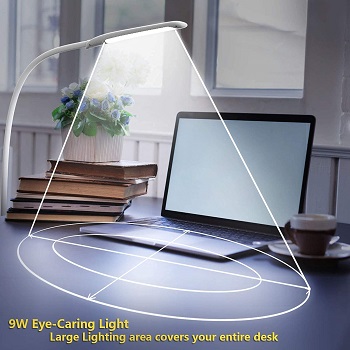 Flexible Gooseneck
The maximal clamping distance is 3.1 inches. This white task lamp has an adjustable gooseneck, it is easy to position it in perfect lighting direction. Its strong clip will hold the gooseneck securely in a place. Hokone features 90 high-efficient LEDs that provide the soft light.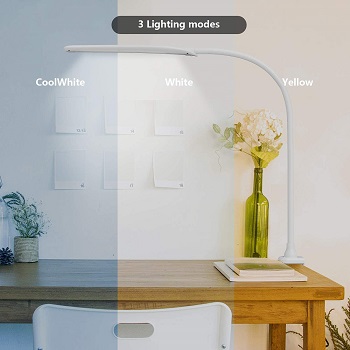 Three Lighting Modes
The light without flicker, glare and ghost ensures maximum protection for your eyes. This adjustable desk lamp has three lighting modes – working mode (5000K), reading mode (4000K), relaxing mode (3000K). There is a touch button on the lamp head.
Highlighted Points:
practical desk lamp with clamp
two colors available
suitable for larger desks
flexible gooseneck
three lighting modes
BEST MODERN WHITE TASK LAMP
Lapeort Eye-caring Task Lamp
Space-saving Lamp
Lapeort is a modern space-saving lamp available in two colors – black and white. The pole is 13.6 inches high, the lamp base measures 7 x 4.1 inches and the lamp head is 12 inches long. This lamp is suitable for working, studying, relaxing and reading.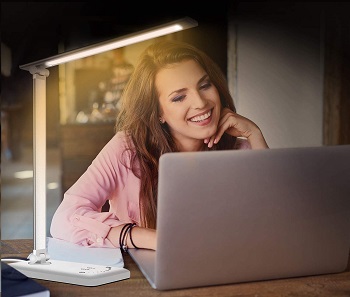 Portable Lamp
The lamp body is made of aluminum and the lamp base is made of quality ABS material. Lapeort is covered with a 12-month warranty. This white task lamp has a foldable design which doesn't take space. It is portable to use anywhere in your office or home.
USB Port
Lapeort lamp comes with a power adapter, USB cable and user manual. The lamp arm is adjustable and the base is rotatable. This modern LED desk lamp features a USB charging port, so you can charge your mobile phone, tablet, e-reader.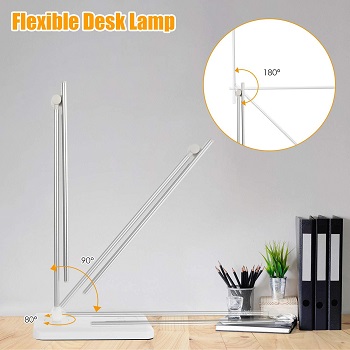 Timer Function
Lapeort desk lamp features five lighting modes, adjust the color temperature from 3000K to 6500K. Choose different lighting for reading, relaxing and working. Non-flickering LED will protect your eye from eye fatigue. Moreover, there is a 0.5-hour and 1-hour timer function.
Highlighted Points:
made of aluminum and ABS
space-saving foldable design
suitable for working, reading, relaxing
five lighting modes
convenient USB port
timer function
Things To Know About White Task Lamp
The white desk lamps come in a variety of shapes and sizes. So in this guide, you will learn how to pick the best model for your needs depending on the lamp size, color temperature, design, USB ports and more. Read also about the additional features you should consider.
Lamp Size – The lamp size depends on desk size. There is no general rule, but the ideal lamp should be proportionate to your desk or workbench. If you have a large workbench, choose a higher lamp with powerful lighting that is able to cover the entire desk.
Color Temperature – If you buy a white LED desk lamp that provides a variety of color temperatures, then you can set the different modes for different occasions. For example, for working and studying, choose the highest color temperature (5000K). For relaxing, 3000K is enough.
Adjustable Design – There are many advantages of a flexible lamp. They come with flexible gooseneck or adjustable arms. You can adjust the lamp and direct the light exactly where need. That's great if you do some precise tasks.
USB Port – White task lamp with USB port is very practical, you can charge and keep your mobile phone, tablet or e-reader within reach. We recommend you buy a lamp with a 5V/2.1A USB port, it will charge your electronic devices faster than other USB ports.
Additional Features – Modern lamps come with many additional features. So you can find lamps with a wireless charging station. Before buying, check if your mobile phone is compatible with it. Put the phone on the wireless charging pad and the phone will be charged automatically.