Do you want to buy an attractive unicorn desk lamp for your children or for you to place it in your office or workroom?
If you do, then keep reading!
Here is the list of the most attractive, beautiful and quality desk lamps with unicorn motif. Check the reviews, read product descriptions, check the images and pick the best lamp to elevate your home decor. In the end, you'll find some useful guidelines.
Our Top Picks
Best 6 Unicorn Desk Lamps
BEST OF BEST UNICORN DESK LAMP
White Rearing Unicorn Table Lamp
UL-listed Item
White Rearing desk lamp features an eye-catching design, ideal for any living room, home office, or bedroom. The package includes two lamps. Each lamp measures 12.7" x 19.2". This is a UL-approved lamp, meaning it meets safety and quality standards.
Hand-painted Lamp
This unicorn table lamp accepts type A bulbs of up to 40W. The bulb isn't included in the package. White Rearing requires an incandescent light bulb. Constructed from resin, the lamp is hand-painted so each model has a unique appearance.
Elegant Unicorn
When you want to turn the lamp on/off, push the rocker switch, it is located on the long power cord. On the lamp base, there is a white unicorn with a long, flowing mane and tail, silver-colored hooves and horns. Behind it, there is an old, black tree.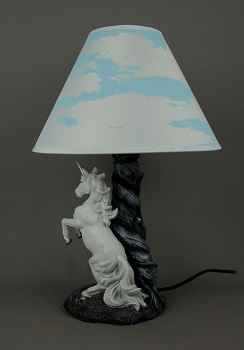 White Cloud Shade
The aesthetic desk lamp has a blue and white cloudy sky print on the lampshade to complete the look. The White Rearing desk lamp will brighten the room not only with delivered light but its stunning design. This fantastic lamp complements almost any home decor.
Highlighted Points:
eye-catching design
package includes two lamps
UL-approved lamp
accepts type A bulbs of up to 40W
requires an incandescent light bulb
hand-painted lamp
rocker switch on the cord
BEST FOR GIRLS UNICORN DESK LAMP
Nice Dream 3D Desk Lamp
3D Lamp
If you looking for a unique and stunning unicorn desk lamp, consider this model. Nice Dream made this desk lamp which base measures 3.3", the overall height is 7.1" and the width is 6.02". This 3D lamp will impress your children with its stunning design.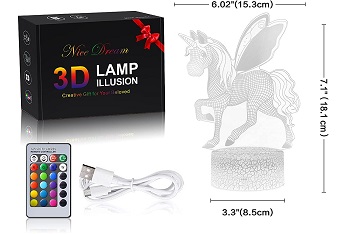 Two Ways Of Power
The package includes a lamp, remote control, user manual and micro USB cable. There are two ways of power supply, choose between three AA batteries and USB connection. If you want to use batteries, then you need to buy them additionally.
LED Light
This girl's desk lamp is made from ABS and acrylic materials, which are safe for children. It uses LED light that ensures energy-saving and has a long lifespan of 100,000 hours. Delivered light is soft and won't harm your children's eyes.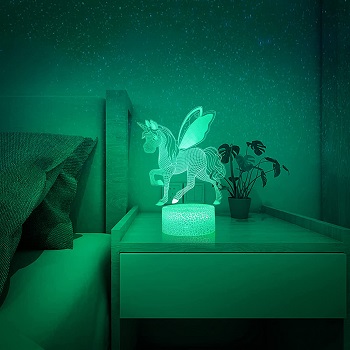 Remote Control
It is a dimmable lamp with 16 color options. You can touch the button on the lamp base or use the remote control to change the color. Choose between various brightness levels and flash, strobe, fade and smooth settings. Also, you can choose a suitable night mode that makes kids feel safe.
Highlighted Points:
unique and stunning lamp
micro USB cable included
use batteries or USB connection
energy-efficient LED light
soft and warm light
remote control included
choose between 16 colors
BEST FOR KIDS UNICORN DESK LAMP
Rainbow Unicorn Table Lamp
Quality Lamp
Daughter List store made this Rainbow unicorn lamp. This lamp is 16.5" high, the base measures 5.5" in diameter and the shade is 7" wide. It fits on any table, end table, children table and shelf. Your purchase is protected by a 2-year warranty.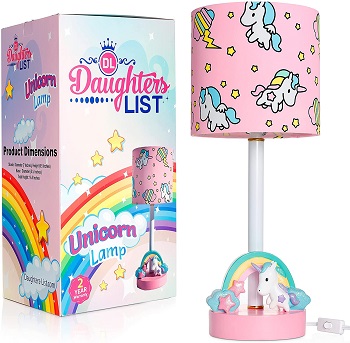 UL-listed Lamp
This LED lamp for kids is a UL-listed desk lamp, meaning, it meets safety national standards, so you don't have to worry about it. All electrical components are tested and approved. This three-dimensional lamp looks good from any angle. It arrives in a gift box.
Hand-painted Shade
The Rainbow desk lamp is hand-painted, so there are few imperfections possible. That means each model is unique and authentic. The lampshade is made from high-purity cotton, so it's easy to clean with a damp cloth. On the pink lampshade, there are cute unicorns, stars and clouds.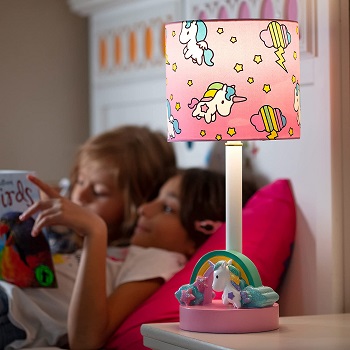 Warm Light
The LED light bulb is included in the package. It provides soft and warm light, ideal for playing, drawing and reading. The delivered color temperature is 2700K, which creates a comfortable atmosphere. The toggle switch is located on the power cord.
Highlighted Points:
backed by a 2-year warranty
UL-listed desk lamp
three-dimensional lamp
hand-painted lamp
high-purity cotton shade
LED light bulb is included
BEST BEDSIDE UNICORN DESK LAMP
Litfad Bedside Table Lamp
Children Room
Litfad is a modern and beautiful table lamp suitable for kids and children who loves unicorns and horses. The lamp dimensions are 5.5" x 14" x 6.5". You can use it in the kids' room, kindergarten, bedroom. The bulb isn't included in the package, so you need to buy it separately.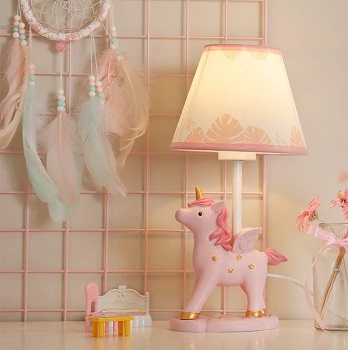 2-year Warranty
It is compatible with LED, incandescent and fluorescent light bulbs. If you looking for an energy-efficient bulb, buy an LED, it will last for many years. The lamp is made from resin, metal and fabric. The manufacturer provides a warranty for two years.
Leaf Motif
This is a four-legged supported lamp that provides stability, it isn't easy to kick it over. Beautiful empire-shade fabric shade has leaf motif and comes in nice beige color. The lampshade softens the light and creates a cozy and comfortable atmosphere.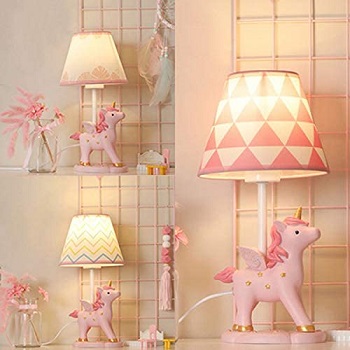 Small Unicorn
The small desk lamp with shade has a unicorn that stands on the lamp base. It looks very attractive for children. Great as a decorative element in the children's room. Also, this unicorn desk lamp is good for reading, just buy a bright light bulb.
Highlighted Points:
the bulb isn't included in the package
compatible with LED, incandescent and fluorescent bulbs
made from resin, metal and fabric
two-year warranty
empire-shade fabric shade
creates a cozy atmosphere
BEST WITH USB UNICORN DESK LAMP
Inno Casa Unicor Desk Lamp
LED Bulb Included
Inno Casa is a small and cute table lamp suitable for children's rooms. The overall lamp height is 15 inches, the lamp base measures 4.7" x 1.5" and the shade has 1.7" x 1.7". When the lamp arrives at your address you need to install the light bulb. The LED light bulb is included in the package.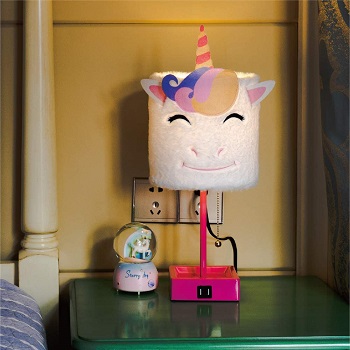 1-year Warranty
There is quick guidance – Unscrew the fixing ring on the lamp holder, fix the lampshade on the lamp base, tighten the fixing ring and at the end, install the bulb. The manufacturer offers a 1-year warranty for this unicorn desk lamp. It is made of durable materials.
Charging Ports
Inno Casa is equipped with two USB charging ports (5V/2.1A), so you can charge our devices quickly. Charge your mobile phone and keep it in arm's reach. Also, there is one AC power outlet that you can use for appliances less than 500W.
Pull Chain Switch
This USB LED desk lamp provides soft and comfortable light, gentle to kids' eyes. It is easy to turn on/off the lamp, simply pull the convenient pull chain. The base of the table lamp is specially designed to store some small items here, such as bracelets, pens, etc.
Highlighted Points:
small and cute table lamp
LED light bulb is included
backed by a 1-year warranty
equipped with two USB charging ports
one AC power outlet
soft and comfortable light
BEST ON TOUCH UNICORN DESK LAMP
Pamano Unicorn Night Light
Silicone Material
Pamano is a compact table lamp that measures 4.5 inches in width and 6.3 inches in height. The lamp is made from safe and quality material, it's a silicone lamp. It's safe for children and kids. The unicorn lamp is available in nine colors, choose between pink, yellow, blue, white, green and other colors.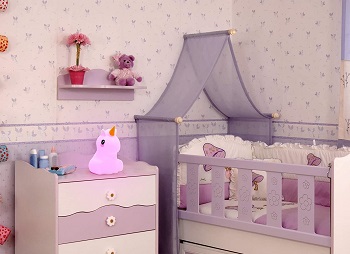 Battery Operated Lamp
This is a stylish and unique table lamp so perfect as a birthday gift, Christmas gift and nursery light. This is battery operated table lamp that can be powered with a micro USB cable. When fully charged it runs for 15 hours. Also, it will automatically turn off after 5 hours, for your safety.
Soft Light
Pamano has a built-in 1200 lithium rechargeable battery. If you want to turn the lamp on, simply tap it and choose between multiple colors. This cordless LED table lamp uses an energy-efficient LED that gives off non-flicker and non-dazzling soft light.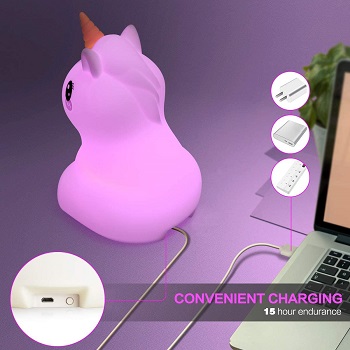 Remote Control
Control the lamp in two ways, by tapping it or with remote control. You can easily switch between various colors. Also, there is the Sleep Timer function.  There are no sharp parts, the lamp is made of high-quality non-toxic soft and washable silicone. It can be used as a toy.
Highlighted Points:
made from non-toxic soft and washable silicone
available in nine colors
powered by a micro USB cable
built-in 1200 lithium rechargeable battery
energy-efficient LED
Sleep Timer function
remote control
Things To Know About Unicorn Desk Lamp
These unicorn desk lamps usually have a decorative purpose, but before buying, you should learn a few things about their characteristics. That includes the light bulb, material, price and other things.
Unicorn Myth – Unicorn is a legendary creature that is majestic, noble and full of mythical beauty. These imaginary animals have appeared in legends all around the world. Usually, this is the white horse with a single horn and it's impossible to catch.
Lamp Purpose – All of the reviewed desk lamps aren't designed for precise tasks, such as working, studying, etc. Some of them are good for casual reading. These decorative desk lamps can be placed in bedroom nightstands, children's rooms, living rooms or even home offices.
Lamp Material – If you want to equip your children's room with a nice and attractive lamp, the most important thing is its construction. Check if there are sharp parts that can harm our children. Also, check the material the lamp is made from. For toddlers, we recommend silicone material, it is safe and non-toxic.
LED Light Bulb – Whether you are buying a lamp for you or your children, the LED light bulbs are the best choice, so check if your desired lamp is compatible with it. LED produces low heat, so it won't cause burns. Plus, it is energy-efficient and lasts much longer than other bulbs.
Lamp Price – The lamp price depends on many factors. That includes a brand name, warranty, quality of the material, delivery and more. There are many affordable unicorn desk lamps in the market, so check them and read the reviews before ordering.