Transformational leaders such as Steve Jobs, Elon Musk, and Jeff Bezos are well-known to the world.
So, what is transformational leadership, and which transformational leadership statistics exist out there?
This type of leadership aims to transform individuals and social systems, with a positive and valuable change in its followers.
To find out how effective transformational leadership is, we should look at the corresponding statistics.
Let's dive in!
Key Transformational Leadership Statistics (Editor's Pick)
Teams show a 78.1% performance increase under this leadership type.
53% say their skills have improved under transformational leadership.
5 Transformational Leadership Statistics
1. Teams under leaders with a transformational leadership style show an increase in performance by 78.1%.
A study that researched 305 IT professionals in Pune, including team members and team leaders, found out how transformational leadership influences performance. Namely, team members showed an increase in performance of 78.1% when their leaders exhibit a transformational leadership style.
Source: Vilakshan – XIMB Journal of Management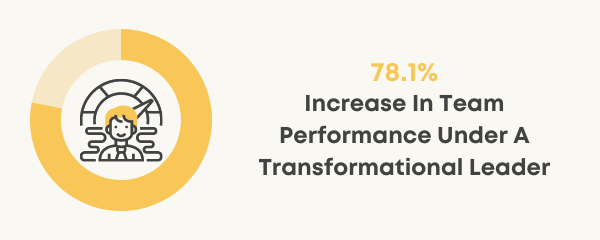 2. Three in four employees agree that transformational leaders are effective in supporting their needs of work-life balance.
According to research, around 76% of employees report that their leaders were supportive of their needs for a work-life balance. Therefore, leaders allowed employees to balance work and family issues in their organizations. On the other hand, 10.88% of employees disagreed or strongly disagreed with that.
Source: University of Central Florida
3. Nearly 60% of employees say their team leaders/supervisors provide them with opportunities.
When asked whether team leaders give them opportunities to showcase their leadership skills, 58% of employees said yes.
Source: University of Central Florida
4. More than half of employees agree their skills have improved over a year under transformational leadership.
Research from 2010 tells us that 53% of employees believe their skills improved over a year while following a transformational leader. On the other hand, 22% disagreed or strongly disagreed with that.
Source: University of Central Florida
5. Transformational leadership behavior enhances job satisfaction.
According to job satisfaction statistics from Malaysia, nurses and medical assistants report job satisfaction under transformational leadership. The study included two hospitals in Malaysia with observations on nurses and medical assistants supervised by transformational leaders. One of the hospitals was a private one, while the other was a public one.
Final Verdict
To conclude, transformational leadership statistics show that this style of leadership has a positive impact on employees. Although there is not much statistics data available for this, this type of leadership is well-known. Therefore, there is a lot of space for future research to show us how transformational leadership can influence business. Moreover, servant leadership statistics tell us about the state of that leadership style. Finally, leadership statistics are a good way for companies to find out how to stay in the know.