Are you looking for a space-saving, yet spacious filing cabinet to get yourself organized?
Then you should look for tall filing cabinets!
In this article, we have created the list to help your decision in choosing the best filing cabinet that will work at the maximum efficiency you need it to. Below the list is our buying guide that contains all information you need to know before buying.
Our Top Picks
Best 10 Tall Filing Cabinets
BEST OF BEST TALL FILING CABINET
Lorell Commercial Vertical File Cabinet
Industrial Standards
Lorell is a top-grade filing cabinet designed for professional and industrial use. It weighs 105 pounds and measures 64 inches in height, 26 inches in depth and 18 inches in width. A lifetime warranty is provided by the manufacturer. Lorell is tested and meets many industrial standards.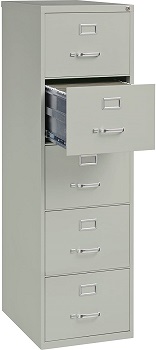 Legal-size Files
Construction is made of heavy-gauge steel with recycled materials. This 5-drawer vertical file cabinet has a core-removable lock that secures all drawers at the same time. These drawers are designed for legal size file folders. Full slide suspension provide maximum drawer extension. Adjustable wire followers are included in the package.
Highlighted Points:
designed for industrial use
lifetime warranty
meets safety standards
heavy-gauge steel construction
lockable five drawers
included adjustable wire followers
BEST 2-DRAWER VERTICAL FILING CABINET
Hirsh Industries File Cabinet
Commercial-grade Item
This commercial-grade filing cabinet is designed for heavy-duty tasks. Hirsh Industries weighs 42 pounds and measures 28" in height, 25" in depth and 18" in width. It features steel construction with a baked enamel finish. Handles are label holders are made of aluminum.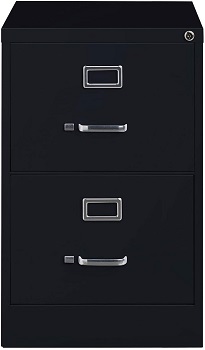 Built-in Lock
It is tested and meets ANSI/BIFMA industry standards for quality and safety. This 2-drawer vertical file cabinet doesn't require assembly. The built-in lock allows you to protect your files from damage and thief. Hirsh comes with full metal follower blocks to keep your files organized.
Highlighted Points:
commercial-grade filing cabinet
meets safety and quality standards
steel construction with baked enamel finish
built-in lock secures both drawers
included metal follower blocks
limited lifetime warranty
BEST 3-DRAWER VERTICAL FILING CABINET
Office Dimensions 18" File Cabinet
Space-saving Item
Office Dimensions is a functional, space-saving file cabinet ideal for small offices. It is affordable and arrives fully assembled. This 3-drawer vertical file cabinet measures 27.3" H x 14.3" w x 18" D and weighs 24 pounds. fits under standard office and home office desks. Its construction is made of durable steel.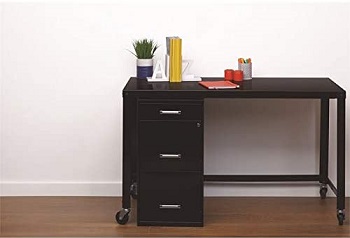 Low Maintenance
It features a non-porous surface that requires minimal maintenance. Clean this file cabinet with a damp or dry cloth. There are three drawers, a small box drawer and two file drawers. Load the box drawer with writing accessories and notepads. Both file drawers are suitable for letter-size hanging file folders.
Highlighted Points:
functional space-saving file cabinet
arrives fully assembled
low maintenance
three drawers – box drawer and 2 file drawers
accommodate letter-size files
steel construction
BEST 30-INCH TALL FILING CABINET
Sandusky Lee Dove Grey File Cabinet
No Assembly
Sandusky Lee is a filing cabinet that comes from the Series 800 collection. Available in putty and dove grey color. Assembly isn't required, it arrives ready for use. The dimensions are 53 inches in height, 19.2 inches in depth and 30 inches in width. It is a great storage solution for medium-sized offices.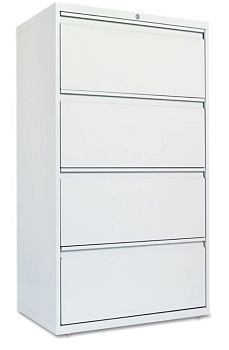 Hanging Files
This upright 30-inch file cabinet has adjustable leg levelers that keep the file cabinet leveled wherever you place it. Its steel construction is reinforced with double-walled fronts for extra stability. These four deep drawers accommodate letter and legal size file folders using side to side hanging rails.
Highlighted Points:
many colors available
reinforced steel construction
four deep drawers
store letter/legal-size files
hanging rails included
equipped with leg levelers
BEST 4-DRAWER TALL FILING CABINET
Hon 4-drawer Filing Cabinet
Steel Cosntruction
This putty file cabinet is also available in black and white colors, so pick the model that suits your office environment. Hon is a high-quality 4-drawer vertical file cabinet that comes with a limited lifetime warranty. Sturdy steel construction is upgraded with vertical reinforcement that keeps the item durable.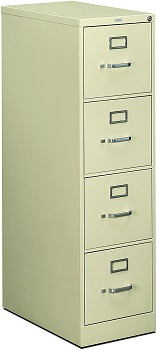 Letter-size Files
Hon measures 52"H x 15" W x 25" D and weighs 97 pounds. There are four deep drawers that provide ample storage space for your documents and files. This file cabinet is tested and meets many safety standards. A built-in lock secures all drawers at the same time. Store your hanging letter-size file folders.
Highlighted Points:
available in putty, black and white colors
limited lifetime warranty
sturdy and reinforced construction
four spacious drawers
meets many safety and quality standards
built-in lock secures all drawers
BEST 5-DRAWER VERTICAL FILING CABINET
Hon 5-drawer Filing Cabinet
Advanced Technology
The Hon manufacturer uses advanced machinery, quality and tested materials to make this 5-drawer vertical file cabinet. A full lifetime warranty is also supported by the manufacturer. It meets safety and quality ANSI/BIFMA standards. The product dimensions are 15"W x 26"D x 60"H.

Reinforced Construction
Solid steel construction features vertical reinforcements with a double-walled front kickplate. Hon arrives fully assembled. The core-removable lock allows you to store sensitive and confidential documents into the file cabinet. Each drawer is equipped with a drawer holder for easy file identification.
Highlighted Points:
made of solid steel material
vertical reinforcements with double-walled plate
core-removable lock
five spacious drawers
meets safety and quality standards
label holders for better file organization
BEST WHITE TALL FILING CABINET
Devaise 2-drawer Mobile File Cabinet
Metal Construction
Devaise is a compact filing cabinet that fits under any standard office desk, it doesn't require much space. The item dimensions are 14.6" W x 17.1" D x 26.6" H. It features metal construction with an electrostatic spraying finish. The surface is rust-resistant and easy to maintain. This vertical white file cabinet holds up to 200 pounds.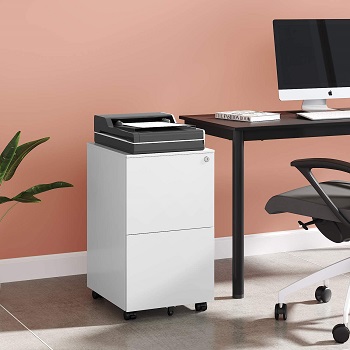 Full-extension Drawers
It is equipped with two roomy drawers that glide on full-extension slides. That provides smooth operation. both drawers accommodate letter-size and legal-size documents. A built-in lock system secures both drawers at the same time. Devaise is equipped with casters for easy mobility.
Highlighted Points:
sturdy metal construction
white spraying finish
rust-resistant surface
two drawers designed for documents and office supplies
max load capacity – 200 pounds
built-in lock system
BEST WOOD TALL FILING CABINET
Tangkula Wooden Filing Cabinet
MDF Cosntruction
Tangkula is a white upright file cabinet that doesn't require much space. It measures 32" in height, 11.5" in depth and 11" in width. Constructed of medium-density fiberboard (MDF) that makes it durable and sturdy. The surface is scratch-resistant and easy to clean with a damp cloth.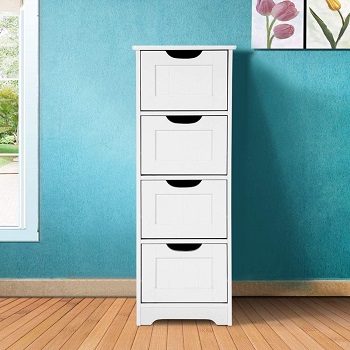 Plenty Of Space
This tall wood file cabinet contains four drawers that provide plenty of storage space. You can store notebooks, books, writing accessories, office supplies, documents and more. Open and close drawers easily, they have elegant arch drawer month. Tangkula has an affordable price.
Highlighted Points:
made of medium-density fiberboard
four drawers
upright file cabinet design
store notebooks, notepads, office supplies
scratch resistant surface
affordable price
BEST BLACK VERTICAL FILING CABINET
Bowery Hill 3-drawer File Cabinet
Steel Construction
Bowery Hill is a compact black file cabinet designed for home office or small office use. It weighs 62 pounds and measures 27.7"H x 19.8" D x 15" W. The limited lifetime warranty is provided by the manufacturer. Its steel construction will withstand many years of use. The surface is non-porous and resistant to water and scratches.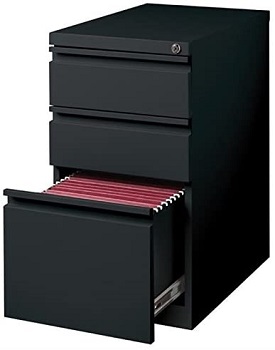 Smooth Drawer Performance
This black 3-drawer file cabinet is equipped with hidden swivel casters, so you can move it easily. Two small drawers hold office supplies such as notepads, notebooks, pens, writing tools, etc. All three drawers of this upright file cabinet glide on precision ball-bearing slides.
Highlighted Points:
compact file cabinet
ideal for personal use
backed by a limited lifetime warranty
non-porous surface
hidden swivel casters
three spacious drawers
BEST METAL TALL FILING CABINET
Bisley 3-drawer Steel File Cabinet
Red File Cabinet
Bisley is a very popular and quality file cabinet manufacturer. This model is available in several colors – red, black, blue, green, white, orange and grey. Pick the model that suits your office decor. Its overall dimension is 27" in height, 17" in depth and 16" in width. Bisley weighs 35 pounds and fits under the standard office desk.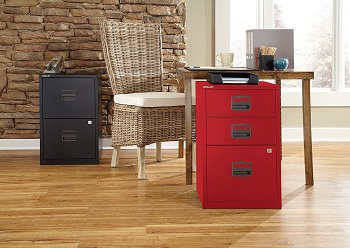 Three Drawers
This 3-drawer metal file cabinet is fully welded and its construction is made of durable steel. It is covered with a powder-coated finish that ensures a smooth and elegant appearance. There are three roomy drawers – 2 box drawers and a file drawer for letter-size documents. Built-in lock secures the bottom drawer only.
Highlighted Points:
available in several colors
fully welded all-steel construction
three drawers
two box drawers for office accessories
file drawer accepts letter-size files
built-in lock secures file drawer
Things To Know About Tall Filing Cabinet
Maybe choosing the perfect tall filing cabinet seems an easy task, but there are some factors you need to take into account before buying any model. Learn more about used materials, lock systems, drawer types, prices and more.
Upright Design – Unlike the lateral file cabinets, the vertical file cabinet type is taller and will need adequate space to be fully extended. Those drawers offer greater depth than lateral drawers. These file cabinets are suitable for smaller amounts of files in home offices or small offices.
Full-extension Drawers – There are two main types you can choose from  – full extension drawers and three-quarter extension drawers. full extension drawers can handle a heavier weight load, you can open them fully and easily reach any stored file folder.
Locking Feature – If you want to store sensitive, confidential and top-secret documents, then the quality lock mechanism is a must. Usually, you can find file cabinet models with two different mechanisms – a central locking mechanism and a separate lock on each drawer.
Build Material – Tall file cabinets can be made of wood, metal or even plastic. metal filing cabinets are made up of galvanized steel, it is both durable and strong. Tall wood file cabinets are also sturdy, but due to the finishing costs of the wood, they are highly expensive.
File Cabinet Price – It is important to buy a product within the limit of your finances. Be related assured that the prices of the products aren't always linked with product quality. So check your budget and features your future file cabinet should have. There are many affordable file cabinets on the market.