Do you want to equip your office or home office with a sturdy and well-engineered file cabinet?
Then you should check these metal 2-drawer file cabinets!
File cabinets come in different styles, each solving different storage needs. Those reviewed models on the list below are very sturdy and durable. Read the reviews and check our tips and tricks for a successful purchase.
Our Top Picks
Best 10 Metal 2-drawer File Cabinet
BEST OF BEST METAL 2-DRAWER FILE CABINET
Pemberly Row Mobile File Cabinet
Multiple Colors
This is a popular brand that produces high-quality file cabinets. Choose between a few colors – white, putty, platinum, charcoal, blue and more. Pemberly Row is sized at 27.7" in height, 15" in width and 19.8" in depth. This commercial-grade file cabinet will last for many years.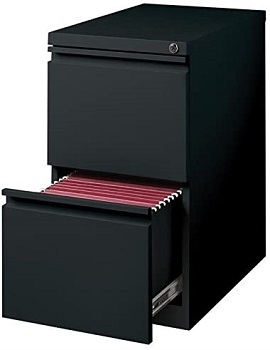 Hidden Casters
This black metal file cabinet with two drawers has solid metal construction resistant to impact. It arrives fully assembled, you need to attach the wheels. Hidden casters provide a clean, integrated appearance. Full-extension drawers accommodate letter-size file folders. Built-in counterweights prevent tipping.
Highlighted Points:
high-quality pedestal file cabinet
available in multiple colors
hidden casters for mobility
full-extension drawers
built-in counterweights prevent tipping
accommodate letter-size files
BEST LATERAL METAL 2-DRAWER FILE CABINET
Hon 2-drawer Filing Cabinet
Advanced Technology
To produce this black 2-drawer lateral file cabinet, the manufacturer uses advanced machinery and quality tested materials. Hon is available in three neutral colors – black, light grey and putty – that suit any office decor. It is backed by a full lifetime warranty. Overall dimensions are 32.4" H x 44" W x 21.3" D.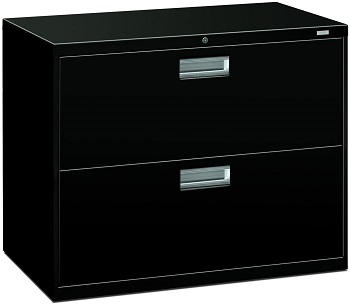 All-welded construction
It features all-welded construction with a double-walled base. On the bottom are leg levels that compensate for uneven ground. You can easily open and close drawers that glide on smooth steel ball-bearing suspension. Lock the drawers when the two-drawer metal file cabinet isn't in use.
Highlighted Points:
high-quality materials
tested item
meets safety and quality standards
all-welded construction
two drawers for files and office supplies
both drawers are lockable
BEST STEEL METAL 2-DRAWER FILE CABINET
Realspace 2-drawer File Cabinet
Affordable Price
Realspace file cabinet is ideal for small offices or home office setup. You can organize your documents with ease and keep your paperwork and workspace efficient. This two-drawer metal file cabinet by Realspace features an affordable price. It features a charcoal finish that suits modern decor.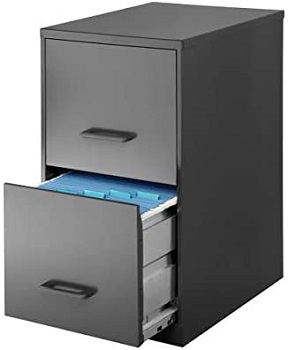 High-side Drawers
Construction is durable and sturdy, designed for long-term use, it's made from metal. This 2-drawer vertical file cabinet has high side drawers ready to accept hanging file folders. A patented drawer-glide suspension system allows smooth drawer performance. The unit dimensions are 18" H x 25" D x 14" W.
Highlighted Points:
ideal for small offices
affordable price
charcoal finish
solid metal construction
the patented drawer suspension system
accommodate hanging file folders
BEST BLACK METAL 2-DRAWER FILE CABINET
Aurora FC-102BK File Cabinet
Solid Construction
Aurora is a stylish file cabinet suitable for modern offices. This model comes in black color and doesn't require assembly. The overall unit dimensions are 25" in height, 15.5" in width and 20" in depth. Solid metal construction with an electrostatic spraying finish ensures durability.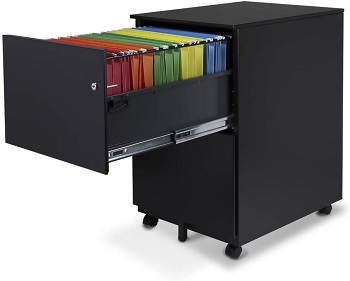 Hanging Frames
Its surface is smooth and easy to clean. This black metal file cabinet with 2 drawers has two deep drawers equipped with hanging frames. They accommodate standard-size file folders (8.5" x 11") and office supplies. Built-in lock secures both drawers. Also, there are four casters for easy mobility.
Highlighted Points:
doesn't require assembly
elegant black color
smooth and easy-to-maintain surface
two drawers with hanging rails
accommodate letter-size files
equipped with swivel casters
BEST LEGAL METAL 2-DRAWER FILE CABINET
Hirsh Industries File Cabinet
Limited Lifetime Warranty
This is a commercial-grade file cabinet designed for heavy-duty tasks and demanding work environments. It is covered with a limited lifetime warranty. Hirsh Industries is available in black, putty and light grey colors. Pick the model that suits your office decor. The 2-drawer legal size file cabinet arrives fully assembled.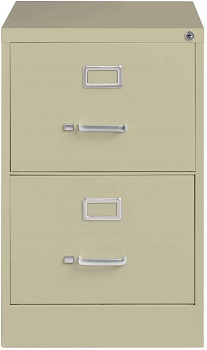 Follower Blocks
The unit dimensions are 26.5" in depth, 18" in width and 23.4" in height. This 2-drawer metal file cabinet offers deep drawers for high-capacity filing. Hirsh is tested and meets ANSI/BIFMA industry standards for performance and quality. Each drawer is equipped with follower blocks for legal-size files.
Highlighted Points:
sturdy steel construction
limited lifetime warranty
three colors available
meets safety and quality standards
full-extension drawers come with follower blocks
accepts legal-size files
BEST LOCKABLE METAL 2-DRAWER FILE CABINET
Intergreat Lateral FIle Cabinet
Cold-rolled Steel Reinforcement
Intergreat is a large horizontal metal file cabinet with a lock, four hanging rails, a package of hardware and instruction. This model is available in white and black color. The whole metal construction is reinforced with a high-strength cold-rolled steel frame. That allows each drawer to hold up to 110 pounds.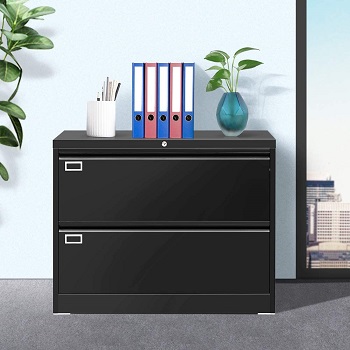 Built-in Lock
The unit dimensions are 28.4" in height, 35.4" in width and 17.7" in depth. Its surface is coated with electrostatic phosphorous-free epoxy spray, which is immune to rust and corrosion. Both drawers are equipped with four adjustable hanging rails for file organization. A single key locks both drawers and keeps your files protected.
Highlighted Points:
large lateral file cabinet
all-metal construction is reinforced
available in white and black color
high load capacity
rust-resistant surface
two drawers with four hanging rails
BEST HEAVY-DUTY METAL 2-DRAWER FILE CABINET
Modern Luxe Lateral File Cabinet
Detailed Instruction
Modern Luxe is a huge metal two-drawer file cabinet made of high-quality steel with reinforced construction. Ideal for demanding work environments. The product dimensions are 35.4" in width, 17.7" in depth and 28.4" in height. Assembly is required, so you'll get detailed instruction.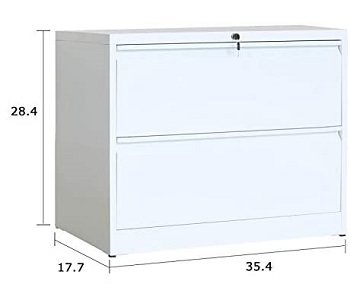 Suit Hanging Files
This metal lateral file cabinet is well-engineered and very sturdy. On the file cabinet bottom are ABS pads that protect your floor from scratches. Both drawers are equipped with adjustable hanging bars for documents and file storage. There are two ways to store letter/legal files – horizontal and longitudinal.
Highlighted Points:
large lateral file cabinet
ideal for demanding office environment
reinforced construction
requires assembly
two deep and lockable drawers
two ways of storing
BEST INEXPENSIVE METAL 2-DRAWER FILE CABINET
Direction Modern File Cabinet
Slim Profile
Direction is a unique file cabinet maintaining a slim profile, but it still offers plenty of room for files and documents. There are two colors available – white and silver. This item weighs 44 pounds and measures 18.2" in height, 9" in width and 22" in depth. Its price is affordable.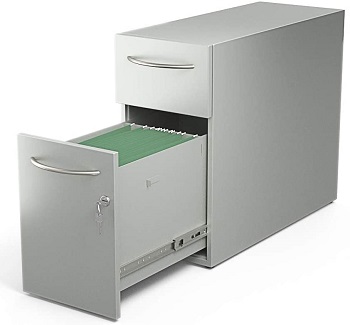 Heavy-duty Construction
This metal cheap 2-drawer file cabinet has heavy-duty construction made of quality steel. The top drawer is smaller and equipped with a removable pencil tray for small office supplies. Below it, there is a file drawer that holds letter- and legal size file folders. Both drawers are lockable.
Highlighted Points:
slim file cabinet
available in white and silver colors
affordable price
steel construction
two drawers for office supplies
built-in lock
BEST WHITE METAL 2-DRAWER FILE CABINET
Bonnlo Rolling File Cabinet
3-year Warranty
This white rolling file cabinet is insured with a 3-year warranty. Also, you'll get a free replacement for installation issues or missing parts. This 2-drawer metal file cabinet has a modern minimalistic design that provides a touch of elegance. Bonnlo arrives fully assembled, except the casters.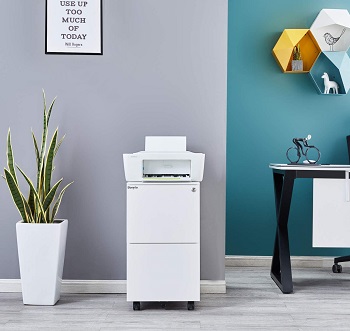 Reinforced Structure
Construction is made of thick steel and reinforced with steel panels. Its electrostatic powder coating is immune to rust. Bonnlo has a maximum load capacity of up to 330 pounds. Both drawers are equipped with removable metal dividers to accommodate hanging file folders. Drawers glide on full-extension slides.
Highlighted Points:
backed by a 3-year warranty
modern white appearance
the high load capacity of 330 pounds
both drawers come with metal dividers
full-extension drawers
mobile file cabinet
BEST ROLLING METAL 2-DRAWER FILE CABINET
Devaise Commerical-grade File Cabinet
Five Casters
Devaise is a popular and durable file cabinet suitable for personal use in small offices or home offices. It arrives assembled except casters. You can move it around easily, there are two front wheels with brakes and added caster that prevents tipping. The overall 2-drawer metal file cabinet size is 15.4" W x 18.9" D x 26.6" H.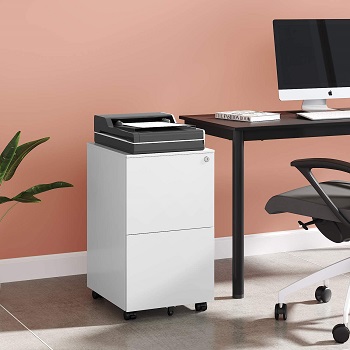 Single Key
These two high-capacity drawers with full extension slides allow you to store both letter-size and legal-size file folders. Devaise 2-drawer mobile file cabinet has a metal construction with anti-rust electrostatic spraying for more durability. Lock both drawers with a single key.
Highlighted Points:
popular personal file cabinet
comes with five swivel casters
fits under standard office desk
full-extension file drawers
metal construction with anti-rust finish
Things To Know About Metal 2-drawer File Cabinet
In this section below, you can learn more about two drawer metal file cabinets, their construction, storage space, security features, mobility and more. After reading, you'll be able to find the perfect model for you.
Metal Build -File cabinets can be made from various materials – metal, steel, wood, plastic and more. Metal file cabinets have durable and sturdy construction, resistant to scratches and rust. It is easy to clean and maintain them. They will last for many years.
Security Features – If you looking for a file cabinet able to keep your private and confidential file folders and documents safe, check metal file cabinets with locks. The most common type is a lock with a physical key that secures all drawers at once or one drawer at a time.
Mobility – If you want to be able to move your file cabinet easily from one place to another, then models with casters are ideal for you. Usually, vertical file cabinets are equipped with casters. Some models have added a fifth caster that prevents tipping and keeps the file cabinet stable.
Storage Items – What kind of items do you want to store in your metal 2 drawer file cabinet? Vertical file cabinets come with three drawers for office supplies and files, while lateral file cabinets usually have two wide drawers designed for file folder storing. If you want to store hanging files, check if the file cabinet comes with hanging rails.
Interlock System – Each file or storage cabinet should come with a safety interlock system. This mechanism allows you to open one drawer, while other drawers are locked. That prevents tipping forward and keep you protected from unwanted accidents or injuries.
Final Verdict
These metal 2 drawer file cabinets are very durable, sturdy and designed for demanding work environments. Their solid constructions are well-engineered and immune to rust and corrosion. We recommend you to read posts on metal filing cabinets and flat file cabinets if you want to check more durable products. If you want to learn more about various file cabinets, read the article on the best filing cabinets and find the best model for your office.