Are you looking for a natural, unique file cabinet?
Then you need to check the seagrass filing cabinet. They feature a unique design, so read our buying guide and find out more about these items. In our reviews, you can read reviews of the best 5 models in the market.
Our Top Picks
Best 5 Seagrass File Cabinets
Best Of Best Seagrass File Cabinet
BirdRock Home Seagrass Rolling File Cabinet
Unique Design
The BirdRock file cabinet measures 13 inches in height, 17.5 inches in width and 14.5 inches in depth. This is a great organizer for your home office or office. It features stylish and decorative accents. This item is woven by hand, so each model is unique.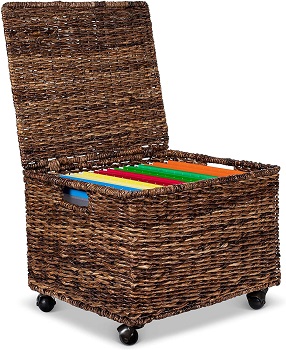 Hand-woven Item
This seagrass file cabinet weighs 10 pounds. It is woven from natural seagrass and abaca. The BirdRock is available in espresso/dark brown color. This natural file cabinet fits anywhere. You can store multiple things there, magazines, newspapers and files.
File Cabinet
This nice filing cabinet is able to hold letter-size and legal-size hanging file folders. You can keep your office neat and organized. Moreover, it doesn't take too much space, you can place it under your office desk or table. The BirdRock is equipped with a hinged lid, it stays open until you close it.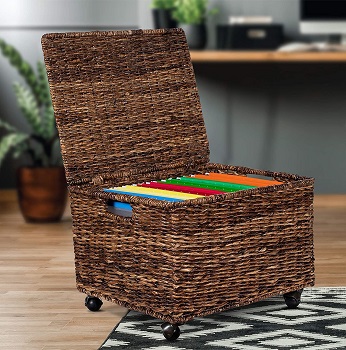 Robust Wheels
The BirdRock file cabinet is a mobile item, it is fitted with robust wheels. The wheels are supported by steel ball bearings for smooth rolling. There are carrying handles, so you can easily lift the file cabinet and carry it from your office to your car.
Highlighted Points:
durable handwoven construction
made of natural seagrass and abaca
equipped with hinged lid, easy to open/close
four wheels provide mobility
it accommodates letter and legal-size files
Best On Wheels Seagrass File Cabinet
Yoleny Filing Cabinet
Weight Capacity
The Yoleny is a seagrass file cabinet that can handle 11.8 pounds of storage material. The unit size is 15 inches in height, 17.9 inches in width and 13.8 inches in depth. The package includes a rolling file cabinet, accessory kit and instruction.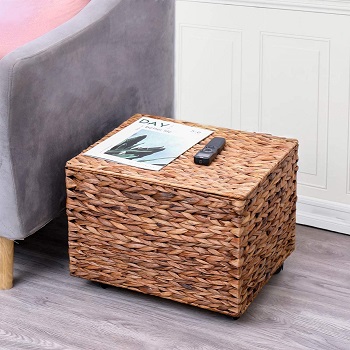 Small Product
This file cabinet will bring a natural atmosphere and practicality to your home office. This seagrass rolling file cabinet can be placed in corner of the home office, under your desk or somewhere else. It doesn't require too much space. The Yoleny is a handwoven product.
Woven Lid
It is textured and full of natural flavor. Each model is unique. This small file cabinet on wheels features iron wire, which is useful for hanging documents. You can store your standard size file folders. The woven lid provides extra safety for your stored files.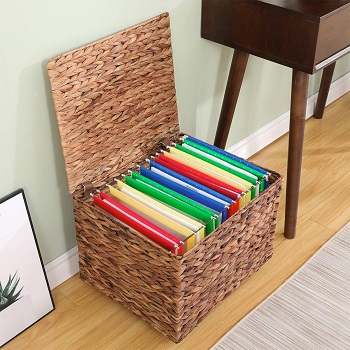 Rolling Filing Cabinet
The Yoleny file cabinet features four durable casters. You can move the item to the wooden floor and carpet. Because of its design, this file cabinet fits anywhere, in your office, home office, living room, almost anywhere. The price of this item is affordable.
Highlighted Points:
max weight capacity – 11.8 pounds
small and compact, ideal for any home office
textured item made of natural materials
woven lid protects stored files and items
rolling file cabinet with four sturdy wheels
Best Home Office Seagrass File Cabinet
BirdRock Rolling File Cabinet
Fits Anywhere
The BirdRock file cabinet is handwoven, so each model looks unique. The exterior dimensions are 18 inches in width, 15 inches in depth and 14 inches in height. It weighs 16 pounds. Place this file cabinet under your desk, in the corner of the room, etc.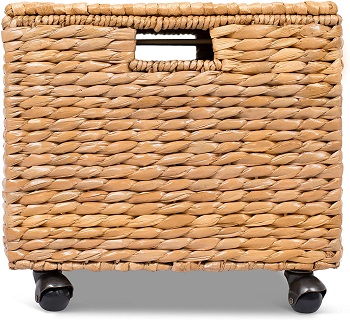 Letter & Legal Size Files
This seagrass filing cabinet is made of natural materials – seagrass and abaca. There is a metal rod that goes around the top. It is designed for hanging letter (8.5" x 11") and legal size (8.5" x 14") file folders. You can store approximately 20 letter-size files.
Steel Ball-Bearings
The assembly isn't needed, the wheels are attached to the file cabinet. The BirdRock sturdy file cabinet is solid but easy to move. It is fitted with sturdy wheels and these wheels are supported by steel ball bearings. Move it smoothly wherever you need.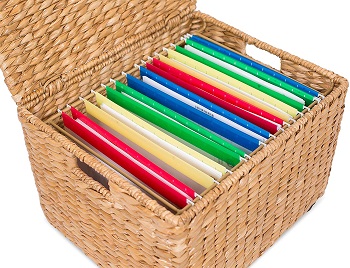 Handles
On both sides of this file cabinet, you can see handles. You can easily lift and carry the BirdRock file cabinet. There is a hinged lid that protects your office supplies or file folders from damage or loss. It is easy to open and close it. There are many positive reviews about this item.
Highlighted Points:
made of natural materials
durable and sturdy file cabinet
the assembly isn't required
equipped with a protective lid
built-in casters for mobility
Best Small Seagrass Filing Cabinet
Dokot File Cabinet
Handmade File Cabinet
The Dokot features a rectangular shape, this is a cheap file cabinet. You can choose between three different dimensions. This is an M-sized model and it features 12.2 inches in width, 7 inches in depth and 6 inches in height. Dokot is a handmade product.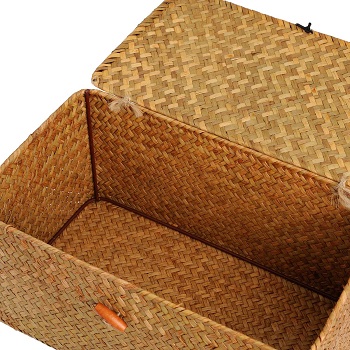 100% Seagrass
This personal file cabinet is made of natural seagrass, so this is a durable and quality file cabinet. Use it for books, newspapers, notebooks, file folders or other office essentials. You can keep your office neat and tidy, store the paperwork in the box and close the lid.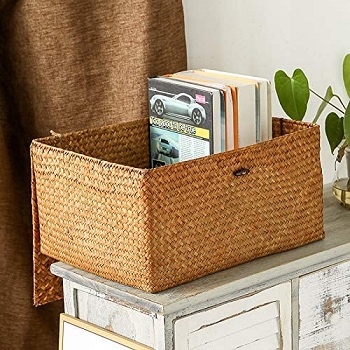 Compact Product
Place this seagrass filing cabinet under your office desk or table, on the desk, on the shelf, on another file cabinet. Because of its small dimensions, the Dokot fits anywhere. It is available in one color and it is natural seagrass color – light brown.
Highlighted Points:
light brown file cabinet for office supplies
it features a rectangular shape
three versions available
100% handmade product
close the lid and keep your place neat
Best Cheap Seagrass Filing Cabinet
Rutledge & King File Cabinet
Attractive Design
The Rutledge & King produces this seagrass filing cabinet. It is made of handwoven seagrass, which provides an attractive and natural look. Ideal storage file cabinet for home offices. The unit size is 17.5 inches in width, 15 inches in depth and 14 inches in height.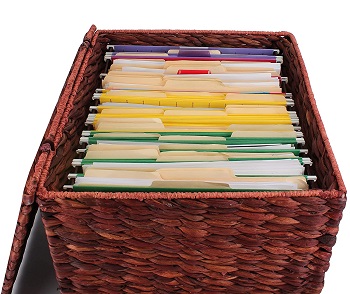 Equipped With Wheels
It is textured and comes in russet brown color. This filing cabinet is fitted with four wheels for easy movement. Each wheel features a ball bearing made of steel. It increases mobility in any home office environment. The Rutledge file cabinet fits under any desk space.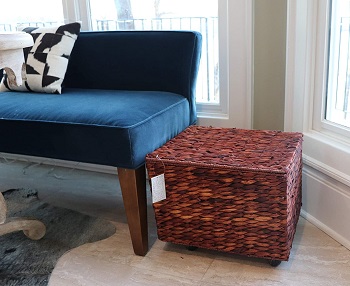 Hanging Files
This small rolling file cabinet is a great file organizer, you can store your important office file folders there. It holds letter-size hanging file folders. You don't have to buy hardware for hanging files separately. It is included in the package. But if you want, you can remove the hardware.
Highlighted Points:
handwoven seagrass file cabinet
textured and comes in brown color
fitted with wheels for easy movement
steel ball-bearing wheels
it holds hanging letter-size files
Things To Know About Seagrass File Cabinets
These filing cabinets are an attractive alternative to metal filing cabinets. Our buying guide will introduce you to these items, so you'll decide easier which model will suits you the best.
Unique Design – These products are handmade, so it is difficult to find two identical products. They are woven by hand. These file cabinets are ideal for small home office spaces, they don't take up much space. You can place it under your desk.
Natural Materials – They are made of sturdy and durable seagrass and abaca. You can't damage it so easily. Some models are equipped with metal bars on the top of each side of the file cabinet. That means you can use these filing cabinets to hold hanging file folders.
Mobile Item – If you need to move this file cabinet around, it's a good idea to buy a seagrass file cabinet with attached wheels. Then you can easily relocate it wherever you need. That is also a good idea if you load this under desk rolling file cabinet with heavy things.
Protective Lid – There are models that have an open-top side or the ones with an integrated lid. if you want to protect your files or office accessories from damage, loss or something else, consider the model with a lid. It is easy to open and close it.
Letter Or Legal-size Files – This product is usually deep inside, so you can place your office supplies, like scissors, tape, notes, notebooks and others. Moreover, it is good for file folder storage. Read the product dimensions and find out is it compatible with letter and legal-size files.