Do you want to check to hang and standing lights that provide adequate illumination at your desk?
Then you should check the over desk lighting!
In this article, you can find the best-rated lightings designed for your office or home office. They are available in various shapes, sizes and styles. Choose between floor lamp, over desk lamp, hanging light and other models and pick the right one for your needs.
Our Top Picks
Best 6 Over Desk Lightings
BEST OF BEST OVER DESK LIGHTING
Elinkume Pendant Chandelier Light
Attractive Design
Elinkume is a modern chandelier desk lamp with an eye-catching design. It complements contemporary and modern designed offices. The overall shade width is 11 inches and the cord is 39.3 inches long, but you can adjust the length depends on your needs.
Installation Guide
The over desk lighting is made of chromed steel and acrylic, it is sturdy and durable. The manufacturer recommends this light for rooms of 8-10m2. It's easy to install, the installation guide is included in the package. But you can call professionals if you want.
Natural Lighting
This cool office lighting also features an adjustable shade, you can adjust the shape of the light by adjusting the shape of the light bar. There are four lighting bars with integrated LED, they provide harm-free light and soft natural illumination.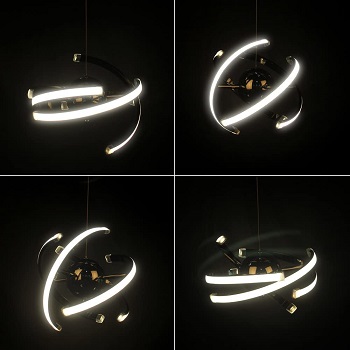 16oo Lumens
Elikume offers a color temperature of 4000-4500K, it is a bright light ideal for reading, working and crafting. It doesn't cause eye strain or fatigue. This ceiling light provides 1600 lumens, so this is just the right amount of light intensity.
Highlighted Points:
contemporary designed lamp
made of chromed steel and acrylic
adjustable height
adjustable shape
four LED lighting bars
bright color temperature
BEST PENDANT OVER DESK LIGHTING
Globe Electric Office Light
Plug-in Pendant
Globe Electric made this Amari's pendant lighting, it's affordable and suitable for office, home office, living room, etc. The lampshade measures 8.5 x 11 inches and the 15-foot hanging cord is adjustable, so you can place it wherever you need it most.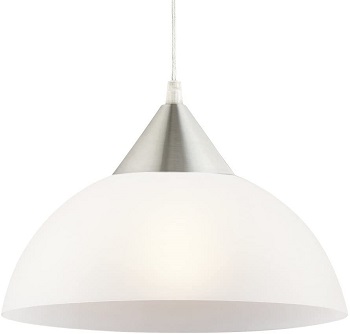 Brushed Nickel Finish
A frosted plastic shade and brushed nickel finish provide a timeless and contemporary touch to any room. It blends with all home office or office decor styles. Amaris requires one medium-base light bulb with a maximum wattage of 60W. Not included in the package.
Simple Installation
The hanging light over desk model has no complicated hardware installation – simply hang this light on the provided swag hooks and plug it in. Amaris is the best light for a home office that can be hung from the sloped or vaulted ceiling. It fits anywhere.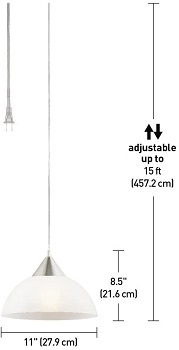 Affordable Price
Amaris provides a perfect accent light for any space. But you can't use this light only, complete it with some desk lamp if you need more bright light for your tasks. Amaris light has an affordable price, so you can buy two or three items to decorate your room.
Highlighted Points:
pendant lighting for home office/office
frosted plastic shade
brushed nickel finish
requires medium-base light bulb
simple installation
provides accent lighting
BEST STANDING OVER DESK LIGHTING
Brightech Sparq Floor Lamp
Platinum Silver Lamp
Brightech is a popular brand that made high-quality lighting. This hanging arc floor model is available in two colors – classic black and platinum silver. The black model complements any room decor, while reviewed silver model adds a touch of elegance to your space.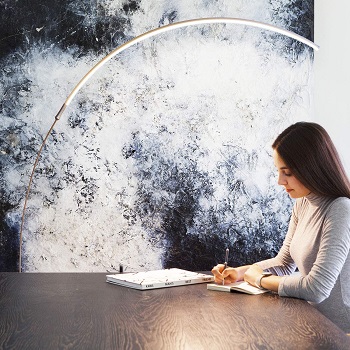 Built-in LED
Its overall height is 67 inches and the base diameter is 9 inches. The manufacturer offers a 3-year warranty, it will cover all damages and defects within these years. The built-in LED light is rated for up to 20,000 hours, you don't have to replace a bulb, because it saves energy.
850 Lumens
The over desk lighting gets more light over your desk, so it's suitable for reading, working or hobbies. Brightech generates 850 lumens of the light. Place the lamp heavy base beside your workbench, it doesn't take up much floor space and frees your valuable desk space.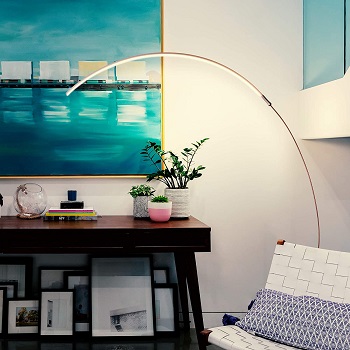 Built-in Dimmer Switch
Brightech is a standing office lamp that features a built-in dimmer switch on the cord. Choose between bright, medium and dim illumination, according to your needs. It is bright enough for working and reading and doesn't cause eye strain.
Highlighted Points:
hanging arc floor lamp
available in black and silver colors
built-in LED light
backed by a three-year warranty
heavy and stable lamp base
built-in dimmer switch
BEST FLOOR OVER DESK LIGHTING
Hong LED Floor Lamp
Arc Design
Hong is a classic standing lamp with an arc design. Its overall height is 64 inches, the lamp base diameter is 10 inches and the lampshade measures 11 x 8 inches. The round-shaped base doesn't take up much floor space, so place it beside your office desk.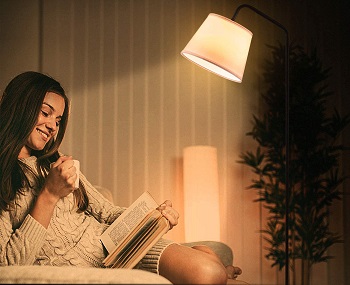 Tall Floor Lamp
This over desk floor lighting lamp is perfect for 5-20m2 offices and rooms. It comes with a matte black finish and a white TC linen lampshade. It complements modern, industrial and traditionally designed rooms. The lamp pole is 5 feet high and directs light downward.
Compatible With LED
There is a heavy-weighted base that prevents the floor lamp from tipping. Hong features an E26 socket and it is suitable for 60W max light bulbs. Compatible with LED, CFL, incandescent and halogen light bulbs. The portable footswitch makes the lamp more convenient.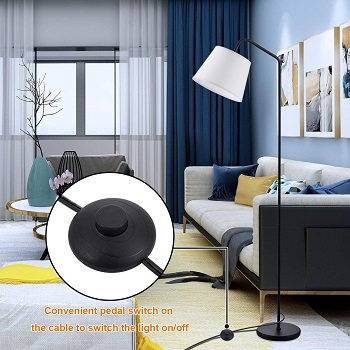 UL-listed Lamp
Hong is a floor desk lamp that requires assembly, but don't worry, instruction is included in the package. No tools are required. It is a tested and UL-listed lamp, so you can rely on its qualtiy. Hong provides warm and soft illumination to your room.
Highlighted Points:
modern standing lamp
suitable for 5-20m2 rooms
black base and pole with white shade
heavy and stable lamp base
compatible with LED/CFL/halogen/incandescent bulb
UL-listed lamp
BEST MODERN LAMP OVER DESK LIGHTING
Kouik Desk Lamp With Clamp
Wide Clamp
Kouik is a clamp lamp that saves valuable desk space. This extra wide metal clamp comes with silicone pads, meaning it won't damage or scratch your desk. It is suitable for 3.1-inch tabletops. This clamp is strong and holds the lamp firmly in any position.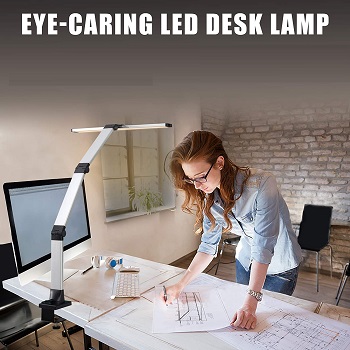 Aluminum Alloy Body
This architect lamp clamp features an aluminum alloy metal body. It is sturdy and durable. You can adjust it to different angles and positions. Move the light source closer or farther away from your desk. Also, you can rotate the base according to your needs.
High Color Rendering Index
The over desk lighting uses eye-caring light, it's soft and provides flicker-free and glare-free light. It prevents eye fatigue caused by harsh glare lighting. It features high Color rendering Index, it's 97, ensuring true and accurate colors.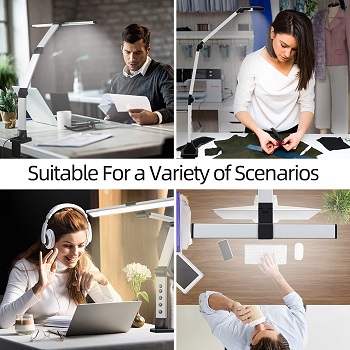 Task Lighting
Choose between three color modes – working mode has a high color temperature of 6500K, studying mode provides 5000K and relaxation mode has 4000K, it reduces blue light and has lower brightness. Kouik desk lamp gives perfect task lighting.
Highlighted Points:
lamp with wide clamp design
aluminum alloy lamp body
highly adjustable design
high Color Rendering Index
three lighting modes
ideal for large desks
BEST LED OVER DESK LIGHTING
Bolowei LED Desk Lamp
Clamp Design
Bolowei is a space-saving desk lamp ideal for all desk sizes. This model is available in black color only and made of high-quality silicone, metal and plastic. A strong and durable metal clamp is suitable for 2.3-inch thick desks and tables.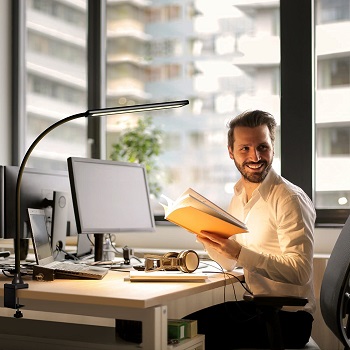 Metal Clamp
That metal clamp will hold the lamp firmly in any position. It is very stable and safe for use. This over-table lighting features adjustable height, the light bar is 13.6 inches long. Bolowei has an extra-long and flexible gooseneck that provides multi-directional lighting.
12W LED Light Panel
You can easily illuminate every corner of your desk. This light panel has a built-in 12W LED, it is energy efficient and lasts for 50,000 hours. There are 72 LED beads that provide flicker-free, glare-free and ghost-free illumination. It is safe fr your eyes.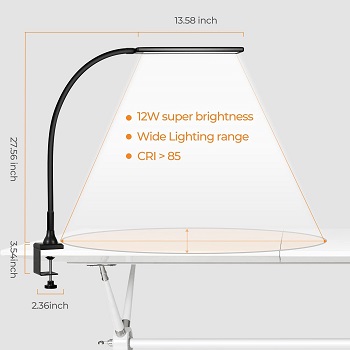 Five Color Modes
This adjustable desk lamp offers five different color modes – they range from warm 3000K to cold 6000K color temperature. Control the lighting mode with a touch-sensitive button. The memory function will remember the brightness and mode last used.
Highlighted Points:
made of silicone, metal and plastic
space-saving clamp design
the long and extensive light panel
five color modes
touch-sensitive button
memory function
Things To Know About Over Desk Lighting
Office or home office over desk lamps has a major impact on your health. So, here are some guidelines to take to help you light your workspace right, whether it's at home or in a corporate setting.
Over Desk Light Types – There are many light types that provide over desk illumination. You can choose between a standing desk lamp, overhead light, floor lamp, pendant light, etc. If you choose overhead light, it shouldn't be the sole source of lighting.
Pendant Lighting – If you work in a limited space, the best solution for you is hanging pendant lighting. It will free up valuable desk and floor space and give you more space for your papers, documents, monitors, furniture and other important things.
Standing Lamp – This is practically a stand-alone piece of furniture and choosing the right one will change your office decor. The floor lamps are available in various styles and sizes. You can choose from modern torchieres to arc lamps that could become the primary lighting source for your room.
Desk Lamps – Also, you can choose an over desk lamp with a wide lightbar/panel or arc design. Usually, this adjustable task light has a flexible design. Meaning, you can adjust its height, lampshade and light direction. Ideal for closed and detailed work.
Lighting Modes – Lamps with various over desk lighting modes are ideal for task lighting. For some tasks, you'll need bright and cold light and for computer work, you'll need a warmer light. Working mode with high color temperature provides high visibility and boosts your energy.