Are you looking for a powerful desk lamp that provides great illumination for your tasks?
Then you should check these high-intensity desk lamps!
For our roundup, we chose models that would fit in office environments as well as they home. Our top choices feature a quality design and useful features suitable for reading, working, crafting and other precise tasks. Also, check out our buying guide at the end.
Our Top Picks
Best 6 High-intensity Desk Lamps
BEST OF BEST HIGH-INTENSITY DESK LAMP
Baseus Eye-caring Desk Lamp
Grey Lamp
Baseus is a modern and elegant desk lamp available in grey and white colors. The lamp dimensions are 13.7 x 2 x 15.1 inches. It features a space-saving aluminum base and lamp body. The base features a trapezoidal structure and strong stability.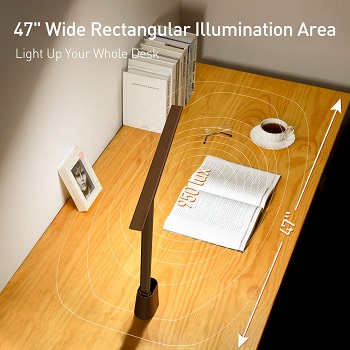 Sensitive TouchPad
This gray desk lamp features a non-slip base which keeps the lamp stable in position. Also, there is a highly sensitive touchpad, it is easy to touch and manage the lamp settings. Its light bar is equipped with 32 full-spectrum and energy-efficient LEDs.
Adjustable Design
Baseus high-intensity desk lamp can lights up your entire workbench, 47 inches and more. Its illumination range is 175% wider than other desk lamps. Baseus desk lamp offers 0° to 180° angle adjustment, direct the light wherever you need it.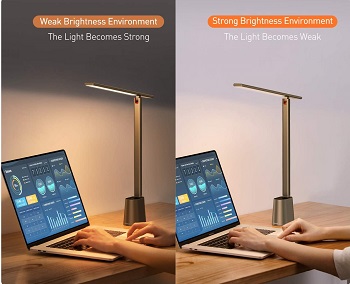 Wide Color Gamut
The lamp features high Color rendering index, it's about 95, making the colors more vivid and accurate. Also, it offers three color modes and four levels of brightness. The ambient light sensor can sense the brightness of the room environment and optimize the light.
Highlighted Points:
stylish desk lamp available in grey and white
made from durable aluminum
stable, non-slip base
covers large workbenches
multi-angle adjustment
ambient light sensor
BEST READING HIGH-INTENSITY DESK LAMP
Ezvalo Smart Desk Lamp
Lamp Size
Ezvalo is a smart desk lamp that will impress anyone. It is available in black color and is made from durable and quality aluminum. The lamp base diameter is 6.1 inches, the stem is 14.9 inches tall and the light bar measures 13.3 inches.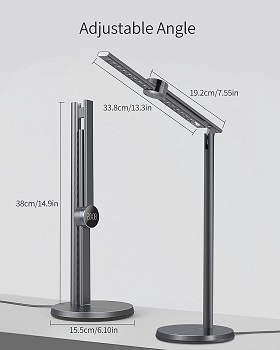 No Blue Light
It uses LED light that provides super soft light, which is flicker-free and with no blue light harm. This high-intensity reading desk lamp is perfect for reading, working, studying and crafting. Ezvalo features high color rendering index, it is up to 94, providing clear and accurate colors.
Lighting Modes
This adjustable reading lamp offers three color temperatures, from 2700K to 6500K. Set the 6500K when working or reading. This high light will boost your energy level and productivity. Also, you can set the level of brightness, there are three levels; 10%, 50% and 100%.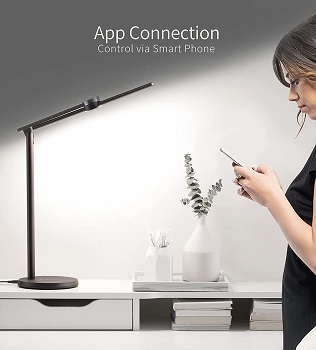 Smart Feature
The PIR Motion Sensor can detect your movement and turn the light automatically within 1.5 meters. Ezvalo features a digital clock that shows the present time when the lamp is on. There is more, you can control the lamp with your smartphone.
Highlighted Points:
available in black color
made from durable aluminum
flicker-free and anti-blue light
high color rendering index
three color temperatures
smart PIR Motion Sensor
BEST LED HIGH-INTENSITY DESK LAMP
Trond Dimmable Desk Lamp
Small Lamp
Trond is a small but powerful desk lamp that fits on any workbench, office desk or end table. It is available in black color only. Trond is made from quality plastic and comes with a 14-month warranty. Contact customer service if you notice any defect.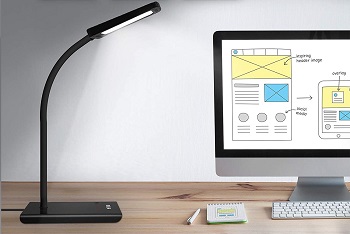 No Eye Fatigue
The lamp base is 5.1 inches wide and the maximum lamp height is 16.1 inches. It is a compact and stable desk lamp that comes with a 10-watt LED. It delivers flicker-free, anti-glare light without ghosting. Trond is a high-intensity desk lamp that doesn't cause eye strain or fatigue.
Ultra-slim Base
Except for the ultra-slim base and low profile design, this adjustable LED desk lamp features a flexible gooseneck. It allows you to bend towards wherever you want. Choose between three lighting modes and pick the right color temperature for your current needs.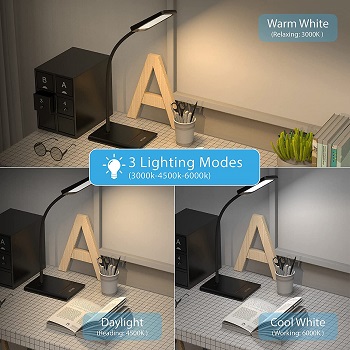 Three Lighting Modes
There are relaxing 3000K, reading 4500K and working 6000K. Moreover, you can set the desired level of brightness. This desk lamp offers seven brightness levels, so set low brightness when relaxing and high light when working or reading. Trond comes with a memory function.
Highlighted Points:
low-profile desk lamp
available in black color only
ultra slim base and flexible gooseneck
use built-in LED as flicker-free light
three lighting modes
seven levels of brightness
BEST CLAMP HIGH-INTENSITY DESK LAMP
Phive LED Task Lamp
Wide Light Bar
Phive is available in silver and black color. The lamp body and shade are made from aluminum, it is great heat dissipation material. The lamp stem is 32.6 inches high and the lampshade is ultra-wide with 31.5 inches. The max clamping distance is 2.2 inches.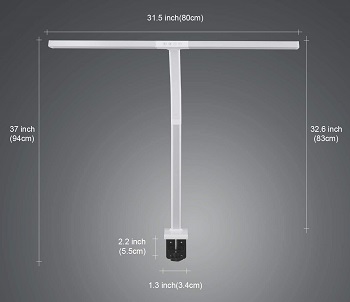 20W LED Panel
This wide panel delivers 200% larger lighting coverage, perfect for offices, large workbenches and multi-monitor setups. This high-intensity desk lamp is equipped with a 20-watt high-intensity high efficient LED, that provides glare-free and flicker-free light.
Flexible Gooseneck
Phive is an office desk lamp that features flexible and durable gooseneck, meaning you can adjust lamp height and multiple lighting angles. You can create optimal illumination for different tasks. Phive is equipped with a memory function that remembers your last-used setting.
Multiple Lighting Choices
This wide lamp offers four-color modes and five levels of brightness. The controls are set right in front of you and you can change them by touch. Phive will improve your productivity and boost your work efficiency. It suits all situations.
Highlighted Points:
space saving desk lamp
strong and durable clamp
ultra-wide light panel
suitable for multi-screen setups
multiple lighting choices
flexible gooseneck
BEST SWING ARM HIGH-INTENSITY DESK LAMP
Bemelux Reading Desk Lamp
3-year Warranty
Bemelux is a popular brand that produces quality and powerful desk lamps. This model is available in black, gold, silver and white color. The manufacturer provides fast delivery, convenient return and a three-year warranty. Contact customer service if you have any questions.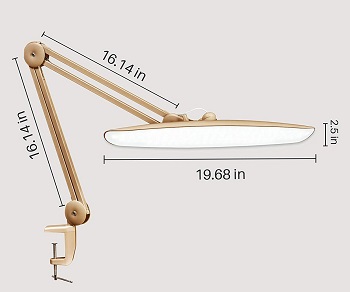 Ultra-wide Shade
This high-intensity lamp is made of durable metal and plastic, these materials making the lamp strong. The lamp arms measure 16.1 x 16.1 inches, the wide lamp head has 19.7 inches. This wide lampshade covers large office desks and workbenches.
Clamp Design
Bemelux is a aluminum desk lamp that has a space-saving clamp design. You can easily clip it to any surface and it will stand firm. The swivel metal arm allows you to move the lamp body in multiple directions. Also, move the lamp head farther or closer from the desk surface.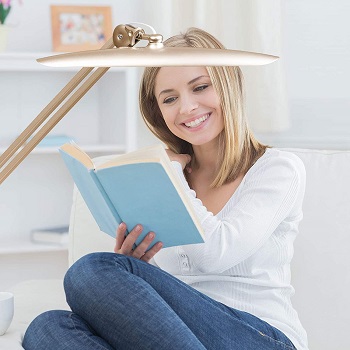 Natural Daylight
It is equipped with 117 SMD LEDs which expected lifespan is up to 50,000 hours. They provide flicker-free light perfect for reading, working, studying or crafting. It delivers a bright beam of vivid light with a high color temperature of 6000K.
Highlighted Points:
available in multiple colors
made of metal, plastic and aluminum
ultra-wide lampshade
space-saving clamp design
flexible lamp body
equipped with 117 SMD LEDs
BEST WORKING HIGH-INTENSITY DESK LAMP
LE Dimmable Desk Lamp
Black Desk Lamp
The LE (Lighting Ever) desk lamp is available in black and white colors, so pick the model that suits your office or home office decor. It is made from PC, plastic, metal and aluminum, these materials making the lamp durable and sturdy, yet resistant to heat.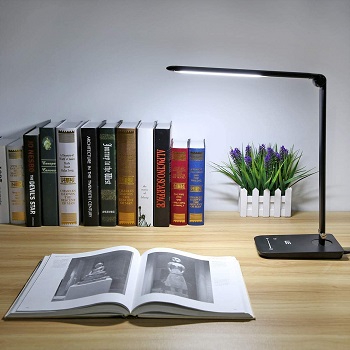 Simple Design
This intensity desk lamp requires 100-240V AC. Its design is simple, minimalist and modern. LE desk lamp complements modern, urban and contemporary room interiors. Adjust the lamp position, rotate the light bar clockwise and counterclockwise.
Flexible Lamp Body
Also, you can swivel the lamp body from side to side and tilt the light bar up and down. Meaning you can direct the light in any direction you want. This adjustable arm lamp features a built-in LED that provides flicker-free and glare-free illumination.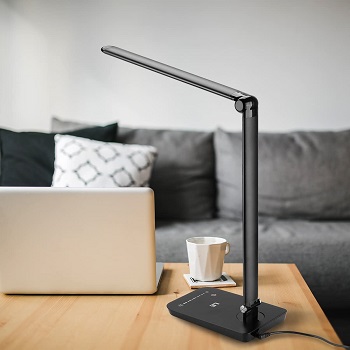 7 Levels Of Brightness
The light is soft and doesn't cause eye fatigue and eye strain, you can read, work and study longer than before. Choose between seven levels of brightness, the low mode ensures warm light while the high light is perfect for working. The color temperature is 5000K, similar to daylight.
Highlighted Points:
simple and minimalist design
flexible lamp body
available in black and white color
built-in LED light bulb
flicker-free and glare-free light
seven levels of brightness
Things To Know About High-intensity Desk Lamp
Did you already check these desk lamps on our list above? If you are, then keep reading, here you can learn more about some important lamp features, worth considering before buying any model. Read about adequate color temperature for reading and working, eye-friendly light, lamp design and other factors.
Lamp Style – Because you'll be looking at your lamp every time you sit at your desk, it's a good idea to pick one that matches your unique style. A lamp's design also affects its functionality. Some full spectrum desk lamps are cordless and portable, some have flexible and versatile designs.
Color Temperature – This term is a measurement of the visual warmth or coolness of white light. The color temperature is measured in units of kelvin (K). The lower the K, the warmer the illumination. For task lighting go for greater kelvin, 4000K and above it.
Eye-caring Light – Even if you looking for task high-intensity lighting, you should take care of your eyes. High color temperature and brightness levels keep you concentrated and boost your energy. But it causes eye fatigue, so set the lower brightness level when you are on the pause.
Multi-angle Adjustment – Lamps with flexible gooseneck, swing arms and adjustable height allow you to tip the desk lamp in any position and cast the light wherever you need it at the moment. Move the light source closer or farther away from your desk depending on your needs.
Clamp Lamps – These lamps have a space-saving design and it's easy to mount them to any horizontal and vertical surface. They should be attached to the edge of your desk and any other work surface. Very handy if you don't have a large workbench.