As the massive trend of working from home forced many people to create home offices, creative ideas are becoming more and more important.
And the same goes for dual monitor home office setup.
While some people prefer extra-wide screens, some use the dual monitor and we bring you 6 creative solutions on how to set it in your home office!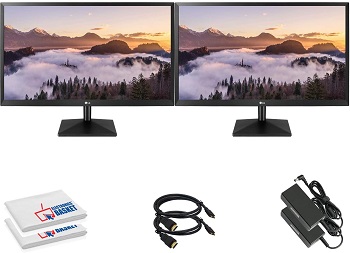 Why Is Dual Monitor Home Office Setup Better?
Using a dual or even multiple monitor system increases your productivity and shortens the time used for searching for information. It works with many writing jobs where you need an open document with information for simultaneous work. The time you will lose on opening a new document will be shortened by just glancing at the other screen. Also, it minimizes distraction and endless search.
Make Your Office Comfortable
More than just a creative setup for your dual monitor, other home office accessories must be comfortable. For sitting, it is best to use an ergonomic chair. Also, ensure enough light or use quality artificial light instead. What is more, be sure that you have enough space and quiet surroundings in the working time.
Dual Monitor Home Office Setup Ideas
1. Install Standing Desk
A standing desk is the most common, but very useful home office furniture. It comes in so many colors and shapes that you can easily adjust it to your interior design. What is more, try to find a desk specialized for computers which has cable holes on the backside, so your working corner will look tidy. Be sure that your chair has appropriate height and that it is wide enough for two monitors and other utilities, like a mouse and keyboard along with your paperwork.
2. Use Monitor Stands
Great idea how to combine two monitors, especially if they are a different size, to use adjustable monitor stands. Before getting a monitor stand, be sure of the size of your monitor and combine one standing monitor and monitor stand for smaller monitors, like tablets. Quality monitor stand has a non-slip bottom and adjusting screen holder with secure hooks. It is a great way to release pressure from your neck and help you seen better in many positions.
3. Try Corner Desk
A corner desk is usually shaped like a letter L and ensures you two sitting positions. You can easily move your chair from one monitor to another and work on two monitors at the same time. It fits into one corner of the room and saves space, but you can also use a smaller desk than you will normally have like a regular standing desk.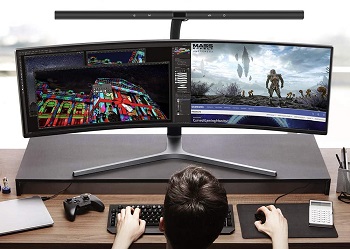 4. Use Different Levels
Adjustable standing desk or desk that has lowered computer drawers and lover stands are ideal for holding screens on different levels. While some love their screen to be symmetrical, some prefer different levels of monitors. Also, be sure that each monitor is fixed and firm to hold the weight of a screen. Also, be sure you are using the best monitor size for your office.
5. Try Standing Monitor
You may find it a great idea to have one monitor on the desk and one hanging on the wall and it has many benefits. First, you can use the smaller desk and have more space for paperwork. Second, you can always stand and has some exercise doing the work. What is more, it is good for your sight and neck. But, be sure that you use a screen big enough to see on it.
6. Ensure Enough Space
Whichever type of dual monitor setup you choose be sure that you have enough space for both monitors and papers. Also, they shouldn't be in front of each other to see your documents. All in all, you can always combine them and use uplifting accessories if one monitor is smaller and you need them to be symmetrical. You some accessories from your home to save money, but be sure that it is safe for the monitor.
Final Verdict
Having a dual monitor system in the home office can be easily and practical if you ensure enough space for both of them. There are many combinations of how to use both, even if one monitor is smaller than the other. Be sure that it feels comfortable for you and the home office dual monitor setup will increase your productivity. To buy the best dual monitor, see this post with reviews of the best dual monitors for home or office. The curved monitors for office work are similar so check them out.