As football is one of the most popular games, foosball is a miniature version available indoors.
But, what if you want to play a real-life version of foosball?
In this article, we introduce you to the game of foosball and present you with basic rules on how to play it!
What Is Human Foosball?
As its name says, human foosball is a real-life foosball set that mimics a popular table game. The game is made in near history, but there is no evidence of whom to thank for it. But, the most important fact is that is more fun than actual table foosball and requires more energy which is good for your activity and overall health. If you want, you can observe it as a fun way of playing the game and working out.
What Equipment Is Required?
The playground for inflatable human foosball can be made however you want. Of course, you can buy the finished product, but it is possible to recycle parts of other sports fields and incorporate them into it. It can be very cheap and well made with a little investment. Most of the parts are inflatable and made of soft rubber. Be sure you secure a soft and thick base in case you fell. It can be any size, but in some formal situations, it needs to be 32 feet long and 16 feet wide.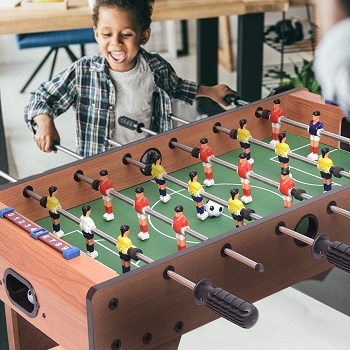 Some Basic Rules
The rules are very similar to foosball and if you like soccer, you won't have any problems with them. The most important rule is that each player has a specific section where they stand during the game and so they need to kick the ball using feet only. It is made for 10 to 14 players maximum. Players can move vertically in their zone and kick the ball to their goals. Opposite players need to be directed to their goal and catch the ball precisely to direct it in the right direction. There is one player on each goal that needs to catch the ball using feet only.
Why Try It?
Human Foosball is a fun activity that combines a favorite table game and more people involved in playing it. It is fun and helps you become more active in a fun way. Also, it is the ideal game for bigger family gatherings and teambuilding. What is more, you can build a smaller version in the office and have a fun and stress-relieving activity for pause from the work. If you don't want to buy a foosball table, you can do it! See how to make a DIY foosball table.
Final Verdict
Inflatable human foosball is a very fun activity that involves some creativity for making the playground. It is very easy to catch rules and people of all ages can participate. With some well-known and easy rules, you can play it whenever you need fun and mutual activity. To see the best offer of the foosball tables on the market, check our reviews of the commercial foosball tables or foldable foosball tables.