Are you looking for the right double filing cabinet for your office?
If you want to store a fair amount of documents, these items provide ample storage space for all your files and office supplies. This review offers a wide range of these file cabinets, but make sure you understand they aren't all the same. We offer help to assist you with finding the best model.
Our Top Picks
Best 6 Double Filing Cabinets
BEST OF BEST DOUBLE FILING CABINET
Fedmax Storage Filing Cabinet
Grey Filing Cabinet
This tall filing cabinet comes in different variants – black color, grey, black with silver door and white with silver doors. Any of these colors will blend easily with your office decor. Its overall dimensions are 70.8 inches in height, 31 inches in width and 15.7 inches in depth.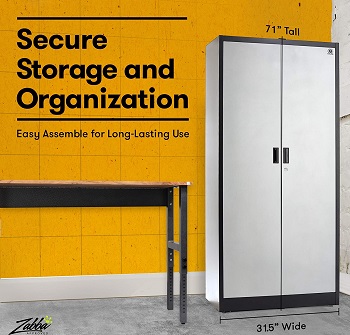 Leg Levelers
If you need to place your double filing cabinet on uneven ground, don't worry, this model comes with leg levelers. So you can put it on the rug, too. Fedmax arrives unassembled,  so the manufacturer created simple, step-by-step instructions.
Galvanized Steel Handles
Construction is made of durable metal and the handles are made of galvanized steel with a matte finish. This commercial file cabinet has a high weight capacity. Each shelf is rated for up to 200 pounds. There are four shelves and a bottom shelf.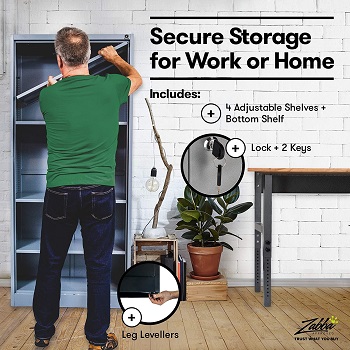 Two Keys
All four shelves are adjustable, so change the shelf height if you need to store large items. Of course, there is a lock system with two keys included in the package. Use a second key as a backup in case of loss. Your valuables and documents will be safe.
Highlighted Points:
tall metal file cabinet
multiple variants available
galvanized steel handles with a matte finish
each shelf is adjustable and rated for 300 pounds
built-in lock with two keys
simple and clear instruction included
BEST DOOR DOUBLE FILING CABINET
Steelcube 4-shelf Filing Cabinet
Tall Product
Steelcube is a tall filing cabinet – is a large and heavy item that requires assembly. The package includes tools, instructions and hardware, there is all you need. Its overall dimensions are 72 inches in height, 18 inches in depth and 36 inches in width.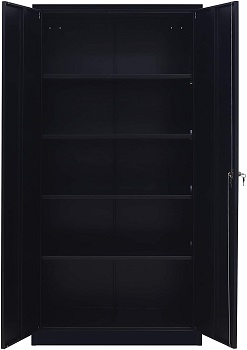 Water-resistant Surface
It requires a lot of space, so check its dimensions twice. Also, measure your free office space. Steelcube bears up a lot of weight because of its cold-rolled construction. That durable construction is able to withstand years of rigorous use. The surface is resistant to corrosion, scratches, moisture and it is water-resistant.
Four Shelves
Also, its raised bottom keeps water away from your stored items. Safety lock design will keep your files and valuables secured from damage and unwanted access. Steelcube is equipped with four adjustable shelves. You can change their height or remove it completely if you need to store some large items.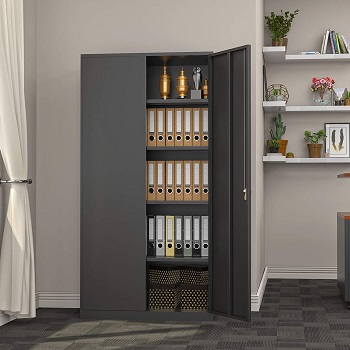 More Storage Space
It provides more storage space than standard file cabinets. This filing cabinet with doors accepts registers, office devices, books, file folders, binders and other office items. When it isn't in use, always lock this double filing cabinet. Clean it with a household glass cleaner.
Highlighted Points:
package includes all you need
cold-rolled construction
resistant to corrosion, scratches and water
quality lock keeps your stored items secured
four adjustable shelves
BEST LATERAL DOUBLE FILING CABINET
Mecolor Metal Office File Cabinet
White Construction
Mecolor is a large and wide file cabinet that perfectly fits in medium-sized offices. You can match its white construction with a modern office design. It is a practical, comfortable and elegant item suitable for offices and home offices. Mecolor weighs 57 pounds.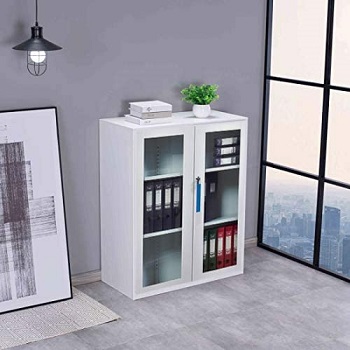 Cold-rolled Steel
It requires assembly, so tools and instruction are included in the package. Construction is made of cold-rolled steel, which is stronger than typical steel. Its surface is finished with eco-friendly electrostatic powder coating. That makes it resistant to corrosion and rust.
High-quality Lock
Two swing doors come with anti-collision rubber pins. With a high-quality lock and key, you can keep your stored documents and items secured. Product dimensions are 36 inches in height, 35 inches in width and 15.7 inches in depth.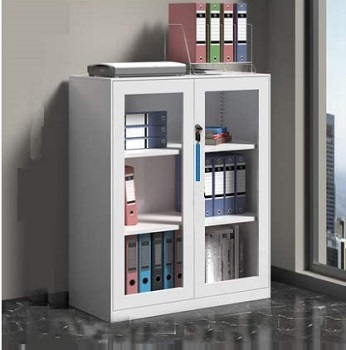 One Adjustable Shelf
The doors are made of steel and glass, so you can easily see where your file folders or binders are. This modern lateral file cabinet features two shelves. But, there is one adjustable shelf, you can change its height or remove it. This double filing cabinet has an affordable price.
Highlighted Points:
durable cold-rolled steel construction
environmental friendly surface
available in white color only
high-quality lock and two keys included
one adjustable shelf
affordable price
BEST DRAWER DOUBLE FILING CABINET
HON 2-drawer File Cabinet
All-welded Design
The HON file cabinet is designed for demanding work environments. It features an all-welded design with a double-walled base. Construction is made of high-quality metal materials. HON weighs 132 pounds and measures 28 inches in height, 36 inches in width and 18 inches in depth.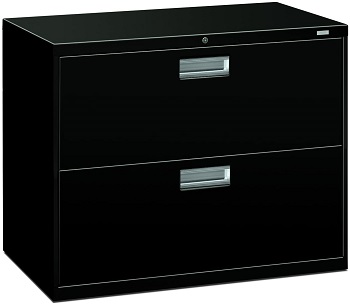 Ball-bearing Suspension
This professional-grade office double filing cabinet has high-quality steel ball-bearing suspension. You can open and close drawers quickly and quietly. The hang rails are included in the drawers and they accommodate letter and legal size file folders.
Anti-tip Mechanism
There is a safety mechanism that prevents tipping over. That means, when one drawer is opened, another drawer is closed, you can't open it. On the file cabinet bottom, there are leveling glides, you can adjust them even when both drawers are full.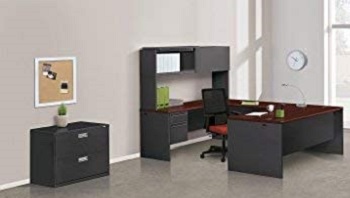 Integrated Counterweighs
Both drawers are equipped with aluminum handles. This steel 2 drawer file cabinet features factory-installed counterweights, they maintain stability. Key core-removable locks can be changed or interchanged depends on your requirements. Its price is high.
Highlighted Points:
all-welded design with double-walled base
commercial-grade quality
high-quality steel ball-bearing slides
two drawers are equipped with hanging rails
core-removable lock protect your documents
leveling glides keep the file cabinet leveled
BEST WIDE DOUBLE FILING CABINET
Intergreat Steel Storage Cabinet
Durable Item
Intergreat is a very strong and durable file cabinet, ideal for demanding work environments. There are two colors you can choose from – black and grey. When the product arrives at your address, you'll find a file cabinet, instructions and a package of screws included.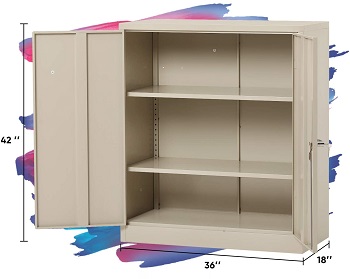 Non-toxic Materials
Its structure is reinforced with a high-quality metal frame. The surface is made of eco-friendly non-toxic powder coating. Intergreat has 18 inches in depth, 36 inches in width and 42 inches in height. On the front are two doors with a 180° opening angle.
Adjustable Shelves
Behind these doors, there are two adjustable shelves to meet different needs. Adjust shelf height to accommodate your items. Locking the swing handle will keep your valuables secured. The package of this double filing cabinet includes two keys. Intergreat will protect your stored items from light, dirt and dust.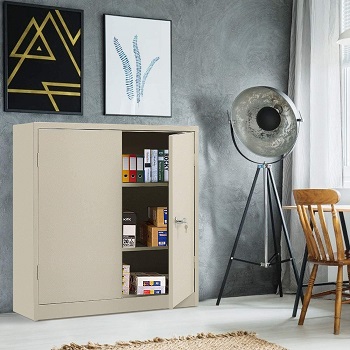 Commercial Use
It is easy to clean and maintain this wide file cabinet. Use a damp towel or mild soap to clean it. Its electrostatic phosphorous-free epoxy spray layer makes it resistant to corrosion and rust. The Intergreat is a perfect solution for commercial offices.
Highlighted Points:
durable steel construction with reinforced structure
available in black and grey colors
the manufacturer uses non-toxic materials
two adjustable shelves
easy to lock and protects your stored items
BEST LOCKING DOUBLE FILING CABINET
Devaise Black File Cabinet
Black Product
The Devaise is a lateral file cabinet available in black color only. You can choose between sizes, this reviewed model measures 29.3 inches in height, 35.43 inches in width and 15.7 inches in depth. It weighs approximately 80 pounds. Assembly it easily with instruction.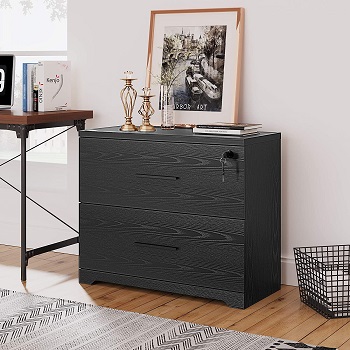 Sustainable Wood
This fashionable and flexible solution will keep your files and documents organized. The double filing cabinet is made of durable and sustainable engineered wood. Its surface is resistant to scratches and water. Clean it with a damp cloth and the Devaise will look like new for many years.
High Weight Capacity
Its large and thick desktop is suitable for printer, scanner, books, etc. Devaise supports a weight of up to 220 pounds. Store your files and office essentials in these two drawers. They are equipped with large black handles. Both drawers glide on heavy-duty ball-bearing slides.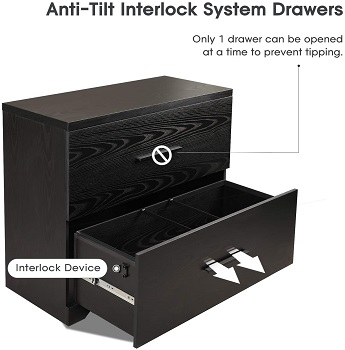 Built-in Lock
This locking lateral file cabinet has removable drawer dividers into both drawers. They hold both letter and legal size hanging file folders. On the right corner of the top drawer is a built-in lock. It secures both drawers at the same time. Also, there is an interlocking safety mechanism that prevents tipping over.
Highlighted Points:
made with sustainable engineered wood
black finish available
thick surface holds office devices
two roomy drawers fitted with drawer dividers
built-in lock secures drawers
the anti-tilt mechanism prevents tipping over
Things To Know About Double Filing Cabinets
The double filing cabinets provide more storage space than standard file cabinets. If you want to know more before purchase, check out the following guidelines.
Wood Vs Metal – Wood and metal are the most common file cabinet materials. On the list above, you'll find models made of quality wood and durable steel materials. The right choice depends on your preferences, but for those who work in a demanding work environment, we recommend a steel file cabinet.
Drawers Vs Shelves – There are file cabinets with drawers or shelves or even both. Wide and deep drawers are practical for hanging file folder storage. Shelves are a better choice for larger items, also, they are adjustable, so you can customize your cabinet to suit your needs.
Counterbalance Weighs – These heavy-duty file cabinets are designed for high-capacity filing. So, it is necessary to check if your favorite model comes with an anti-tilt design. Some file cabinets should be attached to the wall, but some come with counterweights that are made of concrete or other heavy material.
Glass Doors – File cabinet door also can be made of different materials – wood, steel and even glass. There are some glass door benefits. Their main advantage is that you can easily see which documents are stored in your file cabinet. You don't have to open the door and search.
Lock System – When the double filing cabinet isn't in use, it should be locked. That prevents stealing, protects your stored items from damage, etc. If the package contains two keys, save the second key as a backup plan, in case of loss.
Final Verdict
All these models are durable and sturdy, but we would like to recommend the Fedmax double filing cabinet. Constructed of durable metal with scratch-resistant surface and four adjustable shelves. There are more models that provide high-capacity storage, like a file cabinet with printer storage and a lateral file cabinet with shelves.