Do you want to save your valuable desk space and buy a desk light bar?
Then keep reading!
In this article, you can learn more about this lamp type, designed for your home office or office settings. They offer various lighting options and have many advantages. Read the reviews and equip your desk with one of these space-saving lights.
Our Top Picks
Best 6 Desk Light Bar
BEST OF BEST DESK LIGHT BAR
BenQ ScreenBar Monitor Light
Aluminum Construction
BenQ Screenbar is an aluminum computer screen bar perfect for gamers and people who spend many hours in front of a computer screen on a daily basis. It enhances the focus and creates a comfortable environment while playing, writing, reading, and so on.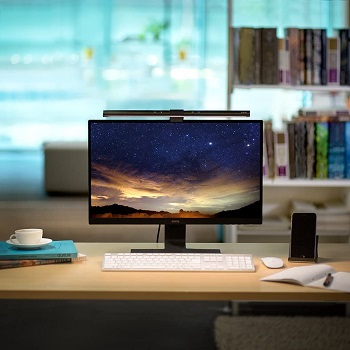 Auto-dimming Function
The weighted clip gently rests on a monitor with a  thickness from 0.4 to 1.2 inches. This monitor light is powered by USB and boasts the auto-dimming function, using a built-in ambient light sensor. The screen bar automatically adjusts the brightness level to deliver optimal illumination in your room.
Color Temperatures
Also, you can manually dim the light with the touch control button. BenQ Screenbar monitor light enables you to choose between different color temperature lights to create more comfort or focus. Warm light is perfect for relaxation while cool light keeps you concentrated and awake.
Patented Design
This computer monitor light bar features a patented asymmetrical optical design that illuminates the desk properly and reduces effective glare off the screen. Its space-saving design saves valuable space on your desk and illuminates your work area efficiently.
Highlighted Points:
aluminum computer screen bar
easy-to-install weighted clip
powered by USB
auto-dimming function
different color temperatures
patented asymmetrical optical design
BEST WORKSTATION LED DESK LIGHT BAR
Baseus Monitor Light Bar
Easy To Install
Baseus is a high-quality desk LED light bar that has an affordable price. It features a space-saving design, and you need to clamp it onto the monitor. The package includes a light bar, user manual and 4.9 feet USB-C power cord. The light bar is lightweight and made from aluminum alloy.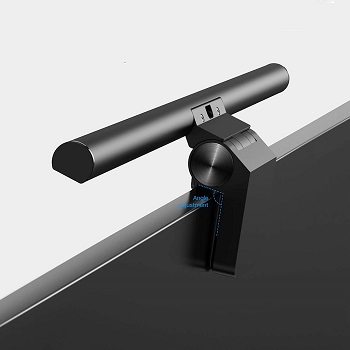 Non-slip Design
It features an effective non-slip design and silicone panel that won't damage your monitor screen. The pure black color blends with any office or home office decor. Baseus will improve your viewing experience, it's ideal for office working, e-reading, gaming, watching videos, studying and more.
Flat Monitors
This USB-powered light can be powered by a power bank, USB charger and computer. Baseus is compatible with flat monitors and supports a monitor thickness from 0.3" to 0.8". Its suspension and asymmetrical design illuminate the keyboard and desktop, it's glare-free and flicker-free light.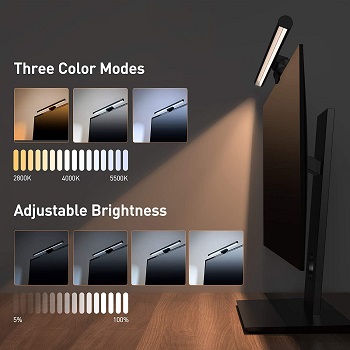 Memory Function
Baseus is one of the best desk lamps for computer work that helps to relieve eye fatigue caused by long-term sitting in front of the computer screen. Choose between three color modes and a few brightness levels to optimize the lighting. Thanks to memory function, Baseus will resume your last used mode.
Highlighted Points:
high-quality desk LED light bar
affordable price
made from aluminum alloy
effective non-slip design
USB-powered lamp
compatible with flat monitors
three color modes
BEST RGB DESK LIGHT BAR
Govee Plus Smart Light Bar
In The Box
Govee Flow Plus package includes two light bars, one adapter, two table mounting brackets, two-screen mounting brackets and a control box. These bars are made from ABS and plastic. Their construction is durable, quality and fits in any home office or office setting.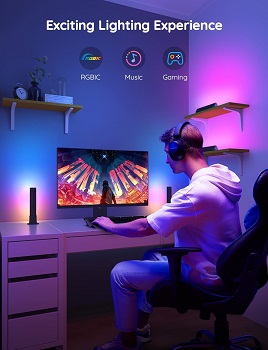 Versatile Placement
You can install these RGB desk lighting in many ways. Lay them flat, stand upright, or you can use the included brackets to mount them behind the TV or monitor. These attractive RGB desk light bars ensure an exciting and different experience than other light options.
Smart Control App
The power cord length is 106 inches. Govee desk light bar can be controlled by a smart app. Download the Govee Home app and customize the colors and brightness you want. It works with Google and Alexa. Meaning, you can adjust lighting with simple voice commands.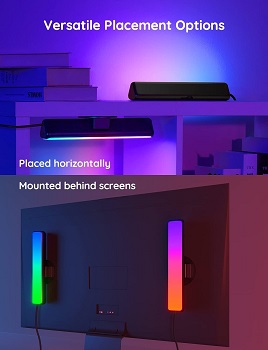 Sync With Music
Plus, you can group with other Govee lights, automate lighting schedules and display rainbow-like effects. It offers 16 million colors. Boost your gaming experience by creating your environment. Sync these light bars with music and the light will react to the beat of your music or movie.
Highlighted Points:
package includes two light bars
durable and quality construction
versatile placement options
control it with a smart app
compatible with Google and Alexa
customize the colors and brightness
sync the bars with music or movie
BEST MODERN LED DESK LIGHT BAR
Quntis No Glare Light Bar
Ideal For Professionals
This modern black monitor light bar is designed for professional designs, software programmers, graphic designers and other people who spend many hours in front of the screen. This model has passed 10,000 tests to ensure its safety. It has passed Optical radiation safety and Anti-blue light standards.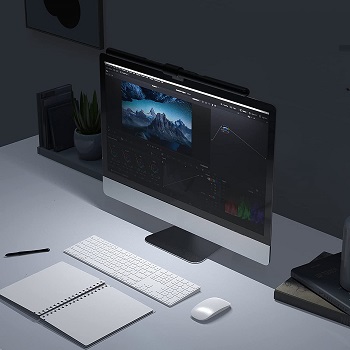 USB Powered Light
Quntis isn't suitable for laptops and curved screens. It is designed for 22-29 inch monitors with thickness from 0.6" to 1.4". The convenient clip design allows this desk light bar to sit on top of the computer stably. Power it with any USB outlet – computer, phone charger, power bank.
Suspension Design
This modern task lamp has a suspension design that delivers the light from the center and front, eliminating reflective glare off the screen. Quntis has a built-in ambient light sensor that automatically adjusts the brightness according to the surrounding light.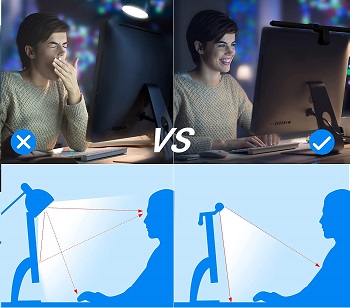 Color Temperature
Plus, you can manually adjust the color temperature by pressing the dimming key. The color temperature range from 3000K to 6500K. You can easily switch between cold light and warm light. The high color rendering index shows the true color of objects and things.
Highlighted Points:
modern black monitor light bar
designed for professionals
meets high safety and quality standards
USB powered light bar
built-in ambient light sensor
adjustable color temperature
BEST OFFICE DESK LIGHT BAR
Ufanore Computer Monitor Light Bar
Power Supply Equipment
This computer desk light bar is made from aluminum alloy, PC and ABS materials. The bar size is 19.7" x 0.9" x 3.3". The package includes a light bar, screen clip, adjustment cover 2x, 6.6-feet USB cable and user guide. Charge it with a computer, USB charger or power bank.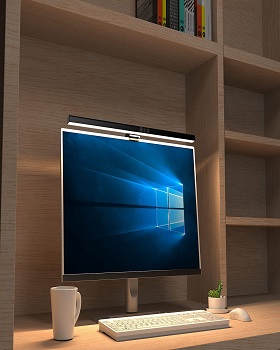 Easy To Install
Novtech isn't designed for laptops, but it fits any monitor with thickness from 0.1" to 0.6"-inch screens. It is very easy to install it, just hang the light on the screen, no tools are needed. Then connect the USB cable to the power port and press the touch switch to start using.
Color Modes
This cool office lighting has three color modes. Choose between warm light (3000K), mixed light (4000K) and cool white light (6000K). use the warm light for relaxation and cool white light for work and studying. Press the touch button and change the light color immediately.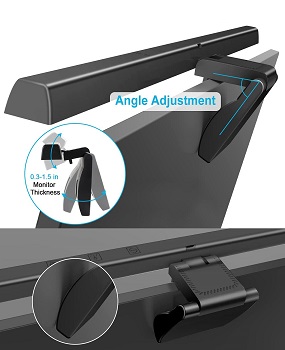 Adjustable Brightness
Also, you can adapt the brightness level depending on your tasks and needs. It can be adjusted from 0% to 100%. The memory function will restore the brightness and color temperature settings you used last time. Ufanore light bar provides focus and eye-caring illumination.
Highlighted Points:
aluminum alloy light bar
ideal for an office setting
charge it with a computer, USB charger, power bank
three lighting modes
flicker-free and glare-free light
adjustable brightness
BEST ADJUSTABLE DESK LIGHT BAR
Koncept Z-bar LED Light
UL-listed Lamp
Koncept Z-bar is a desk lamp available in silver and black color. The lamp size is 9" x 16.4" and it weighs 5.5 pounds. This model is very popular and has great performances. Its base is very stable and won't tip over. Koncept Z-bar is tested and meets high standards, it's UL-approved.
Mounting Options
This aluminum desk lamp is available with a variety of base and mounting options. That includes standard table base, table base with USB port, power base with AC outlet and USB outlet, grommet mount, through-table mount, one-piece desk clamp, standard wall mount, etc.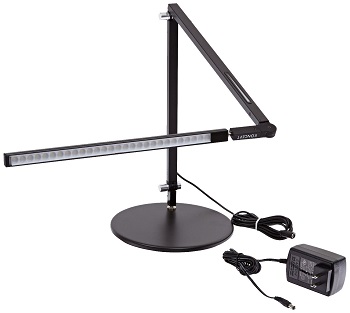 Long-lasting LED
The three-bar design lamp comes with an integrated 9.5W LED light source. The LED has a lifespan of 50,000 hours, meaning, you can use it for decades. There aren't bulky bulbs, but a slim row of tiny LEDs that will illuminate your entire workbench.
Flexibility
This adjustable arm desk lamp provides the ultimate flexibility. The adjustable lamp head can spin in its socket, sweep side to side and rotate to point in any direction you want. The touch strip is located near the lamp head for easy access. Slide your finger along to dim the light.
Highlighted Points:
aluminum housing lamp
tip-resistant base
variety of mounting options
integrated 9.5W LED
highly flexible design
touch strip for control
dimmable options
Things To Know About Desk Light Bar
There are many various desk light bars on the list above. To help you to choose the best product for your office setting, we explained some factors necessary to consider before buying, such as light bar benefits, color temperature and intelligent features.
Light Bar Advantages – Instead of occupying actual desk space, these computer monitor light bars sit on top of your monitor. They usually feature a universal clipping mechanism that fits most monitor types. However, they support various monitor thicknesses, co check that before buying.
Light Bar Design – These bars are long and cover the center of your monitor illuminating the working area. They are a brilliant solution for tight desk spaces as they take up vertical space above your monitor. These bars are lightweight and focus on your workspace, not on your monitor. However, there are models with a stand and long adjustable arm and light panel allowing you to place it anywhere.
Color Temperature – By adjusting the color temperature and brightness level, you can create a comfortable environment for various tasks. Choose between cold white light and warm light options. Cold white light is ideal for work and other tasks that require concentration.
Ambient Light Sensor – Many of these reviewed desk light bars come with an integrated ambient light sensor. This intelligent feature detects the surrounding brightness and automatically adjusts the brightness to a comfortable level gentle to your eyes.
Eye-caring Light – These desk light bars have many advantages. They are perfect for people who spend many hours in front of their monitors and screens. These bars illuminate your workbench efficiently and ensure that there is no reflected glare to your eyes. Also, light bars reduce eye strain.