Are you looking for convenient storage space with drawers and shelves?
Did you consider a console file cabinet? If you didn't, then this article will introduce you to that file cabinet type. We'll help you find the perfect solution for your home office or office style and requirements. Check our top-rated list and few guidelines below.
Our Top Picks
Best 6 Console File Cabinets
BEST OF BEST CONSOLE FILE CABINET
Homecho File Cabinet With 2 Drawers
Engineered Wood Construction
Homecho is a lateral file cabinet made of durable engineered wood material. Its strong wood frame provides extra stability and ensures long-term use. This file cabinet is suitable for home office or office use. This item weighs 44 pounds and measures 29.3" H x 31.5" W x 15.2" D.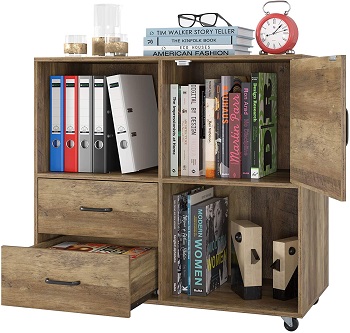 Rustic Brown Item
There are two finishes you can choose from – rustic brown and dark brown. Homecho console file cabinet requires assembly, so it comes with detailed instructions included in the package. The box also contains an accessory kit, so you don't have to buy any hardware.
Convenience Wheels
It is easy to move this file cabinet around because of its five swivel casters. Two wheels come with brakes providing stable placement. This lateral file cabinet with shelves features unique sleek metal handles in black finish. There is plenty of storage space for your needs.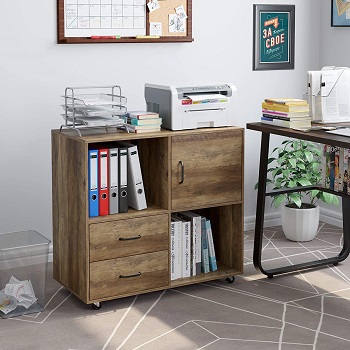 Storage Space
Its wide top is suitable for a printer stand, scanner, books or plants. There are two open shelves for books, binders, registers or decorations. Two drawers are ideal for files and documents, place them horizontally. Also, there is a filing cabinet with a door.
Highlighted Points:
quality engineered wood construction
the unique rustic wood grain finish
assembly is required
five swivel wheels ensure easy movement
two drawers – not for hanging files
open shelves and a filing cabinet
BEST METAL CONSOLE FILE CABINET
HouseinBox Storage Cabinet
Classic Design
Furniture R made this HouseinBox storage cabinet. It is available in red color only. This standing multifunctional console file cabinet features a simple but stylish design. So this file cabinet will suit any office decor thanks to its timeless design. It is easy to clean and maintain.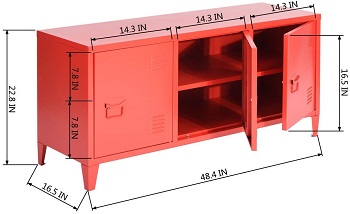 Detachable Legs
Construction is made of high-quality metal, the surface features powder coating. It is resistant to scratches. This item weighs 42 pounds and measures 48.4 inches in width, 16.5 inches in depth and 22.8 inches in height. The package includes legs, but they are detachable.
Vent Design
There is ample storage space for your files and office supplies – 2-tier or six shelves. But you can leave the middle sheet out and get even more space. Each door has a knob design for easy open/close. The vent design will keep your files and office accessories dry.
Stackable Item
This metal office cabinet features a black hole design, so you can store the media unit cables. Also, use its wide surface for your books, registers, binders or use it as a coffee table. You can stack another Housein Box cabinet and get a tall storage item.
Highlighted Points:
high-quality metal construction
powder coated surface resistant to scratches
2-tier of six shelves for your office needs
hold for media unit cables
comes with legs – you don't have to install them
BEST 3-DOOR CONSOLE FILE CABINET
Glchq Storage Cabinet
Three Versions
The Glchq is a modern console file cabinet. This item comes in white or grey color. Also, you can choose between a 6-drawer model or a two-door model. We decide to review a model with three drawers and three doors. It provides ample storage space for any office.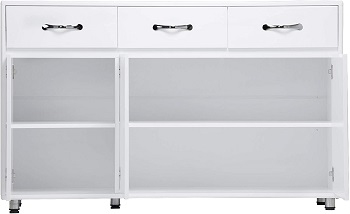 MDF Panels
Because of its pure white color, it will fit in any office decor. Moreover, there are rounded corners and smooth edges. When you get this item, you need to read and follow the instruction. They are very clear, so you can assemble it quickly. Its construction is made of medium-density fiberboard.
Steel Tube Legs
Construction is thick and durable, it isn't easy to damage it. Glchq size is 32 inches in height, 52.4 inches in width and 15.7 inches in depth. It stands on steel tube legs fitted with rubber pads. They are waterproof and slip-resistant. Also, they won't damage your floor.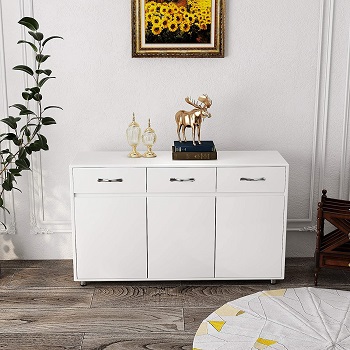 Shelves & Drawers
This white lacquer file cabinet features three drawers  – they are shallow, so use them for small office supplies. Below the drawers, you can find two-layer storage space behind the file cabinet doors. The file cabinet on the left side is smaller, ideal for important registers.
Highlighted Points:
assemble is required
engineered wood construction
steel tube legs and drawer slides
three drawers hold small office supplies
two file cabinets with shelves
rounded corners and smooth edges
BEST 2-DRAWER CONSOLE FILE CABINET
Giantex Multifunctional Storage Cabinet
Shock-resistant Surface
This console file cabinet is a decorative and functional item. Its construction is made of high-quality medium-density fiberboard. The manufacturer uses eco-friendly materials. Plus there is melamine edging, so Ginatex is resistant to high temperatures, scratches, corrosion and impact.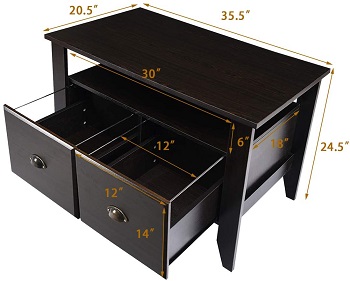 Open Shelf
This item weighs 64.5 pounds and measures 24.5 inches in height, 35.5 inches in width and 20.5 inches in depth. use its spacious top surface for decorations, plants, important books and notebooks. There is an open shelf below the desktop where you can keep your daily essentials.
Full-extension Drawers
Two large drawers offer ample storage space for your files and documents. Both drawers feature full extension slides and hold both, letter- and legal-size file folders. This small 2 drawer file cabinet comes equipped with hanging rails for your file folders.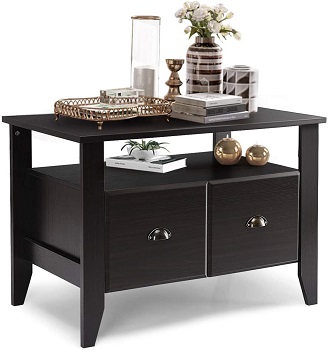 Retro Handles
The inner size of the drawer is 12" W x 9" H x 13.5" D. Both drawers are equipped with retro and exquisite handles. Giantex's total weight capacity is 110 pounds. Durable wedge legs are thick and stylish. Cleaning and maintenance are simple and easy with a soft wet towel.
Highlighted Points:
easy to assembled
elegant and beautiful coffee finish
made of durable MDF panels
resistant to high temperatures, water and scratches
two large drawers hold either letter- or legal files
spacious desktop and open shelf
BEST PORTABLE CONSOLE FILE CABINET
Vanspace 2-drawer Wood File Cabinet
MDF Panels
The Vanspace is an affordable console file cabinet. This model is available in vintage brown color only. Its construction is made of high-quality P2 medium density fiberboard. It is thick and uses 1oo% environmentally wooden materials.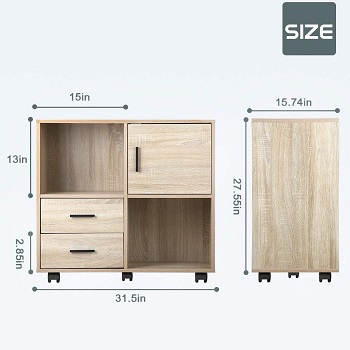 Waterproof Surface
The surface is resistant to scratches and waterproof. It is easy to clean and maintain, wipe it with a damp towel. Vanspace requires assembly, so you'll need about 40 minutes to finish it completely. There is detailed instruction included in the package.
Printer Stand Desktop
Product dimensions are 31.5 inches in width, 27.5 inches in height and 15.7 inches in depth. Vanspace provides plenty of storage space for your office needs. This file cabinet with printer storage features a wide desktop, ideal for printer, scanner, books, etc.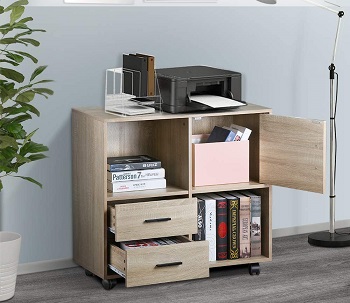 Two Drawers
There are two open storage spaces, where you can store commonly used items, easy to take. Two drawers can save letter-size files but in a flat position. Both drawers glide on full-extension slides. There is a small file cabinet with doors. Swivel casters come with brakes.
Highlighted Points:
available in vintage brown color
scratch-resistant and waterproof surface
made of P2 grade medium-density fiberboard
two open storage space plus file cabinet with door
two drawers for letter-size files
BEST SMALL CONSOLE FILE CABINET
Cipacho Storage File Cabinet
Item Dimensions
This modern console file cabinet is available in grey and white colors. It requires assembly, there are clear instructions, labeled parts and screws included in the package. Its overall dimensions are 35.4 inches in width, 32 inches in height and 15.7 inches in depth.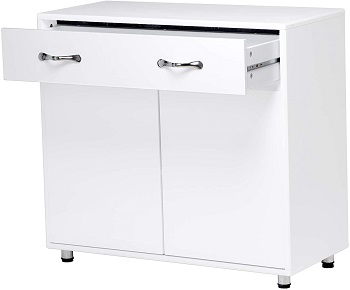 Sturdy Construction
Its stylish, modern look makes it a nice option for contemporary office spaces. Sturdy construction is made of medium-density fiberboard that provides stability and durability. The corners are rounded and smooth, so this file cabinet is safe for home office use.
Steel Tube Legs
Cipacho file cabinet stands on tube legs, they are made of steel. You can adjust the leg height. They feature rubber pads that are waterproof and slip-resistant. Also, if you want to move this file cabinet, these pads will protect your floor from damages and scratches.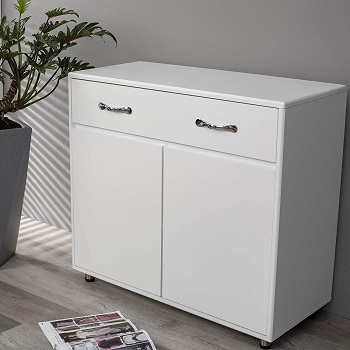 Ample Storage Space
Its display surface on top is suitable for office devices. This white wood lateral file cabinet has one long drawer for your office supplies and files. Below the drawer, there is a storage space with two doors. There is a shelf, ideal for books, binders and registers storing.
Highlighted Points:
durable and quality medium density fiberboard
steel tube legs with anti-slip pads
rounded and smooth corners
available in grey and white color
the assembly is required
long drawer and two shelves
Things To Know About Console File Cabinet
Console file cabinets are made of different materials and various storage spaces, so we have prepared some basic info about this file cabinet type. Read them and find out more about these useful and stylish items.
MDF VS Steel – The file cabinet construction depends on your requirements and the material benefits. Of course, steel file cabinets are durable and sturdy, designed for long-lasting use. Medium-density fiberboard is a type of engineered wood, it is available in multiple natural finishes.
Portable Item – Some of these file cabinets come with convenience wheels. If you need to move your file cabinet frequently consider the mobile items. Some models come with four, some with five casters. That fifth caster adds more stability. It is important to check if wheels come with brakes.
Storage Space – These file cabinets usually have different storage spaces, like drawers, shelves, or there are filing cabinets with doors. You can organize your office supplies in small drawers, your files in a file drawer with hanging rails and your registers in a file cabinet with the door.
Cleaning & Maintenance – Your office filing cabinet needs occasional cleaning. First, you need to remove everything from your file cabinet. Put your documents and office accessories on your desk. Use a mild cleanser to clean steel file cabinets, for wooden ones, a damp cloth is enough.
Assembly Required – Some console file cabinets don't require assembly, so if you don't have free time to install them, look for pre-assembled items. Otherwise, you'll need to read the instruction or watch an assembly video and install the item by yourself.