If you trying to determine how to store a large amount of documents, there is a solution!
A closet file cabinet! This item will help you to create a functional home office or office space. Here you can find tips to help you determine which functions are necessities so you can buy a perfect item for your office. Before guidelines, there are few reviews of high-quality models.
Our Top Picks
Best 5 Closet File Cabinets
BEST OF BEST CLOSET FILE CABINET
Aobabo Storage Filing Cabinet
For High-capacity Filing
Aobabo is a large closet file cabinet, so if you struggle with a high amount of documents, this item could be an ideal solution for your needs. This item comes unassembled, so you need to follow the isntruction. If you have any problems, the Aobabo team will help you with this task.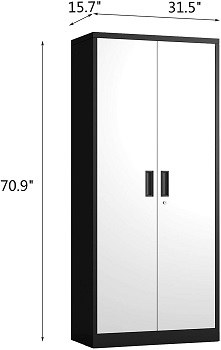 Well-designed Item
If you need to place the file cabinet on the rug or uneven floor, there are adjustable leg levelers. They provide a stable position. This well-designed file cabinet is constructed of durable steel material with a powder-coated surface. This model has a black box with white doors.
High Load Capacity
Aobabo painted metal file cabinet is 70.9 inches tall, 15.7 inches deep and 31.5 inches wide. Its sturdy construction allows a high weight capacity of up to 900 pounds. The heavy-duty metal frame keeps the file cabinet stable and reliable. Each drawer is able to hold up to 180 pounds.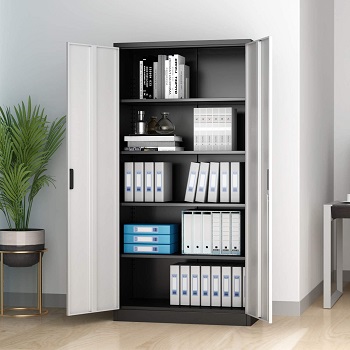 3-point Lock Mechanism
You can prevent unwanted access to your files and documents. A three-point locking mechanism keeps your things secure. A high-quality lock comes with two keys. There are five shelves and four of them are adjustable. Place your binders, registers, books on these shelves.
Highlighted Points:
durable steel construction with a matte finish
black file cabinet with white doors
high weight capacity  – up to 900 pounds
reinforced structure keeps file cabinet stable
high-quality lock with two keys
designed for high capacity filing
BEST LARGE CLOSET FILE CABINET
Fedmax Metal Storage Cabinet
Black Model
The Fedmax is a big and tall closet file cabinet. This model comes in different colors – black, grey, black with grey doors and white with grey doors. item comes unassembled, but there are clear instruction, follow them and assemble it quickly.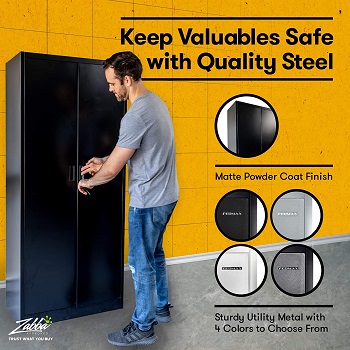 Total Load Capacity
Upon assembly, its dimensions are 70.8 inches in height, 31.5 inches in width and 15.7 inches in depth and weigh 98 pounds. Sturdy metal construction is coated with a matte powder finish. Because of its sturdy and reliable design, Fedmax offers a total weight capacity of 600 pounds.
Metal Frame
Each shelf is able to hold up to 180 pounds. A heavy-duty metal frame provides file cabinet stability. If your floor is slightly uneven, don't worry, there are adjustable leg levelers that keep this item stable. There are included four adjustable shelves with bottom shelf.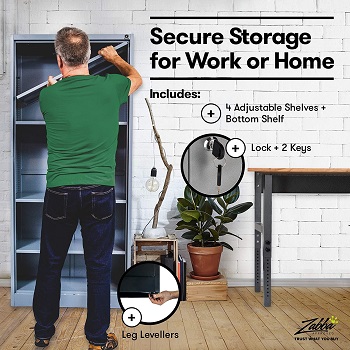 Secure Storage
This sturdy file cabinet provides good protection for your stored documents and office supplies. The built-in lock comes with two keys. It prevents unwanted access. Save the second key, which is backup in case of loss. Use it in your office or home office.
Highlighted Points:
multiple colors available
the assembly is required
sturdy metal construction with matter powder coating
total weight capacity of 600 pounds
reinforced with heavy-duty metal frame
four adjustable shelves + bottom shelf
BEST HOME OFFICE CLOSET FILE CABINET
Sauder HomePlus Storage Cabinet
HomePlus Collection
Sauder made this HomePlus collection with products specially designed for home office use. There is an array of different styles and features. This closet file cabinet requires some assembly, so you'll need a screwdriver and a hammer. If you have questions, call Sauder customer service.

Sustainable Wood
This American-made product is manufactured with quality engineered wood, it is durable and sturdy. Sauder dimensions are 70.9 inches in height, 23.3 inches in width and 17 inches in depth. It weighs 108 pounds and features a salt oak finish.
Adjustable Base Levelers
The framed panel doors are equipped with small elegant black handles. You can open and close this file cabinet with ease. On the file cabinet bottom, you can find base levelers. They are adjustable, so you can place this item on the rug or uneven floor.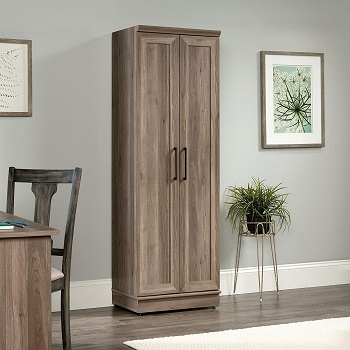 5-year Warranty
Its enclosed back panel has cord access. This solid wood file cabinet features four adjustable shelves behind the framed doors. You can remove these shelves or adjust them depends on your storage needs. The warranty for this product lasts 5 years.
Highlighted Points:
HomePlus collection for home offices
sustainable and engineered wood construction
salt oak finish fits in any home office decor
equipped with elegant black handles
four adjustable shelves for files and books
BEST PORTABLE CLOSET FILE CABINET
Aobabo Storage Cabinet With Wheels
Professional File Cabinet
This is the only portable file cabinet on the list. The Aobabo is a large file cabinet that is suitable for home office or office. It is professional office furniture with high-quality design and functional features. Aobabo is well-engineered and incredibly strong.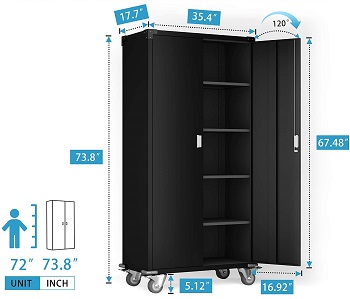 Powder-coating Surface
The assembly is required and the instructions are clear and simple. It is constructed of steel, which is durable and sturdy, so this item is able to withstand a year of rigorous use. Its surface is powder coating, so you can clean and maintain this item easily.
Angle Stiffeners
Thanks to its sturdy construction, this closet file cabinet bears up to 440 pounds. Moreover, there are angle stiffeners that make the whole file cabinet even stronger. High-quality handles on both doors allow you to open and close this file cabinet smoothly.
Four Lockable Casters
This filing cabinet with doors features four high-quality casters, all four casters are lockable for stable placement. You can remove the casters if you want. Its interior contains four shelves for books, binders, etc. These shelves are adjustable in height.
Highlighted Points:
large vertical file cabinet
durable and sturdy steel construction
black powder-coated finish
safety lock and key included
adjustable shelf height
four quality casters with brakes
BEST SMALL CLOSET FILE CABINET
N/A Steel Storage Cabinet
Ideal For Small Offices
The N/A closet file cabinet is a thin item, so it's the ideal solution for space-limited offices. Including legs, this file cabinet measures 54.1 inches in height, 15.2 inches in width and 15.2 inches in depth. The N7A isn't heavy, it weighs 42 pounds. Its price is affordable.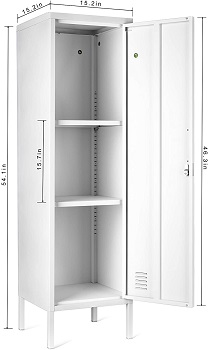 High-quality Construction
When this product arrives at your address, you need to assemble it. It's simple, you need to use a screwdriver and follow the instruction. Cold-rolled 24 gauge steel construction is coated with environmentally-friendly electrostatic powder. It is available in matte white color.
Vent Design
There is a shock absorption buckle on the door, it prevents damages. This steel file cabinet has a vented design, so your stored item will stay dry and protected. Open and close this file cabinet quickly and quietly, there is a mute magnet door suction.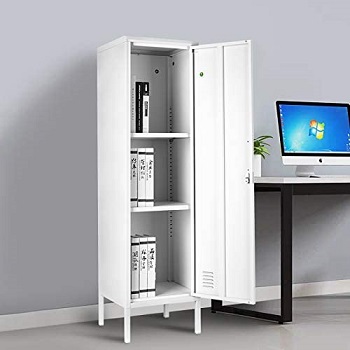 Foldable Keys
The streamlined handle design allows you to open/close the file cabinet with ease. Below the handle is a built-in lock that comes with a foldable key. Keep your stored items secure. It is ideal for storing documents and other office supplies. There are two adjustable shelves.
Highlighted Points:
high-quality cold-rolled construction
a modern matte white surface
shock absorption buckle
two adjustable shelves
built-in lock mechanism with two keys
Things To Know About Closet File Cabinet
A closet file cabinet isn't a small piece of furniture, so you need to check some factors before your purchase. This brief guide will help you to choose a suitable model for your needs.
File Cabinet Construction – Almost all models on the list above are constructed of metal/steel. That is a durable and sturdy material, able to withstand years of use. But for your home office, you can choose a wooden model, it provides a natural look and timeless appearance.
Shelf Quantity – How many shelves do you need? Hard to say, so there is a solution, you can buy a model with adjustable shelves. That means you can remove or add a shelf depends on your current requirements. It is practical and easy to do.
Lock Mechanism – Some filing cabinet with doors features built-in lock mechanism. It is always a good idea to lock your stored files and office supplies, whether you work from the office or home office. That prevents unwanted access and protects your files from damage.
Weight Capacity – Before you buy any model, it is important to check file cabinet weight capacity. Also, check the shelf weight capacity, too. If you want to store your office device, consider a heavy-duty file cabinet. We found a model with a weight capacity of 900 pounds, it is sturdy and reliable.
Leg Levelers – Maybe you need to place your closet file cabinet on a rug or uneven floor. Look for adjustable leg levelers, they will keep your file cabinet stable on any ground. Check from which material they are made of and their weight capacity.