Are you looking for a budget-friendly file cabinet with a lock?
In this review, we review the six best cheap filing cabinets with locks currently available in the market. We hope these models will help you make your choice. Below the list, there is a buying guide with few important factors, check them before purchase.
Our Top Picks
Best 6 Cheap Filing Cabinets With Lock
BEST OF BEST CHEAP FILING CABINET WITH LOCK
Songmics Filing Cabinet
Slim Design
Songmics is a popular brand with good quality and reasonable prices. This black model features a slim design, that doesn't require a lot of your floor space. It weighs 41 pounds and has 23.6 inches in height (including casters), 11.8 inches in width and 17.7 inches in depth.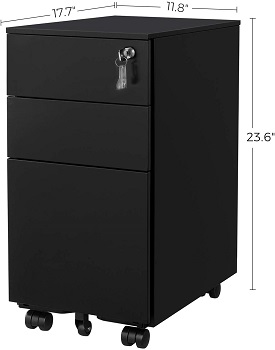 Accessory Kit Included
The small file cabinet with lock comes fully assembled, except for the casters, you need to affix them. Also, the package includes a stationery tray, hanging rail, instructions and accessory kit. Songmics construction is made of durable and sturdy steel, you can use this file cabinet for years.
Load Capacity
There are three drawers for your office files and documents. The top drawer comes with a removable pencil tray for small office supplies. The bottom drawer has hanging rails included. They hold letter- and legal-size file folders. The maximum load capacity of the file drawer is 44 pounds.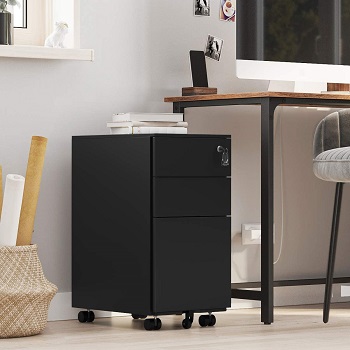 No Tipping Over
This cheap filing cabinet with a lock secures all three drawers at the same time. Two keys are included in the package. Move the Songmics with ease, there are five casters for smooth movement and stability. The risk of tipping over is reduced to a minimum.
Highlighted Points:
slim design suitable for small offices
black file cabinet that comes assembled
durable steel construction
the top drawer is equipped with a lock and pencil tray
file drawer holds letter and legal files
all three drawers are lockable
BEST 3-DRAWER CHEAP FILING CABINET WITH LOCK
Greenvelly Blue File Cabinet
All Included
Greenvelly file cabinet is a modern product that is designed for personal use. The package includes a file cabinet, instruction, set of casters, pencil tray and two keys. It weighs 48 pounds and measures 21 inches in height, 15.7 inches in width and 19.7 inches in depth.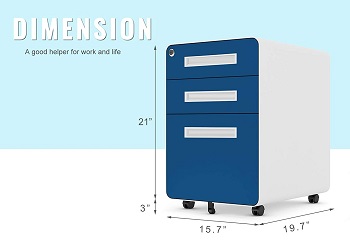 Modern Design
Rounded corners and inset handles make it modern and safe for use. This model comes in white sides and a blue front plate. It will uplift your office decor. Construction is made of cold-rolled steel and coated with phosphorus-free powder. The surface is resistant to scratches, too.
Locking Casters
This cheap filing cabinet with a lock bears up a lot of weight, due to its sturdy construction. It is a mobile item, you can move it smoothly in any direction. There are five casters, two locking and a small center caster. This small caster provides extra support and prevents tipping over.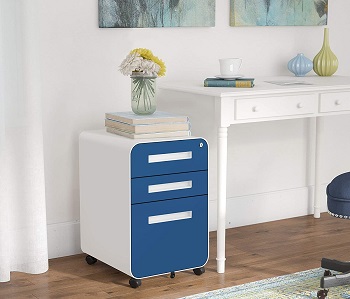 Pencil Tray
A built-in lock is positioned on the top drawer, it secures all three drawers and keeps your sensitive files private. The package includes two keys. This sturdy file cabinet has three drawers equipped with a pencil tray and hanging rails for letter and legal file folders.
Highlighted Points:
sturdy cold-rolled steel construction
coated with a phosphorus-free layer
four casters plus a small anti-tip caster
the top drawer is fitted with a lock and pencil tray
bottom drawer comes with hanging rails
modern design with rounded corners
BEST 2-DRAWER CHEAP FILING CABINET WITH LOCK
Lorell Black File Cabinet
Black Or Putty
Lorell is a black file cabinet with a compact design that fits anywhere. Except for the black color, there is a putty model. These neutral colors fit anywhere. You can move this file cabinet without help, it doesn't have casters, but it's lightweight. There are 19 pounds.
Space-saving File Cabinet
The product dimensions are 24.5 inches in height, 14.25 inches in width and 18 inches in depth. It fits under your office desk, so it doesn't take up too much space. This cheap filing cabinet with a lock comes pre-assembled, but you need to screw in the handles.
5-year Warranty
Lorell is backed by a 5-year warranty. Its steel construction is covered with a baked enamel finish. This steel 2 drawer file cabinet features smooth drawer glide suspension, so you can open and close both drawers quickly and quietly.
Single Key
These two drawers accommodate standard-size file folders (8.5" x 11"). There are hanging rails included in each drawer. The lower drawer has a built-in lock, so with a single key, you can secure both drawers. Your files and important documents will be safe.
Highlighted Points:
available in black and putty color
metal construction with baked enamel finish
lightweight file cabinet – 19 pounds
smooth drawer glide suspension
both drawers hold letter-size hanging files
BEST HOME OFFICE CHEAP FILING CABINET WITH LOCK
Bonnlo 3-drawer File Cabinet
Assembly Required
Bonnlo is a great personal file cabinet made of durable medium density fiberboard and melamine. Its surface is resistant to water. Clean it with a damp towel. Assembly is required and it comes with detailed instruction and labeled parts. You can assemble it within an hour.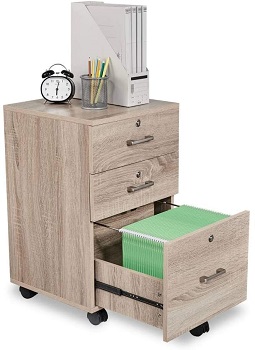 Casters With Brakes
The top surface is sturdy enough for a printer stand, scanner, plants or books. This cheap filing cabinet with a lock comes with five heavy-duty casters that provide smooth movement. Two front casters are equipped with brakes and there is a center caster for extra support.
Three Locks
Upon assembly, this file cabinet is 26 inches tall, 15.7 inches wide and 15.7 inches deep. There are three drawers that are equipped with three separate locks. You can lock one drawer and use the other two. A high-quality lock will keep your files and documents secured.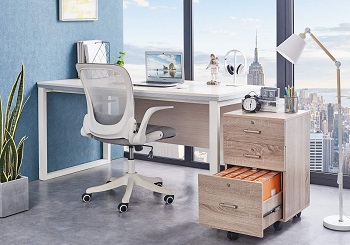 Letter-size Files
The modern wood file cabinet has two small drawers for office essentials – pens, scissors, notebooks, notepads, etc. The bottom drawer is larger and it fits a good amount of files. It accepts letter-size file folders only. Upgraded slides ensure smooth drawer performance.
Highlighted Points:
crafted of medium-density fiberboard and melamine
water-resistant surface
assembly is required
five heavy-duty casters
each drawer is equipped with its lock
file drawer accepts standard-size files
BEST ON WHEELS CHEAP FILING CABINET WITH LOCK
Invie Mobile File Cabinet
Pedestal File Cabinet
Invie is a small file cabinet ideal for personal use. It features an affordable price, so it is available for everyone. Choose between modern white and elegant black color. Its dimensions in inches are 23.7 in height, 19.7 in depth and 15 in width. It weighs 36 pounds.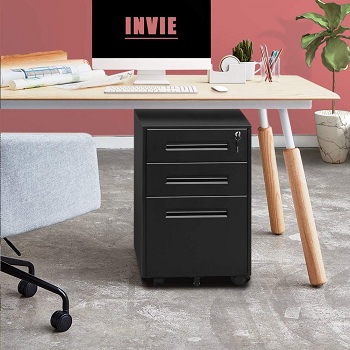 High Weight Capacity
Construction is made of cold-rolled steel, which is 20% stronger than typical steel. It is a durable rolling file cabinet with lock that is resistant to impacts. That solid construction bears up to 330 pounds. When the package arrives at your address, you need to install the wheels.
Five Casters
The heavy-duty powder-coated surface is finished with an anti-rust electrostatic spraying finish. It is resistant to scratches and corrosion. It is easy to clean and maintain. Also, you can move it easily, this cheap filing cabinet with a lock has file casters.
Three Drawers
Four swivel casters move easily in any direction. Moreover, there is a small fifth caster that prevents tipping over. Two small drawers hold office supplies, the file drawer is suitable for letter and legal size file folders. All three drawers are lockable by a single key.
Highlighted Points:
cold-rolled steel construction
anti-rust electrostatic spraying finish
maximum weight capacity  – 330 pounds
three drawers for office essentials and files
four swivel casters + anti-tip caster
BEST PORTABLE CHEAP FILING CABINET WITH LOCK
Hirsh Industries File Cabinet
Lightweight Item
This Soho vertical file cabinet is available in black color only. It is the lightest file cabinet on this list, it weighs 24 pounds only. So, if you need to move it from one room to another, you can easily lift it up. Hirsh measures 27 inches in height, 18 inches in width and 14 inches in depth.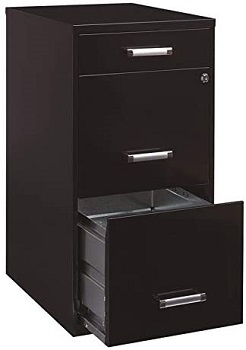 Fully Assembled
It comes fully assembled, so you just have to unpack it and this cheap filing cabinet with a lock is ready to use. Because of its dimensions, this file cabinet is a perfect solution for your home office or small office. Tuck it under your office desk.
Metal Construction
Its construction is made of metal, so it is able to withstand demanding work environments. The painted steel surface is non-porous, you can clean it easily. This lightweight file cabinet features three drawers for storing documents and office supplies.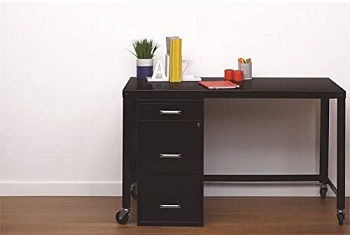 Two Lockable Drawers
The top drawer is smaller and ideal for storing office supplies. Below it, there are two file drawers that accommodate letter-size hanging file folders. All drawers feature a three-quarter drawer extension, you can't open them completely. Built-in lock secures two top drawers, keep your important files there.
Highlighted Points:
construction made of durable metal
non-porous surface
lightweight file cabinet suitable for small offices
box drawer holds office supplies
two file drawers accommodate standard file folders
three-quarter drawer extension
Things To Know About Cheap Filing Cabinets With Lock
The cheap filing cabinets with locks provide protection to your files and other valuables. But, it is important to consider other factors, like construction, drawer quantity, anti-tilt mechanism, etc.
Affordable Prices – Many people complain about file cabinet prices. There are many models with very high prices that aren't acceptable for everyone. So we find some good quality-price ratio. There are cheap 2-drawer file cabinets, with three drawers, on the wheels, and more models you can buy for the price of under 100 dollars which is pretty cheap for a file cabinet.
File Cabinet Material – Of course, you can't expect a low price and high quality. But there are models made of durable steel, cold-rolled steel and medium density fiberboard. Cold rolled steel is 20% stronger than typical stell material.
Lockability – Whether you work in a shared office or home office, when your file cabinet isn't in use, lock it. There are different lock mechanisms on the market, but on our list, there are models with center lock and separate locks.  The ideal diel cabinet depends on your preferences.
Safety Mechanism – If you want to prevent tipping over, then look for a file cabinet with an anti-tilt desing. This feature allows you to open one drawer at a time, while other drawers are locked. That means, if your drawers are overload, the file cabinet won't fall forward.
Warranty – As we mention, you can't expect a cheap lockable filing cabinet and outstanding quality. But you should require at least a minimum warranty. That means, you can replace the product if it arrives damaged, or there are missing parts.