Do you want to equip your bedroom with a compact lamp and create a comfortable relaxing spot?
Then read our article about clip-on headboard lamps! In our buying guide at the end of the article, find some tips and tricks useful for your purchase. When you're ready to buy, check our product recommendation, there are the top 6 items.
Our Top Picks
Best 6 Clip-on Headboard Lamps
BEST OF BEST CLIP-ON HEADBOARD LAMP
O'Bright LED Clip-on Light
Aluminum Lampshade
O'Bright is a high-quality clip-on lamp available in black and silver color. Its gooseneck is 15 inches long. The lamp is made of quality metal while the lampshade is made of durable aluminum. That material provides efficient heat radiation and prolongs the lamp's life.
Sturdy Metal Clamp
This clip-on headboard lamp features a large, sturdy and stable metal clamp that allows you to mount it on your bed, headboard, shelf, desk, table, etc. The maximum clamping distance is up to 1.65 inches. O'Bright features an affordable price.
Rotary Switch
There is a rotary dimmer switch on the lamp's power cord, you can easily set your desired light level. This over the headboard lamps has a built-in latest AC LED technology rated for up to 20,000 hours. Plug the lamp into an electrical outlet, the adapter isn't needed.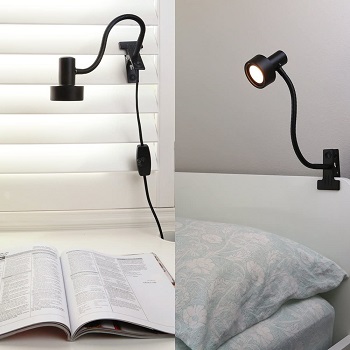 Color Temperature Of 3000K
O'Bright uses high-quality LED chips that provide soft, non-glare and flicker-free lighting. It will reduce eye strain and eye fatigue. The delivered color temperature is 3000K, ideal for relaxing or reading. With a flexible gooseneck, you can adjust the light where needed.
Highlighted Points:
high-quality lamp made of metal and aluminum
sturdy metal clamp
a rotary switch on the cord
built-in AC LED technology
long-lasting lifespan
adjustable and flexible gooseneck
BEST FOR READING CLIP-ON HEADBOARD LIGHT
Teckin Clip-on Reading Light
Tested Lamp
Teckin is a modern clip-on lamp suitable for different tasks. When its gooseneck is fully expanded, this lamp measures 19.7 inches in height, the light diameter is 1 inch. It is available in black color only. Teckin is a tested item, it has FCC, CE, RoHS and PSE certificates.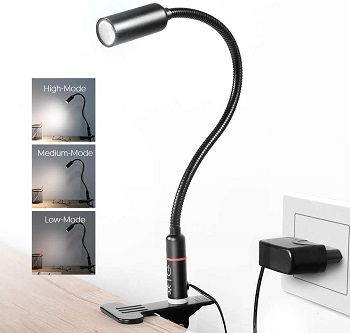 Long Power Cord
The power cord of this clip-on headboard lamp is 3.5 meters long, so you can reach any electrical outlet with ease and place this clip n lamp anywhere. The lamp's gooseneck is flexible and allows 360-degree rotation. Direct the light exactly where needed, close or farther from your book.
No Dizzy Light
This adjustable reading lamp is equipped with 4W LEDs, which are energy efficient and have a long-lasting working time. There is no flickering, glaring and dizzy light. It is safe for your eyes preventing eye strain and eye fatigue. You can read for hours.
Touch Sensor
Turn on/off this clip-on reading light for headboard by touching any part of the metal area, that's a convenient and practical feature. You don't have to look for a switch. Choose between three levels of brightness – low mode, medium mode and high mode. Teckin is the best for bed, headboard and desk.
Highlighted Points:
modern black clip on lamp
long power cord – 3.5 meters
flexible 360-degree gooseneck
equipped with 4W LEDs
no flickering, glaring and dizzying
three levels of brightness
BEST LED CLIP-ON HEADBOARD LAMP
Borlans Clip-on Lamp
White Lamp
Borlans is a white clip-on lamp which gooseneck is 11.8 inches long and the lamp head measures 8.5 inches. The power cord is 32 inches long. Covered with a 12-month warranty. This clip-on lamp is equipped with a 2500mAh rechargeable battery.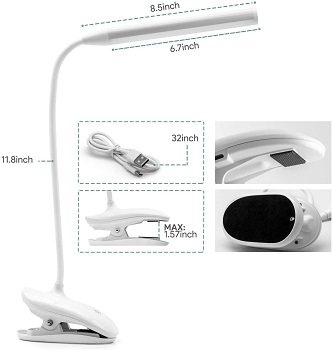 Safe Lamp
When fully charged, this clip-on headboard light can last from 8 to 30 hours. The charging time is 4 hours. This is a very safe product, it features CE and FCC certification, intelligent circuit protection, short circuit and overcharge protection.
31 LED Bulbs
This portable reading lamp is equipped with 31 LED bulbs. There is no blue light, no flicker and no other harm to your eyes, even if you use this lamp for few hours. Therefore, it is suitable for childer, the elderly, for working, reading, studying, and so on.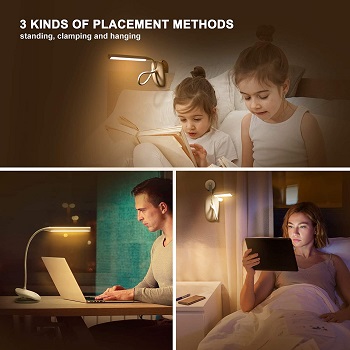 Touch Switch
There is a touch switch on the lamp base, choose between three light intensity levels – warm light (3000K), white light (6000K) and natural light (4000K). For reading or studying, set the highest brightness mode. Also, adjust the gooseneck at any angle.
Highlighted Points:
white clip-on lamp
covered with a 12-month warranty
fitted with 2500mAh rechargeable battery
intelligent circuit protection
31 LED bulbs
three light intensity levels
BEST FOR STUDYING CLIP-ON HEADBOARD LAMP
Lepower Headboard Lamp
UL-listed Adapter
Lepower lamp is available in black, silver and white color. Its price is affordable. The package includes a UL-approved power adapter and a 59-inch long USB cable. Lepower requires 100V-240V outlets. The item dimensions are 19 x 2.9 x 4.3 inches.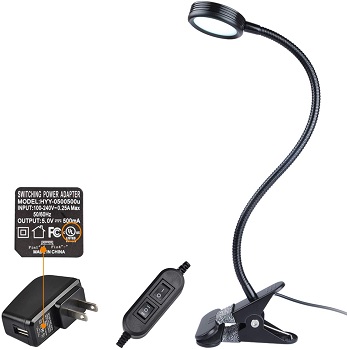 Fits Anywhere
This clip-on headboard lamp is great for bed headboard, desk, table, shelf and other horizontal or vertical surfaces. It can be clipped on almost anywhere. Constructed of durable metal and equipped with LED lights, this lamp is rated for up to 10,000 hours.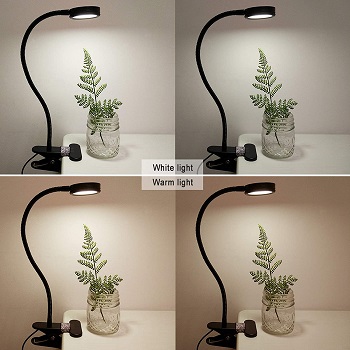 Two Switches
The light holder and its arm can be adjusted, set the perfect lighting direction exactly where needed. This adjustable LED desk lamp features two switches on the power cord. One switch adjusts the color mode (warm, off and white light) and another adjusts the brightness.
Highlighted Points:
available in black, silver and white
UL-approved adapter
59-inch USB cable
made of durable metal
features flexible gooseneck
there color modes
BEST VINTAGE CLIP-ON HEADBOARD LAMP
Energetic Clip-on Lamp
Matte Gold Lamp
This is a vintage-inspired clip-on headboard lamp that will uplift your bedroom decor with its attractive design. There are three colors you can choose from – gold, black and silver. All colors are matte. The manufacturer uses high-quality metal material.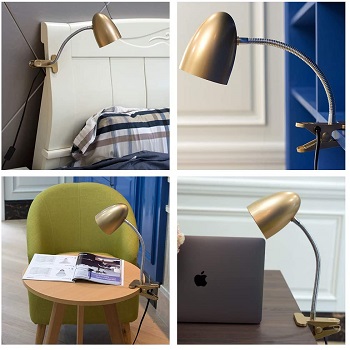 Sturdy Clamp
The clip-on headboard light is durable and aesthetic, it will illuminate your bedroom, study room, office. The assembly isn't required, it comes ready for use. The clamp is sturdy and you can easily clip it on your bed headboard, shelf, table or desk.
On/off Switch
On/off switch is placed on the power cord. The lamp's gooseneck is flexible, you can rotate it and adjust it in multiple directions. It is easy to find the perfect light angle while you reading in the bed. The vintage headboard lamp uses an energy-efficient LED.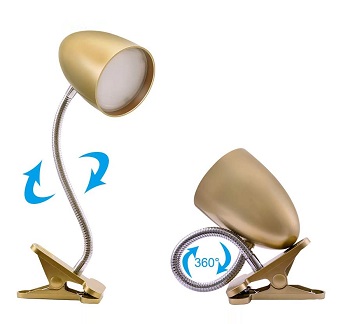 Flicker-free Light
Energetic lamp is designed to emit soft, non-flickering light that is safe and gentle for your eyes. it will help you to avoid eye fatigue and eye strain caused by flickering light. You can read your book or magazine for hours. Its color temperature is 4000K (cool white light).
Highlighted Points:
attractive vintage gold lamp
choose between three colors
made of durable metal
uses energy-efficient LED
flexible gooseneck
provides soft, cool white light
BEST MODERN CLIP-ON HEADBOARD LAMP
Merisky Rechargeable Clip-on Light
Portable Lamp
This is one of the most popular and common clip-on lights you can see in the market. It is a small and compact product, easy to store and carry with you. Merisky is available in neutral black color. The manufacturer has an original design patent.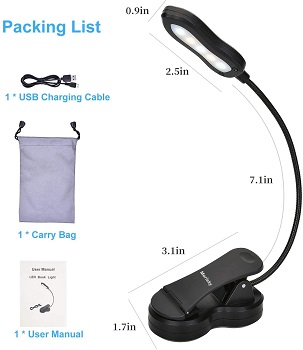 Flexible Gooseneck
Merisky clip-on headboard lamp is covered with a 3-year warranty. It weighs 2.5 ounces, it's lightweight. The clamp is sturdy and durable, its maximum clamping distance is 1.57 inches. There is a 360-degree flexible gooseneck, adjust it in the desired direction.
Eye-caring Light
This modern reading lamp features a double rubber pad on the clip that protects the book pages from damage. Use it as a book light, for headboard reading, bedside lamp, computer light, desk lamp, etc. LED bulb delivers eye-caring soft, diffused light.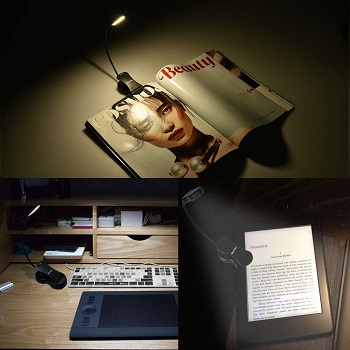 Rechargeable Battery
Built-in rechargeable 1200mAh Li-ion battery provides 60 hours of reading without charging. There is a standard Android micro-USB cable and port. Merisky offers three brightness levels and three color modes. Customize the light according to your task.
Highlighted Points:
popular clip-on lamp
360-degree flexible gooseneck
built-in rechargeable battery
3 brightness levels + 3 color modes
clip with rubber pads
provides eye caring light
Things To Know About Clip-on Headboard Lamp
When choosing a lamp with clamps for your headboard there are several considerations. Keep reading to learn more about the styles and features of this kind of lamp.
Power Source – You can use a headboard lamp whether or not you have easy access to electrical outlets. Many lamps must be plugged into an electrical outlet, but some models run on batteries. If you don't have outlets within reach, consider the battery-operated clip-on lamp.
Rechargeable Lamps – If you decide to buy a rechargeable desk lamp that runs on batteries, it will allow you to use it anywhere. But occasionally, you'll need to replace the batteries. We recommend you buy a lamp with rechargeable batteries, it will help you save money.
Adjustability – It is always a good idea to buy a lamp with a flexible design. While some models come in one fixed position, others have adjustable arms or gooseneck. They allow you to extend and retract the light. Gooseneck lamps can bend at even more angles.
Bulb Type – There are a variety of light bulbs available in the market. All have pros and cons. You can choose between halogen, CFL, incandescent, LED, and so on. The most advanced lamps use light from light-emitting diodes – LED. It is more energy-efficient and lasts longer than other light types.
Light Tones – There are some researches claiming that different tones of light affect your brain and your sleep cycles. Lights with yellow and reddish tones soothe your body preparing you for sleeping. Bright white lights will boost your energy and productivity.