Are you looking for a machine for laminating with 11 x 17 pouches?
Keep reading and find the right model between 6 best-rated laminators. If you need help while buying a pouch for the 11×17 laminator, check the last review. Below the reviews, there is the main info about this type of laminator and conclusion.
Our Top Picks
Best 6 Laminator Machine 11×17 Models
BEST OF BEST 11X17 LAMINATOR
Scotch TL1306 Thermal Laminator
Three Settings  Offered
The Scotch laminator includes the white-colored exterior where the LED touch control line is placed. It's easy to set the option you need by pressing the right button. You can choose between 3 mils, 5 mil, or 6 mil settings. The settings signify the thickness of the pouch you use.
Adjusting Temperature Easily
You can use the pouches that are up to 12 inches wide so the 11 x 17 laminating sheets are optimal for this laminator. Don't forget to select the right pouch thickness because the machine adjusts the temperature depending on the pouch you use.
Pressure Combined With Heat
The heating system includes 4 rollers that use the pressure in combination with heat to connect the pouches to the materials. The laminating speed is 18 inches per minute. You need to wait for about 1 minute until the machine reaches the optimal temperature for laminating.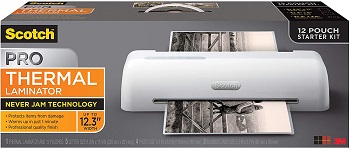 Automatical Shut Off
This white 11×17 laminating machine has a mechanism that saves energy. That means there is the auto shut-off function that makes it possible to save power. The machine shuts off automatically after 1 hour of nonuse. This machine package includes 2 pouches so you need to purchase more.
Highlighted Points:
the adjustable heat level for 3-6 mil thick pouches
1-minute preheating time ensures quick lamination
turns off automatically if you don't use if for an hour
the inlet of 12 inches suitable for 11×17 laminating pouches
4 roller system provides pressure and heat
BEST THERMAL 11X17 LAMINATOR
Crenova 13 Inches Laminator
Inlet Size Of 13 Inches
The Crenova laminator has a size of 13 inches which is a little wider than a pouch with dimensions 11×17. This type of pouch is ideal for the inlet. You can use it to protect photos, documents, and all other materials of this and similar size.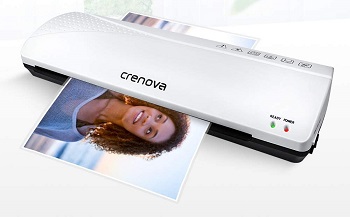 Green Light Appears
When you use the thermal system, you need to wait for about 2 minutes before the laminating process begins. Two minutes are enough for preheating. You will see the green indicator light when the laminator reaches the optimal heat level.  The laminator includes also the ABS button for jam prevention.
25 Pieces In The Box
The package of this Crenova lamiantor consists of the lamiantor, paper trimmer, corner rounder, and laminating pouches. You will get 25 pieces of pouches that have different formats. There are 5 pouches of A3 format that is similar to the 11×17 dimensions.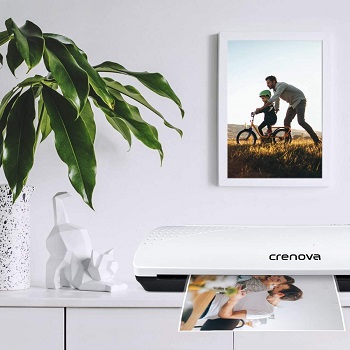 Simple To Use Mechanism
This 11×17 laminating machine has a portable design. It's practical for carrying so you can transport it from home to the workplace. The machine is simple to use. There is one button to choose a hot or cold method. After you press the right button, you're ready to start.
Highlighted Points:
heats up for 2 minutes maximally
5 pouches of A3 format included in the package
overall 25 pieces come with the laminator
portable design and practical to store
release function protects stuck materials
BEST COLD 11X17 LAMINATOR
Blusmart Multiple Function A3 Laminator
Hot/Cold Mode Button
Just like the previous thermal model, this one offers also hot lamination options but also cold function. It's simple to choose which laminating mode you will use. There is a button you need to push and set the hot or cold mode. Except for this button, the indicator lights are also built-in.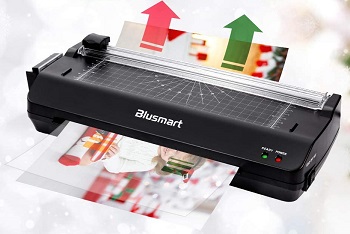 Adhesive Pouch Type
The suitable materials and pouches have a maximum width of 13 inches. The documents or photos can be protected with pouches of various thicknesses for a short time. When you use the cold mode, you need to use the adhesive pouches instead of the hot type.
Finish It For Short
This 11×17 laminating machine laminates with a speed of 250 mm per minute. It's an average speed of an office or home laminator. You can finish laminating quickly no matter if you use hot or cold mode. The hot lamination includes the preheating that lasts 3-5 minutes.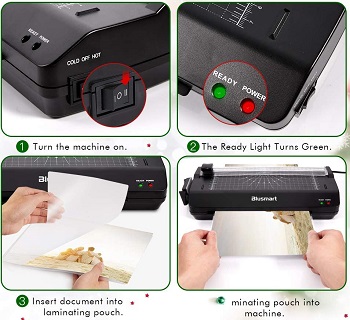 Up To 0,5 Mm
Double rollers reach the temperature of about 120 °C. This temperature is enough to melt the plastic pouch that is about 0,5 mm thick and smaller. The machine needs electricity from a 110-120V outlet. Just like all the laminators, this one includes also the ABS function for the case of a jam.
Highlighted Points:
package includes corner rounder, trimmer, and 25 pouches
holds the pouches of less than 0,5 mm
up to 5 minutes of the warm-up time
laminating speed of 250 mm per minute
cold and hot modes available
maximal material width is 13 inches
BEST HOME 11X17 LAMINATOR
Jieze Thermal Laminator
Three Different Sizes
The Jieze laminator has the same size as the previous models. The inlet length of 13 inches is ideal for 11 x 17 laminating sheets. The materials you laminate can be up to 0,5 mm thick. You will get suitable pouches that have three different formats.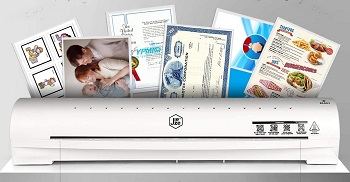 Rollers Work Fastly
The lamiantor includes double rollers that get hot after about 5 minutes. The heat and pressure of the rollers are the main factors in the lamination process. The rollers work fast laminating with a speed of 250 mm per minute. It takes about a minute to laminate the paper with 11×17 dimensions.
Two Thickness Settings
This 11×17 laminating machine has programs for laminating with 3 mil pouches and 5 mil pouches. Depending on the function you choose, the laminator adjusts the temperature. You have to push the button to select 3 mils, 5 mils, or a cool option.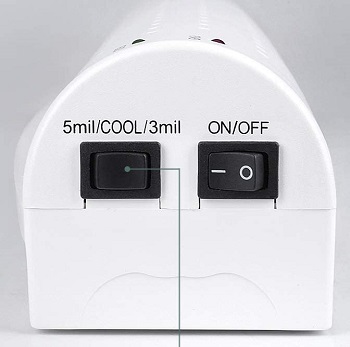 Reserve Pouches Included
The machine has a simple system that might be practical for every family member. You will get 20 pouches that have different sizes and shapes. You can use it as a reserve but you can purchase 11×17 laminating pouches of different sizes and thicknesses separately.
Highlighted Points:
comes with the pouches of 3 different sizes
the machine supports A3 paper format and smaller
up to 5 minutes for preheating
laminating speed is 250 mm/min
adjustment for 3 mil or 5 mil pouches
20 pieces of pouches in the package
BEST COMMERCIAL 11X17 LAMINATOR
Fellowes Laminator Saturn
Short Heat-Up And Laminating Time
The Fellowes Saturn laminator is a powerful electric machine that requires the socket of 120 V. The high power makes its preheating time and laminating time short. The Instaheat technology provides 1-minute preheating while the laminating speed is 12 inches per minute which is 300 mm per minute approximately.
Three And Five Sizes
This 11×17 laminator supports the documents that are up to 12 inches long which includes also 11×17 dimensions. You can use the 11×17 pouches of 3 mils or 5 mils thickness size. If the pouches stick during the laminating process, it's easy to release them by pressing the anti-jam button.
Double Laminating Systems
There are offered double laminating settings you can choose. Depending on if you use standard document type or sensitive document, you can choose between hot and cold laminating systems. If you select cold mode, you need to replace hot pouches for a self-adhesive pouch type that doesn't need the heat for sticking to the material.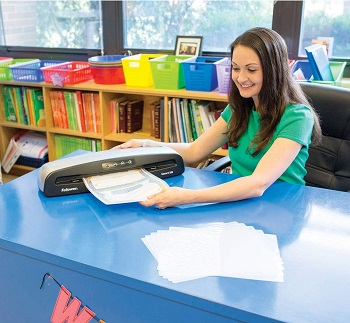 Overheating Prevented
Using this durable laminator machine 11×17, you can save your time and electric energy. With auto shut off function, the laminator saves energy and prevents overheating. You don't have to worry if you switched it off. The machine will turn out automatically when it's not in use.
Highlighted Points:
shuts off automatically when you don't use it
InstaHeat technology with a 1-minute warm-up time
up to 300 mm per minute fast laminating process
3 mil and 5 mil pouch options to choose
cold and hot modes for all the material types
pouches can be up to 12 inches wide
anti-jam button for releasing the stuck paper
BEST CHEAP 11X17 LAMINATOR
AmazonBasics Thermal Laminator Machine
Ideal For 11×17 Dimensions
The Amazon laminator comes in white color design. You can choose between various size versions. For using 11 x 17 laminating sheets, you need to choose a 12-inch version. The inlet of 12 inches is optimal for 11-inch wide sheets. Larger pouch size isn't supported.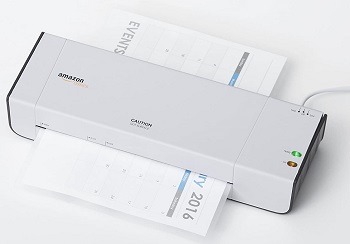 3 Mil Heat Pouch Type
On the inlet, there are marks for various material sizes that help you to position the material well. You can use this machine to laminate letters, photos, business cards, and more. It's suitable for 3 and 5 mil pouch thickness. It's better to use 3 mil hot pouches for normal documents.
Optimal Temperature Reached
Since it uses the hot laminating system, you need to leave the machine for about 4 minutes to get hot before you start working. The laminator reaches the optimal temperature to melt 3-5 mil pouches and stick them to the paper. The laminator reached the optimal temperature when you see the green indicator light.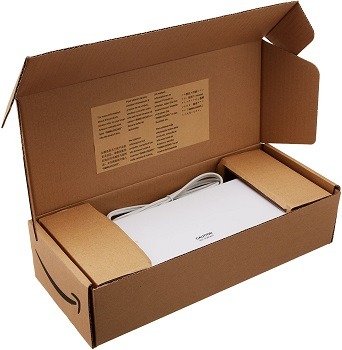 A Few Pouches Included
In the package, you will get 20 pouches. All of them are 3 mils thick so you need to purchase 5 mil thick pouches separately but they are easy to find on the market. The laminator protects documents with pouches using a speed of 270 mm per minute.
Highlighted Points:
12 inches wide inlet suitable for 11×17 pouches maximally
includes 4-minute long preheating time
laminates with a speed of 270 mm per minute
3 mil thick pouches ideal, supports also 5 mil pouches
20 pieces of 3 mil thick pouches in the package
BEST POUCHES 11X17 LAMINATOR
Uinkit Laminating Pouches
Numerous Pieces Included
After you choose the appropriate laminator for you, now you might be in need of the pouches. If you're searching for the best laminating sheets 11×17, consider taking the Uinkit laminating pouches. You will get 100 sheets in the package. The pouches have 11,5×17,5 dimensions that are ideal for 11×17 documents that will get a glossy look after laminating.
For A Long Period
The pouches have a thickness of 3,5 mils. This thickness is suitable for most laminators since the machines are usually made for 3-5 mil pouches. In the package, you will get enough pouches for laminating through a long period, depending on how often you use the laminator.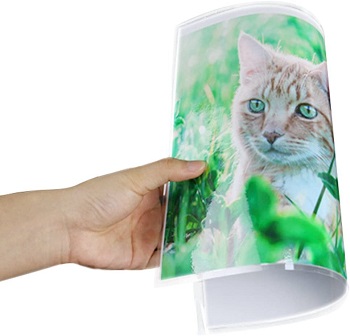 Resistant To Heat
You can use the pouches to protect various documents such as certificates, awards, office documents, menus, photos, and more. These pouches are made for hot lamination only. If you use a cold laminating system, you need to purchase self-adhesive laminating sheets 11×17.
Highlighted Points:
100 pieces of pouches in the package
pouches have the thickness of 3,5 mils
thickness suitable for most 11×17 laminators
pouches purposed for hot lamination
pouches with a glossy finish that ensures the protection
Things To Know About 11×17 Laminating Machines
These are the laminators that support the pouches that are 11 inches wide and 17 inches long. Most packages include both laminator and appropriate pouches that have various thicknesses. However, you can buy pouches also separately. The pouches and laminators are available for buying in the same place.
13 Inches Minimally – Since these laminators are made for 11×17 documents and also 11,5×17,5 pouches, their inlets have a size of 12-13 inches minimally. The laminators with this size are designed for A3 and smaller formats. With the dimensions of 11,7×16,5, the A3 format is the most similar to the 11×17 documents.
Various Pouch Thicknesses – While the pouch size is 11×17, its thickness can be 3 mils, 5 mils, or 10 mils. These are the most common thickness of the 11×17 pouches you can purchase on the market. The laminators usually support 3-5 mil pouches. The 10 mil pouches with 11×17 size are used rarely.
Pouches In The Box – Most laminators come in the package with pouches. Not only 11×17 but pouches from the package have various dimensions. Therefore, you will get a few pieces of 11×17 pouches which is enough for laminating during a short period. The laminators are compatible with most pouch packages of 20-100 pieces of pouches that you can purchase separately.
Adjusting Pouch Type And Mode – The laminators offer hot and cold systems for laminating or only hot mode. You need to adjust the pouch type to the laminating system you use. The 11×17 laminating pouches are usually made for the hot laminating method. When you use the cold system, you need to use adhesive sensitive pouches.
All Tools On Amazon – You can find both laminators and suitable pouches in the same place. Amazon is a webshop where you can find all that you need for laminating. The delivery is ensured and in most cases it's free. All the information about the products is available on Amazon pages.
Final Verdict
If we consider the advanced technology of the Scotch TL1306 thermal lamiantor that provides quality laminated materials, we can conclude this 11×17 laminator is the best pick. Since this type of laminator has a size of 13 inches on average, you might be interested to see also the best 13-inch laminators for buying. Most 11×17 pouches are made for hot laminating, so read this post to see which are the best heat laminators compatible with these pouches.