Do you want to incorporate the antique-style desk lamp into your room and evoke a warm atmosphere?
Then keep reading!
In this article, you can read about stunning and elegant Victorian desk lamps. Here you can find several models with impressive designs and great characteristics. They might inspire you to add some unique elements to your room. In our buying guide learn more about Victorian design and how to pick the best lamp.
Our Top Picks
Best 6 Victorian Desk Lamps
BEST OF BEST VICTORIAN DESK LAMP
Ycym Victorian Table Lamp
Stunning Design
Two YCYM desk lamps are reviewed on this list. This brand produces high-quality antique lamps with a beautiful appearance. This stunning desk lamp is 21.6" high and 13" wide. This lamp contains many Victorian design elements such as floral fabric, graceful lace and antique parts.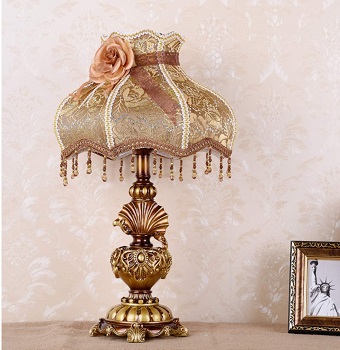 UL-listed Lamp
The seller provides high-quality transportation and after-sale service. The lamp is carefully packed to ensure that is delivered unbroken. It is tested and meets UL-listed standards. The bulb isn't included in the package, use an E26 spiral bulb of max 60W.
Warm White Light
The manufacturer recommends the LED bulb, it's energy-efficient, produces low heat and lasts much longer than traditional incandescent bulbs. Choose the LED bulb that delivers warm white light for the best lighting effect. Your room will have a cozy atmosphere.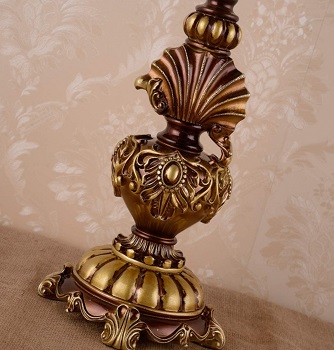 Polished Base
This art desk lamp features a hand-made lampshade made from high-quality fabric that doesn't fade. Hand-carved polished and painted resin lamp body perfectly complements the brown lamp shade. This victorian desk lamp is durable, sturdy and modish.
Highlighted Points:
high-quality transportation
floral fabric, graceful lace and antique parts
UL-listed lamp
the LED bulb is recommended
hand-made lampshade
painted resin lamp body
BEST GLASS VICTORIAN DESK LAMP
Liftad Stained Glass Table Lamp
2-year Warranty
Liftad is a colorful desk lamp that measures 18.5" in height, the lamp base is 5.5" wide and the lampshade has 8" x 12". For this lamp the manufacturer provides a 2-year warranty, meaning, you can rely on its quality. It is safe, practical and corrosion-resistant.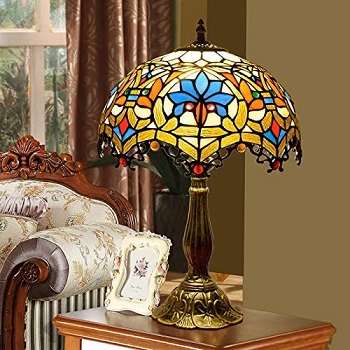 Compatible With LED
This stained glass desk lamp doesn't come with an included light bulb. It features E26/E27 base, so you can buy an LED, incandescent or fluorescent light bulb. The maximum wattage per bulb is 40W. The LED bulb is very durable, energy-efficient and doesn't produce heat.
Hand-cut Glass
The lamp body is made from resin and metal that provide sturdiness and stability. This attractive lampshade is crafted from hundred hand-cut pieces of stained glass. When the lamp is on, it delivers a warm and colorful lighting effect and creates a cozy atmosphere.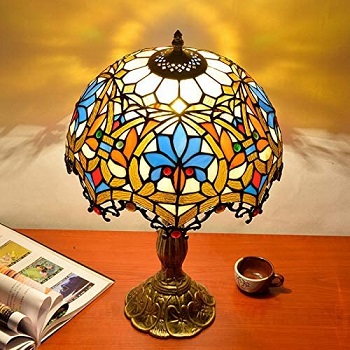 Decorative Effect
Liftad Victorian-style desk lamp is perfect for living room, dining room, bedroom, restaurant and other spaces. It doesn't have only a lighting effect but also a good decorative effect. Even if you don't turn it on, it will elevate your room decor. Liftad has a high price.
Highlighted Points:
colorful desk lamp
backed by a 2-year warranty
corrosion-resistant lamp
features E26/E27 base bulb
compatible with LED, incandescent and CFL bulb
resin and metal lamp body
hand-cut glass pieces
BEST BLUE VICTORIAN DESK LAMP
Lovapo Traditional Table Lamp
Blue Lamp
Lovapo is an attractive blue desk lamp designed in popular Victorian style. Its price is high and it measures 21" in height and the overall width is 13". It perfectly fits in small rooms, such as a bedroom or living room. If the lamp arrives broken or with missing parts, contact customer service.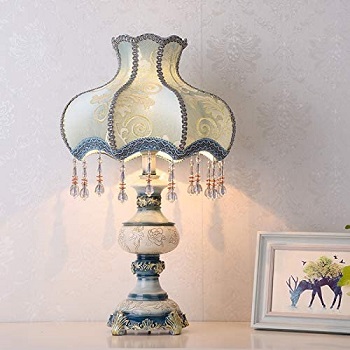 E27 Base Bulb
It weighs 5.5 pounds, so shouldn't tip over easily. The package contains a test bulb – a warm white LED, but you can replace it with any other E27 base bulb. Meaning, you can use incandescent, halogen, CFL light bulbs. Different bulbs deliver different light effects.
Ice Blue Color
This blue desk lamp has a long power cord and push-button switch. The lampshade is made from gorgeous silk brocade and the lamp base has beautiful ice blue color. Elegant icy blue crystals are draping down from the shade.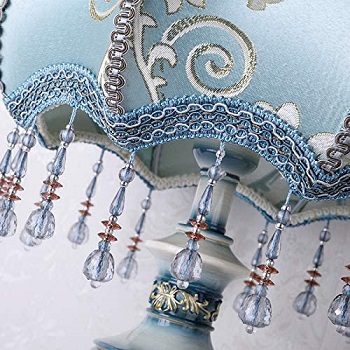 Eco-friendly Resin
The lamp base is made from environmentally friendly resin. Lovapo is a victorian desk lamp that will define your room and change the atmosphere in it. There are many positive reviews on this lamp and satisfied customers, so give it a try.
Highlighted Points:
friendly customer service
perfect for small rooms
requires an E27 base bulb
compatible with LED, incandescent, energy-saving
beautiful ice blue color
elegant icy blue crystals
BEST BEDSIDE VICTORIAN DESK LAMP
YCYM Brown Retro Table Lamp
For 160 Square Feet
There are two YCYM desk lamps on this list. This lamp is 21" high and 13" wide and weighs 6 pounds. The manufacturer recommends this victorian desk lamp for 160 square feet rooms. It features a beautiful appearance and reliable quality.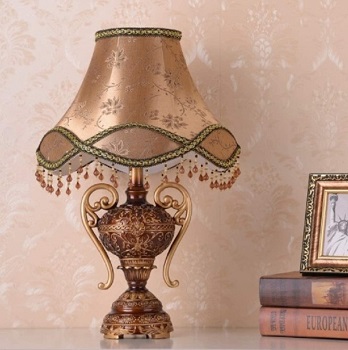 Packed Securely
It is packed securely to ensure that lamp is delivered in good condition. This is a combination of classical design style and hand-made craftsmanship. It is a beautiful decoration to any vintage and mid-century designed home. YCYM is very durable and sturdy.
Resin Lamp Body
This victorian table lamp has a durable and sturdy base, not easy to tip over. Resin lamp body with fine lines and beautiful curves makes this lamp very attractive and luxurious. The lamp body is handcrafted from natural materials, which are very safe.
Fabric Lampshade
YCYM is a decorative desk lamp that has a European-style lampshade made from fabric with a unique pattern. The E26/27 lamp holder is suitable for LED, incandescent, energy-saving, Edison light bulbs. When the lamp is on, the warm light will create a cozy atmosphere.
Highlighted Points:
designed for 160 square feet rooms
classical design style
durable and sturdy base
resin lamp body
unique fabric lampshade
BEST METAL VICTORIAN DESK LAMP
Doucy Vintage Table Lamp
Long Power Cord
Doucy is an elegant table lamp which lampshade is 8" wide and 21.5" high. The power cord is 71 inches long with an on/off switch for easy control. When the lamp arrives, you need to install it. First, unscrew the holster on the light pole, put on the lampshade and screw on the holster, then install the bulb.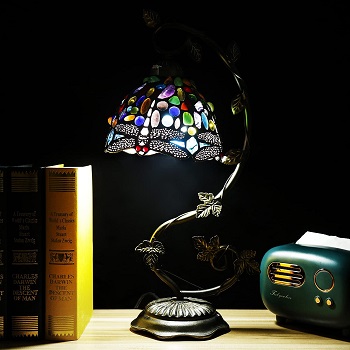 Incandescent Bulb
It is packed very securely, but if there is any defect, contact your seller immediately. The bulb isn't included in the package, so you need to buy an incandescent or Edison bulb with an E26 base. The different bulbs can get a different lighting effect.
Handcrafted Lamp
The lampshade is made from several hundred pieces, the manufacturer uses stained glass, natural stones and crystal beads. Every piece is soldered together at a high temperature to form a unique shade. When you turn the metal desk lamp on, the hundred glass pieces become more vibrant.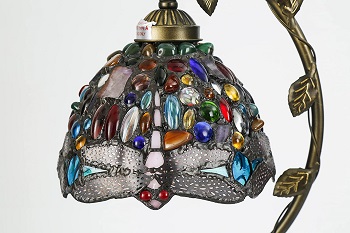 Colored Glass
This Victorian antique desk lamp will deliver soft and warm light and the colored glass will provide attractive illumination. Thanks to its small base, you can place it on your nightstand, end table, coffee table, console table, on the shelf, etc. Its price is high.
Highlighted Points:
made from metal and glass
long power cord
on/off switch on the power cord
simple assembly needed
made from hundred glass pieces
warm and soft light
BEST LED VICTORIAN DESK LAMP
Werfactory White Table Lamp
Attractive Lamp
Werfactory produces very attractive vintage desk lamps. The manufacturer provides 90-day refund-free and friendly customer service. The overall lamp height is 18" while the lampshade width measures 12 inches. This isn't a small table lamp so place it on a wide surface.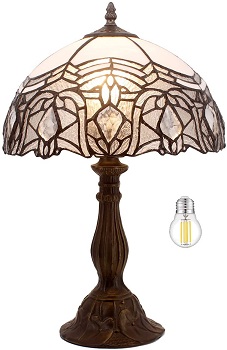 UL-listed Lamp
It features a stable base, so it isn't easy to tip it over. Werfactory victorian desk lamp is UL-listed, meaning it's tested and meets safety and quality standards. The on/off switch is located on the power cord. The assembly is easy, the lamp has a perfect size and looks dazzling.
LED Light Bulb
The LED light bulb is included in the package. This is E26 G45 LED light bulb that provides a color temperature of 2700K. You'll have a warm white light that creates a comfortable atmosphere ideal for relaxing. Also, this light is enough for reading.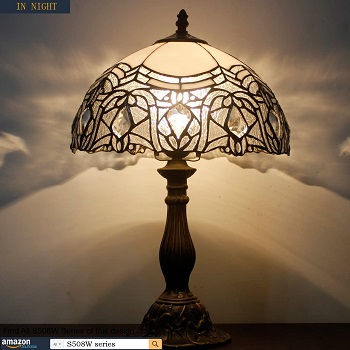 Real Stained Glass
Its lampshade is made from real stained glass and the lamp base is made from zinc. The craftsman cut the big piece of stained glass into thousand small pieces. It comes in elegant bronze color. Place it in your bedroom, living room or home office, it's a very attractive LED reading lamp.
Highlighted Points:
attractive vintage desk lamps
UL-listed desk lamp
E26 G45 LED light bulb included
on/off switch on the power cord
real stained glass
elegant bronze base
Things To Know About Victorian Desk Lamps
These victorian desk lamps have a unique and elegant appearance, which you already see in the reviews above. In this section, you will learn more about their design, purpose, light bulbs and more.
Victorian Style – The Victorian era was the period of Queen Victoria's resign, from 1837 to 1901. The Victorian style is the complete opposite of today's modern decor. This style is characterized by rich, dark and jewel tones – deep reds, green, purple, gold, etc. The heavier and the rich, the better.
Tiffany Lamps  – Essential to this design style are light fixtures and candles, especially in the areas such as the living room, dining room, sitting rooms and entryways. Tiffany lamps become very popular, their lampshades are made from stained glass pieces.
Lamp Purpose -The desk/table lamps on the list above aren't designed for working, reading and studying, as you can imagine. They are designed to add a touch of charm, luxury, elegance and uniqueness. Even if you don't use light bulbs, these decorative desk lamps are very appealing.
Resin Base – many of the reviewed desk lamps have a resin base. Resin is a composite blend that is rotationally molded into strong and pliable products. It can mimic the look of stone and metal. This material is very easy to use and it has a low price.
Where To Buy It – You can find the Victorian desk lamps in antique stores, order from collectors or online. Many brands produce antique-inspired lamps at affordable prices. Meaning you don't have to spend a lot of money if you don't want to and still have a nice lamp in your room.