If you are in the market for new attractive lighting for your work, you can't go wrong with a pharmacy desk lamp!
If you are interested in this lamp type, keep reading!
These are classic yet versatile desk lamps, meaning, whether your style is traditional or modern, you can incorporate this lamp into your space. There are six models divided into categories, so it is easier for you to find a lamp that suits your home/office the best.
Our Top Picks
Best 6 Pharmacy Desk Lamps
BEST OF BEST PHARMACY DESK LAMP
O'Bright Pharmacy Dimming Lamp
Attractive Lamp
O'Bright desk lamp is an eye-catching lamp with a little bit unusual elements. It is available in black, brushed nickel and antique brass color. The lamp base diameter is 7 inches, the overall height is 17 inches and the pole with shade is 16.5 inches long.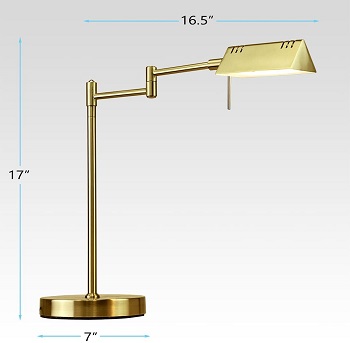 ETL-listed Lamp
This pharmacy desk lamp has a durable and classic design with metal construction. Place it in your office or home office, fits anywhere and complements many room decors. O'Bright is a tested brass task lamp that meets the ETL safety standards.
Energy-efficient LED
It uses energy-saving, bright LED light. There is a built-in 12W LED that will last for decades. These LEDs will last approximately 50,000 hours. Meaning, you don't have to replace bulbs. O'Bright is equipped with a dimmer switch, so you can adjust the level of brightness.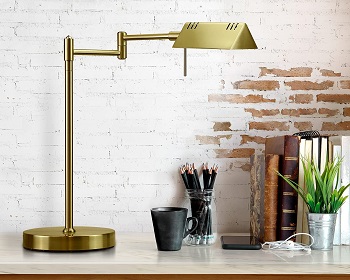 Soft White Light
The memory function will remember your last used settings, so you don't have to set it again. Its highly flexible design allows you to change the lamp position and swivel the lampshade at your desired angle. O'Bright provides soft white illumination.
Highlighted Points:
metal construction with brass finish
built-in 12W LED with a long lifespan
dimmer switch for various brightness levels
highly flexible design
warm white illumination
memory function
BEST TASK PHARMACY DESK LAMP
V-Light Brushed Nickel Lamp
Brushed Nickel Finish
V-Light desk lamp features an acceptable price, it is made of premium metal that provides stability and sturdiness. There is an eye-catching brushed nickel finish that makes this lamp more attractive. It features a classic design that complements modern and vintage room interiors.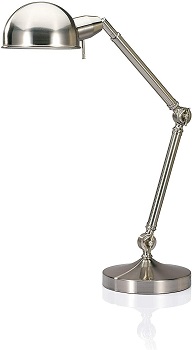 Weighted Base
Its weighted base is sturdy and very stable. So V-Light pharmacy table lamp won't tip over easily. Place it on your workbench, home office desk, end table, in the children's room. It features a space-saving round base that fits any surface.
3-point Adjustable Arm
V-Light is an adjustable reading lamp with a 3-point adjustable arm, meaning, you can change the lamp position easily and direct the light where need it. Also, you can move the lampshade up and down, left to right. It's great for precise tasks, such as reading, working, homework, crafting, etc.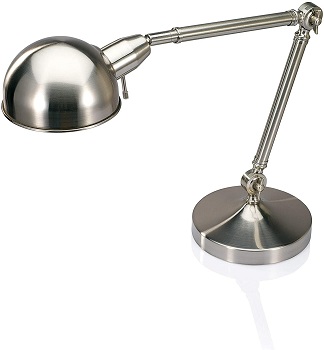 UL-listed Lamp
This lamp is tested and it meets UL standards for safety and quality. V-Light lamp requires 13W CFL (Compact Fluorescent Light) and this bulb is included in the package. It emits soft and warm illumination, without eye strain and fatigue.
Highlighted Points:
made of premium metal with brushed nickel finish
adjustable arms for maximum versatility
sturdy and weighted lamp base
3-point adjustable arm
UL-listed lamp
included 13W CFL lightbulb
BEST SWING ARM PHARMACY DESK LAMP
Ottlite Refine LED Lamp
Pricey Item
Ottlite is a mid-century-inspired desk lamp at a high price. The lamp base diameter is 7 inches and the overall lamp height is 24 inches. This lamp comes with a long black power cord of 6 feet. Place this lamp on your workbench, end table, nightstand, it fits anywhere.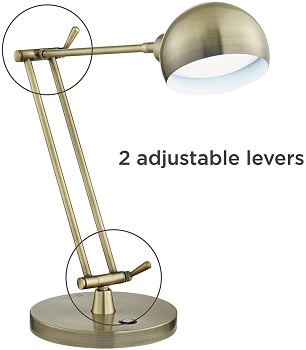 ClearSun Technology
The lamp is made of high-quality metal with antique brass finishing. It suits rustic and industrial-inspired decors. This pharmacy desk lamp uses ClearSun LED technology, this technology offers healthier LED lighting by reducing eye strain by up to 51%.
High Color Accuracy
Moreover, Ottlite has a high Color rendering index, it is rated for 95+. This adjustable arm desk lamp is a perfect lamp for people who require high color accuracy and visual acuity. Ottlite delivers natural daylight that boosts productivity and efficiency.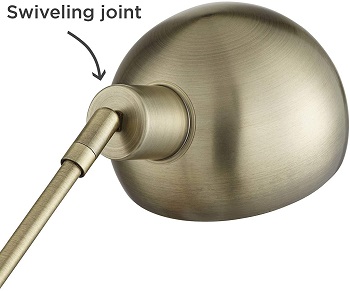 Fast-charging USB Port
Change the lighting modes with the touch of the finger. Ottlite desk lamp is equipped with 5V/2.1 A USB port, charge your smartphone, tablet, e-reader and other small electronic devices easily. Two adjustable knobs and a swivel lampshade meet different lighting needs.
Highlighted Points:
mid-century inspired desk lamp
metal construction with antique brass finish
uses advanced ClearSun technology
reduce eye strain by up to 51%
equipped with a fast USB port
high color rendering index
BEST MODERN PHARMACY DESK LAMP
Otus Architect Desk Lamp
Vintage Lampshade
Otus is a modern desk lamp with vintage elements. It features a vintage lampshade and a space-saving round base. Its base diameter is 8 inches, the stem is 20 inches tall and the pole with shade is 18 inches long. This lamp is suitable for medium and large desks.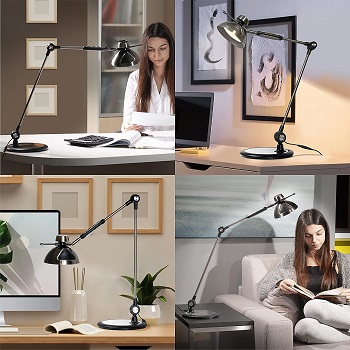 Timeless Design
This modern pharmacy-designed lamp has a timeless design that complements modern, vintage, urban and industrial designed home or office interiors. Constructed of sturdy and quality metal, the Otus lamp will last for a long time.
Infrared Sensor
Otus is a modern LED desk lamp with an integrated infrared sensor. When you want to turn the lamp on or off, just wave your hand above the lampshade. The durable metal joints allow you to adjust the lamp position and point the light where you need it.
Three Color Modes
Set the perfect lighting mode for your performing task. There are three color modes and stepless brightness adjustment. Choose between reading mode, study mode and relax mode. Memory function automatically returns your last used settings when turning it on next time.
Highlighted Points:
timeless desk lamp design
suitable for medium and large desks
made of high-quality metal
integrated infrared sensor
flexible design
three color modes
BEST READING PHARMACY DESK LAMP
Mlambert Eye-caring Lamp
Metal Construction
Mlambert desk lamp is available in three versions – black, nickel and brass (reviewed model). This lamp features sturdy metal construction with attractive antique brass finishing. It adds an elegant and vintage touch in your living room, dining room, home office, etc.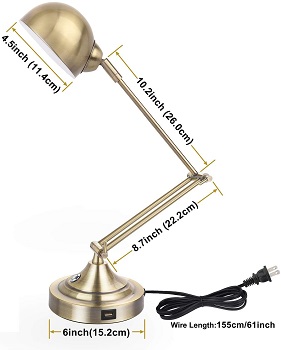 Advanced LED Technology
This lamp is equipped with 56 SMD LED beads that emit soft, flicker-free, glare-free illumination in your room. Mlambert adopts advanced LED technology and uses 90% less energy than traditional lightbulbs. These LEDs will last for up to 20,000 hours.
Touch-sensitive Control
The pharmacy desk lamp features a touch-sensitive switch for settings control. There are three color modes – from 3000K to 5000K and five levels of brightness. Set adequate light for different occasions easily, it's suitable for reading, crafting, relaxation.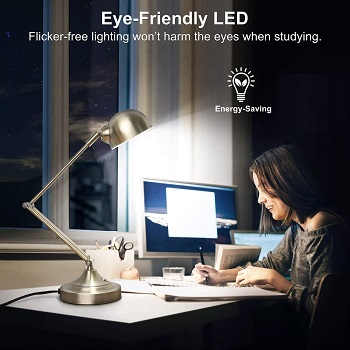 Flexible Design
This LED reading lamp has an adjustable lamp head and flexible arms. You can adjust it to any angle and height. Don't worry about its base, it is weighted and features an anti-slip pad that provides stability. It is designed with a USB port for mobile phone charging.
Highlighted Points:
metal lamp with brass finish
equipped with 56 SMD LEDs
soft, flicker-free illumination
touch-sensitive control
three lighting modes
adjustable lampshade and arms
BEST VINTAGE PHARMACY DESK LAMP
Cal Lighting Desk Lamp
Adjustable Height
Cal Lighting produces this Corby desk lamp which is available in three finishes – antique brass, black and bronze. Choose the model that suits your current home decor. Its height is adjustable, you can extend it from 24 to 31 inches. It's suitable for small and medium desks.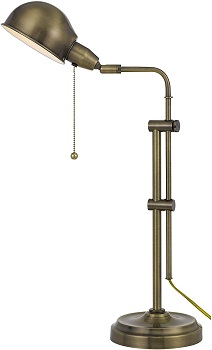 Antique Brass Finish
This pharmacy-style lamp is made of high-quality metal and finished in antique brass. It suits modern, vintage, urban and industrial designed interiors. You need to assemble the lamp when the package arrives, but instructions are included.
Pull-Chain Switch
Cal is a vintage reading lamp that is covered with a 1-year warranty, so contact customer service if notice any damage within that period of time. It features a dome shade and pull-chain switch, pull it when turning the lamp on and off. Simple to use.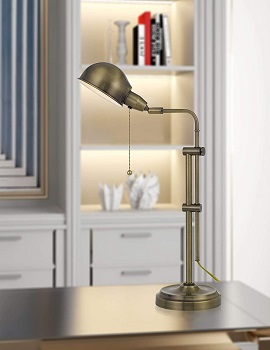 Max 60W
There is a standard E26 base bulb and the manufacturer suggests maximum wattage of 60W. Cal provides soft and warm light, without flickering and glaring. Its lampshade is adjustable, move it up and down and direct the light where you need it.
Highlighted Points:
made of quality metal with antique brass finish
backed by a 1-year warranty
convenient pull-chain switch
standard E26 base bulb
adjustable lampshade
adjustable height
Things To Know About Pharmacy Desk Lamp
There are modern and traditional desk lamps for pharmacy in the list above. But before buying, let's check some useful info about this lamp type, lightbulb, lighting settings, flexibility and more.
About Lamp – This lamp type is first developed in the 1890s. These were the first lamps that could light downward without spilling to the sides. They are known as pharmacy lamps because they were so popular among pharmacists and widely used in hospitals and factories.
Lighting Modes – Whether you need a lamp for ambient lighting or a brass reading lamp, it's good to have few lighting modes you can choose from. Sometimes, you'll need a brighter light for reading or dim light when relaxing. You'll benefit from a desk lamp with adjustable color temperatures and brightness.
Flexible Design – The desk lamp that can swivel or tilt offers more functionality. By adjusting its position, you can focus the light on a particular area or light up the entire room. You can move the light closer or farther away from your desk.
Metal Lamps – All desk lamps on the list above are constructed of metal. Metal table lamps come in a variety of sizes and shapes. They are sturdy, durable and have stable bases. You can find them in contemporary and traditional styles.
LED Bulb – These pharmacy desk lamps are usually compatible with a variety of lightbulbs. That includes CFL, incandescent, LED and halogen bulbs. However, LEDs have become very popular thanks to their energy efficiency, long lifespan and low heat production.