Are you looking for hands-free light suitable for reading, crafting, knitting or travel?
Then you should check hug lights!
Here is the list of the best-rated lights suitable for reading, crafting, knitting, jogging and other activities. Check the list and pick the model with the design and functions you like. These reviewed six models are divided into categories.
Our Top Picks
Best 6 Hug Lights
BEST OF BEST HUG LIGHT
Betensh Flexible Light
1-year Warranty
Betensh is a quality black neck light available in more colors, such as blue, pink and yellow. The manufacturer provides a 30-day money-back guarantee and a 1-year warranty. If you notice any damage when the light arrives, contact customer service.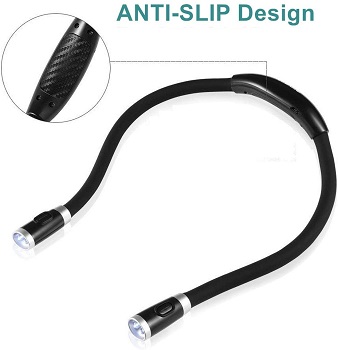 Lightweight Light
This hug light is lightweight and easy to wear around your neck. It is flexible, so you can adjust the light arms and direct the light where you need it. You can easily focus on what you are doing at the moment. Use it for reading, crafting, working and other activities.
Built-in Battery
Betensh features a built-in 700mAh battery, it is rechargeable and requires about 2.5 hours to be fully charged. Its running time is about 7 to 40 hours, according to settings. This flexible bedside reading light comes with a standard USB micro cable.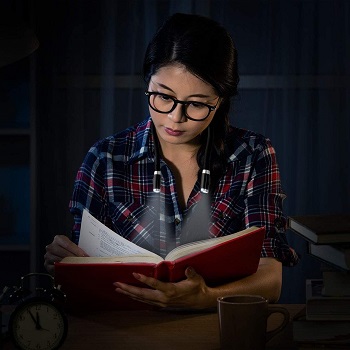 Travel Use
Choose between three brightness modes – flood light, spotlight and bright light. each mode will provide you with an adequate light source. Each arm has three levels of brightness and its own switch. This is foldable light, perfect for travel use.
Highlighted Points:
quality and comfortable neck light
available in several colors
flexible and bendable design
built-in 700mAh battery
standard micro USB cable included
three levels of brightness
BEST BOOK HUG LIGHT
Ledgle Book Light
Indoor/Outdoor Use
Ledgle is a very popular neck light suitable for different occasions, such as knitting, crafting, reading. It is perfectly suitable for indoor and outdoor use. This is a lightweight, small and compact product that fits any bag, suitcase, backpack.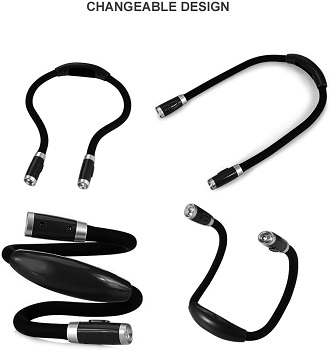 Flexible Arms
You can wear it around your neck, while your hands are free. It features flexible arms, so you can bend them, fold and adjust in the way you want and need for the current task. You can easily set the best lighting angle while you read the book in your bed.
Included USB Cable
This hug lamp has an inbuilt 700mAh battery, it can be fully charged in 2.5 hours. Then you can use it for six hours (at the highest brightness level) or 10 hours (at the lowest brightness level). The USB cable is included in the package. It is one of the best book lights for reading in bed.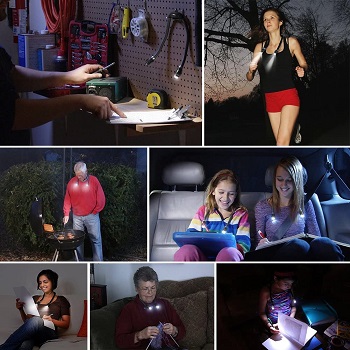 Four LEDs
Each Ledgle arm features two LEDs, so there is a total of 4 LEDs. That's more than other neck lights have. One LED is with a spot light, while the other is with a flood beam. You can set concentrated light or wide light, according to your needs.
Highlighted Points:
hands-free neck light
each arm is equipped with 2 LEDs
three light settings
integrated 700mAh batters
USB cable included
lightweight and compact product
BEST RECHARGEABLE HUG LIGHT
Vekkia Hand-free Light
Hands-free Design
Vekkia is a well-made light, available in black color only. It features an anti-slip design, it's hands-free and easy to use. You don't have to hold a flashlight or have a headlamp on your head. Use it for reading in your bed, garden, walking, repairing, crafting, etc.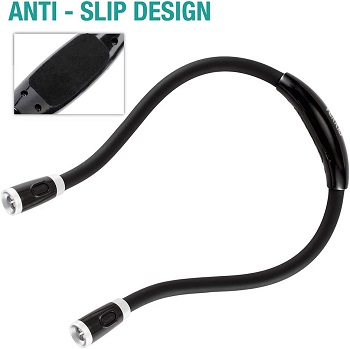 Long Lifespan
It features a flexible design, you can direct the lights wherever you need them. This hug light has a built-in rechargeable 700mAh battery. It takes three hours to get fully charged. The battery has a lifespan of 1000 cycles, it works for 6-10 hours without charging.
9 Lighting Modes
Vekkia comes with a standard micro USB cable in the package. It features nine settings. There are three different color temperatures – warm, natural and white, and three levels of brightness. You can have a concentrated and bright spotlight or wide and soft floodlight.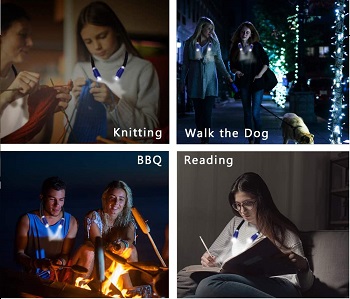 Long Arms
This rechargeable reading light has long arms with independent switches. Vekkia is made of soft rubber, it can be turned to any working position you want. The neck touching part is soft padded, it is a comfortable light that you can wear for hours.
Highlighted Points:
well-made soft rubber light
two long arms with independent switches
comes with a standard micro USB cable
anti-slip design
built-in 700mAh battery
nine lighting modes
BEST LED HUG LIGHT
Glocusent Bendable Light
Quality Product
Glocusent is one of the best necks lights in the market. When you put it around your neck, it is practically weightless, you won't feel the weight on your shoulders. Meaning, you can wear it for hours. Choose between grey, blue and pink colors.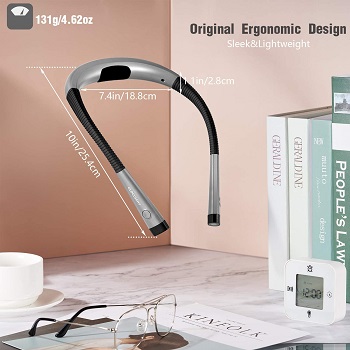 Reliable Light
Its arms measure 10 inches, they are sleek and comfortable. This hug lamp features the original patent applied, it is FCC; CE, RoHS and PSE approved. The 18-month warranty is provided by the manufacturer. The package includes a light, user manual and USB Type-C cable.
Flicker-free Light
The manufacturer uses advanced LED beads that emit flicker-free light. Also, there is a blue light filter that protects your eyes from strain and fatigue. You can choose between three color temperature modes – yellow (3000K), warm white (4000K) and cool white (6000K).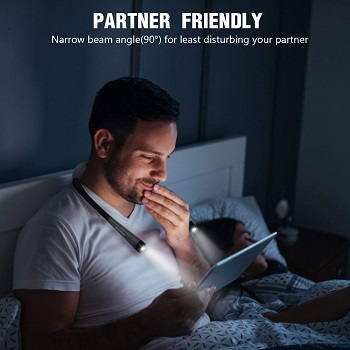 1000mAh Battery
This LED reading lamp has an independent switch on each light head. Choose a comfortable setting for reading, knitting, repairing, manicure, crafting, etc. Glocusent has a built-in rechargeable 1000 mAh battery, it is powerful and lasts for a long time.
Highlighted Points:
ergonomic neck around design
sleek and comfortable light
rechargeable 1000mAh battery
comes with a USB Type-C cable
advanced LED beads
three color temperatures
BEST ADJUSTABLE HUG LIGHT
Topnma Adjustable Light
USB Cable
Topnma is an affordable light available in many colors, choose between black, pink, blue, light blue and yellow color. It is lightweight, compact, portable and durable light that you can use for years. The USB cable is included in the package.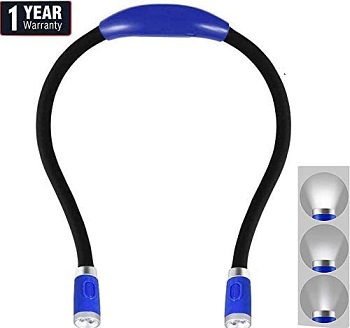 Charging Time
It isn't waterproof, so protect it against water damage. The AC adapter isn't included in the package, so the manufacturer suggests using a 5V/0.5A AC adapter. Topnma hug neck light features an 850 mAh lithium battery, its charging time is about 2 hours.
Running Time
This adjustable arm lamp will last for about 6-8 hours. It is made of quality rubber, it's soft and durable. These arms are flexible, it's easy to choose the best angle for your various needs. Use it to read books in bed, repair, jog, walk, craft, knit, etc.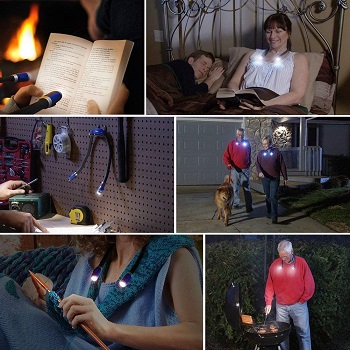 For Adults & Children
Choose between three lighting modes – flood light, spotlight and spot&flood light. Set the perfect lighting mode for reading or crafting. Topnma is suitable for adults and children. It is easy to control and change the modes, click the button above the light.
Highlighted Points:
available in many colors
suitable for adults and children
three lighting modes
running time – 6-8 hours
made of soft rubber
rechargeable battery
BEST READING HUG LIGHT
SingHong Reading Light
Green Model
SingHong light is available in a variety of colors, you can choose from green, black, blue and pink models. Its price is affordable and it's easy to carry it around your neck. SingHong weighs 4 ounces or 114 grams. it doesn't require much space and fits in any bag.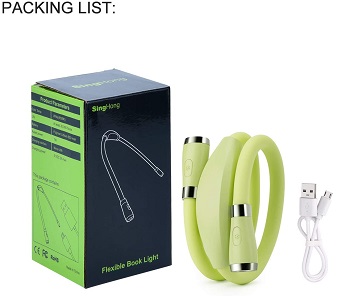 Silicon Rubber
This hug light is made of high-quality silicon rubber, it is soft and comfortable. Wear it around your neck and use it hands-free. It is ideal for reading books, relaxing, jogging, meditation, etc. SingHong light features a very flexible style, you can turn it in any position you want.
Rechargeable Battery
SingHong is an adjustable reading lamp with a built-in 850 mAh Li battery. It needs about two hours to get fully satisfied. Then you can use it for up to eight hours. It is practical when traveling, driving, before sleeping, etc. You can recharge the battery 5000 times.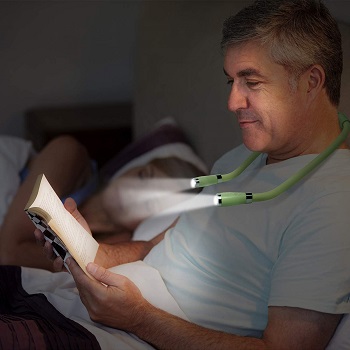 3 Lighting Modes
This light features two kinds of LED lights – two spotlights and two floodlights. You can choose between three lighting modes – floodlight mode, spotlight mode, spot&flood light mode. Create the mode that is suitable for your performing task.
Highlighted Points:
lightweight and portable lamp
made of soft silicon rubber
ideal for reading, jogging, meditation
very flexible design
built-in 850 mAh li battery
running time – about 8 hours
Things To Know About Hug Light
Before you buy any of these neck lights, there are some factors you need to consider. In the section below, you can learn more about its design, flexibility, purpose, illumination and more.
Hands-free Design – This light is great for people who like to read in bed before sleeping. Also, you can use it during jogging, relaxation, meditation, camping and other activities. You can easily concentrate on your task while your hands are free.
Flexible & Bendable – The bendy light is made of soft silicon rubber, making it comfortable for your neck. It can be bend, fold into various shapes. You can easily point the light where you need it the most, if you're reading in your bed, point the light on book pages.
Narrow Beam – These neck reading lights have a small beam angle (90°), which means they direct the light exactly to the book area, for example. This light is bright enough and at the same time, it won't disturb people around you. ideal for bus, train or car.
Brightness Adjustment – Most neck hug reading lights offer at least two lighting modes – warm white light and cold white light. For example, if you are reading at night, set the warm white light for better reading conditions. Switch to cool white when performing more precise tasks, like knitting, repairing.
Rechargeable Battery – These hug lights come with rechargeable batteries integrated. If you looking for a powerful light, choose the model with a 1000mAh battery. It can be charged with a micro USB and last for 6 to 10 hours at the highest brightness setting.