Are you looking for a lantern desk lamp that will add a unique twist to your room?
Then keep reading to see the amazing lamp models we've found for you!
Here is the list of the best-rated lamp models currently available in the market. Check it and pick the model with the shape, design, style you want. Various lamp models are classified to be easier for you to find the best one for your home or office interior.
Our Top Picks
Best 6 Lantern Desk Lamps
BEST OF BEST LANTERN DESK LAMP
Muskoka Electric Desk Lamp
Vintage Accents
Muskoka is an oil lantern desk lamp with 15 inches in height and 8.5 inches in width. It will give your home rustic and vintage accents. The lamp body is constructed of 100% steel and real glass hurricane. There aren't plastic and cheap parts.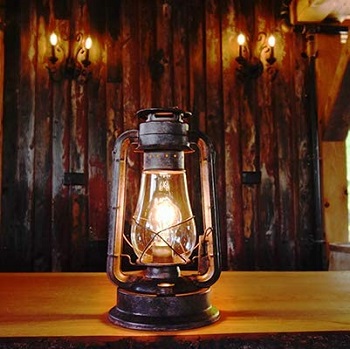 Dimmable Bulb
It comes with a 54" long power cord and an on/off toggle switch. You can plug it into any 110V outlet. Muskoka features a standard E26 bulb base and the dimmable E26 bulb is included in the package. This bulb can be replaced with any other bulb type.
Rust Patina Coating
Muskoka dimmable desk lamp features brown rust powder finished in rust patina coating. That provides a perfect old vintage lantern look.  It fits in any room – bedroom, children's room, living room, dining room, even home office. Muskoka is a pricey lamp.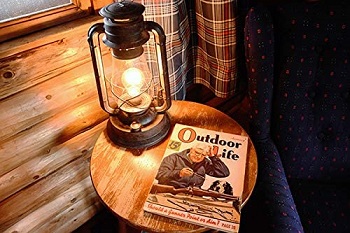 Hand-painted Model
This is a hand-painted model, meaning every Muskoka desk lamp is unique. The dimmer is located on the power cord. You can have full control of the light intensity and set the bright or dim light with ease. A 1-year warranty is provided by the manufacturer.
Highlighted Points:
constructed of 100% steel and glass
requires a standard E26 bulb
compatible with LED bulb
dimmable E26 bulb is included
backed by a 1-year warranty
54-inch long power cord
BEST VINTAGE LANTERN DESK LAMP
12v Monster Vintage Lamp
Rustic Aged Finish
12v Monster desk lamp is a very stylish and attractive product. Its overall height is 12.2 inches and the base diameter is 6 inches. Metal and other durable materials are used to construct this elegant desk lamp. It features a rustic aged finish for a more vintage look.
Certified Lamp
Wirings and bulb bases are tested and certified, they are very safe for use. You can use this lamp indoors and outdoor. It brings out a taste of western vintage style in your home. It doesn't take too much space, so place it on your end table, nightstand, desk, shelf, etc.
E14 Edison Bulb
This lamp doesn't require assembly, when it arrives at your address, just unpack it and it's ready for use. It is a remake of a classic oil-burning vintage lantern lamp compatible with an LED lightbulb. It features an E14 Edison bulb base.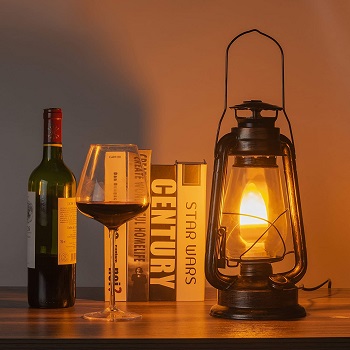 High CRI
12v Monster vintage reading lamp has a high Color rendering index, it's 85, meaning this lamp ensures vivid and accurate colors. It emits a soft and warm light, ideal for relaxation. The bonus flame light bulb is included in the package.
Highlighted Points:
made of metal material
rustic aged finish
tested wirings and bulb base
use it indoor and outdoor
compatible with LED bulb
bonus flame light bulb
BEST LED LANTERN DESK LAMP
Franklin Iron Industrial Lamp
Attractive Appearance
Franklin Iron desk lamp combines modern and traditional elements, so the result is an attractive desk lamp suitable for your living room or bedroom. You can place it in your home office or office, too. This elegant desk lamp has a high price.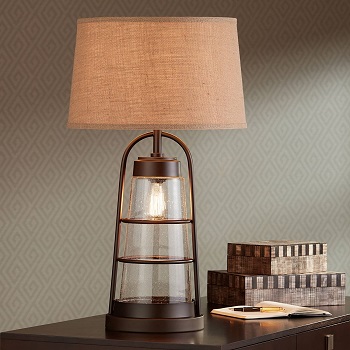 Industrial Bronze
This lantern desk lamp is available in Fisher galvanized, Hobie bronze, Hugh bronze and industrial bronze (reviewed model) style. It is a tall lamp, the overall height is 31 inches, the lamp base diameter is 10 inches and the lampshade measures 16 x 18 x 11 inches.
Works With LED
Franklin desk lamp uses one 150-watt standard-medium base bulb. This bulb isn't included in the package. Recommended main lightbulbs are incandescent, LED, halogen or CFL. It comes with one 25-watt Edison medium base bulb for a built-in nightlight.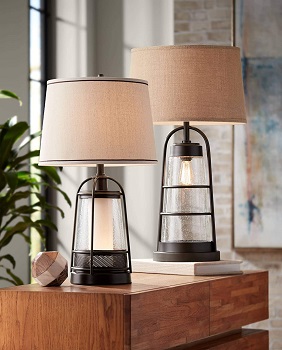 Lighting Control
The LED reading lamp features a 4-position switch for light control, you can turn the top light on, nightlight on, both lights on, both lights off. It is a great lamp for industrial and rustic farmhouse-style home interiors. The brown power cord is 7.3 feet long.
Highlighted Points:
inspired by modern and traditional designs
compatible with LED bulb
25-watt Edison medium-base bulb is included
4-position switch for lighting control
suitable for industrial and farmhouse-style decors
tall lamp ideal for living rooms
BEST AMBIENT LANTERN DESK LAMP
Rarlonly Ambient Desk Lamp
Elegant Lamp
Rarlonly is an eye-catching desk lamp that adds a touch of elegance to any room. It is made of quality metal and glass, so it is sturdy and durable. Ideal for long-lasting use. The lamp dimensions are 11 x 5.5 x 18 18 inches. Its price is high.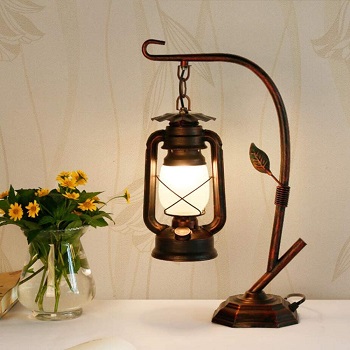 Aged Bronze Finish
The lamppost is made of iron, slightly distressed and finished in aged bronze with red highlights. Rarlonly lantern table lamp requires an E26 standard base bulb. The maximum wattage is 40W, but the bulb isn't included in the package.
Living Room Lamp
This ambient desk lighting is warm and soft, it doesn't cause eye strain or eye fatigue. Place this lamp in your living room, dining room or bedroom. Rarlonly lamp arrives well-packaged, but if there is any damage or defect, contact customer service.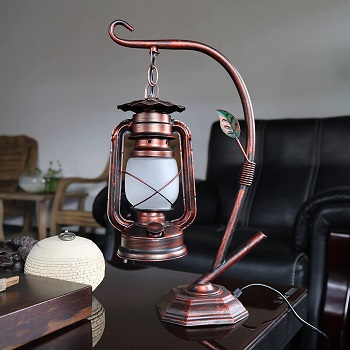 Compatible With LED
Rarlonly desk lamp is a perfect gift for vintage lovers, it features an attractive design. It is a stable lamp that won't tip over easily. The manufacturer combines modern minimalism with rustic and vintage elements. Rarlonly is compatible with LED.
Highlighted Points:
made of iron with aged bronze finish
durable and quality glass
suitable for living rooms and bedrooms
maximum wattage of 40W
compatible with LED
warm and soft illumination
BEST BEDSIDE LANTERN DESK LAMP
Murphy Rustic Desk Lamp
Red Bronze Base
Murphy is an elegant desk lamp inspired by rustic and industrial styles. This model is available in three versions – distressed silver with USB, weathered bronze and red bronze. The overall lamp height is 23 inches, the base diameter is 5.2 inches and the shade measures 14 x 12 x 10 inches.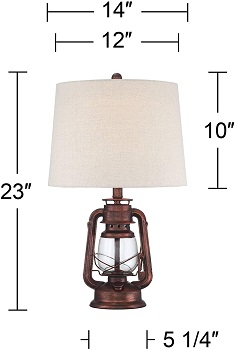 Standard-medium Base Bulb
This lantern desk lamp weighs 4.8 pounds, so it's stable and won't tip over easily. It is perfect for rustic, farmhouse and vintage-inspired room interiors. It uses one standard-medium base bulb with a max wattage of 100W. The bulb isn't included in the package.
Oatmeal Fabric Shade
Murphy lamp has an on/off switch that is located on the socket for convenient use. The reddish bronze finish base and oatmeal fabric shade create an elegant and industrial design. This bronze desk lamp is made of durable metal that making it sturdy and durable.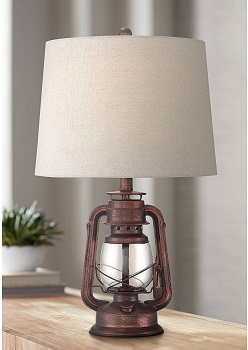 Well-packaged Lamp
It is a very well-built desk lamp that is a perfect bedside lamp, living room lamp or dining room lamp. Murphy lamp arrives well packaged and you need to assemble it. Simple instructions are included in the package. Murphy has an acceptable price.
Highlighted Points:
inspired by rustic and industrial style
reddish-bronze finish base
durable metal construction
on/off switch is on the socket
requires a standard-medium base bulb
oatmeal fabric shade
BEST MODERN LANTERN DESK LAMP
Hamucd Farmhouse Desk Lamp
Set Of 2
The set includes two Hamcud table lamps. They are designed as rustic farmhouse lamps so suit vintage, rustic and farmhouse home interiors. Each lamp is 23.2 inches tall, the base diameter is 5.9 inches and the lampshade measures 11 x 12.5 x 9 inches.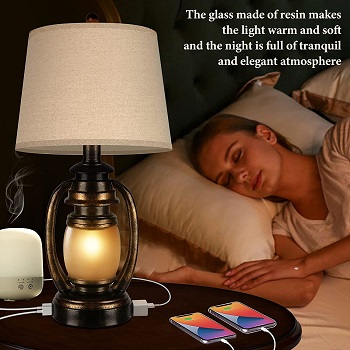 Plexiglass Lamp Base
The lamp base is made of plexiglass, which makes the light soft and warm. Then there is a baking varnish craft and aluminum lamp holder. The lampshade is made of natural linen fabric, it softens the lighting and reduces shadows. It doesn't cause eye fatigue.
Cozy Atmosphere
Hamcud is a modern farmhouse desk lamp that creates a nice and cozy atmosphere in your living room, dining room or bedroom. There are two lightbulbs, on the lamp base and the lampshade. The lantern-style lamp base is ideal as a nightlight in your bedroom.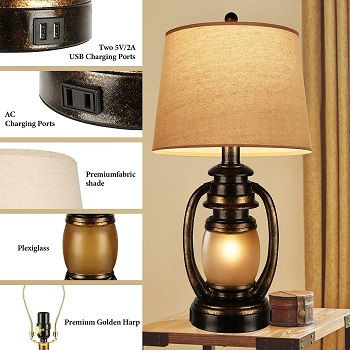 Two USB Ports
This lamp comes equipped with dual 5V/2.1A USB ports and an outlet on its base, you can charge your phone and other electronic devices. Whether the lamp is on or off, you can charge your devices. The 4-way rotary switch allowing for either both lights, main light or nightlight to be in use.
Highlighted Points:
set includes two desk lamps
plexiglass lamp base and fabric lampshade
soften and warm illumination
4-way rotary switch
equipped with two USB ports
suitable for bedrooms and living rooms
Things To Know About Lantern Desk Lamp
The desk lamps with lantern designs are available in modern and vintage designs, but before you buy any of those models, it is useful to know some info about this lamp type, adequate lightbulbs, light intensity and more.
Ambient Lighting – These aesthetic desk lamp types aren't designed for task lighting. Usually, you can't change the color temperature and level of brightness. This desk lamp provides soft and warm lighting ideal for relaxation, watching movies or casual reading.
Lamp Size – Many people forget to check the lamp size, so don't just watch the lamp images, check the product description. Some lantern-style lamps appear larger than they really are. An adequate lamp shouldn't take too much space on your desk.
Quality Material – Many of the lantern desk lamps in the list above are made from metal. Metal lamp bases tend to be sturdy and durable. They can take on a variety of styles, so you can find modern, rustic, vintage, farmhouse and contemporary metal desk lamps.
Lampshade Type – There are as many lampshade styles and shapes to choose from as lamp styles. You can find classic drum, tapered drum, shallow drum, classic empire, horn, sharp corner square and many others. Drum shade is very popular.
LED Bulb – Even LED lightbulbs are the best option in the market, many lamps are compatible with other lightbulb types. LED desk lamps provide the right brightness, produce low heat, are the most energy-efficient and last longer than any other bulb.