Do you want to decore your room with attractive desk lamps equipped with appealing floral patterned designs?
Then this review is made for you!
Here you can find modern, attractive, vintage, retro, small and big flower desk lamps! They are divided into several categories but check them all, there are beautiful models. Furthermore, read our guide with useful buying guidelines.
Our Top Picks
Best 5 Flower Desk Lamps
BEST OF BEST FLOWER DESK LAMP
Colorlife Table Lamp
Multiple Colors
Colorlife is a really attractive desk lamp available in different colors. Choose between white/black, black/pink, white/pink and white/white models. The manufacturer offers a two-year warranty on this lamp. Contact customer service if there is any defect.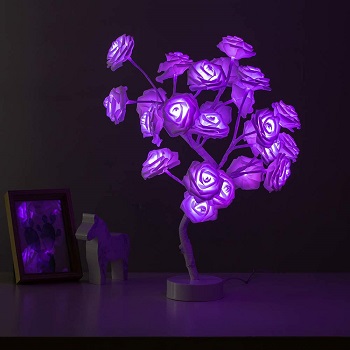 Battery Powered Lamp
This flower desk lamp can be powered through 3 AAA batteries, then you can place the lamp wherever you want. These batteries aren't included in the package. But the package includes a USB cable, so connect it to the computer, power bank, phone charger.
Bonsai-style Design
Colorlife is an aesthetic desk lamp with an on/off switch button on the battery box. The manufacturer says it is a bonsai-style design. Put it on your coffee table, end table, shelf, nightstand, bookshelf to decorate your place. Customize this lamp, you can move every branch on the tree.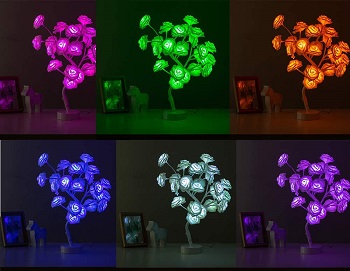 Remote Control
The lamp comes with remote control, there are 16 unique colors with steady-on modes. Also, there are four lighting modes and speed functions. You can activate the timer function, it will automatically stay 6 hours on and 18 hours off.
Highlighted Points:
bonsai-style desk lamp
comes with remote control
available in different colors
covered with a 2-year warranty
battery-powered or USB powered lamp
BEST SMALL FLOWER DESK LAMP
Winnes Flower Desk Lamp
Pink Lamp
This small desk lamp is ideal for children. It is available in pink and white color and is made from ABS and silicone. The lamp dimensions are 3.7 x 3.7 x 6.7 inches. Due to its small size, it fits anywhere, on the shelf, table, desk, nightstand, etc.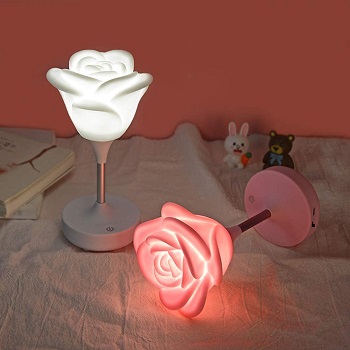 Built-in Battery
Winnies is equipped with a 1200mAh lithium battery. Its charging time lasts about 4 hours, the USB charging cable is included in the package. There are 8 LED lights emitting soft and comfortable illumination. It doesn't cause eye strain or eye fatigue.
Three Brightness Levels
The red indicator is on when you charging the lamp and the light is off when fully charged. This flower desk lamp has a sensitive touch switch on the lamp base. You can turn the lamp on/off and change the level of brightness depends on your needs.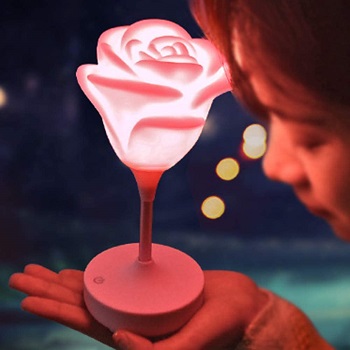 Decorative Lamp
This small modern desk lamp uses low power consumption, you can use it for years. It features a rechargeable battery, so you don't have to buy a new battery each time. Winnies is a perfect birthday or holiday gift due to its attractive appearance.
Highlighted Points:
small desk lamp available in pink and white color
equipped with light indicators
built-in rechargeable battery
three brightness levels
uses LED light source
BEST VINTAGE FLOWER DESK LAMP
Werfactory Tiffany Table Lamp
UL-listed Lamp
There are two Tiffany-style table lamps on this list. This lamp measures 18 inches in height, the lamp base diameter is 6 inches. The on/off switch is located on the power cord. It is a UL-listed lamp, meaning, Werfactory lamp meets many safety standards.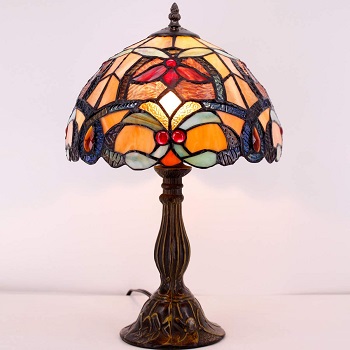 Touch Of Elegance
If you looking for a quality and attractive gift, this flower desk lamp is a perfect and elegant gift for your friends, colleagues, clients, etc. Werfactory lamp will add a touch of elegance and sophistication to any room. It is also inspired by Art Nouveau's design.
LED Bulb
The handcraft lampshade is made from real stained glass. Its sturdy base keeps it from tipping over. This zinc lamp base comes in bronze color. Werfactory vintage reading lamp requires an E26 LED bulb and one bulb is included in the package.
Warm Light
This LED bulb provides a color temperature of 2700K, this is warm white light that creates a cozy ambiance. Werfactory is a perfect lamp for the living room or bedroom. It comes with a power cord which is 1.9 meters long. The price is high.
Highlighted Points:
UL-listed lamp
handcraft glass lampshade
bronze lamp base
compatible with LED bulb
emits warm and oft light
inspired by Art Nouveau's design
BEST BEDSIDE FLOWER DESK LAMP
Minihouse Glass Desk Lamp
Tiffany Lamp
Minihouse made this beautiful Tiffany desk lamp. Tiffany lamps are one of the most recognizable lamps in the world. Its overall height is 21 inches and its diameter is 7.5 inches. The lampshade is made of high-quality glass and the lamp base is made of polyresin material.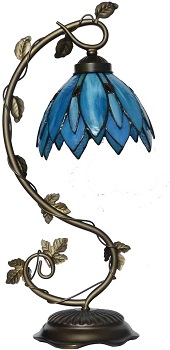 Antique Bronze Finish
The lamp base features an antique bronze finish. Handcrafted stained glass is wrapped in fine copper foil. This flower desk lamp is a unique decoration for any home, office, studio, living room, restaurant, etc. Also, it doesn't require much space.
Blue Shade Colors
When the lamp isn't illuminated, its shade colors will appear darker and less vibrant. Shade colors are blue when the lamp is off. When you turn the lamp on, the colors are more vibrant. This stained glass desk lamp requires an E26/E27 base bulb with a maximum wattage of 25W.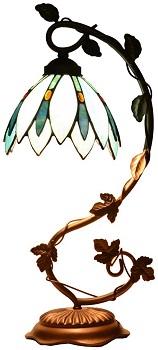 Flexible Gooseneck
The bulb isn't included in the package. This Tiffany lamp has a flexible gooseneck, you can adjust the lampshade in multiple directions. There is a leaf decoration on the lamp gooseneck. Minihouse Tiffany's lamp is suitable for vintage and retro-inspired room interiors.
Highlighted Points:
Tiffany-like desk lamp
the handcrafted stained glass shade
requires E26/27 base bulb
flexible gooseneck
antique bronze finish base
BEST BATTERY OPERATED FLOWER DESK LAMP
KoudHug Pink Table Lamp
Pink Lamp
KoudHug is a cute table lamp, perfect for children's rooms. It is available in pink color only. This lamp is made from quality ABS material. You can use it as a night light on your nightstand, reading lamp, decorative lamp, in the nursery, etc.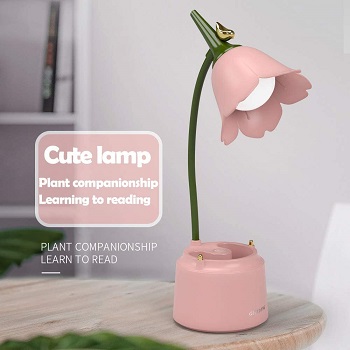 LED Beads
The package includes a desk lamp and USB cable. You should use a qualified power adapter (DC5V/500mA). This lamp measures 6 x 5 x 15 inches. KoudHUg flower desk lamp uses high-quality LED beads that don't cause eye strain or eye fatigue.
Rechargeable Battery
The non-slip base prevents tipping over, it provides stable placement. KoudHUg battery-operated LED table lamp has a built-in 1200mAh lithium battery. It is rechargeable, so charge it via USB from a laptop, computer or wall charger.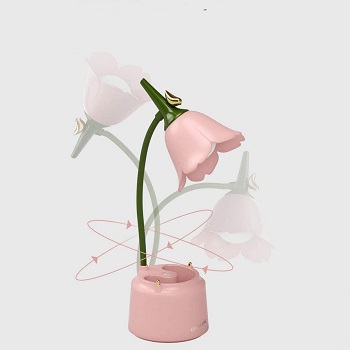 Sensitive Touch Switch
There is a one-touch switch on the lamp base, with the short press you can change the color temperatures and with the long press, you'll change the brightness. KoudHug has a flexible gooseneck, so you can adjust the light in many directions.
Highlighted Points:
small pink desk lamp
built-in rechargeable battery
one-touch switch
adjustable color temperature
flexible gooseneck
energy-efficient LED beads
Things To Know About Flower Desk Lamps
Before you buy any flower desk lamp and decorate your room, there are a few tips and tricks worth considering. Learn more about lamp designs, light bulbs, purpose, etc.
Tiffany Lamp – This is the most recognizable desk lamp in the world. The lamp design is inspired by the Art Nouveau movement. Each lampshade is handcrafted and made of stained glass. Also, the lamp bases are made from bronze. Nowadays, you can find many Tiffany-like lamps.
Decorative Purpose – These decorative desk lamps aren't designed for working, crafting or other precise tasks. But some lamps on the list are suitable for casual reading. So the main purpose of these lamps is a decorative function, they don't replace adequate room illumination.
LED Bulb – Although many modern desk lamps use LED bulbs or beads, there are models compatible with CFL, incandescent and halogen bulbs. All have their advantages, but LEDs are more energy-efficient, produce low heat and last for decades.
Levels OF Brightness – There are few table lamps on the list offering various brightness levels. Meaning, you can choose between dim and bright illumination. For a cozy, comfortable and romantic atmosphere, dim the lamp and enjoy watching movies.
Battery-operated Lamps – Some flower desk lamps come with a power cord, USB cable or they run on batteries. The cordless lamp has many advantages and the main one is  – you can use it wherever you want. It is a good idea to buy a lamp with rechargeable batteries.