Do you want to buy an executive desk lamp to make your office/room look professional?
Here is the list of the best-rated executive lamps so check it and pick the model with shape, design and features you like. Various lamps are offered and classified to be easier for you to find what you need. Plus, we'll give you some tips and tricks for a successful purchase.
Our Top Picks
Best 6 Executive Desk Lamps
BEST OF BEST EXECUTIVE DESK LAMP
Ottlite Executive Desk Lamp
Quality Desk Lamp
Ottlite is a high-quality desk lamp available in black and white color. The lamp base measures 5.5 x 7.2 inches and its height is adjustable from 8.7 to 23 inches. This white model has a plastic finish with metal accents. It is a bit pricey desk lamp.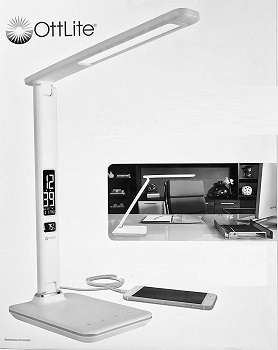 USB Charging Port
This executive desk lamp has a built-in 5V/2.1A USB charging port. So charge your mobile phone, tablet, e-reader and other small electronic devices. Ottlite uses advanced ClearSun LED technology which reduces eye strain by 51%. You can read or work longer.
Adjustable Design
Ottlite has an adjustable design, you can extend the lamp arm and move the light source closer or farther away. There are three color modes – warm white, bright white and natural daylight mode. Moreover, select between three levels of brightness for the perfect amount of light.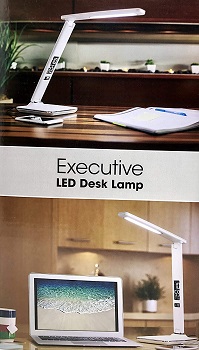 LCD Screen
This bright office lamp is equipped with an LCD screen, it displays date, time and ambient temperature. Also, it includes an alarm with battery backup to save settings in case of power interruption. The high color rendering index of 97 allows you to see true and accurate colors.
Highlighted Points:
available in black and white color
built-in USB charging port
adjustable design
3 color modes and 3 levels of brightness
LCD screen shows date, time and temperature
ClearSun LED technology
BEST LED EXECUTIVE DESK LAMP
Trond Dimmable Desk Lamp
Slim Profile
Trond is a compact desk lamp suitable for small office or home desks. When the lamp neck is fully extended, it is 16.1 inches tall. Its ultra-slim base is 0.63 inches thick, it is stable and holds the lamp head firmly. This modern lamp is made from premium aluminum alloy.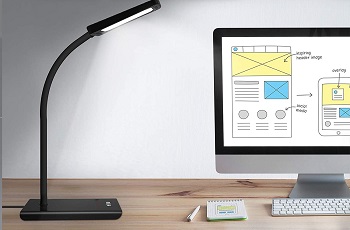 Bendable Gooseneck
Use it in your office, home, bedroom, dorm room, etc. This executive desk lamp fits anywhere. Trond features a durable and bendable gooseneck that allows you to bend, rotate and tilt the lamp head in any direction. The lamp head won't fall.
Right Color Temperature
This adjustable LED desk lamp is designed without physical buttons. If you want to change the lighting mode, slide your finger across the control panel. Choose the right color temperature for your current task – 6000K (cool white), 4500K (daylight) and 3000K (warm white).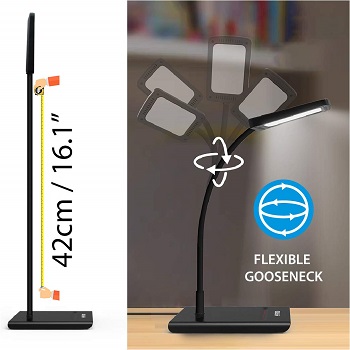 7 Brightness Levels
With desk lamp dimmer, adjust the brightness level, there are seven levels. Trond is upgraded with a memory function, it will remember the setting for your last use. The color rendering index is high, 80+, meaning, you'll see true and accurate colors.
Highlighted Points:
made from aluminum alloy
touch-sensitive base
three color modes and seven brightness levels
memory function
high color rendering index
bendable gooseneck
BEST CLAMP EXECUTIVE DESK LAMP
Niclum Architect Desk Lamp
Thin Profile
Niclum is an elegant black desk lamp suitable for any office decor. It features a sleek and thin profile that doesn't require much space. Construction is made of quality aluminum alloy, so Niclum is a durable and sturdy lamp. Its price is acceptable.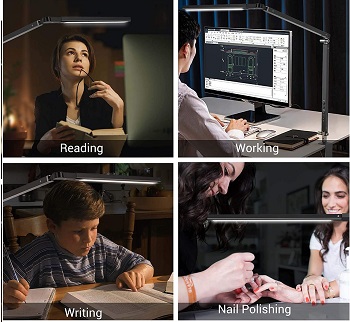 Quick Installation
When the lamp arrives, you need to clamp the clip base on your workbench, desk or table and tighten it, then insert the light tube, connect the power adapter and power on. High-quality LEDs have a long lifespan, rated for up to 40,000 hours.
Rotatable Body
This executive desk lamp doesn't cause eye fatigue or eye strain, it emits flicker-free and glare-free light. You can rotate the base of the lamp and each component can be moved up and down by 180-degree. Tilt the lamp head and direct the light where needed.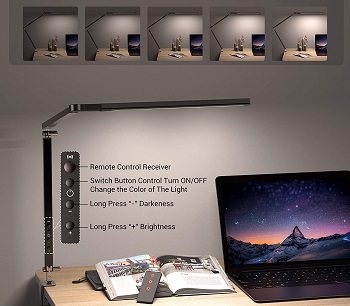 Remote Control
Niclum adjustable reading desk lamp comes with remote control, so you can remotely control the lamp from your couch. It offers three color temperatures for different requirements, there are warm light, warm white light and white light.
Highlighted Points:
sleek and modern desk lamp
space-saving clamp design
flicker-free and glare-free light
comes with remote control
adjustable lamp body, base and head
energy-efficient LEDs
BEST SWING ARM EXECUTIVE DESK LAMP
Otus Architect Desk Lamp
Timeless Appearance
Otus lamp is a mix of modern, contemporary, classic and vintage styles. This two-tone desk lamp features a timeless design that perfectly fits in modern offices or homes. The lamp base diameter is 8 inches and the lamp arms measure 18 x 18 inches.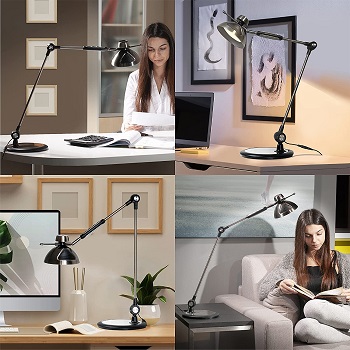 Heavy-duty Base
Due to its high size, this executive desk lamp covers a larger desk area. Made of quality metal, Otus features durable and sturdy construction. Its heavy-duty base won't tip over easily. The vintage round lampshade is equipped with high-quality LEDs, rated for up to 50,000 hours.
Infrared Sensor
Otus adjustable arm desk lamp has an integrated infrared sensor, so you just need to wave your hand and the lamp is on/off. Choose between three color modes, there are warm light (3000K), white (4500K) and natural daylight (6000K) modes. Select high light for working and reading.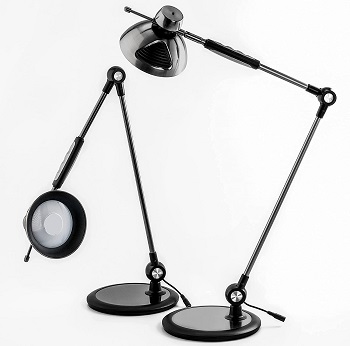 Flicker-free Light
Moreover, each color mode comes with a full range of brightness. Quality LED emits flicker-free and glare-free light which is safe for your eyes. Direct the light where needed. Use memory function so you don't have to set the lighting mode the next time you switch on the lamp.
Highlighted Points:
lamp with a two-tone design
heavy-duty metal base
long-lasting LEDs – last over 50,000 hours
three color modes
adjustable brightness
integrated infrared sensor
BEST MODERN EXECUTIVE DESK LAMP
Phive Task Table Lamp
Space-saving Design
Phive is a popular desk lamp due to its quality and great features. This model is available in white and black color. its overall height is 37 inches, the light bar is 31.5 inches long. The clamp design allows you to mount this lamp on your workbench, office desk, table, shelf.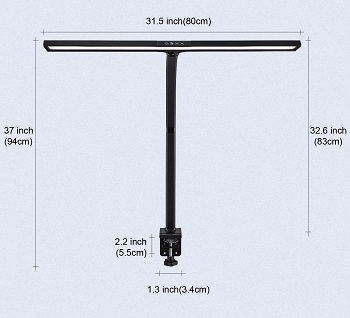 Multi-screen Setup
The clamp supports up to 2.5 inches of the tabletop. It is made from plastic and aluminum alloy. The ultra-wide light bar provides larger lighting coverage, makes it perfect for a large workbench or above multi-monitor set-up. The super bright 20W LED provides flicker-free light.
Silicone Gooseneck
This executive desk lamp offers four-color modes and five brightness levels for different occasions. Its flexible gooseneck is made from silicone, it is sturdy but adjustable. Adjust the light where you need it at the moment. Phive is a modern task lamp that fits any office.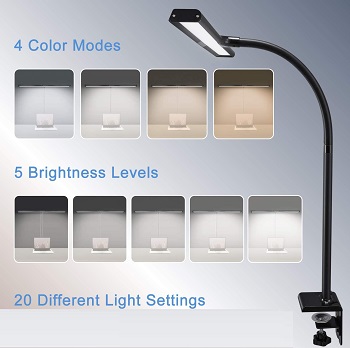 Memory Function
There are touch control buttons located on the lamp head for your convenience. Phive features a memory function that remembers your last-used settings, you don't have to set them every time. It will improve your productivity and boost efficiency.
Highlighted Points:
super wide LED light bar
made from plastic and aluminum alloy
4 color modes and five levels of brightness
flexible silicone gooseneck
memory function
space-saving clamp design
BEST LARGE EXECUTIVE DESK LAMP
Neatfi Elite Desk Lamp
Big Lamp
Neatfi Elite is a large desk lamp suitable for big workbenches. You can choose between black and white color. The lamp head is 17.6 inches long, the lamp arms measure 15.7 x 15.7 inches. Its durable and strong clamp opens up to 2.5 inches.
90 SMD LEDs
There are 90 SMD LEDs that power the desk lamp. This executive desk lamp reduces eye strain and eye fatigue. The LEDs provide the same level of illumination while saving up to 80% of energy compared to traditional light bulbs. They last up to 100,000 hours.
High Color Rendering Index
Neatfi long arm desk lamp has a high color rendering index, it's 85. Moreover, it illuminates 6000k to 7000K, which is similar to natural daylight. With its built-in dimmer switch, you can select your favorite level of brightness. Choose high brightness for work.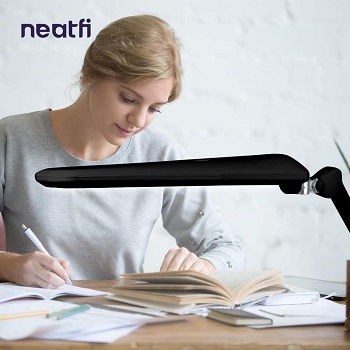 Adjustable Design
The swivel lamp head can reach narrow spaces, it is fully adjustable. Neatfi requires minimal effort to set it exactly as you need it. It features touch-sensitive control, allowing you to change and adjust lighting modes simply and quickly.
Highlighted Points:
elegant black desk lamp
extra wide light bar
high color rendering index
built-in dimmer switch
fully adjustable design
powerful 90 SMD LEDs
Things To Know About Executive Desk Lamp
There are many executive desk lamps in the market worth buying, so we've made this guide with useful guidelines you can follow when buying.
Flexible Design – The lamps on the list above come with an adjustable design allowing you to angle the light in different directions to suit your needs. Move the light source closer or farther away depending on your needs. These lamps are suitable for large desks.
Lamp Design – First, you need to take the desk size into account. There is one general rule you need to follow – if you have a large desk, buy a large and tall lamp with an adjustable design. You can measure your monitor's height and buy a lamp with approximate height.
Clamp Lamps – Known as clip-on lamps, this kind of executive desk lamp comes with clips that can be attached to the edge of your workbench or even shelf. These lamps are perfect for a small desk, they save space. Some models come with pads that protect desks from scratches.
Color Temperature – If you looking for adjustable task light, you should check the lamp color temperature modes. The best lamps for office and tasks are ones with adjustable color temperatures. For tasks, you'll need natural daylight or cool white mode (at least 4000K).
LED Light – If you choose between LED, incandescent or CFL light bulbs, you should know why all modern lamps use LED technology. LED is more energy-efficient, produces low heat, there aren't UV emissions and last much longer than traditional bulbs.