Are you interested in modern filing cabinets that will elevate your office decor?
Then you should check our selection of attractive filing cabinets!
Get inspired by our recommended models and find the perfect one for your office. There are few criteria you should consider before purchase, so check our helpful buying guide.
Our Top Picks
Best Attractive Filing Cabinets
BEST OF BEST ATTRACTIVE FILING CABINET
Bush Furniture Refinery File Cabinet
Popular Brand
Bush Furniture is a popular manufacturer thanks to its nice-looking and quality file cabinets. This Refinery collection provides refined items for any home office or office. The lateral file cabinet combines a reclaimed feel with functional features.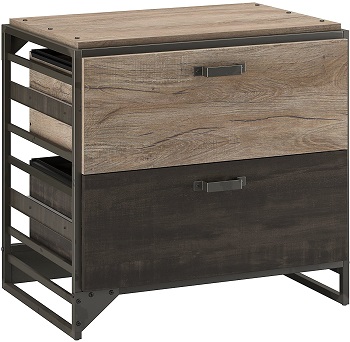 Industrial Steel Frame
Product dimensions are 30 inches in height, 31.7 inches in width and 22.1 inches in depth and it weighs 93 pounds. This is a tested item, it meets ANSI/Soho furniture standards. Bush's attractive filing cabinet features an open industrial steel frame, along with matching hardware.
High-capacity Filing
It is backed by a 1-year warranty and finished back for flexible placement. Sturdy top surface holds up to 200 pounds. Put some office devices or plants on it. There are two spacious drawers that accept all your documents and office supplies.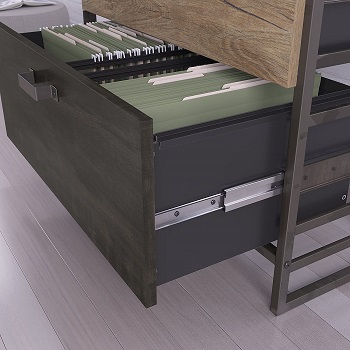 Different Drawers
These two drawers come in different finishes. The top drawer is finished in rustic grey while the lower drawer has a charred wood finish. Both drawers glide on smooth full-extension ball-bearing slides. This modern lateral file cabinet holds letter and legal-size files.
Highlighted Points:
elegant and stylish lateral file cabinet
industrial steel frame with wooden drawers
meets safety and quality standards
covered with a 1-year warranty
both drawers hold letter/legal files
BEST 4-DRAWER BEAUTIFUL FILING CABINET
Pemberly Row 4-drawer File Cabinet
Commercial-grade Item
Pemberly Row is a tall file cabinet ideal for space-limited offices. There are three colors you can choose from – black, putty and grey. It is a heavy-duty file cabinet designed for demanding work environments. Its black color blends with any interior decor.
Recycled Materials
Construction is made from heavy-duty 22-gauge steel materials, there are galvanized drawer bodies that inhibit rust. Handles and label holders are manufactured with aluminum. Pemberly Row is constructed with 30% of total recycled materials. It weighs 73 pounds.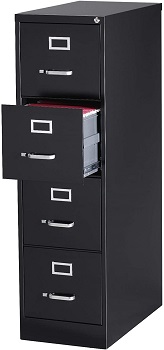 High-side Drawers
This attractive filing cabinet measures 52 inches in height, 15 inches in width and 25 inches in depth. There are four high side drawers that deliver ample storage space. They are designed to accept letter-size hanging file folders. Adjustable metal follower blocks keep the files neatly organized.
Core-removable Lock
All drawers glide on precision ball-bearing slides. The core-removable lock will keep your sensitive documents protected. This commercial file cabinet features a label holder, so you can identify your stored files with ease. Handels provide convenient open/close.
Highlighted Points:
vertical file cabinet with commercial-grade quality
heavy-duty 22-gauge steel construction
available in three colors
ideal for demanding work environment
four high side drawers hold letter-size files
aluminum handles and label holders
BEST HOME OFFICE ATTRACTIVE FILING CABINET
Sauder Edge Water File Cabinet
Edge Water Collection
Sauder is an American company that produces beautiful wooden file cabinets. This model belongs to the Edge Water collection. It is available in black and chalked chestnut finish. When the product arrives, you should read the instructions and assemble the file cabinet.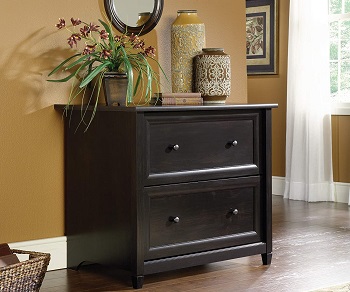 Fits Anywhere
Upon assembly, its overall dimensions are 29.4 inches in height, 33.3 inches in width and 23.5 inches in depth. it weighs 108 pounds. This attractive file cabinet will fit any home office decor, especially rustic-inspired. Sauder is made from durable and sustainable engineered wood.
Small Knob Handles
This black two-drawer file cabinet stands on sturdy legs, there is additional storage space for your boxes. Also, its top provides ample storage space for your office device, plants, books and other items. The two file drawers are equipped with small knob handles.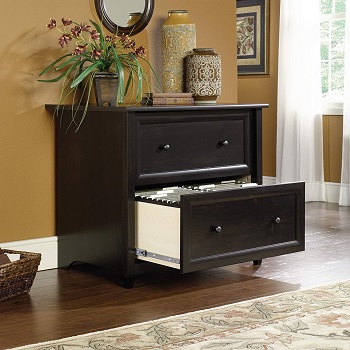 Safety Mechanism
Sauder is a beautiful filing cabinet with lateral design and features two roomy drawers with full extension slides. They glide smoothly and quietly. Both drawers accommodate standard-sized and legal size file folders. A patented, interlocking safety mechanism prevents tipping over.
Highlighted Points:
crafted of durable engineered wood
black and chalked chestnut finish available
ideal storage item for home offices
two full-extension drawers
hold letter/legal-size hanging files
BEST 2-DRAWER BEAUTIFUL FILING CABINET
Aurora Modern Soho File Cabinet
Aqua Blue Model
Aurora is a compact and stylish filing cabinet that fits modern offices. It is a pricey item, but once you buy it, this file cabinet will last for decades. This reviewed model features aqua blue faceplate and white sides. There are models in black, white and metallic charcoal colors.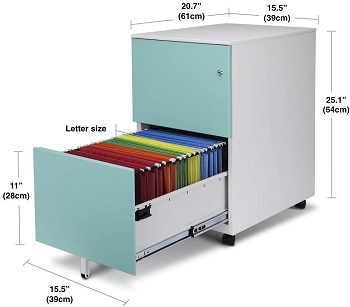 Product Dimensions
Measuring 25.1 inches in height, 15.5 inches in width and 20.7 inches in depth, this beautiful filing cabinet fits under any standard office desk. It doesn't require too much space. Aurora weighs 51 pounds. No assembly is required, just attach the casters for mobility.
Anti-rust Surface
Solid metal construction provides durability and long-term using. The anti-rust electrostatic spraying finished surface is also resistant to scratches. Clean it with a damp cloth. For storage, there are two drawers that glide on high-quality drawer glide suspension.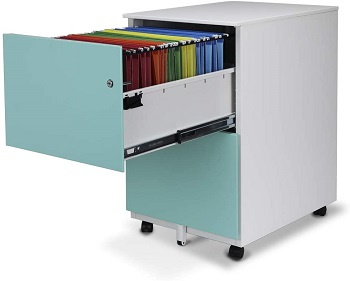 Hanging Frame Included
This 2-drawer vertical file cabinet accommodates letter-size hanging file folders. The hanging file frame is included in the package. With easy-roll casters, you can move this file cabinet wherever you want. Two front casters come with brakes. The interlocking feature allows you to open one drawer at a time.
Highlighted Points:
solid metal construction with anti-rust surface
fully assembled except casters
four casters + auxiliary anti-tip caster
two drawers glide on smooth glide suspension
accommodate letter-size hanging file folders
the interlocking mechanism prevents tipping over
BEST 3-DRAWER ATTRACTIVE FILING CABINET
Devaise Locking File Cabinet
Sealed Bottom
Devaise is a personal file cabinet with a sleek and modern design. It fits any office or home office decor. This model is available in dark grey, black and white color. It is completely sealed at the bottom to prevent file and office items damage. The price is affordable.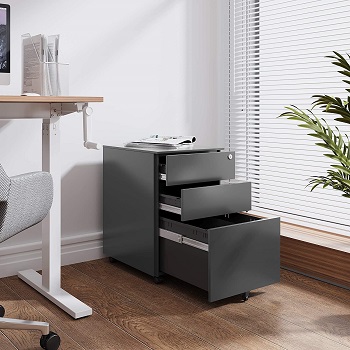 Unit Size
Its overall dimensions are 23.6 inches in height, 17.7 inches in depth and 15.4 inches in width. Crafted of sturdy steel construction, this attractive filing cabinet is able to hold up to 330 pounds. It is designed for long-lasting durability and stability.
Five Rolling Casters
Devaise arrives fully assembled at your address, you need to affix the casters. There are five rolling casters that ensure smooth movement. Two front casters are lockable. The front small caster prevents tipping over. When not in use, tuck it under your office desk, it fits anywhere.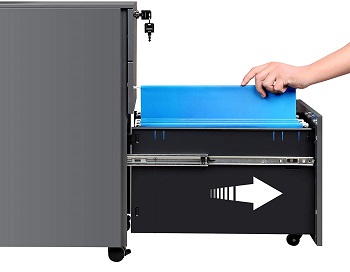 Built-in Lock
This 3-drawer metal file cabinet has two small drawers and a file drawer. The top drawer is equipped with a removable pencil tray, it provides space for small office supplies. A file drawer accommodates letter and legal size file folders. Built-in lock secures all three drawers at the same time.
Highlighted Points:
sturdy steel construction with dark grey surface
four rolling casters with brakes
auxiliary caster prevents tipping over
the top drawer is fitted with a pencil tray and lock
a file drawer holds letter-size files
BEST ON WHEELS BEAUTIFUL FILING CABINET
Stockpile 3-drawer File Cabinet
Multiple Colors Available
Stockpile is a compact personal file cabinet suitable for small offices. This model features a white surface with blue handles. But you can choose between blue, yellow, red, green, dark grey and other colors. It arrives fully assembled, you need to attach the feet or casters.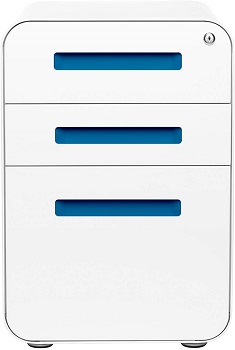 Feet & Casters
Its overall dimensions are 25 inches in height (including casters), 20 inches in depth and 15.7 inches in width. it weighs 60 pounds. The package includes both stationary feet and rolling casters. Install the casters if you need to move this attractive filing cabinet frequently.
Cold-rolled Construction
This small rolling file cabinet features a modern style with rounded corners and inset handles. It is safe for use in your home office, there aren't sharp edges. Construction is made from cold-rolled steel which is 20% stronger than typical steel material.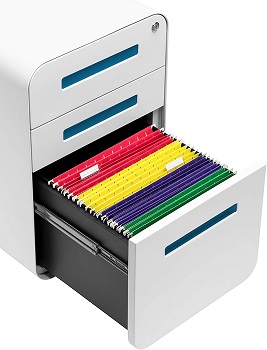 File Drawer
There are three drawers for your office documents and items. Two top drawers are designed for small office essentials. The upper drawer comes with a pencil tray. Below these drawers, there is a file drawer that supports letter- and legal-size files. A drawer divider is included.
Highlighted Points:
cold-rolled steel construction
smooth surface with rounded edges
three inset blue handles
comes with stationary feet and casters
two top drawers hold office supplies
file drawer accepts the letter and legal files
Things To Know About Attractive File Cabinet
There are many beautiful filing cabinets in the market, but except for the design, there are more factors that must be checked beforehand. So, keep reading and learn more about design of these stylish filing cabinets, about material, mobility, size and more.
File Cabinet Design – There are many different file cabinets on the market, made from different materials, in different shapes, with drawers, shelves, hutch, etc. The nice-looking file cabinets should fit in your current office environment.
Wood/Metal – Two most common materials are wood and metal/steel. You can find both on our list above. Wooden file cabinets come in a variety of natural finishes, they are ideal for home offices. Steel models are extremely durable and come with painted surfaces.
Mobility – These filing cabinets can be easily moved around the office or from one office to another. Also, you can transport documents in its drawers. These items come equipped with casters that allow them to be rolled over carpets and other surfaces. When not in use, store it under your desk.
File Cabinet Size – It is important to measure your office space before you order any model. Also, read the product dimensions carefully. Choosing the perfect size file cabinet depends on your office space and the amount of files you will need to store.
Lock System  – Don't just buy a beautiful filing cabinet because of its look, check its features. It is a very good idea to buy a file cabinet with a built-in lock or core-removable lock. Then you can secure your sensitive documents and keep them away from damage and unwanted access.